The need to digitize documents, one way or another, affects every person. For example, it may be copies of personal documents or digitization of printed texts and photos. When the volume of such operations exceeds the allowable limits, there is a question of choosing a scanner. Also, you may digitalize even a picture that you have drawn by using a portable drawing tablet.
For a long time, all these devices differed in their socket binding and relatively large body. With the advent of portable scanners, the question of scanning has become much more elegant. In this review, we have chosen the best handheld scanners for you.
The best option:
Our Top Pick

Canon CanoScan Lide 400 Slim Scanner

The CanoScan LiDE 400 is a full color image scanner made for scanning photos and documents in high-resolution.

See Best Price
The list of the other great portable scanners with a comparison of the main characteristics:
| Item | Dimensions | Weight | Resolution | Sheet Size | |
| --- | --- | --- | --- | --- | --- |
| Canon CanoScan Lide 400 Slim Scanner | 14.5 x 9.9 x 1.7 inches | 3.6 pounds | 4800 dpi | 8.27 x 11.69 inches | See Best Price |
| Brother DS-640 | 11.9 x 2.2 x 1.4 inches | 1 pounds | 300dpi | 72 inches | See Best Price |
| Fujitsu ScanSnap S1300i | 15.75 x 7.8 x 5.8 inches | 3.09 pounds | 600 dpi | 8.5 x 34.0 inches | See Best Price |
| Canon ImageFORMULA P-215II | 1.6 x 3.7 x 11 inches | 1 pounds | 600 bpi | 600 dots per inch | See Best Price |
| Brother Wireless Document Scanner | 4.1 x 11.8 x 3.3 inches | 3.3 pounds | 300 dpi | 34 inches | See Best Price |
| Epson Workforce ES-200 | 11.3 x 3.5 x 2 inches | 2.4 pounds | 600 dpi | 34 inches | See Best Price |
| CZUR Shine800 | 15 x 6.22 x 11.61 inches | 4.4 pounds | 270 dpi | A4 | See Best Price |
| ScanSnap iX100 | 10.75 x 1.87 x 1.42 inches | 2.05 pounds | 600 dpi | 8.5 x 14 inches | See Best Price |
| Brother DS-820W | 2.1 x 12.1 x 1.6 inches | 15.5 ounces | 600 dpi | 8.5 x 32 inches | See Best Price |
You may also like: Best Portable DVD Players
Canon CanoScan Lide 400 Slim Scanner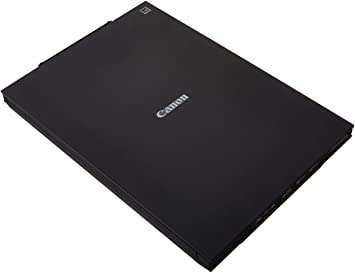 Canon's CanoScan LiDE 400 is a functional device designed to scan documents and images and convert them into PDFs.
It is a flatbed scanner that uses a CIS scan sensor and supports the largest A4 format. With a scanning area of 216x297mm, it is capable of scanning at a resolution of 4800×4800 dpi.
But, you can increase the resolution to 19200×19200 dpi. But you should consider the fact that this will limit the scanning area.
Canon CanoScan LiDE 400 supports 7.5ppm (A4) scanning speed by using a 3-color (RGB) LED as the light source. This ensures quality material.
So, you can use this scanner to scan important documents and send them to the cloud. The scanner is powered by the USB2.0 Type-C connector. The Z-cap model features vertical scanning capability and automatic document and photo correction.
The scanner detects image size and removes blank areas as well as blank sheets in multi-page documents. Besides, it has the ability to correct misalignments and other defects.
The corporate control panel allows you to quickly create documents in various formats. You can save the resulting images to your computer or cloud services, or send them to print.
Brother DS-640
The DS-640 makes it easy to scan, transfer, and organize your documents. Its compact design makes it the ideal work tool for users who are constantly on the move.
For the DS-640, there is room for everything from the hotel reception to the office desk and even cafes.
This device is to scan a wide variety of media, from A4 size paper to business cards.
Thus, the DSmobile DS-640 scanner will be a great assistant in your work. The built-in roller system for smooth document feeding ensures stable operation.
Lightweight and compact, DSmobile DS-640 will fit in your laptop bag. So you can work with your documents whenever and wherever you want.
With this model, you can easily scan, save, and send documents even if you are working on the road or in very limited space. Digitized documents are much easier, more convenient, and safer to search for, edit, and send to recipients.
You can view your scanned data on the screen as a thumbnail view (Thumbnails). If necessary, you can enlarge them or save them to the Online Catalogue for quick access later. Besides, you can convert digitized data into viewable PDF files in the background.
Fujitsu ScanSnap S1300i
The ScanSnap S1300 Document Scanner is a uniquely compact A4 size scanner with an auto feeder. It can be powered by the USB port in the mobile environment.
This provides all conditions for scanning personal data or business documents in any environment. For example, on the road, in the office, or at home.
ScanSnap S1300 scans documents in both mobile and stationary environments. It does this at 8 pages per minute (mains power) or 4 pages per minute (powered by two USB ports).
At the touch of a button, up to 10 sheets of different formats from business cards to A4 size documents are automatically scanned.
The in-line scanner ScanSnap S1300 supports advanced image processing functions:
automatically detect the size of any document
distortion correction
automatic page orientation in case of upside-down sheet feeding
removing blank pages when processing a mixed array of one-sided and duplex documents
Document scanner ScanSnap S1300 can be powered from the electrical network as well as from the USB port of the computer. Thus, it requires two ports – one for power and one for data transfer.
With CardMinder, this device scans contact information and handwritten notes on business cards. Then you can export them to databases of such applications as Outlook, CSV (Excel), and others.
The included ScanSnap Organizer management software creates optimal opportunities to organize a viewing of scanned data without opening each individual file. Despite its small size, you can use the device to process large documents. It supports double-sided scanning and also has a 10-sheet auto feeder.
You may also like: Best Portable Digital USB Oscilloscopes
Canon ImageFORMULA P-215II
Canon's high-quality P-215II scanner is capable of scanning A4 documents. It comes with a CIS sensor.
The resolution of the device is 600x600dpi and the color depth of the scanned file is 24 bits. Besides, it has an RGB LED with a three-color light source and ADF Duplex, USB2.0 interface.
The device is the most productive in the range of office equipment of its level. Duplex scanning allows you to create up to 30 images per minute.
This scanner is powered by a USB cable. Thanks to innovative technologies, you can scan documents not only indoors but also outdoors, such as when you travel.
Canon's P-215II has a powerful, rugged design that enables it to capture 500 document files per day. The file format obtained after scanning is PDF. The scanner program is compatible with Windows and Mac OS operating systems.
With this device, you can work not only in the office but also take the device home, take it on business trips or meetings. Thus, you will be able to complete all formalities on-site and be able to scan any documents instantly and in any situation.
Scanner model CANON P-215II is compatible with various devices, including computers from Apple. You can make the connection to the devices using a standard USB connector or via a Wi-Fi module. The scanner can process up to 15 sheets per minute.
With its 20-sheet automatic document feeder, the BROTHER ADS-1700W can create shortcuts for files on the touch screen. This is convenient for sorting information before shipment. With its compact design, double-sided document, and plastic ID reproduction, this is an excellent device for office work and business travel.
Brother Wireless Document Scanner
Scanner Brother ADS-1700W is suitable for home use or for office with a small turnover of documents.
Its compact size makes it easy to find room even on a desk. You do not need to divide a separate cabinet or other furniture to place the device.
The scan speed is 25 pages per minute in color duplex mode. The optical resolution here is 600×600 dpi.
This will produce crisp, shadows, or other "artifacts" that may hinder later text recognition.
Images are processed at speeds of up to 50 per minute. You can save the scan as a PDF document and send it immediately to email or USB drive.
This model comes with a 20-sheet automatic paper feeder to save time. Especially for scanning plastic cards, there is a corresponding slot. The built-in Wi-Fi module and USB 2.0 and USB 3.0 interfaces are to communicate with your computer.
Besides, the design of the ADF has a compartment for plastic cards. The largest paper size is A4. The largest scanning area is 216×863 mm. Scanning speed can reach 25 pages per minute. The resolution of the scanner is 600 dpi.
Brother ADS-1700W has a color touch screen. An important feature of the model for many users is Wi-Fi support. The wired connection of the scanner is made via USB. It is possible to power from USB.
The scanner support is implemented in Linux, Mac OS, and Windows operating systems. The model comes with an AC adapter and documentation. The USB cable is purchased additionally. The scanner is extremely compact: its overall dimensions are 103x300x83 mm. The low weight (1410 g) of the model makes it easy to transport.
Epson Workforce ES-200
Dimensions of ES-200 scanner are 2 x 11.3 x 3.5 inches, weight – about 1 kg.
For those who want to scan completely anonymous, there is IRIScan Anywhere 5 Wi-Fi. It allows you to scan to a microSD card embedded in the scanner itself.
You can control the ES-200 via the supplied software or the 3-button control panel of the scanner. This is power, stop (cancel) and start.
There are 3 indicators: Errors, Auto Power Mode, and Readiness Indicator.
There is also a switch for automatic document feeding and plastic card scanning modes on the front panel. Insert the cards into the slot from which the scanned documents usually come out. The ES-200 connects to your PC via USB 3.0 cable.
The ES-200 has a scanning speed of 25 pages in simplex mode and 50 pages in duplex mode. Except for the delay time, the speeds reach 28.2 and 54.9 pages per minute, respectively.
The ES-200 features software that saves both images and PDF files very quickly. It takes 47 seconds to scan and process a 20-page document. The scanner can convert a page of Arial and Times New Roman text typed in 8th font without errors.
This is an inexpensive alternative to ES-300w but without a wireless network and battery. The ES-200 is ideal for connecting to a laptop via USB.
You may also like: Best Portable Dehumidifiers
CZUR Shine800
Want to digitize valuable books and documents without expanding them? The CZUR Shine 800 Pro mobile planetary scanner can handle these and other tasks.
Compact in size, it captures images at up to 120 pages per minute without contact. The intuitive software offers a wide range of possibilities for processing your data.
Even your child will understand with the CZUR Shine 800 Pro. The device automatically detects the book's position and scans two pages at once without distortion or black bars.
It also recognizes the curves of book pages and aligns them. Besides, a special floor pedal allows you to start scanning at the touch of a foot if you hold an open book with your hands.
The capabilities of the device organically complement the proprietary software. In its interface a large set of tools for editing the scanned material is available. Among them, you can apply watermarks to the resulting images, recognize text in 186 languages, and export to popular formats. Such as TIFF, PDF, Excel, Word.
The planetary scanner comes with a single USB cable used to transfer data and power directly from a personal computer or laptop. This way, you don't have to look for a free outlet to connect it. This is especially useful when used in a public library, archive, school, or office.
The CZUR Shine 800 Pro is in a compact, foldable body comparable to a desk lamp, and weighs only 0.75 kg. This gives you a functional enough tool to work with printed materials and drawings that you can easily take with you.
ScanSnap iX100
Fujitsu ScanSnap iX100 is easy to use. It was designed to be easy and straightforward to use.
For customers, the advantage will be the compact size. The device has a weight of 400 g, it is comfortable to transport.
The color of the body is black, the design is strict. The model is of a long type, which is due to design features. But the quality of scanning is high, the elements perfectly read the media.
The largest format of sheets – A4. The scanner can read 12 pages per minute. The resolution is 600×600 dpi. Inside is an LED for illuminating the sheets.
It is possible to connect not only via USB version 2.0 but also via the Wi-Fi network.
The possibility of wireless connection will ease the use of equipment. The design has a built-in lithium polymer battery. The scanner is able to work independently. Implemented power from USB, the set includes a cable.
Fujitsu ScanSnap iX100 supports connection to computers and notebooks on popular operating systems – Mac OS and Windows. Connecting to the device will not cause difficulties for the owner. The scans are saved in two formats – JPEG and PDF.
This scanner comes with a lithium-ion battery, which is for 260 operations with documents in A4 format.
Connection to a computer via USB cable is not necessary. It is enough to connect the device to a Wi-Fi network to transfer the received images. Direct support provides direct communication with smartphones, laptops, and other portable devices.
With the device, you can scan two small documents, such as receipts, at the same time. They are saved as separate images. Besides, the user has the option to process A3 format documents. For this purpose, a double folded document is stretched out twice on the change side. After that, the firmware automatically "glues" the received files.
Brother DS-820W
The size of this scanner is 308x41x52 mm with a weight of 0.44 kg. If not for the width, it could be carried in a lady's handbag, it is very light and does not cause problems in transportation.
There is only one variant of color design of the case – white. Thanks to the glossy coating, it looks harmonious and harmonious.
The main control elements are on the right side of the case. There are several mechanical buttons with annotations and a monochrome display.
The display shows general information on current settings and connection status.
It is possible to work with the device without connecting to a PC. Brother DS-820W displays all the necessary information. For example, scanning options, scan quality, and storage options for your footage. You can connect via Wi-Fi by simply activating the connection using the switch.
The best and easiest option is to work with a memory card. With this option, the scanner can scan about 400-500 pages and 80-90 pages wirelessly.
The scanning process itself is simple, setting the limit on the desired document format. The Brother DS-820W passes it through a scanning element.  This way, you get the document on the backside. You don't have to worry about displacement during the scanning process. But at the same time, the thickness of the paper should not exceed a certain size.
Brother DS-820W, as the older model in the range, provides the owner with a full range of scanning options. The advantages are autonomy, compact size, bundling, appearance, and ease of use.
You may also like: Best Portable Music Players
FAQ for portable scanners buyers:
How does a portable scanner work?
The heart of the handheld scanner is its detector array: a set of tiny light sensors formed into a line that takes up most of the scanner's length. As it passes over a document, the scanner illuminates the page, and the sensors pick up the image or text as a set of points of light.
What is the fastest way to scan documents?
Use a cloud-based storage system for archiving the documents quickly and making them accessible to others. A service such as Microsoft's SkyDrive or Apple's iCloud quickly makes your scanned documents available on any of your compatible devices.
Is it better to scan or photograph old photos?
However, the difference in quality between a scanned image and a picture of a print photo is astronomical. With scanned images, the quality is clear and precise. While the smartphone method may have the scanner method beat in its convenience, the scanner method outshines the smartphone method in quality.
What is the best way to scan a book?
We can definitely say that the best way to scan a book is to do it using a specialized book scanner. This way the book is digitized at high resolution without destroying it in the process. The digital book created will be of very high quality and can also be used for archival purposes.