A dog crate is an integral part of any journey if you have a pet. It will ensure its safety and convenience. We considered a range of, including size, material durability, comfort, portability, and average customer reviews. Based on this information, we have collected the best portable dog crates for you. If you travel by RV, you may also need special portable dog fences.
This item has the best characteristics:
Our Top Pick

Diggs Revol Dog Crate

Collapsible small dog crate is easy to set up, fold, store, and transport. Equipped with wheels and carrying handle.

See Best Price
Other great portable dog crates and their comparison:
| Item | Dimensions | Weight | Material | Size Map | |
| --- | --- | --- | --- | --- | --- |
| Diggs Revol Dog Crate | 28.4 x 20.1 x 20.6 inches | 24.86 pounds | aluminum | medium | See Best Price |
| Love's cabin 36in Portable Large Dog Bed | 36.6 x 21.3 x 21.3 inches | 2.45 pounds | polyester | medium | See Best Price |
| 2PET Foldable Dog Crate | 20 x 14 x 13 inches | 6.25 pounds | polyester | medium | See Best Price |
| Noz2Noz Soft-Krater Indoor and Outdoor Crate for Pets | 91.44 x 24 x 27 inches | 8.76 pounds | vinyl | large | See Best Price |
| MidWest iCrate Starter Kit | 42 x 28 x 31 inches | 36 pounds | polyester, fleece | large | See Best Price |
| Pet Gear "The Other Door" 4 Door Steel Crate | 27 x 18.25 x 21.75 inches | 22.05 pounds | plastic | large | See Best Price |
| Aspen Pet Porter Heavy-Duty Pet Kennel | 28 x 20.5 x 21.5 inches | 9 pounds | plastic | medium | See Best Price |
| SportPet Designs Plastic Wire Door Travel Dog Crate | 32 x 22 x 23 inches | 16 pounds | plastic | large | See Best Price |
| ScratchMe Pet Travel Carrier Soft Sided Portable Bag | 20 x 13 x 13 inches | 3.45 pounds | polyester | large | See Best Price |
| 2PET Foldable Dog Crate | 30.9 x 23.6 x 3.8 inches | 10.6 pounds | polyester | large | See Best Price |
| AmazonBasics Premium Folding Portable Soft Pet Dog Crate | 26.2 x 17.8 x 18.1 inches | 6.53 Pounds | polyester | medium | See Best Price |
You may also like: Best Portable Vacuums for Car
Diggs Revol Dog Crate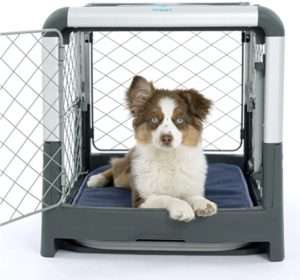 This crate will give your dog a sense of peace of mind and protection. The model is of impact-resistant plastic.
It has a unique thoughtful design, rounded shapes, looks quite concise and compact.
So, the main feature of the model is an open roof with swing doors. This feature makes it possible to sit inside any animal.
Even those that simply can not be forced to climb into a carrier through a standard side door.
Also, the open-top gives a greater viewing radius to the curious pet. On the roof, there are two snap locks, a folding ergonomic carrying handle, and many ventilation holes. Also, openings for ventilation are provided on the back of the structure.
On all parts of the box is a metal lattice-door, which will turn the carrying clipper into a kind of booth. In such a cabin, the animal will be able to get some privacy to rest. If you use this model as a sleeping place, do not forget about soft textile bedding for your pet.
Love's cabin 36in Portable Large Dog Bed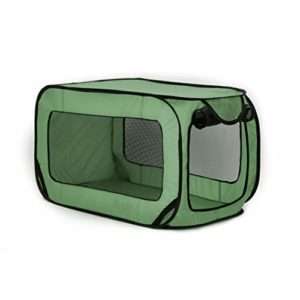 It is a soft carrier for dogs, which will conquer you at first sight. The bag is nice to the touch. The material has successfully passed the tests for strength and negative environmental impact.
Even with daily use, the bag will serve you for many years. Besides, this model looks very stylish and will emphasize the sense of taste of the owner.
The dog here will be able to control everything happening around through the transparent walls. Inside it, there is soft bedding. This carrier has a thoughtful ergonomic design and well-ventilated space.
For the convenience of the owner, the bag comes with adjustable straps, for which you can carry the device in hand. When not in use, the bag is compactly folded and there are no problems with storage.
This beautiful and sturdy carrying bag is perfect for your pet's convenient travel. It will have enough space for your dog. The design is easy to dismantle and easy to clean. At home, the carrier can serve as another sleeping place for your pet.
2PET Foldable Dog Crate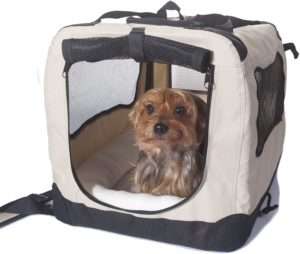 This model is both a comfortable travel bed and a functional device for transporting your pet. The model has a cute design.
Due to the optimal configuration, the bag does not look bulky. But, it looks very neat and aesthetically pleasing.
All around the perimeter this dog crate closes with a secure zipper. When folded, this bag becomes absolutely flat.
The model is of quality material, so it is as unpretentious as possible in care. To clean it, just wipe the surface with a wet cloth.
Due to the upper handle and the shoulder strap to be fastened, this bag is incredibly mobile for dogs. And the special ventilation holes on the top ensure the necessary air circulation. Besides, the model is well ventilated through the mesh front door. Through it, your pet can see the world around him.
This safe and comfortable carry allows you to transport your pet comfortably. Besides, this product is easy to disassemble and easy to clean.
You may also like: Best Portable Folding Picnic Tables
Noz2Noz Soft-Krater Indoor and Outdoor Crate for Pets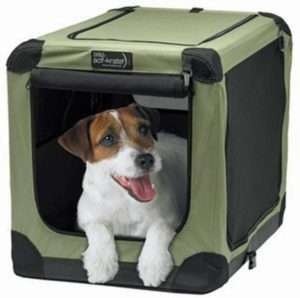 This hard frame carrier is rectangular in shape. The model is very easy to disassemble and easy to clean.
If you are looking for a quality model at an affordable price, then this dog crate is what you need.
All around the perimeter of the body are evenly placed holes for ventilation. The door itself is also plastic. It is on strong hinges and securely latches on the lock, which will not let your pet escape.
Inside the design provides a fairly deep protective pallet. It will prevent the dog from coming into contact with wet things during long trips.
The carrier is also quite capable of becoming a secluded sleeping place at home or, for example, in a hotel. For the owner's convenience, this dog crate comes with a folding top handle.
The product has a hard bottom, which does not bend under the weight of the animal.
MidWest iCrate Starter Kit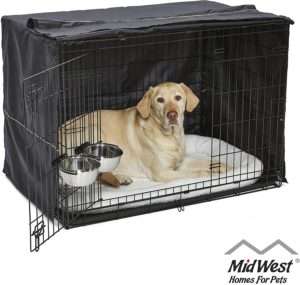 This portable dog crate is primarily to transport the pet in ground transport and airplanes. The model meets all the necessary standards.
This carrier is of plastic and has a strong construction with a reinforced bottom. The metal grille door is complemented by a robust stainless steel lock to prevent unintentional opening.
Among the design features stands out practical top folding handle for the convenience of the owner. There is also a side perforation for ventilation and stable non-slip feet at the bottom.
This is a quality, convenient, and comfortable for the transportation of your pet model. In operation, this dog crate is not deformed. The product is easy to clean.
Pet Gear "The Other Door" 4 Door Steel Crate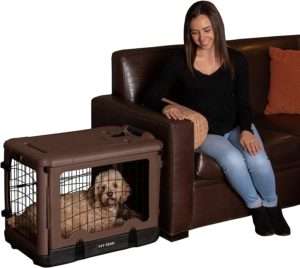 It is a plastic box for the convenient transportation of dogs. All around the perimeter are vent holes for unobstructed air circulation. The door is a metal grille, which is tightly fixed with clips.
The cover is removable, which makes it easier to clean the box after the trip.
When closed, it holds securely on the wide snap-on holders. The body has hinges for shoulder strap and car seat carrier fastening.
Animal owners especially note the high quality and strength of the material. It is convenient for cats to travel in such boxes at any distance.
The metal door is in the form of a lattice and is closed with a clip. The body and roof of the carrier are of high-quality plastic. You can also remove the metal grid and turn it into a house for your pet.
You may also like: Best Portable Carpet Cleaners
Aspen Pet Porter Heavy-Duty Pet Kennel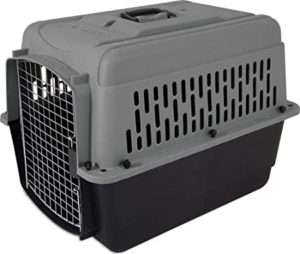 This is a popular portable crate for transporting dogs of any size. Its removable cover is securely held on snap locks. Large perimeter vents and a metal mesh door give the pet a good view.
The manufacturer offers a large size range of such carriers. It makes the box suitable for pets of different breeds. Also, owners have the opportunity to choose the color of the tray that they like most.
This product is suitable for transporting dogs of small and medium breeds. The body is of durable plastic of high quality. The door is in the form of a lattice.
Also on the side walls are grille inserts for better ventilation. Included with a bowl, which is attached to the grille door. The body has fasteners in the form of screws and latches. This gives greater reliability during transport. Also, for more convenience in transporting the animal, there are wheels.
SportPet Designs Plastic Wire Door Travel Dog Crate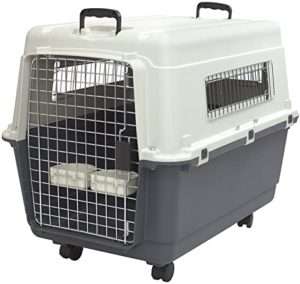 This dog crate is of light plastic, which is perfect for transporting your pet. The manufacturer offers several sizes to choose from. So any size animal will be comfortable in the box.
Despite its lightweight, the plastic is quite strong. It can withstand long journeys and provides high rigidity for carrying.
The inlet handle does not unbuckle and does not fall off on the move, so you can be sure of the safety of your pet.
At the bottom of the container, there are stable wheels. They prevent the carrier from sliding on smooth surfaces.
The removable lid has ventilation holes all around the perimeter and 2 hinges for fastening the seat belt in the car. Hold the cover on a pallet of convenient swivel locks. The plastic door also holds due to these fasteners.
ScratchMe Pet Travel Carrier Soft Sided Portable Bag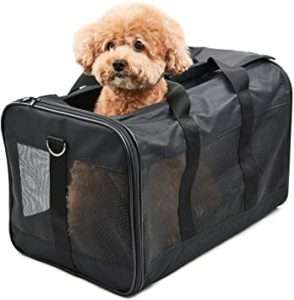 This model of the dog crate has a stylish and elegant appearance. It will not leave indifferent owners of any breed of dog. For easy transportation, there are handles and shoulder strap.
The top and sides of the product are of mesh material, which provides enough air penetration. Pet landing can be done both on the top and side. Everything is locked with a zipper.
The bag has two pockets, one of them on the button and the other on the magnet. Inside there is bedding, which is attached to the velcro.
Also at the bottom of the bag has metal legs, which will protect the product from dirt.
The bag material is resistant to frequent washing, does not leave stains, does not spoil from the sun. Due to good breathability, the pet will not be stuffy.
The form of carrying is maximally thought over and equipped with many pockets.
The materials used are resistant to wear and tear and are not afraid of water. There are ventilation nets on the sides and on the top. At any moment, the upper ventilation insert can be closed with a zipper. Each zipper on the carrier has extra protection that prevents accidental opening.
2PET Foldable Dog Crate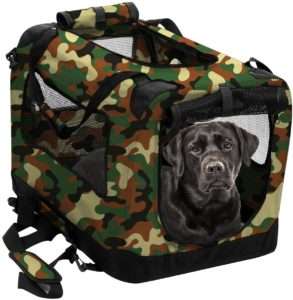 Buyers are primarily attracted by the unusual design of this portable dog crate. The manufacturer offers many bright colors with drawings on any subject.
The walls and bottom of the backpack are hard enough. This keeps its shape well, and dogs are comfortable to travel in it.
The frame has a durable polyester cover. It protects your favorite from wind and rain. There are small holes around the perimeter. They provide ventilation inside the carrying case.
Doors on the zipper lock are on the sides, as well as on the top. The bag is light enough, so during transportation will not cause discomfort. You can adjust belts in length.
Thus, the product can be carried on your hands or shoulder as you wish. There is also a lining under the straps for more convenience. All materials used in the manufacture, have been tested for durability.
With this carry, you can travel by car. The pet will be comfortable because the house is quite spacious.
The carry-house can be easily and quickly assembled and disassembled. In disassembled form, such a house will take up almost no space. The house on all sides have windows that you can close or open if necessary. All fasteners – on velcro.
The shape of the house supports a metal frame, which if you want can be folded. During storage, the house takes up almost no space.
You may also like: Best Portable Rocking Chairs
AmazonBasics Premium Folding Portable Soft Pet Dog Crate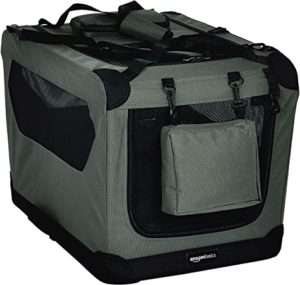 This is an inexpensive but high-quality dog crate. It is of dense water-repellent textile and is easy to fold. Thus, it does not need much space for storage.
For your convenience, the bag has short handles and a long shoulder strap with extra padding. Thanks to it, it does not rub the skin and does not put pressure on it.
Metal carbines are reliable, and the hard bottom is pulled out. After that, the bag can be easily sent to the washing machine.
One of the sides of this bag is completely made of mesh, so your pet can see what is happening outside.
At the same time, the air circulates freely inside the carrier. There is a small Velcro pocket for storing trifles. It is very convenient for dogs to travel on it.
At the bottom, there is a soft mattress for more comfort of the animal. You can carry the bag with short handles or on your shoulder. The fabric is wear-resistant, easy to wash, and quick to dry.
Such a carrier is suitable for trips to the cottage and for long journeys. It has a reinforced floor, so the pet will be comfortable to stand on his paws.
FAQ for portable dog crates buyers:
Can I use a pet carrier as a crate?
A plastic pet carrier is also a good option for crate training. This is the kind you most often see used for airline travel. The drawback to this kind of crate is that it is enclosed on three sides, so it does not let in as much light as a wire crate. The crate should not be too large.
What is the difference between a dog crate and a dog kennel?
The terms dog crate and dog kennel are often used to mean the same thing. They are usually larger and heavier than the carrying crates. Plastic pet carriers are meant to be used to transport your pet.
Should you cover a dog crate with a blanket?
As with crate training, a gradual introduction is the best way to get your best friend used to a covered crate. And because a properly trained dog considers her crate a safe and happy space, you should never place a blanket or cover over it to punish her. Instead, offer a covered crate as an opportunity to wind down.
Do dogs prefer wire or plastic crates?
Wire kennels and plastic crates are both very good products for dogs and cats. Today's wire kennels offer convenience and versatility features that usually make them a better choice for most pet parents.
What should I put in my dog's crate?
So you add a few things to make it nice for your dog or puppy. The things you could put in a crate include bedding, toys, and sources of food and water. But not everything is suitable and some things can even be dangerous. Also, a puppy will need and want slightly different things to an adult dog.