The Pellett grill has surprised every barbecue lover with its appearance on the market. It has revolutionized the world of grilling because it also combines a smoker and an oven, which makes it truly multifunctional.
With it, you can cook any dish you want and surprise all your guests at your upcoming picnic. If you have not yet chosen the right option for you, we advise you to go through these best portable pellet grills for the 2023 season.
For all barbeque lovers, we also recommend these best portable gas grills for tailgating.
Our Top Picks:
Camp Chef 20" Pursuit Portable Pellet Grill




Compact Design

Includes 2 Meat Probes

Ash Cleanout System

See Best Price

Recteq RT-B380 Bullseye Wood Pellet Grill




Ultimate Versatility

Smoky Stats

Superior Quality

See Best Price

Cecarol Pellet Grill with wheels




Great Wood-Fired Flavors

Portable & Home Design

Easy to Clean

See Best Price
1. Camp Chef 20″ Pursuit Portable Pellet Grill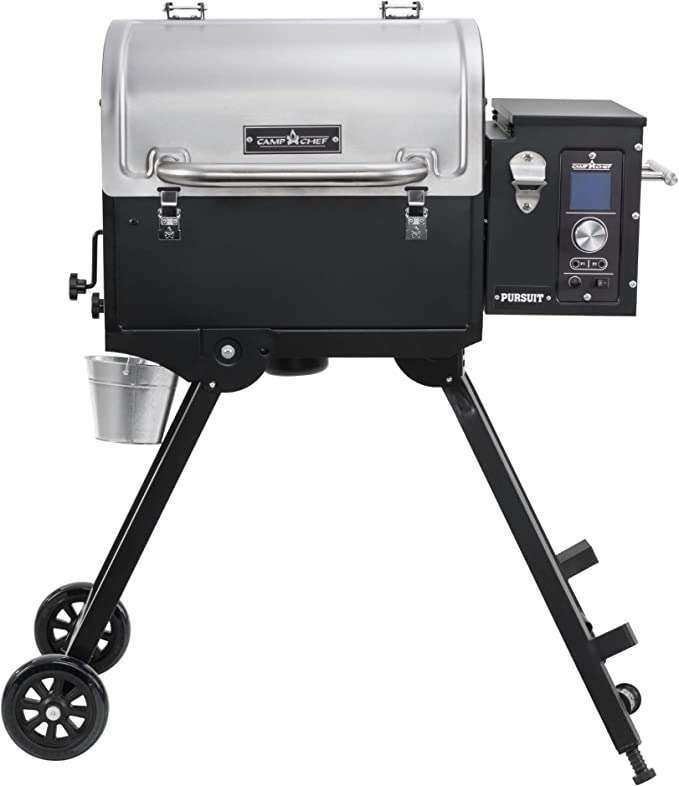 A portable grill will allow you to have an outdoor picnic at any convenient location. The panel lets you adjust the greatest temperature for cooking: from 160ºF to 500ºF. You can also adjust the smoke level from 1 to 10.
There are as many as two levels of grates for this purpose. The grill has an automatic ash-cleaning system, which keeps the unit clean immediately after cooking.
It can be quickly folded up, allowing it to be transported over any distance. Thanks to the compact size of the grill, it is easy to store even at home.
Included with the grill are two meat probes to check the temperature and its readiness. The grill has foldable legs on rollers.
At the bottom of the grill is a bucket for draining excess fat and oil. You can switch the grill from open flame to grilling. The grill requires a 220-volt outlet for connection.
You may also like: 9 Best Portable Charcoal Grills (Comparison & Reviews)
2. Recteq RT-B380 Bullseye Wood Pellet Grill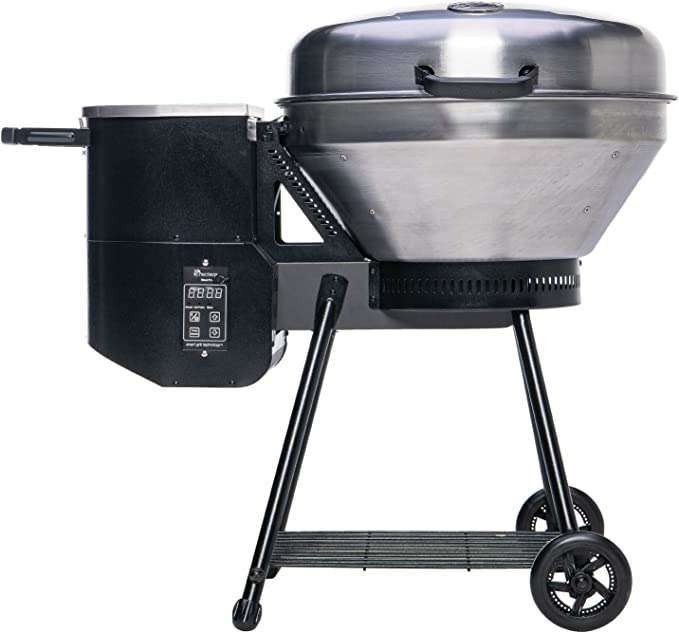 This multifunctional grill allows you to grill, bake, stew, and even smoke food. Despite the size of the grill, it can be easily transported and folded.
The accessories of the grill are made of stainless steel, which guarantees their long-term durability. Also, the grill is quite easy to use, as it starts automatically with one button.
You won't have to light a fire to turn it on, so cooking will be as safe as possible. Thanks to the large plate diameter in the grill, which is 380 square inches, you can cook on it for many servings at once.
The lid closes tightly and securely, ensuring that the desired temperature is maintained. You can also use the device to reheat already-cooked food.
The grill can be adjusted from 225ºF to 725ºF. The grill also has a constant temperature control. The grill's stainless steel lid makes it easy and easy to clean. The handle on the grill lid has a silicone coating that will keep you from getting burned while cooking.
3. Cecarol Pellet Grill with wheels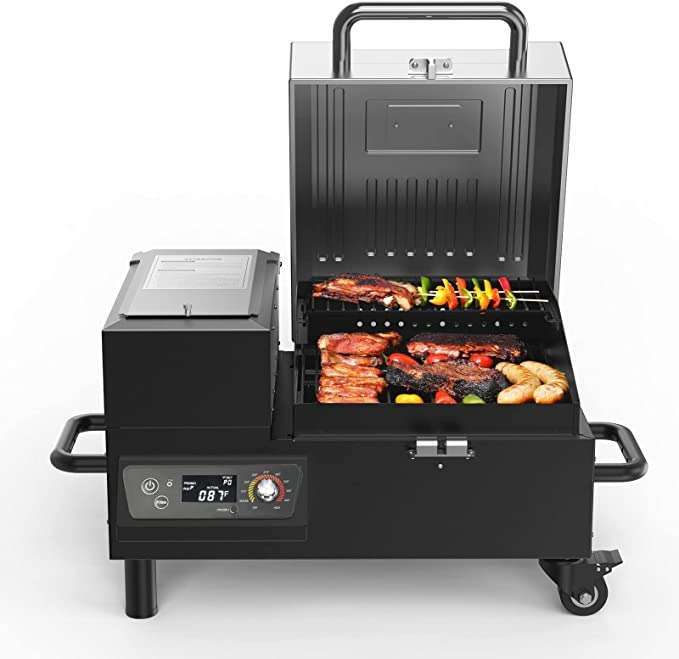 A distinctive feature of this grill is its simple operation. It is due to a small set of functions and a clear interface. The grill has 8 modes: frying, smoking, stewing, baking, roasting, and others.
This model also has two levels of grates, on each of which you can cook food simultaneously. To start cooking, you need to press the button on the control panel, having previously poured the coals into a separate compartment.
Despite the compact size of the technique, it allows you to cook several portions simultaneously. The grill is also quite easy and simple to clean from dirt since its components are made of stainless steel.
To drain the remains of fat or oil after cooking, there is a special compartment on the side of the grill. Temperatures can be adjusted from 150ºF to 450ºF.
The 250 square inches of cooking space will allow you to cook different foods at the same time. The 57-pound grill can be folded down to a small size, allowing you to take it with you. It is comfortable to carry thanks to the large, non-slip handle on the lid.
4. Masterbuilt MB20040522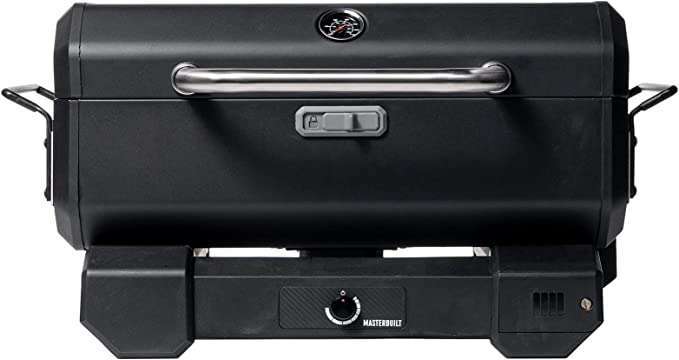 This electric grill runs on AA batteries for about 6 hours, but it can also be charged with a cord. To use this device you need coals. They should be placed in a special compartment.
Grill quickly and easily unfolds and folds, which makes it easy to transport and store. With its simple and accessible functionality, you can easily adjust the desired temperature from 250ºF to 550ºF on the control panel.
The grill also has a tight and securely closing lid. This keeps the temperature inside the grill until cooking is complete. The device can be cleaned of ash immediately after cooking by shaking out the charcoal compartment. It holds 1.5 pounds of coals. That is enough charcoal for four hours of continuous cooking.
When folded, the grill takes up little space, allowing it to be stored even at home. It has retractable grates, which increases the cooking area. The model can be closed with a special adjustable lock. This allows it to be transported in such a way that the lid will not open during carrying or transportation.
You may also like: 12 Best Portable Camping Sinks For Any Budget
5. Giantex Portable Pellet Grill and Smoker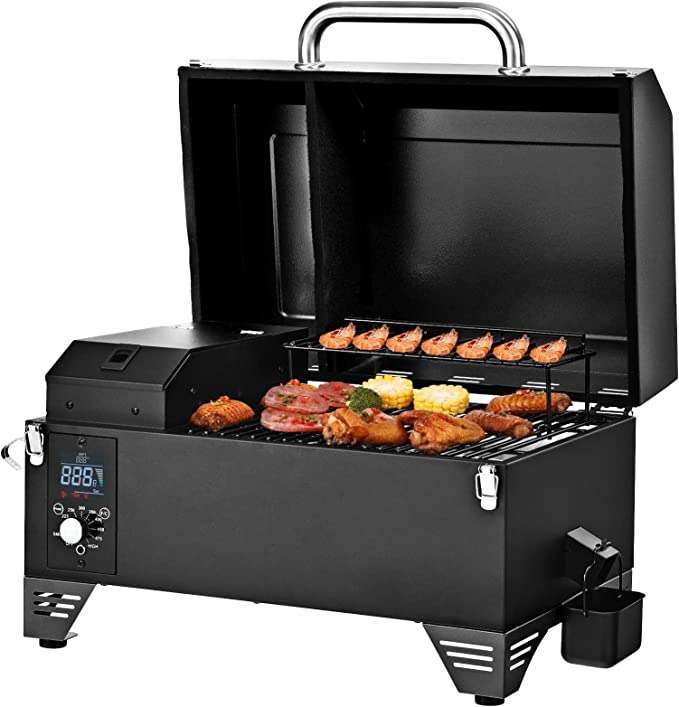 This grill has 8 different modes that allow you to grill, smoke, heat, and stew your food. Each of the modes can be explored in the included instructions.
The grill is quite compact, which allows you to take it with you. Also thanks to this, it is convenient to store it at home. On the side of the grill, there is a special container into which all the excess fat and oil are removed.
This ensures safe cooking and grill cleanliness. The technique can be wiped down and cleaned of food debris, as it is made of stainless steel.
The grill has a tight lid that closes securely during cooking and does not release hot air. This allows you to maintain the desired temperature for the entire cooking time.
This model has a top and bottom grid for cooking many dishes at once. Wood is used as fuel for the operation of the device. The total cooking area is 256 square inches. It allows you to cook 4 full servings of any dish.
With the improved model, the grill cooks faster but requires less fuel. The convenient control panel lets you adjust the temperature from 180ºF to 500ºF with a rotary knob.
6. Cuisinart Portable Wood Pellet Grill and Smoker
Thanks to the versatility of the grill, you can cook different foods on it. This device includes 8 different modes. You can grill, smoke, barbecue, roast, stew, and bake foods on the grill.
The portable device weighs only 45 pounds, allowing you to take it with you on any trip. The lid of the grill closes tightly, making it easy and convenient to transport.
The grill turns on and off at the touch of a button. Adjust the temperature and change the mode on the control panel. The temperature setting ranges from 180ºF to 500ºF.
The digital control can automatically add and subtract degrees to adjust the temperature. The temperature will be displayed on the screen during cooking, so you can control it to achieve the perfect grill and cook any dish.
The grill allows you to cook many dishes at the same time, thanks to 2 levels of grates. To keep the grill clean even after use, there is a special compartment on the side for oil and grease. It will drain all the leftovers, thus ensuring a clean and tidy technique.
You may also like: 9 Best Portable Camping Tables (Under $100, $200)
7. Cuisinart Twin Oaks Pellet and Gas Grill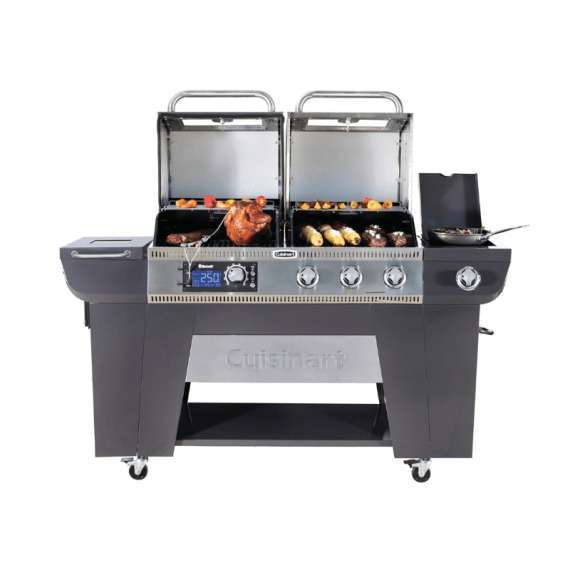 This model combines a charcoal and gas grill that can be used to cook a variety of dishes. The large 900-inch cooking area is equipped with sturdy cast-iron grates.
As you cook, you can track the degree of grilling with a special viewing window and light.
The grill provides optimal smoking time, the result of which can be evaluated with the help of smart meat tongs. It connects to your gadget via Bluetooth. By connecting the grill to your smartphone, you can track the degree of meat cooking.
An insulated lined lid protects against smoke leakage. To clean your grill, all you have to do is start the system, which will do everything for you. It will remove ash residue and keep your appliances clean.
The hinged heater is made of stainless steel for durability. The grill lid is far away from the heating system, so it stays cool even during cooking. The gas burners on the grill allow cooking on grates and on cast iron pans.
How do portable pellet grills work?
Portable pellet grills are a unique type of outdoor cooking appliance that blends the convenience and portability of portable grills with the flavor, temperature control, and even-cooking properties of wood pellet smokers. They work by heating up wood pellets on an electric element to reach the ideal cooking temperature for whatever it is you're grilling.
The pellets are then fed into an auger system which dispenses them onto the grill's hot plate which maintains an even heat across the surface of your food. The grill is equipped with thermometers so that you can monitor and adjust the temperature as needed while your food cooks.
Can you use a pellet grill without electricity?
No, you cannot use a pellet grill without electricity. The electric element is essential for heating the pellets and maintaining an even cooking temperature.
Is pellet grill better than smoking?
It depends on your preference. Pellet grills can provide a more consistent cooking experience and better temperature control than smoking. However, many people prefer the flavor that smoking adds to foods. In the end, it comes down to personal taste.
Do pellet grills actually smoke?
Yes, pellet grills do smoke. As the pellets are heated, they release a smoky flavor and aroma that helps to enhance the taste of food. This type of indirect cooking also allows you to create different levels of heat zones on the grill, allowing you to get more creative with your grilling setup. Pellet grills can be used to smoke brisket, ribs, and other types of meat, as well as vegetables or even baked goods such as breads or pizzas.
Can you leave a pellet stove on all night?
Yes, you can leave a pellet stove on all night as long as it is in good working condition and has been professionally maintained. Pellet stoves are designed to be left on for hours at a time and will automatically feed pellets into the firebox while maintaining a steady temperature throughout the night. However, before doing so, make sure you consult the manufacturer's manual of your stove for specific guidance and safety instructions.