A DVD player is a simple and convenient device for watching movies at home, but taking it with you is extremely difficult. The developers have solved this problem by creating portable DVD players with screens. This device combines the functions of the DVD and music player.
It can work independently and does not require complicated connections. Portable DVD players are a great alternative to a laptop. In addition, if you choose the right player model, it can become an equal replacement for your laptop, not counting the possibility of Internet access.
In this review, we have observed for you the best portable DVD players, based on their capabilities and rating from buyers.
This item has the best price and quality:
Our Top Pick

HDJUNTUNKOR Portable DVD Player

This player comes with a brand-new self-produced LCD screen that has more high-definition and top picture quality.

See Best Price
The list of the other excellent portable DVD players with a comparison of the main characteristics:
| Item | Dimensions | Weight | Disc Formats | Media Formats | |
| --- | --- | --- | --- | --- | --- |
| HDJUNTUNKOR Portable DVD Player | 14.96 x 3.54 x 8.85 inches | 3.59 pounds | CD, DVD, CD-R/RW, DVD -R/+R, DVD+RW/-RW, VCD, SVCD | video, audio, image | See Best Price |
| SUNPIN Portable DVD Player | 15.8 x 9.4 x 3.4 inches | 3.24 pounds | CD, DVD, DVD R(-R), DVD RW(-RW), VCD, SVCD-R(RW), CD-R(RW) | video, audio, image | See Best Price |
| Portable DVD Player with Large Swivel Screen | 13.8 x 9.8 x 2 inches | 3.8 pounds | CD, DVD, CD-R(RW), DVD-R (+R), DVD-RW (RW), CVD(SVCD), VCD(DVCD), HDCD, DTSCD | video, audio, image, text | See Best Price |
| Portable DVD Player with Large HD Screen | 19.2 x 11.9 x 3.2 inches | 5.53 pounds | CD, DVD, DVD + R(-R), DVD + RW(-RW), VCD, SVCD-R(RW), CD -R(RW) | video, audio, image | See Best Price |
| NAVISKAUTO Portable Blu-Ray DVD Player | 13.7 x 9.6 x 1.96 inches | 5.07 pounds | BD, BD-R, BD-RE, DVD-R/RW, DVD+R/RW, DVD-Video, VCD, CD, CD-R/RW | video, audio, image, GIF | See Best Price |
| ieGeek Portable DVD Player | 15.1 x 8.7 x 3.3 inches | 2.99 pounds | CD, DVD, DVD+R(-R), DVD+RW(-RW), VCD, SVCD-R(RW), CD-R(RW) | video, audio, image | See Best Price |
| SUNPIN Portable DVD Player | 12.3 x 8.5 x 3.4 inches | 2.49 pounds | CD, DVD, DVD+R(-R), DVD+RW(-RW), VCD, SVCD-R(RW), CD-R(RW) | video, audio, image | See Best Price |
| DR. J Portable DVD Player with HD Swivel Screen | 14.6 x 8.5 x 2.9 inches | 3.04 pounds | CD, DVD, CD-R/RW, DVD -R/+R, DVD+RW/-RW, VCD, SVCD | video, audio, image | See Best Price |
| APEMAN Portable DVD Player | 8 x 6 x 1.7 inches | 2.09 pounds | CD, DVD, DVD + R/-R, DVD + RW/-RW, VCD, SVCD, CD-R/RW | video, audio, image, text, games | See Best Price |
You may also like: Best Portable MP3 Players
HDJUNTUNKOR Portable DVD Player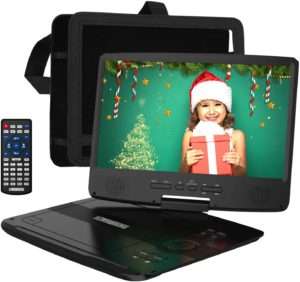 This DVD player is for watching videos from memory cards and other storage devices. As well as your favorite TV shows.
A built-in TV tuner provides a quality display of interesting programs for children and adults. The set, which includes an antenna, allows you to broadcast 20 channels.
Compactness is one of the significant advantages of the device. You can watch cartoons, soccer matches, and entertainment programs right in the car.
This model has an excellent 10-inch screen. Beautiful and at the same time, the classic design in a closed-form strongly resembles a notebook.
Its widescreen proportions allow you to watch movies from DVD on full screen. It is also equipped with an adaptive screen management system. This provides 4 different operation modes – Standard, Low Light, Indoor, and Outdoor. It also allows you to adjust the image according to the light conditions.
Besides, it has a surround sound system for 2 Virtual 3D Sound speakers. There is also video scaling to HDTV resolution (1080i/720p). The lightweight and powerful battery, which provides almost record time of 4.5 hours, have done their job. This model comes with a high-quality screen, convenient operation, and stylish appearance.
SUNPIN Portable DVD Player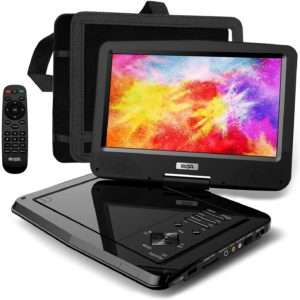 This lightweight and compact player has a rotatable LCD screen. It is for quality playback of sound and video files from CD and DVD, USB type media, and SD cards.
It can be equally conveniently placed in a small room, car interior, and traveler's travel bag. You can power the player by a household network of 220V 50Hz.
This portable player pleases the quality of performance and characteristics of the screen. It has good quality workmanship of even the smallest details and outstanding appearance.
With this player, its owner will not go unnoticed. The screen of 9 inches is not the largest, but quiet enough for comfortable viewing.
The color characteristics and juiciness of the picture are admirable. It is a good choice for those who like watching movies and TV series.
The screen mounting scheme allows you to adjust its position in the widest range. Besides, attaching an extra battery will noticeably increase playback time. The miniature speakers that come with it will help you create an impression close to a big TV.
The main feature of this player is the "base station", almost the same as for a laptop. A huge number of output connectors are in it. This allows you to make this player quite a quality "base station" of a home theater. Also, this player has a slot for SD cards.
Portable DVD Player with Large Swivel Screen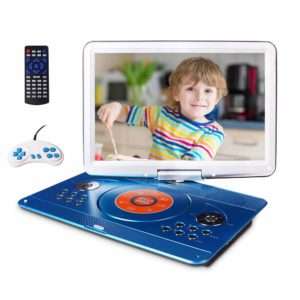 In general, if you ever used a DVD player, this model is easy to cope with.
It comes with remote control, it's convenient when you connect the player to the TV, you do not need to go anywhere.
The controls are all over the body, most of them are on the front panel. This compact DVD player model is for use in the interior of the car or on the road.
Featuring a full-color LCD screen, the player allows you to play movies and sound files from CD and DVDs, SD cards, and USB storage media.
This model has a lot of charges. This device provides at least 3 hours of operation at a normal volume. Besides, its cost has allowed it to overcome several competitors.
This player can work confidently in the machine because there is a mounting device. And besides, like all other participants of our top five, this player plays MP3 discs. Besides, another feature is an integrated infrared transmitter for wireless headphones.
The player's sound card is complemented by two built-in speakers with a total power of 1.5W each. The built-in audio decoder plays only the most common formats.
You may also like: Best Portable FLAC Players
Portable DVD Player with Large HD Screen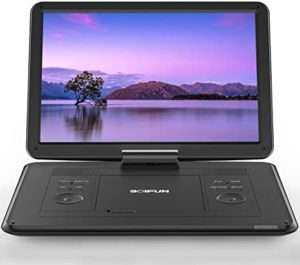 This player is to play audio and video files from different media, be it CD or DVD. By the way, you can watch movies on it with USB flash drives, for which there is a special connector.
This portable DVD-player is great for use in the car or at home, and also has a unique form factor. The display has quite a good picture quality.
Besides, this device is able to work as an external display for any other analog video source.
The sound here is quite detailed and voluminous. So you can watch the movie without plugging in your headphones. But, there is a special 3.5mm jack for them.
The screen of this device is rotatable. So you can put it in the position that you think is most convenient.
You will be able to adjust many parameters by yourself. For example, the language of the menu and subtitles, the display format, and much more. If you have children, use the function of limited access of children to the player. Enter the code that will be requested when playing unwanted movies for children.
Did you have to stop watching and do other things? The function of remembering the part of the film you need will be useful.
During work, the player does not make any extraneous sounds. Besides, it does not heat up to the point that it becomes uncomfortable to hold it on your lap.
NAVISKAUTO Portable Blu-Ray DVD Player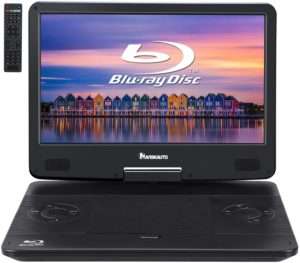 This player is small in size, lightweight and has a good 9-inch screen. The plenty of supported standards and the lightweight body make it a good choice.
High sound volume is achieved here by the stereo speakers. They complement the main speaker of the player. For cozy viewing, it is possible to connect headphones.
At home, in the absence of other DVD players can connect to a large screen or home theater.
If you watch the player from a distance, use the compact miniature remote control.
On this screen, you can clearly see the image-rich in juicy and contrasting colors. With a resolution of 1440 by 1080 pixels, there will be a detailed image.
The speakers complement the screen perfectly, producing clear and clear sound. So you don't have to plug in your headphones to watch the movie.
The model boasts that it supports all popular file and disk formats, so there will be no problem with that. You will be able to control all the functions with the help of high-quality buttons with a pleasant move.
In general, this is a great representative of DVD players. It will be irreplaceable on trips and on vacation. Watch movies in different formats from discs and flashcards. All this will give you this new player.
You may also like: Best Portable Cassette Players
ieGeek Portable DVD Player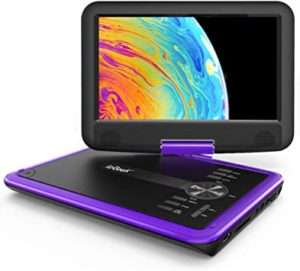 It is a beautiful and comfortable player with a very high-quality picture and good sound.
The player can run on a fully charged rechargeable battery for up to six hours. With the Quick Recharge function, you can recharge the player several times faster.
It has several important features:
long battery life
handy touchpad
multicolor support
deep black
compatibility with MPEG4 files
You can rotate the display of this model by 270 degrees and fold upwards. Furthermore, you can open it up to 180 degrees. This ability allows you to put the player in your car seat pocket.
Receiving radio and television at a decent level, but you need to be in the area of receiving these signals. You can adjust the brightness and contrast without going deep into the menu.
If you look from the side and from the top at 170 degrees, from below the color starts to invert already at 120. The volume is good enough and you can feel the stereo effect perfectly. You can use this player as a CD player. The sound at the output is quite high quality.
You can watch movies and shows on the LCD screen. It has an elegant shiny frame. The display will show you the bright and saturated colors. Thus, you will enjoy your viewing experience to the fullest.
If you look just below the display, you will find the control keys to choose what you want to watch. You will also be able to make the necessary settings and adjust your watching movies and shows.
SUNPIN Portable DVD Player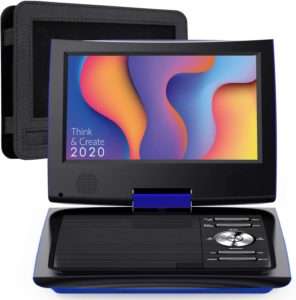 Not so long ago, movie and TV series lovers were able to watch this brand new portable DVD player.
It has a lot of useful features. With it, you can watch discs with your favorite movies or watch programs like on TV.
There will be no problem with the new TV DVD player's charge.
You can connect it to the network, plug in the battery, or simply connect it to your car adapter. You can transport the player in a special bag, which comes with the sale.
The design of this model is an original color scheme. The work of designers is the result of a modern multifunctional and stylish DVD player.
Its body is blue and black plastic. The advantage of plastic is that there are no prints left on it. This is extremely convenient, you do not have to constantly wipe it.
On the left side panel of the player, there is a key to turn the device on and off. it also has AV output and a key to control the volume of sound. There is also a headphone jack on the left side. On the back panel, there is a connector for the charger and a USB connector.
There are no important connectors or buttons on the right side of the panel. There is only the battery compartment. So the manufacturer has placed the battery. The degree of charging it can be judged by the special light bulb located on the front panel.
By design and type of opening this portable DVD player is like a laptop. Two parts of the player when closing does not snap, but still open with considerable force.
DR. J Portable DVD Player with HD Swivel Screen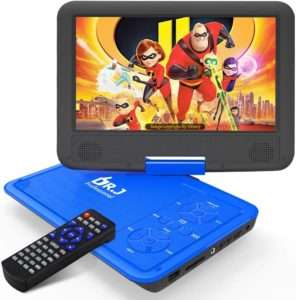 This portable DVD-player has a stylish and spectacular appearance. With the rotatable display design, you can turn the device from a mediocre book form into a modern tablet.
The player's operation modes are controlled by a touch sensor. You can activate it by a small touch of your finger.
For more comfort, there is the remote control. Due to its compact design and ergonomics, it is very easy to work with this portable DVD player.
This player has an eight-inch LCD screen with 800 by 480 dpi resolution. Four 12-bit video processors work on the player to get a quality image.
As a modern device, this portable DVD player is absolutely multi-format. It will allow you to use all the media available on the market. The player's video playback capabilities are enhanced by the integrated USB2.0 port.
There is also a universal card reader. That's why you'll not only be able to watch your favorite movies and listen to your favorite songs. You will also be able to enjoy your favorite photos taken at leisure on this compact device.
To connect the portable DVD player to the TV, there are composite audio and video outputs.
You may also like: Best Portable Drawing Tablets
APEMAN Portable DVD Player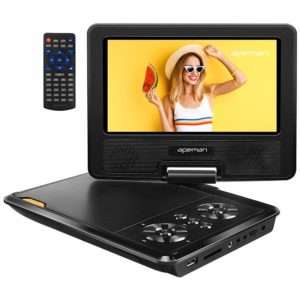 This portable DVD player is one of the last novelties on the market in 2020. It comes with a modern audio system. It produces a clear and detailed sound with an adequate frequency range.
On the front panel, there is a disk compartment, control buttons. The connectors are mainly assembled at the back.
This is the antenna input, audio/video input, and output, mini-jack for headphones. There is also a "window" for the infrared sensor.
Connector to connect the charger on the left side. The instructions describe how to connect the player to an external signal source. The picture quality is good, especially when playing DVDs.
The player supports playback from the following media: DVD, DVD R, DVD RW, CD, CD-R, CD-RW. The formats are as follows: MP3, WMA, MPEG4, VideoCD, SVCD, HDCD, JPEG, Picture CD.
The declared working time is about four hours. It is interesting that you can use BBK DL7012TI without headphones. The speakers are very loud here. So you should be more careful.
A distinctive feature of this model is the presence of a built-in TV tuner, the set includes an antenna. We plug it in, press the Source button, in a few seconds the player turns into a TV.
Buyers like the image quality on the display, the ability to rewind information inserts, TV-tuner, and quite a decent time. In general, it is a quite normal device.
FAQ for portable DVD players buyers:
Can you watch TV on a portable DVD player?
Depending on the kind of DVD player you have, you may be able to receive television signals on it. Some players have a built-in tuner, while others require a few other devices connected to allow you to watch television over the DVD player.
Can I play CDs on a portable DVD player?
Then you'll likely want a portable DVD player that can play video CDs. Some can even play non-video content such as MP3s or JPEG photos if you want something that doubles as a media player.
How do I convert an old DVD player to a USB?
If you have an old DVD player with USB function and cassettes are not playing but the USB reader is working, then you can convert it in a direct USB plyer. No need of selecting USB from the menu using remote and other extra functions like open and close is disabled for the motor board of the disk loader mechanism.
What is the USB port on the DVD player used for?
A DVD player with a USB port is a very useful addition to your home cinema as it enables you to plug in a USB thumb drive etc and view your photos and/or movies on your TV. Many of the DVDs with USB port units also support DivX and Xvid allowing you to watch downloaded movies from the internet.
How long does a portable DVD player last?
The average life span of a DVD is between 3-5 years, as the average life span of a cd player is around 8 years.