You love air hockey and table tennis and a host of other games too, but with limited space in your home, you're left to choose just one game to bring home and enjoy. It's this exact problem that the best multi-game tables on the market were invented to solve.
They are allowing fans of all types of games to swap between their favorites whenever the mood takes them, often with no more difficulty than flipping a table upside down or adding a new layer on top of it.
For you, we have reviewed the best multi-game tables based on quality, design, ease-of-use and, of course, the number of games included. Such a device will make any party more cheerful, along with a portable beer pong table.
Multi-Game Tables Under $100
Models with basic characteristics are collected in this category. Some of them include only two games. But, this does not prevent them from being the best option in their price category.
You may also like: Best Portable Drawing Tablets
TORPSPORTS Multi Game Table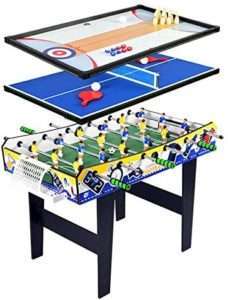 This is one of the very few multi-game tables that offer individual leg extenders. This means that players can lengthen or shorten each of the legs individually to ensure a level playing surface.
This is done not by extending the leg itself, but rather by adjusting a small but sturdy extension unit located at the base of each of the table's four legs.
This may seem like a minor issue to point out, but if your game room's floor isn't perfectly level itself, games like pool, foosball, and slide hockey will definitely be compromised.
In fact, this isn't just a feature that we ourselves found a lot of use in, several Amazon reviewers pointed this out as something they loved about this model.
In our case, one area of the floor was carpeted while the rest wasn't. The left-hand side of the table was raised about a quarter-inch higher than the right-hand side.
This may not be a common problem, but if you know that you'll be playing on a surface like this, investing in a table with leg-levelers is an absolute must.
Of course, this isn't the only feature that made customers like playing on this table at all. All three game tables conformed to the usual standards of tables in its price range. In fact, it's one of only a few foosball tables that come with steel rods – adding to its overall durability.
Assembly is relatively easy, the table is very sturdy and durable, the accessories are more than adequate, and it comes in at a very reasonable price.
Matty's Toy Stop Deluxe Wooden Mini Table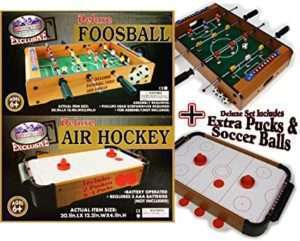 If you're looking for a multi-game table that's going to take up very little space and is ideal for kids, the Matty's Toy Stop Deluxe Wooden Mini Table is the one you're after.
Ten games in one unit that occupy a total space of 21″ x 4″ x 12.4″ and don't cost an arm and a leg is a great value.
This table was designed to deliver maximum fun and variety in limited space. Adults and older kids may find that surfaces and playing-pieces are a little too small for them, but younger children will revel in how accessible this makes the various games.
The table is relatively easy to assemble – it took just under two hours for me and a helper to get it unpacked and ready to play. Even though this is a multi-game table for kids, they will definitely need some grownup assistance in doing this.
This is one of those multi-game tables that players will need to trade off quite a bit in terms of "authentic" gameplay experiences for the sake of variety and size.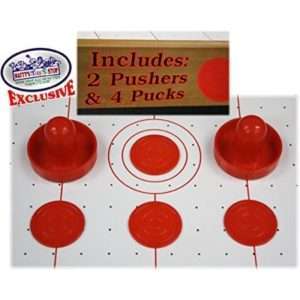 However, when one of the testers' 12 and 14-year olds started playing on it, it was clear that they were loving it.
If your kids are around this age and you'd like to introduce them to the basics of any of the games on offer, you can't go wrong with this great product.
The pool table acts as the table-base, with the other, interchangeable game tables stacking on top of it. The foosball table acts as the other end of the game sandwich.
Packing the table away for storage is simple, with all the in-between boards fitting comfortably between these two.
The construction quality was of decent quality, given the number of games on offer and the space-saving feature. All components can be conveniently stored together, making the loss of some game-pieces less of an inevitability than other multi-game tables on the market.
One thing we loved about this table was how sturdy it was once assembled. The legs, while on the short side, were thick and offered a lot of stability.
You may also like: Best Portable TV Stands
Sport Squad Flux Magnetic Reversible Soccer & Hockey Tabletop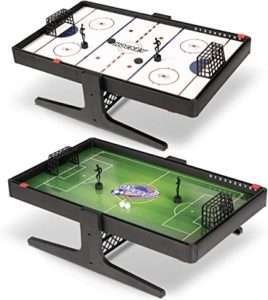 Some multi-game table customers are just going to be looking for the best quality product that money can buy.
For that reason, we simply had to include the Sport Squad Flux Magnetic Reversible Soccer & Hockey Tabletop – the best quality table in our list and arguably the best multi-game table on the market today.
As with the other Fat Cat model on our list, the Sport Squad Flux Magnetic Reversible Soccer & Hockey Tabletop offers a flip-over design that allows players to switch between air hockey and pool with a simple rotation movement.
The mechanisms enabling this flip motion are of exceptional quality, as are the locks that keep the table tennis unit in place on top of the base table. Expect to feel an unmatched level of stability regardless of which game you're playing.
It's also the multi-game table that offers the largest playing surface – offering as close to an authentic gameplay experience outside of owning three dedicated gaming units.
Bear in mind, though, these features come at quite a price. The Sport Squad Flux Magnetic Reversible Soccer & Hockey Tabletop is comfortably the most expensive item on our list of the best multi-game tables, but minutes after assembly you'll notice that you've purchased a table of incredible quality.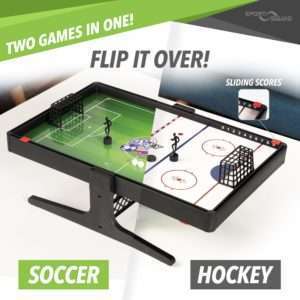 From the quality of materials to the clever use of storage units for the game's accessories, this product just screams quality.
The air hockey table is operated by a 110v blower distributing air at a rate of 80 cubic feet per minute. This creates an excellent layer of air to keep the puck afloat evenly across the entire playing surface.
The pool table's cloth surface and rubber sides mean that balls travel with excellent consistency and ensure that momentum is not lost after the ball is struck.
The table tennis table is also larger than all the other options on our list and offers a very reliable bounce across the entire surface.
It's the only table that isn't attached to the unit itself (the table tennis unit comprises three separate units), but it's easily stored in the framework below the table foundation and is easily placed into position when you're ready for a game of ping pong.
Franklin Sports 5 in 1 Sports Center Table Top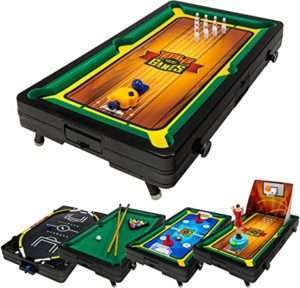 Measuring just 18.5" x 10.5" x 3", there's no doubt that the super compact Franklin Sports 5 in 1 Sports Center Table Top is something of a novelty item, but that's not necessarily a bad thing.
Perfect for keeping on your desk at work or placing on the dining room table to keep the family entertained on those wet weekend afternoons, the table combines miniature versions of the pool, push hockey, bowling, basketball, and even a tabletop version of soccer that comes across as a unique hybrid of pinball and the classic British game of Subbuteo.
Small though each game may be, adapting your playing style to the tiny table and playing pieces actually proves to be a skill in its own right and is often every bit as enjoyable for adults as it is for children.
Multi-Game Tables Under $500
Goods in this category have extended characteristics. These models have more games in their sets, which fully justifies their cost. If you are sure that your home playings will be regular, you can safely buy goods from this category.
YGO Multi Game Combination Table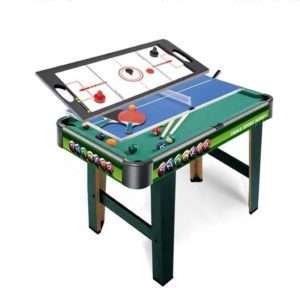 With tables that offer a slightly smaller variety of games, one would expect that there would be fewer trade-offs in terms of playability, size, and quality of accessories.
This is certainly the case with the 3-in-1 game table. Each of its three games offers as close-to-authentic a gaming experience as is possible on a multi-game table.
Being significantly larger than the previous three products we reviewed above, it's important to ensure that your game room has enough space to accommodate it.
Not only do you need the necessary six feet for the unit itself, but also allow at least three feet along the table's four sides for comfortable playing.
What we really loved about this table is the flip-top design that allows you to switch between air hockey and billiards with a simple rotation of the table. While many other products, especially those offering more than three games, require an independent table to be slotted onto a foundation, this flip-over feature was a real convenience.
The only one of the three games that came with an independent table was the table tennis unit, which can be conveniently stored at the bottom of the unit and easily positioned in-place when necessary.
The billiards table's surface, while not regulation-sized, is larger than those of the units reviewed above, and the playing surface is so smooth it genuinely feels like you're playing on a standard table.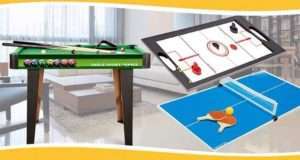 The built-in pocket design also means that there are no nets to deal with. Its sides are rubber-coated, and we certainly felt like it emulated the bounce of a real billiard table.
On the flip side of the billiards table is the air hockey surface. And unlike some of the more affordable options on the market, this is the real deal.
The puck is kept afloat by a 220-watt motor that offers more than enough power to make playing on it feel like you're playing on an arcade machine.
We also loved the air hockey playing surface's attractive design and the use of hockey graphics. A very nice little aesthetic feature that didn't go unnoticed.
Two manual scoring units at each end of the table also helps players keep track of the score.
The table tennis table slots comfortably and easily over the base unit. It's kept in place with a sturdy and reliable latching system that ensures there's no awkward sliding if a player accidentally makes contact with the surface during play.
You may also like: Best Portable MP3 Players
LHT Multi-function 4 In 1 Steady Combo Game Table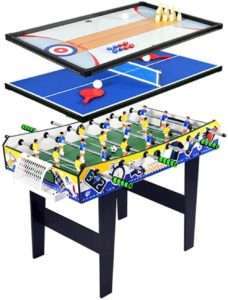 The majority of multi-game tables (with one exception) that prize playability and quality over extreme variety only offer three games.
That's why it was a real treat to find a high-quality table that offers the four most popular games rather than three.
If you can't choose which one of foosball, billiards, slide hockey, or table tennis you want to go without, the 4-in-1 Combo Game Table is definitely the table for you.
It's quite a bit pricier than the other 4-in-1 table on our list, but you definitely see a bit more in terms of quality with this product. So if you're comfortable spending a little more, you'll get a little more in terms of fun and playability.
The billiards balls are constructed from the same material as those used on an authentic billiards table, so there's no compromise in this space. The cues maybe a little on the light side, but they're perfectly straight, and we didn't find the lack of weight too much of an issue. The felt is also of excellent quality, so expect balls to travel straight and true.
As can be expected of a multi-game table below a certain price range, there is no airflow component in the hockey game. That means you'll be playing slide hockey instead of the more popular air hockey. However, we found that this table's slide-hockey played as well as any of the others on our list. The puck's slide was consistent, and we had a blast playing it.
While the foosball table took some time to assemble, it definitely was worth it – easily the best game of the four offered by this excellent multi-game table. It's also the game that taller players will enjoy the most since the components sit higher above the ground than the other games'.
Something that has to be mentioned about the 4-in-1 Combo Game Table is how sturdy it is when being used. Each of the table's four legs is connected to each other with a strong metal frame that keeps the unit stable, even when playing a high-impact game like foosball.
Haber Online Products Multi Game Swivel Table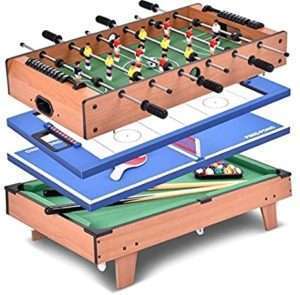 It's not often that the most affordable product on these lists also ranks so highly in terms of durability, but here we are.
Not only is this product priced well below most of the other multi-game tables that we tested, but it also had stability and strength to it that really gave us confidence in its longevity.
This is mainly due to the combination of Medium Density Fiberwood and metal in the table's construction.
Again, the billiards table will act as the foundation for the table, with players stacking the game they want to play on top of it.
Worth noting is that the Haber Online Products Multi Game Swivel Table 4 in 1 sits quite close to the ground, meaning that players, regardless of their age, will probably have to play while kneeling.
Strangely, despite our initial misgivings, we didn't find this to be a problem at all. Especially the young ones who tested the table out with us were very happy to lounge around the table while waiting for their turn.
If you're an adult, it may help to have a bean-bag or small comfy chair close to the table. The relative lack in height does come with one benefit that many other products can't boast: great portability and extremely simple storage. When not in use, this table can easily be slid under another table or bed.
The billiards table was our favorite of the four tables. Unlike many other multi-game tables on the market, real felt is used to cover its surface – nicely mimicking the "real thing". The only negative thing we can say about the product is that the air hockey table doesn't operate exactly as advertised.
The table is made from wood and there are no air-holes or mechanisms that enable the puck to hover. This is not authentic air-hockey, but rather slide-hockey. Having said that, the slide hockey game was still a lot of fun to play, despite the lack of a hovering puck.
Multi-Game Tables Under $1000
This category includes multi-game tables, which are excellent for large companies. Buyers note their reliability and durability, and sellers promise a variety of games for fun you and your friends.
CJVJKN Folding Table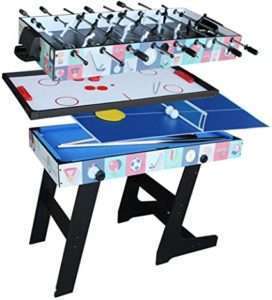 Since the point of a multi-game table is to offer variety, it makes sense that the product shipping with the biggest selection would be a candidate for the best value for money title.
In this case, the table offering the most games also happened to be one of the most affordable on our list of the best multi-game tables.
So awarding it this honor was a relative no-brainer. This is another multi-game table that needs the customer to stack game tables onto a base. In this case, the base is the air hockey table.
In a product like this, you'd typically expect the manufacturer to do just the basics right. In the case of this multi-game table, however, we found that MD Sports went the extra mile by including a game that's not typically found in these products: Hover foosball.
This is a classic twist on traditional foosball, with the airflow system used to power the air hockey table, being integrated with the foosball table. This results in a faster-moving foosball experience that we absolutely loved playing.
Accessories can be kept in two handy storage areas at each end of the table. Given all the moving parts involved in a table offering 4 games, this is a massive convenience and also makes losing important accessories very unlikely.
While it did take a bit of effort to assemble, we found that the individual game tables to be quite light – something that made switching from one game to another an absolute breeze. This is a great benefit if you have children and don't want to be hassled every time they feel like playing a new game.
The 4-in-1 multi-game table also comes with a feature that we found extremely helpful: individual leg levelers. You'll be able to easily adjust each leg's length to ensure that you're playing on as even a surface as possible.
This manufacturer has an excellent reputation in the leisure-equipment industry. While my table had no defects and didn't require any post-sales interaction with them, a number of Amazon reviewers indicated that missing pieces were replaced quickly and without any issues.
You may also like: Best Portable Digital Pianos
JSY Multi-function 4 In 1 Steady Combo Game Table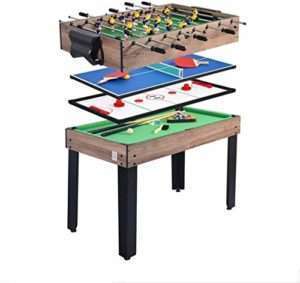 When compared to the other multi-game tables that offer a smaller, but better quality, range of games, the Lancaster model is easily the best value for money.
Yes, there are some compromises when compared to the other tables of its sort, but wow, at this price, these are easy to overlook.
The 4-in-1 Multi-Game Table takes around 2.5 hours to assemble, but we found the instructions to be very straightforward and the task wasn't an unpleasant one.
The table is somewhat smaller than others offering only three games, but unless you're intending to play at anything more than a casual level (or you're very tall), this is a minor issue. We certainly didn't mind having to stoop a little (especially when playing billiards) and felt that this was a negligible trade-off, given the unit's affordability.
Despite not featuring a flip-top design, two of the three games (slide-hockey and foosball) have been integrated into a single unit. However, if you want to switch between these two games, you will need to disengage the table, manually turn it over, and re-attach it to the billiards table base.
Two sturdy locks on the length-sides of the table ensure that the unit stays stable throughout its use. The table is very sturdy and durable, with a very attractive wood finish. It's relatively light in weight and we found that repositioning the fully assembled unit very easy.
Almost every one of the Amazon reviewers used the term "for the price" when discussing the table's perceived weaknesses. And that's definitely something we can agree with. Yes, there are minor things that are improved upon with other products, but this is something that's largely negated by the table's exceptional affordability.
FAQ for multi-game tables buyers:
Which one is better, buying a multi-game table or single game table?
The choice solely depends on the preference regarding your playing needs. For instance, if you only like playing ping pong, the ping pong table is the perfect fit. However, if you want to play multiple games such as table tennis, billiard, chess, poker, foosball, and backgammon, the combo table will be an apt fit. Moreover, you can also opt for the combination table if you have less space but want to enjoy all the games.
Is it safe to have a multi-game table around kids?
Yes, it is totally safe to have a multi-game table around kids. The multi-game tables are designed to take care of everyone's needs, and the configuration is apt for kids and adults all the same. However, just make sure your table has a proper locking system.
What is the best way to store all the game boards and pieces when not in use?
Many will actually include pockets in the table itself, while others will include a bag to hold all extra accessories so they're not lost.
Does a table weight matter?
It might if you're planning on storing it or moving it around. Many of our options are very heavy, and cannot easily or realistically be moved.
What are multi-game tables usually made of?
Oftentimes they're made of wood or wood-like material for durability and looks. Other times, you'll find that they're made of ABS plastic or aluminum.