High-quality and affordable hardware synthesizers are the most popular segment of electronic tools. Over the past few years, a lot of available analog devices have appeared on the market. However, the segment of digital synthesizers should not be ignored either.
In some cases, you will not even have to worry about your choice – there are also hybrid tools. If you are a beginner looking for your first synthesizer, or, conversely, a professional sound designer, you will be able to choose a tool to suit your needs.
In this review, we presented a list of the best portable digital pianos. To save your masterpieces, you may use portable audio recorders.
This item has the best feedback:
Our Top Pick

Casio CTK-3500

Casio's CTK-35000 portable piano opens up a whole world of music with 400 high-quality Tones and 150 built-in Rhythms. 

See Best Price
The list of the other great portable digital pianos with a comparison of the main characteristics:
| Item | Dimensions | Weight | Keyboard Keys | Polyphony | |
| --- | --- | --- | --- | --- | --- |
| Casio CTK-3500 | 12.09 x 37.24 x 3.62 inches | 7.5 pounds | 61 | 48 | See Best Price |
| Alesis Recital | 3.6 x 11.52 x 50.52 inches | 15.62 pounds | 88 | 128 | See Best Price |
| Yamaha P45 | 58.2 x 16.1 x 11.7 inches | 36.4 pounds | 88 | 64 | See Best Price |
| Casio SA-46 | 18.5 x 9 x 2.7 inches | 2.9 pounds | 32 | 8 | See Best Price |
| Roland GO:PIANO | 39 x 8 x 16 inches | 14.96 pounds | 61 | 128 | See Best Price |
| Alesis Recital Pro | 5.52 x 13.8 x 51.6 inches | 32.6 pounds | 88 | 128 | See Best Price |
| Korg B2 Digital Piano | 57.48 x 17.8 x 7.76 inches | 25.1 pounds | 88 | 120 | See Best Price |
| Casio CT-X700 | 13.78 x 37.32 x 4.29 inches | 9.48 pounds | 61 | 48 | See Best Price |
| Akai Professional MPK Mini MKII | 7.13 x 12.52 x 1.73 inches | 1.63 pounds | 25 | 8 | See Best Price |
You may also like: Best Portable Audio Mixers
Casio CTK-3500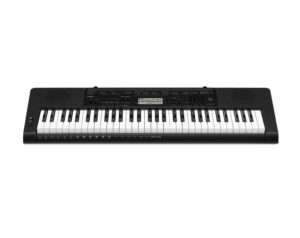 CTK-3500 is an inexpensive synthesizer for training and home use. The keyboard of the synthesizer has 61 keys.
There is a small digital display for displaying the synthesizer's status and functions. About 400 musical timbres and 150 auto-accompaniment styles are available for users to play, create, and music.
With the help of auto-accompaniment, even beginner musicians can create their own music very easily.
This instrument boasts a built-in Step-up Lesson/Lesson Lite learning system. It also has a "Dance Music" mode, which allows you to create dance arrangements.
In addition to a built-in headphone jack for headphones, musicians can use a built-in stereo system with two speakers. The synthesizer can be powered by batteries or by an optional power adapter. The synthesizer is small in size. The polyphony of the synthesizer is 48-voiced. In the CTK-3500 piano, it is possible to connect to a computer to send MIDI data.
Alesis Recital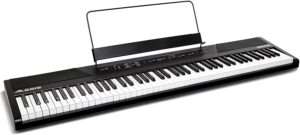 ALESIS RECITAL is a compact modern digital piano with a wide range of possibilities, having a beautifully natural sound. This model comes with a wide range of functions.
They are able to please the most demanding musicians. This digital piano with 88 full-size semi-weighted keys offers a natural gaming experience.
This is possible thanks to its customizable touch sensitivity. The 128-note polyphony gives you a great surround sound. The piano has five very naturally sounding built-in voices. They are classical acoustic piano, electronic piano, organ, and bass. You can combine two voices at the same time to get even denser and surround sound.
You can use such effects as reverberation and chorus. There is a metronome with a pace-setting from 30 to 280 beats per minute and a high-quality built-in speaker system (20W speakers). Note the multifunctional learning mode. It is possible to divide the 88-key keyboard into two zones.
Thus, the pupil and the teacher can play together instead of changing each other. Switching options include USB-MIDI output, stereo RCA AUX output, headphone jack 1/4 jack, pedal socket. For the convenience of self-study while connecting headphones, the sound of the built-in speaker system is muted. Power is supplied with the AC adapter. Moreover, it is possible to work independently from batteries.
Yamaha P45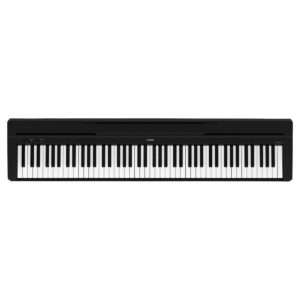 This is a digital piano YAMAHA P-45, which came to replace the popular model P-35. Its compact body, incredibly comfortable keyboard, and the best "stuffing" make this piano an ideal choice for any musician.
The P-45 model comes with YAMAHA's proprietary Graded Hammer Standard (GHS) keyboard. In lower case, the keys will be heavier, respectively, in upper case – lighter.
This keyboard is ideal for practicing techniques before playing an acoustic instrument. It fully replicates the feeling of the game.
Besides, the black keys have a matte finish. It is less slippery than glossy. Moreover, it does not start to rub and slide after a long time of use of the instrument.
The AWM tone generator built into the P-45 will surprise you with the extremely realistic sound of an acoustic instrument. This sampling technology is on "removing" the sound from real instruments. The high-quality digital recording will give you an incredible reverberation effect. This will make your performance more dynamic and lively.
Pay special attention to the "GRAND PIANO/FUNCTION" button. Pressing and holding this button will allow you to select the timbre. You will also be able to play demo songs, customize the metronome, and enjoy many other functions. This is ideal for beginners who are intimidated by the many unfamiliar controls.
Now your instrument will be with you wherever you go. This digital piano weighs only 11.5 kilograms, and its dimensions are 1326 x 295 mm. You can put it anywhere at home, easily carry it to rehearsals and performances, and place it in small studios with limited space.
You may also like: Best Portable Audio Interfaces
Casio SA-46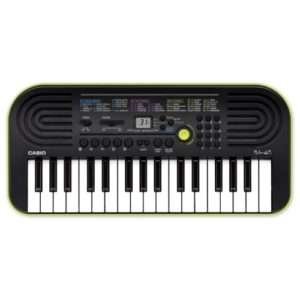 Casio SA-46 synthesizer is suitable for the very first steps in the world of music. The instrument is for children. That's why it is easy to operate and compact in size.
The device comes with 32 keys, a sound change system, a small digital display, and headphone output.
Although this model belongs to the category of children, it is able to please with a decent sound and excellent volume level.
The instrument has 100 timbres to create your own compositions. Besides, there are 10 tutorial melodies of varying complexity.
This digital piano runs on 6 AA batteries. Thanks to this, you can use it not only at home but also at outdoor children's events.
This digital piano Casio SA-46, despite its small size, it is not just a toy. It is a full-fledged musical instrument for beginners young musicians. It has a solid eight-note polyphony, beautiful sound of all 100 built-in timbres, and 50 rhythmic patterns for improvisation. The mini keyboard of this model is perfect for children.
High-quality notes, polyphony, 50 sound styles, built-in melodies. All this contributes to the formation of the child's musical hearing and learning to play music.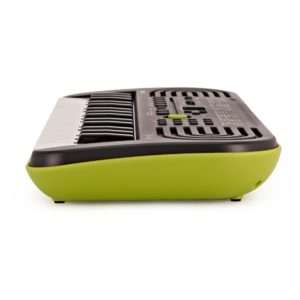 The instrument develops the musical hearing of children through the pure sounding of notes.
Built-in timbres and styles make the game-rich and exciting. Melodies for every taste. 10 compositions for learning make it possible to master different styles of play.
There is also an option to turn off the melodies. Choose the right rhythm. Drum Pads is a wonderful introduction to the world of digital drums.
Five buttons, for a separate drum or percussion, make it easy to play the rhythm and give the opportunity to solo with one click.
Instrument control is easy and convenient. The LCD display provides quick access to all instrument functions. The piano/organ switch button allows you to quickly select the sound.
You can do it with a single click. A line output to connect your computer will immortalize your child's first music. Not only children but also adults love to play and improvise on this instrument.
Roland GO:PIANO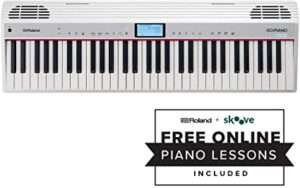 ROLAND GO-61P is a modern portable digital piano GO:PIANO from a famous Japanese manufacturer. It is specially designed for training. This model allows you to connect your smartphone or tablet via Bluetooth.
So, you can use the limitless possibilities of available online free content. It will make learning simple and bring one pleasure. In addition to online lessons, karaoke versions of songs and training videos are available.
The popular Faber Piano Adventures® lesson method allows students to quickly tune in to the right mood. Unlike most compact instruments with synthesis keys, GO:PIANO has 61 full-size keys. The feeling of using this keyboard is like playing a real acoustic piano. This allows you to put the right technique. The beautiful, very natural sound of a digital piano comes from the flagship Roland models.
The high-quality built-in loudspeaker system allows you to play music from external sources. GO:PIANO is a compact instrument, which will fit in any, even small apartment. It is easy to take with you to play anywhere. By plugging in headphones, you can practice silently, without disturbing others. It is possible to fully autonomous work without connecting to the power supply network.
The full-fledged musical range allows you to perform demanding works to this parameter. It also helps to develop the correct left and right-hand techniques. Besides, you will not notice much difference if you are used to playing on a weighted hammer keyboard.
Use your smartphone
You can connect between GO:PIANO and your smartphone to make learning a fun experience. To do this, connect via Bluetooth wirelessly to your smartphone or tablet.
This gives you access to music library plays or free interactive lessons.
You can play high-quality music streamed through your built-in speaker system or headphones. If you prefer a more intensive piano lesson, take advantage of superior software applications or training videos.
GO:PIANO helps you focus on your piano playing with a toolkit that supports daily practice mode. You can use the metronome to develop a sense of rhythm. Use the transpose function to make your play easier to perform in a comfortable tone.
When your skill level grows to a certain level, connect your smartphone, and immerse yourself in a world of training videos. The free software application Piano Partner 2 from Roland is the ideal assistant. It offers convenient features for learning and recording. They allow you to analyze your game and check your progress.
Alesis Recital Pro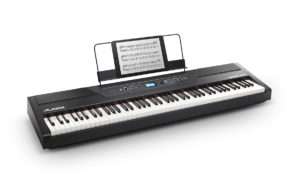 ALESIS announced the new ALESIS RECITAL PRO portable digital piano. It is an improved version of the ALESIS RECITAL model.
The novelty differs from its predecessor by a higher quality hammer keyboard and more built-in sounds. Among them, there are quite realistic timbres of an acoustic piano, electric piano, church organ, and the others.
Also ALESIS RECITAL PRO boasts a small built-in display. Besides, it has a "Record" mode. It allows you to record your own performance and a relatively powerful built-in two-way amplification system.
The switching capabilities of this device are represented by a USB-MIDI port. It has a pair of line outputs, a separate headphone output, and a pedal socket for the joints.
ALESIS RECITAL PRO can operate not only from the mains adapter (included) but also from conventional batteries.
You may also like: Best Portable Music Players
Korg B2 Digital Piano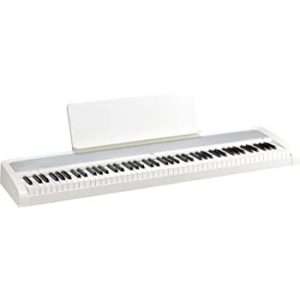 The KORG B2-BK is a compact digital upright piano that will prove its worth at home. This digital upright piano has been designed to give beginners and more advanced musicians the full range of sounds.
You will get features of the more expensive models in the professional line. This model has 8 main timbres of high-quality sound. The instrument keyboard is a hammer, the ruler of Natural Weighted Hammer Action, the number of keys – 88.
The largest polyphony sound is 120 voices. Built-in timbres include 8 main timbres. They include acoustic piano (3), electric piano (2), organ, and harpsichord (2).
There is also a built-in metronome, reverberation, and chorus effects. For sound transmission at home, there is an integrated speaker system with MFB (Motional Feedback) technology. It includes two wideband speakers, 2x8W amplifier. There is a headphone output, USB-MIDI connector, pedal controller jack, optional 3-pedal unit PU-2.
This new generation digital piano is focused on accessibility and ease of use. It will be an ideal choice as the first upright piano for beginners. B2 is packed with carefully selected sounds, starting with the legendary grand pianos from all over the world. So the model has software and a variety of connectors, which is the standard for a truly modern grand piano.
B2 is a keyboard format and can be placed on a rack.
In total, B2 offers 12 sounds covering a wide range of genres. It starts with five original piano sounds from the new piano engine. This provides the distinctive sounds of the electric piano, organ, harpsichord, and strings.
Casio CT-X700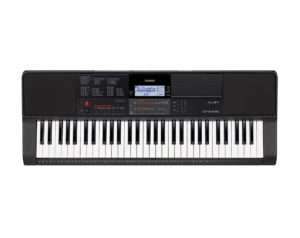 The CASIO CT-X700 is on technology that originated from research into the powerful Casio AiR Grand piano processor.
The sounds of pianos, electric pianos, drums, and strings are detailed. Tembras have acquired extra volume and dynamic expressiveness.
For example, guitar timbres are recorded with special slide sounds on dynamic peaks. This adds to the naturalness and authenticity of these tones. The timbres of percussion instruments became more dynamically verified.
Styles have become even more diverse. Now they also cover the rhythms of the most famous performers. This brings the instrument closer to the modern user. The new revolutionary AiX processor completely transforms the idea of how a portable digital piano should sound.
The technology used in the AiR processor has made it possible to send sounds and overtones to the piano. This takes the sound of digital pianos to a whole new level. The AiX sound processor carries the same basic idea formed during the work on the AiR processor. It is the natural transmission of sound in all nuances.
It is a handy device designed for experienced and novice musicians. The model has a wide range of functionality, which allows you to easily create music. You can connect the pedals to create music more comfortably and conveniently. Here you can perform several actions at once. The basic model supports the AiX sound processor, offering 600 timbres and 195 styles.
Among the features of CASIO CT-X700 can be distinguished by the function of setting the tone with one touch. There is also the function of synchronous stop and the button barring changes. All this allows musicians to improvise in the creation of musical compositions.
You can also compose dance tracks using powerful bits and realistic timbres. The synthesizer supports 600 timbres, 195 styles, 48 polyphony positions, and uses 61 keys. The device has 310 songs stored in memory, which you can turn on for listening. The synthesizer comes with a digital USB type B interface.
You may also like: Best Portable DAC Amp
Akai Professional MPK Mini MKII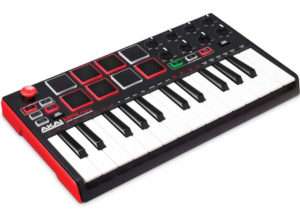 AKAI PRO MPK MINI MK2 is a compact MIDI keyboard of one of the world leaders in music equipment production. It has 25 keys, 8 pads, 8 handles, and a joystick for tone height control and modulation.
Using the MPK MINI MK2, you can make music almost anywhere. You can take the MIDI keyboard on a trip, on tour, or on vacation.
It has not only compact size, but also lightweight. Thus it does not lose the functionality and possibilities for creativity.
The controller can be easily connected to a notebook or PC. The keyboard is powered via a USB port. The pads are sensitive to pressure and have a touch effect. They are designed with diode backlighting and sensitive triggers of the popular AKAI MPC RENAISSANCE controller. This digital piano offers an optimal combination of price and quality.
The MPK mini comes with all the tools you need to quickly save and expand your music ideas. The octave up and down buttons provide a full melodic range. A built-in pedal joints input adds expressiveness to the performance and recording.
Besides, an adjustable resolution, range, and modes make it easy to create complex melodic lines with no effort. What's more, MPC Note Repeat and Full Level provide access to true MPC workstation technology.
For the largest portability, the MPK mini does not need any drivers or external power adapters. It supports plug-and-play connectivity, USB-MIDI function, and USB power supply from Mac or PC. 4 memory slots allow you to store hardware/software presets for quick and easy computer setup and MPK mini. Includes professional software packages and virtual tools for your creativity.
FAQ for portable digital pianos buyers:
Is a digital piano good for beginners?
A digital piano should be as similar to an acoustic piano in feel and sound as possible. If you're learning piano technique and piano music on a digital instrument, you should be able to easily transition to an acoustic piano.
Do digital pianos need to be plugged in?
Unlike digital pianos designed for home use, they do not have a fixed stand or fixed sustain pedals. Instead, they are designed to be used with a separate portable stand and portable, plug-in sustain pedals.
How long does digital piano last?
Digital pianos last between 20 – 50 years. High-end digital pianos are built better structurally. They use better electrical parts, solid plastic, tougher metal, and piano keys that can withstand heavy wear and tear. Low-end digital pianos do not have the same lifespan, but with average care can last for many years.
How long does it take to learn playing the piano?
If you can already play songs hands together it'll take you about 4 months to get good at playing piano by ear. If you're a complete beginner and you've never played a song hands together before, it'll take you about 6 months because you'll need to learn some other skills first.