Water pumps are designed for pumping water, for example, from flooded cellars, boats, and other places. These devices are also widely used for other purposes, such as watering lawns, gardens, or hot tubs. So, you can use them in any place where you need to pump water. There are many types of water pumps on the market. However, we have collected the best portable water pumps for you, among which you can choose the best model.
The best item:
Our Top Pick

Grundfos MQ3-45

This is a complete, all-in-one unit, incorporating pump, that comes with a motor, diaphragm tank, pressure and flow sensor, controller and non-return valve.

See Best Price
Other great portable water pumps and their characteristics:
| Item | Dimensions | Weight | Lifting Height | Flow Rate | |
| --- | --- | --- | --- | --- | --- |
| Grundfos MQ3-45 | 24.75 x 14 x 9.75 inches | 33.2 pounds | 26 feet | 790 GPH | See Best Price |
| WAYNE PC2 | 7.6 x 9 x 9 inches | 5.85 pounds | 10 feet | 350 GPH | See Best Price |
| EXTRAUP 115Volt 330 GPH | 8.9 x 7.5 x 9 inches | 6.3 pounds | 39 feet | 330 GPH | See Best Price |
| SEAFLO 33-Series | 7.98 x 5.11 x 4.84 inches | 4.2 pounds | 25 feet | 790 GPH | See Best Price |
| SumpMarine UTP 115-Volt | 8 x 8 x 7.5 inches | 5.79 pounds | 39 feet | 330 GPH | See Best Price |
| HP Shallow Well Jet Pump | 16 x 9.75 x 9.25 inches | 16.72 pounds | 125 feet | 960 GPH | See Best Price |
| SuperHandy Water Transfer Pump | 10 x 5.5 x 8.9 inches | 20.5 pounds | 40 feet | 1525 GPH | See Best Price |
| FLUENTPOWER 1 HP | 15.35 x 11.02 x 9.45 inches | 15.4 pounds | 144 feet | 790 GPH | See Best Price |
| WAYNE PLS100 | 18 x 8 x 11 inches | 20.6 pounds | 150 feet | 850 GPH | See Best Price |
| VIVOSUN 330 GPH | 13.27 x 10.63 x 8.66 inches | 5.85 pounds | 39 feet | 330 GPH | See Best Price |
| Bayite 12V DC Fresh Water Pump | 8 x 3 x 4 inches | 1.4 pounds | 6.6 feet | 21 GPH | See Best Price |
You may also like: Best Portable Diesel Generators
By the way, a water pump might get air in the inlet pipe which might prevent it from pumping water. This video shows how to fix this problem:
Grundfos MQ3-45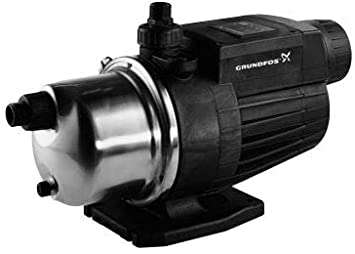 This model has small dimensions. Due to this, you can install this device even in confined spaces. The power cable is long enough. You do not have to think about connecting or using extension cords.
For its type of equipment, the pump has an acceptable weight. This allows you to install it on the floor, as well as on various brackets or platforms. The main rule is that the device is in a horizontal plane.
The pump is manufactured in Denmark, the manufacturer provides a 24-month warranty period. If the water quality is quite acceptable, the product will last much longer.
Advantages of the model:
Compact design
Easy to install
Simple operation
Automatic reset function
The system is fully automatic. All you need to do is press the on button. On the control panel, besides it, you can find several LED type indicators. They state either the normal operation of the system or a malfunction. The design of the pump is simple enough, so if necessary, the fault can also be rectified by yourself.
A diaphragm-type pressure tank is available in the design. It reduces the number of pump starts and stops even in the event of a leak in the system. This element provides good protection for electrical components against premature wear. Noise is not very high thanks to the special cooling system. The motor cools down with the water it is pumped, which reduces the noise load.
WAYNE PC2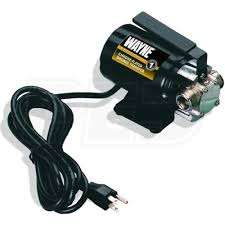 When it comes to pumping large amounts of water in cubic meters, the performance of the equipment comes to the fore.
Thus, this pump, with its high capacity limit, can cope with draining a flooded room or pumping water out of a pond in minutes. The manufacturer also managed to achieve excellent energy efficiency of the device.
The available indicator is enough for continuous operation for a long time. Besides, the built-in overheating protection will prevent the risk of overloading.
As with submersible drainage pumps, dry run protection is also included. The integrated float will detect the presence of water at the place where the pump is placed.
Advantages of the model:
Included suction set
Resists thread damage
Replacement parts kit
Bronze plated
It will automatically shut down the unit when the required water level drops. Besides, this pump for water can pass fairly large solids of size. This is especially important when the device is immersed in too dirty ponds.
Waterproof housing and long power cord are also significant advantages in favor of choosing this model.
EXTRAUP 115Volt 330 GPH
If you think that all modern submersible pumps are very similar in their features, this model will prove the opposite. For starters, it can operate in two modes. So you can choose the optimal one based on the task at hand.
Thus, the mode with automatic switching on will be very useful if the water arrives in the tank or pond with a pump placed there. At the same time, the manual mode will be especially relevant when you need to constantly work on the device.
This submersible pump is also very easy to connect. A special system makes it possible to connect the flexible hoses by tightening them with a steel clamp. You no longer need to buy any adapters or sockets.
Advantages of the model:
Compact design
Heavy-duty motor
Safety & proper use
Strong power
O-rings are very often the cause of water pump failure. But not here, because this device is installed wear-resistant and durable ceramic O-ring.
Since this model refers to the drainage type, it is able to pass dirty water with impurities. But, if you do not know exactly what size particles are in the water you pumped, it is better to use an extra input filter.
You may also like: Top Quiet Portable Generators
SEAFLO 33-Series
Many consumers still lift drinking water from wells and deep wells with buckets. In their opinion, specialized electric pumps are very expensive. But not this model.
It has an affordable price while being able to pump water to sufficiently high height. The built-in vibrating motor is enough to take up to 17.5 liters of water per minute.
Thus, this submersible pump is ideally suited to provide clean drinking water. You can also use it for watering plants that grow in your garden area.
Please note that this small pump is small in size. Thus it can be easily placed in very narrow wells.
Advantages of the model:
Built-in adjustable pressure switch
Easy and simple installation
Three-chamber high volume design
Heavy-duty motor
Moreover, the metal housing is completely waterproof and corrosion-resistant. This is an important point for submersible models. The operation of it provides for a permanent presence in the water. Also, the design provides holes for cable fixation. This makes it easy to submerge the pump to depth and to remove it just as easily.
SumpMarine UTP 115-Volt
If you are experiencing problems with low water pressure, you will like this surface pump. It has high power, which means it can pump a large volume of clean fresh water.
Besides, it can provide a water-lifting height of up to 42 meters. This is ideal for a home where there are several water points.
The productive electric motor in this model allowed its effective use for various sources of clean water. The metal case is splash-proof.
Thus, you can safely place the device directly near a water source. Moreover, you can place it in basements with a high humidity level.
Advantages of the model:
Durable material
Lightweight and portable
Perfect for household
Water suction attachment
Summing up, you can safely say that this surface pump is a very good solution for a private home. It will leave you only positive emotions from exploitation.
1/2 HP Shallow Well Jet Pump
The main feature of this model is an amazing depth of water intake. It has been achieved with an improved ejector and an innovative pipe system.
This solution is especially important if you plan to pump water from deep wells.
Moreover, according to the manufacturer's statement, the limit temperature of the water passing through can reach 40°C.
The motor power is completely enough for a stable and uninterrupted water supply over a long period of time. The casing is of cast iron.
Advantages of the model:
Corrosion-resistant stainless steel construction
Lower noise
Emergy-efficient motor
Thermal overload protection
This together with high-quality assembly makes the pump truly durable. Add to this a relatively low price. So, you get a really worthy option that will serve you for many years.
SuperHandy Water Transfer Pump
This model has a rather simple design and, as a result, good reliability. Thus, it can be easily repaired in case of need. The device includes a pump part and an electric motor, equipped with a flange, which is of aluminum.
There is a special plastic box on the motor body. All electrical elements are located there and the supply wire fits there. On the side of it, there is a switch of the device, well protected against moisture ingress.
Inside the box, there is a capacitor and a contact group. The main driver of the equipment is an asynchronous squirrel-cage motor equipped with a cooling fan. It has a thermal relay. It turns off the power in case of overheating of the winding, preventing the motor from burning out.
Advantages of the model:
Portable & efficient
Safety & proper use
Anti-rust finish
A safe mechanical seal structure
The body of the pump part is of glass-filled polypropylene. Inside there is an impeller and a flow unit. Both of these elements are polymer materials resistant to wear and tear. They are unaffected by corrosion processes.
Thus even at long equipment downtime rust will not be formed. That is a pump part there were no leaks, face seal from graphite ceramic materials is applied. The pump part has drains holes, as well as connectors. If necessary, you can connect such a pump to a hydro accumulator.
You may also like: Best Portable Dual Fuel Generators
FLUENTPOWER 1 HP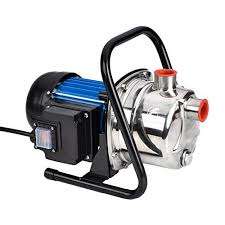 This model is an inexpensive but high quality and functional design.
You can use it either separately or in combination with another pump, thus allowing you to increase the water head.
Included with the pump are nuts and gaskets for high-quality and fast installation. The design is of a reliable cast iron alloy, which has a cataphoresis application. It allows to further increase resistance to corrosion processes.
Advantages of the model:
High power
Wear-resisting seal material
Thermal protection
Widely use
The equipment operates in two modes – manual and automatic. It comes with a special flow sensor, which will provide independent switching on and off the pump.
The design provides protection against no-load and overheating. It allows you to significantly extend its service life.
WAYNE PLS100
You can use this model to supply drinking or service water in a large enough house. The design has a very large water tank. This makes it possible to prevent the pump from being constantly switched on and off.
The body is of high-quality stainless steel. The construction is very stable in many respects due to the special legs. There is a manometer, by means of which it is possible to regulate the pressure in the water supply system.
Advantages of the model:
Anti-rust finish
Easy and simple installation
Compact design
High power
There is a pressure switch. The latest developments in electronics are to control the equipment.
This allows you to optimize the pump operation and reduce the amount of electricity consumed. Users note in their feedback that the device is unpretentious. It does not need any special maintenance, thanks to which it is possible to extend the life of the structure.
VIVOSUN 330 GPH
This model comes with an electric centrifugal pump. It is additionally equipped with an external ejector. The station is for pumping water that does not contain large abrasive particles.
This model is perfect for the domestic water supply of private houses. You can use this product as part of automatic pumping stations.
The design has a mechanical type pressure switch. It will activate, including the pump, as the water consumption by consumers.
The body of the device is of cast iron, the impeller is of brass. The motor is electric, asynchronous, has an external ventilation system.
On its surface, there is a plastic terminal box. In it, you can find a capacitor and terminals to connect the motor to the supply cable.
Advantages of the model:
Small frame
Strong power
Easy to install and carry
Multiole applications
The ejector is to create in the feed pipe extra rarefaction. This allows the water to be lifted from enough depth. Inside the hydraulic accumulator is a diaphragm made of food rubber. Moreover, there is a pneumatic valve in the construction. It allows pumping air there.
You may also like: Portable Indoor Propane Heaters
Bayite 12V DC Fresh Water Pump
According to user feedback, this design is one of the best surface pumps. This model is to create an autonomous water supply system. The volume of the expansion tank is quite enough for domestic needs.
Moreover, it is quite enough to prevent the pump from switching on after two or three liters of water from the system have been consumed. If necessary, you can adjust the device operation by creating higher pressure in the pipes or by lowering it.
Even if the suction pipe is at the bottom, no sand or other abrasive particles will be drawn in. But, experienced users recommend installing a coarse filter at the inlet. This will help protect the rotor blades from mechanical damage.
According to the manufacturer, this model is able to function normally even if dirty water is used. Thorough protection against leakage is provided by the seals made of graphite-ceramic materials.
Advantages of the model:
Smooth & consistent flow
Able to operate in a wet environment
Sealed switches
Electro-coating
Experienced plumbers note the short-circuited system, based on which the electric motor runs. This not only saves energy but also extends the life of the equipment.
FAQ for portable water pumps buyers:
Can you pump water without electricity?
Today, this is the most basic type of good pump there is. However, those electric pumps won't do much good without electricity. In order to get water out of your pumps in a grid down situation, you'll either need some source of electricity or you'll need a pump that is powered by some other means.
How high can a water pump lift water?
In a water well, the weight of the atmosphere is acting on the surface of the water down in the well. The pump at ground level acts as the source of vacuum and has a theoretical lifting capability of about 30 feet (It would lift 34 feet if it could create a perfect vacuum).
How do you troubleshoot problems with a water pump?
Start by checking that the good switch located near your pressure tank hasn't been switched off. Then check the well's double-pole circuit breaker to see that it hasn't tripped. If it has, reset it. A breaker that keeps tripping likely means a problem with the good pump, and you'll need to call a pro for that.
What does a failing water pump sound like?
Most of the time, the problem with a water pump pulley is not the pulley itself, but the bearings inside the pulley. When the bearings wear out, it will create a metal-to-metal grinding sound which is commonly due to lack of lubrication or a faulty bearing.
Do water pumps use a lot of electricity?
A water pump is mechanically operated to move water from the inlet to the outlet. Therefore, it does consume electricity every time it is activated and Well, a water pump is mechanically operated to move water from the inlet to the outlet. Therefore, it does consume electricity every time it is activated and deactivated.