You might have used satellite dishes at home. Have you ever wished about using them during camping, as well? You'd be glad to know that these dishes can serve this function too. Having a high-quality dish for your camper allows you to enjoy your favorite TV shows & movies after a long day behind the wheel which definitely increases your comfort level. Since it is a long-term investment, users should not hurry and take the time to choose the best portable satellite dish. Also, you can watch your favorite series outdoors on portable DVD players.
Portable Satellite Dishes Under $400
This category includes portable satellite dishes, which have a small diameter with a reliable vertical mount and low-sensitivity receivers. The kits are installed in houses for stable broadcasting of a large number of TV channels.
You may also like: Best Portable GPS Trackers
Dish Network 1000.2
The Dish Network High Definition Dish is the least costly option on this entire list. But this status doesn't mean the device won't offer you some quality features. It actually has a few that make this model something you should consider heavily.
In fact, people have found this product to be useful as either a portable or roof mounted model, which shows its versatility. This aspect isn't something you'd expect from a model with a price tag this low.
Furthermore, this model is capable of providing both HD and SD channels as it receives from three different satellites. This aspect should give you a wide range of channels and a clear TV signal wherever you're located.
Besides these aspects, this model has many features that you're used to from the other best RV satellite system reviews. It has an easy install process, lightweight design, works with a tripod mount, can supply two tuners from one line, etc. Everything you could think of that makes a top tier satellite dish is included in this product.
As a result, it's quite apparent DISH customers should put this model near the top of their list. But before you buy, it does have flaws that you should know about as a potential buyer. The first one is that some customers reported packaging issues.
DIRECTV Swim Mobile RV
The Satellite Oasis DIRECTV HD Satellite Dish Kit is a low-cost option that's worth your attention. It comes with everything you could need to ensure your RV gets high-quality TV.
However, the real prized feature this kit offers is the detailed direction booklet. This booklet received almost universal praise in the customer reviews. It was shocking when we didn't see a customer positively mention the install directions.
Another feature that received a ton of praise was the 50-foot coax cable. This feature was well-received thanks to the flexibility it offers users. In other words, this cable ensures you aren't limited in your options about where to put your dish.
This kit also contains a carrying case, which is another nice touch as it gives you a place for all the accessories needed for the install.
We should also note that this model will provide HD channels. This feature is another attractive trait this model offers to the person buying it.
KING VQ4500
The King VQ4500 Tailgater allows you to enjoy your SD or HD DISH satellite programs anywhere within the Continental US, which makes this portable satellite antenna ideal for RV lifestyles.
This KING antenna has built-in dual coaxial outputs, which means you can watch programming (same channel) on two TVs at once.
Customers like the automatic-aiming antenna on this model and how quick it is to set up and use.
RVers also love the no-contract, pay-as-you-go option DISH offers, so you only have to pay for service when you use it. You can also purchase the Solo HD receiver from DISH to add to your RV if you have their service at home.
Some customers note water getting into the dome after rain, which can affect internal components. This problem may be due to some faulty units without a proper seal, but be aware of this possible issue so you can protect your investment.
Winegard PA-1000
The Winegard Company PA-1000 Playmaker is the antenna you want if you only need to run your HD DISH TV subscription.
The large handle makes this satellite antenna easy and safe to move about your campsite. The handle also doubles as a secure way to attach a locking system if you're afraid to leave your antenna unattended during your camping trips.
RVing customers like they can use this antenna with DISH Network's pay-as-you-go program, which makes it a contract-free and affordable way to use it during camping season.
They also appreciate the strong signal strength that the military-grade aluminum reflector inside this antenna provides.
Customers found this single arc antenna works better the further West they travel. This aspect is due to this antenna only using the West coast satellite arc, but customers note that in any region of the country with a clear line for the signal, the reception was fine.
Portable Satellite Dishes Under $1000
This category includes goods of the average value. Such kits have a large diameter of antennas, the sensitivity of receivers, and stable signal transmission. Due to this, they confidently broadcast most TV channels and have a wide range of supported frequencies.
Winegard Company PA6002
Are you looking for a portable Satellite antenna but not sure which one to get? Search no more and get the Winegard PA-6002 Pathway X2 Portable RV Satellite Antenna. This product is a game-changer as it is very simple to use.
Just connect the Winegard PA 6002 Pathway X2 Portable Antenna to the DISH and your TV and it will automatically toggle between the satellites.
What's more exciting is that it covers both Western and Eastern arc satellite orbitals, giving you the most number of TV Program line-ups with a very clear picture output, in both SD and HD.
You may set-up the Winegard Pathway X2 anywhere. Just make sure that it would be placed on a leveled surface for optimal coverage. Wait for a couple of minutes for it to be completely set-up on its own as it will automatically toggle on the channels, after which, it will be ready to use.
Its simplicity is not just the only pro to this product, but its portability as well. Winegard Portable RV Satellite Antenna weighs 16 pounds with 23.2 x 21.8 x 15.4 inches in diameter. This product also offers two coax inputs, which allow users to hook it up to multiple receivers.
With this, there is definitely no need to fight over channels as you may use two TV's with just one Winegard Pathway X2, perfect for indoor and outdoor viewing. You'll surely not miss your favorite television series or games as you can take the Winegard PA-6002 Pathway Satellite Antenna anywhere you go, during your own vacation or just in the comfort of your home.
Winegard Pathway X2 Satellite Antenna is not just portable and simple to use, it is also durable and can withstand any weather condition. May it be too sunny, too snowy, or too windy, you can be sure that Winegard Pathway X2 will not disappoint you and will give you the best portable TV Viewing experience, anytime and anywhere.
You may also like: Best Portable Alarm Systems
KING VQ4100
Our second KING product is a model that's in the running for being the best tailgate satellite dish. This status comes from the KING VQ4100 Quest Portable/Roof Mount RV Satellite Dish ultra-lightweight design.
But this area isn't the only one where this product excels. This device also has dual coaxial outputs, which is a smart jargon for saying it can support two TVs.
Another feature I love about this model is its ability to act as either a portable or roof-mounted satellite dish. This aspect gives it a little more versatility than some other models and provides the user with a choice about how they want to use it.
And if you choose to use it as a portable model, you can also benefit from the 50-foot coax cable. This feature will give you a bit of flexibility about where you can position it and how far it can be away from your RV or camper.
It's an aspect that'll come in handy for deep forest campers who have a tough time getting a stable TV signal using roof-mounted dishes. It also helps that this model comes with a fair price tag, which makes this whole process much easier to swallow.
In the end, this product is a lightweight, low-cost option that many DirecTV users should consider heavily. It covers almost every base you could ask for in one of these devices with its features.
Winegard Pathway X2 PA6002R
If you're looking for a device that can support two TVs, the Winegard Pathway X2 PA6002R Satellite TV Antenna is worth your attention. In fact, this model comes with many features that make it a perfect fit for RV living.
Its lightweight design is one of these features as you can quickly move it around without issue. This aspect becomes even easier when you consider it comes with an easy to grip handle as well. As a result, setting up this model shouldn't be much of an issue.
This device's use of Dual Arc technology gives it the ability to point toward the Eastern or Western Arc satellites. This feature allows this product to adjust based on which satellite is offering the most channels.
Plus, this adjustment happens automatically to ensure this product offers the most benefits it can. Given these traits, it's quite clear Winegard did a great job creating a product that would suit the needs of whoever ends up buying this device.
It also helps that this model comes with a DISH Wally HD receiver. This add-on means you won't have to buy it separately, which is always an advantage. It'll save you from having to do even more research on another topic.
This model's larger reflector is another aspect any RV owner would benefit from as it'll provide greater signal strength compared to other portable dishes. You shouldn't worry about the price of this product either as it's well in the range of what you should expect to pay.
Winegard PA2000R
Our next product is the Winegard PA2000R Pathway X1 Automatic Portable Truck Satellite TV Antenna, which is one of the more practical models on the market. It has many features that any RVevr would love their dish to offer.
For instance, this model comes with an aluminum reflector that provides top-tier results, even in bad weather conditions. As a result, a heavy downpour shouldn't have any effect on your TV inside the RV with this model.
This reflector will also ensure you get a better signal than many other models on the market. Given these two traits, it's fair to say this device will offer a stable, steady TV signal at all times whatever the conditions outside.
We found this model's setup process to be another winning trait, as well. You should be able to set up this portable satellite dish in a few minutes without any issue. In fact, many of the reviews back this claim up with their praise about how little time it took.
You can also take comfort in this model's strength as it was tested to survive for over 600,000 road miles. With this in mind, you can expect this dish to be providing you with fair TV signals for many years.
It helps that this model comes with a few mounting options and can support up to two TVs as well. And like many other devices on this list, the product is automatic for practical reasons.
Winegard GM-6035
The Winegard GM-6035 Satellite Antenna is a great choice because this RV dish supports three carriers, so you won't have to switch antennas if you switch your carrier.
This lightweight, portable satellite dish for RVs features a power inserter that allows a single coax cable entry to your camper which reduces the stress of setting up and using the antenna.
The antenna automatically adjusts to find the best reception as you change channels.
Customers love the strong reception, even during inclement weather, and that this RV satellite supports HD programming for both DISH and BellTV subscriptions.
They are also happy with the solid construction that handles RV travel without causing damage to the unit.
On the downside, this antenna is for stationary use only, and will not support HD DirecTV. Also, be careful when mounting the antenna permanently to your RV roof, as trees may cause poor reception. Using a portable antenna stand helps you avoid the trees while camping.
Portable Satellite Dishes Under $2500
This category includes goods at the highest cost. They have a lot of positive feedback from customers. They highly appreciate their quality, versatility, and usability.
Winegard RT2035T
The Winegard RT2035T Black T4 RV Satellite Antenna is the only portable satellite dish for RVs in this review that allows viewing while your recreational vehicle is in motion.
This model of portable RV satellite antenna allows for multi-provider compatibility, so you can switch between carriers without having to purchase a new antenna.
The lightweight and compact design make it easy to transport or mount to the roof of your recreational vehicle.
Customers appreciate the one-button operation to turn the unit on and off and how the design upgrade to this fully-automatic antenna makes it quieter as it tracks and quickly locks on a signal.
Customers are not as happy with the price point, considering this model only allows viewing of one channel at a time and that you can only get SD DirecTV programming.
Winegard SK-1000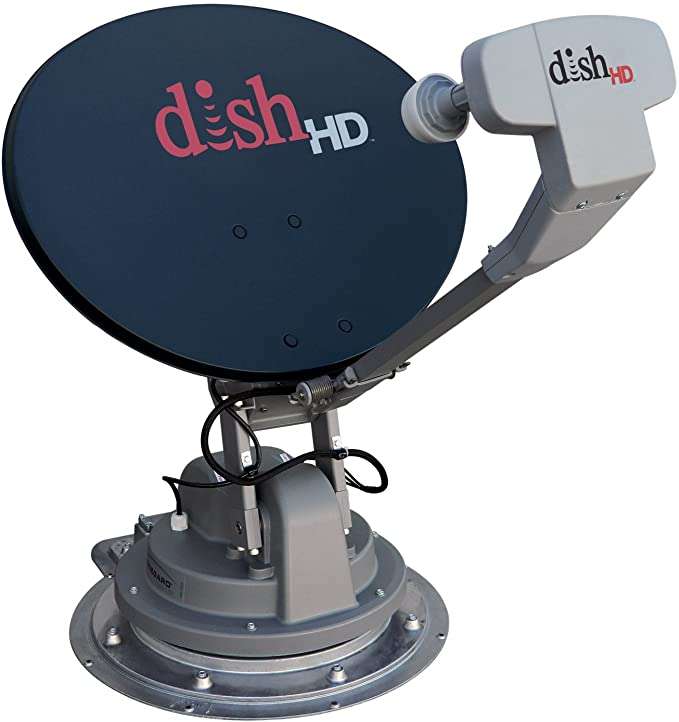 Our next Winegard product is the Winegard SK-1000 TRAV'LER RV Satellite TV Antenna, which further shows the greatness of this brand. It's another device that lends itself useful for families traveling together in RVs.
You see, this model can support up to three TVs at once. This amount might be less than the product we reviewed right before it, but it's still more than most on the market today. And it receives signals from three satellites to ensure each TV gets the best signal it can.
It's also worth noting this model is usable with DISH's Pay-As-You-Go plan, which as stated in other reviews is a real money saver for RVers.
This feature will lessen wind resistance and ensure your satellite dish clears any low bridge or tunnel during travel. Besides, this model can work with two different providers in Bell and DISH, which shows it has a broader customer base than most models.
Besides these features, everything else about this product is rather standard. It receives HD and SD channels, auto toggles, includes a coax cable, built by a US company, etc. In other words, it has everything you could want in an RV satellite dish.
You may also like: Best Portable Gaming Monitors for PS, Xbox, and More
Winegard SK-SWM3
The Winegard SK-SWM3 TRAV'LER DIRECTV Slimline Antenna is the answer for RVers who want the most flexibility when watching TV while on camping or full-time RVing.
The SK-SWM3 Slimline is the only automatic mobile antenna that offers the most programming in DIRECTV HD. The reflectors are certified and approved to provide powerful signal strength no matter when you choose to camp.
Customers love how RVing families can avoid arguments over which show to watch because this RV antenna allows multi-satellite viewing so everyone can watch what they want on separate TVs.
While this is a "portable" RV satellite dish, the design is a roof mount which makes lifting the heavier weight to your roof a concern if you choose to install this antenna alone. Please note that the manufacturer suggests professional installation for the best results.
FAQ for portable satellite dishes buyers:
How does a portable satellite dish work?
Portable satellite dishes are the dishes that RV users can move anywhere to receive the best satellite signal. A portable satellite dish for RV uses a tripod for sitting in any place. Most of these models are cheaper than the fixed ones. Thus, it is a pocket-friendly choice for people who are irregular campers.
Does a satellite dish require power?
Yes, satellite dishes are frequently powered by DC current over the coax connection. The DC power comes from a "line power inserter" which will attach somewhere to the coax before it reaches the TV.
How do I set up my portable satellite dish?
Connect the supplied coax cable to the "MAIN" coax port on the portable antenna. The placement of this port will vary, depending on your portable antenna. Connect the other end of your cable to your DISH receiver. Connect the receiver to your TV using an HDMI cable.
Can I use an old satellite dish as an antenna?
Using a satellite dish as a TV antenna isn't going to work very well no matter how you do it. It's never going to return the level of signal you want no matter how much time you invest. You're much better off simply shopping for an antenna at Solid Signal.
Can I connect the satellite dish directly to the TV?
You cannot connect your satellite dish to your TV. The signals from satellites are in a different format since they come from such a far place. You need a satellite TV receiver to demodulate the signals from your dish. So, it is a coaxial cord to the set-top box and set-top box HDMI cable to your TV.
In what direction do you face a satellite dish?
The horizontal alignment refers to the position of the satellite emitting the signal. Therefore, your dish needs to point either to the east or west, in the direction where you wish to receive the signal.