Hunting is a hobby for many outdoor enthusiasts. You can pack all the necessary equipment, get behind the wheel of your favorite car and go to a special place. Or maybe you just like to shoot at bottles? For either of these purposes, you'll need these best portable shooting benches for 2023.
Their distinct advantage is that you can always take them with you anywhere. Besides, each option presented in this review is of high quality and reliability.
These best portable duck blinds will help you to achieve desired results in your hunting holidays.
Our Top Picks:
BOG FieldPod Hunting Rests

Versatile

Ease of Use

Durable

See Best Price

Caldwell Stable Table Lite




Weatherproof

Allweather Seat

Fully Collapsible

See Best Price

Goplus Portable Shooting Bench




Durable Construction

Height Adjustable

Large Shooting Space

See Best Price
1. BOG FieldPod Hunting Rests Including the FieldPod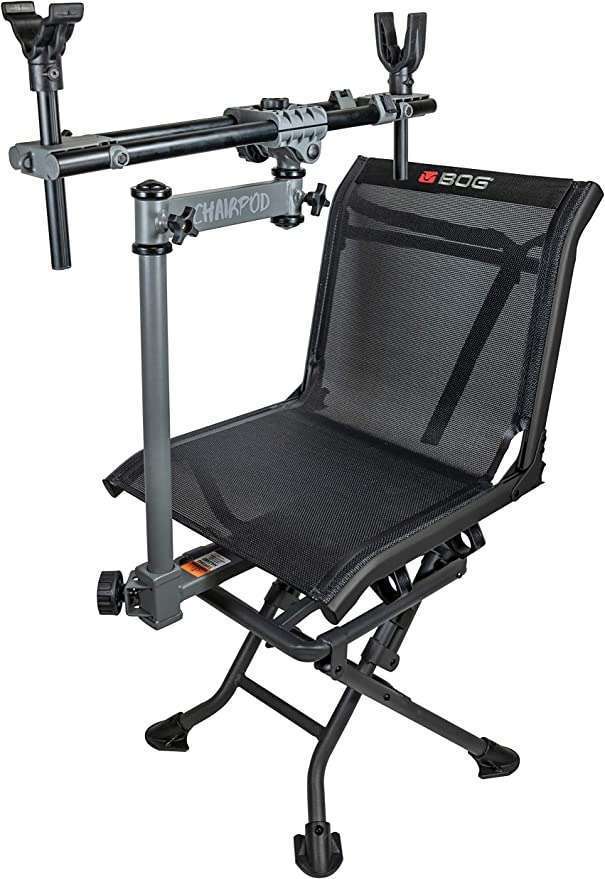 This aluminum chair with a gun stand will be a real boon and helper for hunters. You can place weapons of different sizes and weights on the stand, which makes it absolutely versatile.
There are special rotating handles for change. In this way you can fix the weapon, change its direction and adjust the angle of inclination without taking your eyes off the tracking through binoculars or scopes.
The stand and all the equipment fold up quickly and easily enough, which allows you to take it even to long distances.
The stand won't scratch the gun. It will allow you to adjust your scope and get ready to shoot without having to hold your weapon.
The stand is attached to a chair that rotates 360 degrees. The stand has a molded back stock for durability. The chair can support a lot of weight, so it is considered versatile for any adult.
You may also like: 11 Best Tripod Deer Stands (Comparison & Reviews)
2. Caldwell Stable Table Lite with Weatherproof Tabletop
In this set, you get a special swivel chair and stand. The surface of the chair and stand are resistant to all weather conditions.
The entire structure has a weight of up to 30 pounds, so it is easy to take with you even over long distances. The chair can support a person's weight of up to 250 pounds.
There are special guardrails on the tabletop. They prevent weapons from sliding and various ammunition from falling. When folded, the structure has handles, thanks to which it is easy to transport.
Feet and support are made of metal, which provides stability and reliability for the entire structure. This model is quite easy and simple to use, as it does not require any extra parts.
Adjust the chair by rotating it in different directions. This allows you to choose a comfortable position for right-handed and left-handed people. This stand is great for any gun. The chair is attached to the stand and allows you to quickly fold the structure down when you are finished shooting.
3. Goplus Portable Shooting Bench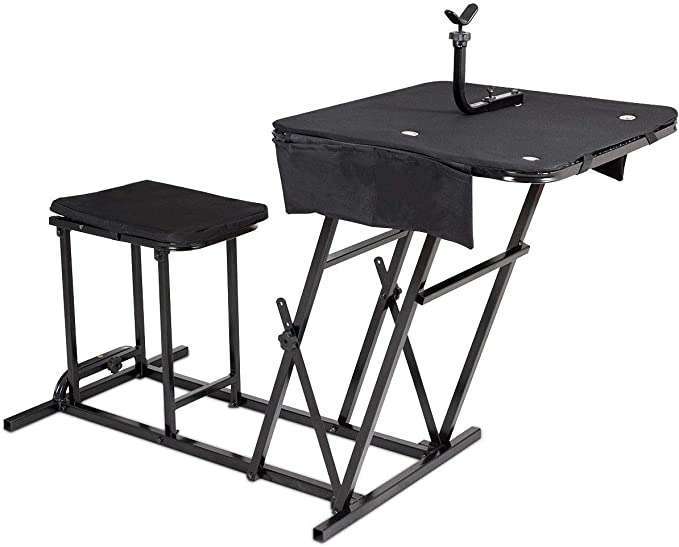 Hunting and shooting enthusiasts will definitely love this set of special tables and chairs. The design folds and unfolds easily, so it takes up little space and allows you to take it with you.
It can be used to set up the most appropriate position and sight. The design has a powder coating on it, which guarantees a long life of the design.
It will not rust or deteriorate over time, so it can be used even during bad weather conditions.
This set will be as stable as possible thanks to its sturdy steel legs. It will even withstand a heavy weight of up to 300 pounds, allowing everyone to use the design.
The stand and chair can be adjusted in height, which will make the shooting process as convenient and comfortable as possible for men and women. There are also special pockets on the stand, where you can put any things including ammunition and equipment.
The weight of the construction reaches 35 pounds, which allows you to take it with you over any distance.
4. BenchMaster BMGBSC2 Four Leg Ground Blind Chair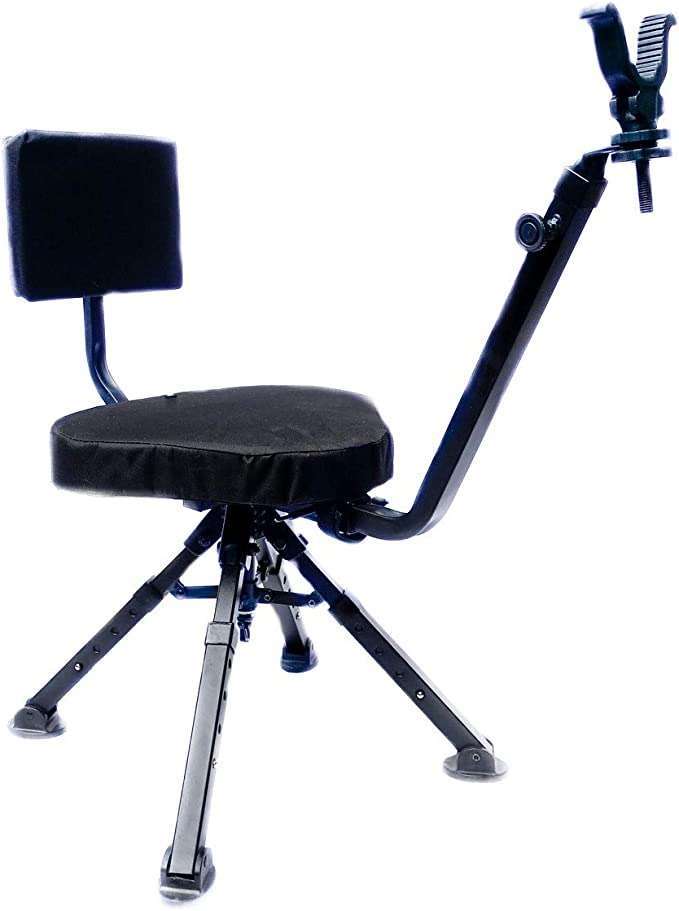 The advantage of this design is the low weight of 13.5 pounds. Because of this, the gun rest chair can be taken with you over long distances.
The design is as sturdy and reliable as possible, as the support is made of steel with a special protective powder coating.
The structure can be used outdoors in all weather conditions. The coating protects the material from rust and plaque, which guarantees its long life. The upholstered chair is the most comfortable and convenient to use.
It rotates 360 degrees, making it versatile for both left- and right-handers. For convenience, you can adjust the height up to 4 inches and find the best one for you. This is done with built-in rotating elements.
The stand attached to the chair is suitable for any gun as it can support a lot of weight. The chair with adjustable legs is suitable for uneven surfaces.
You may also like: 9 Best Portable Camping Tables (Under $100, $200)
5. Birchwood Casey Shooting/Multi Target Practice/Field Bench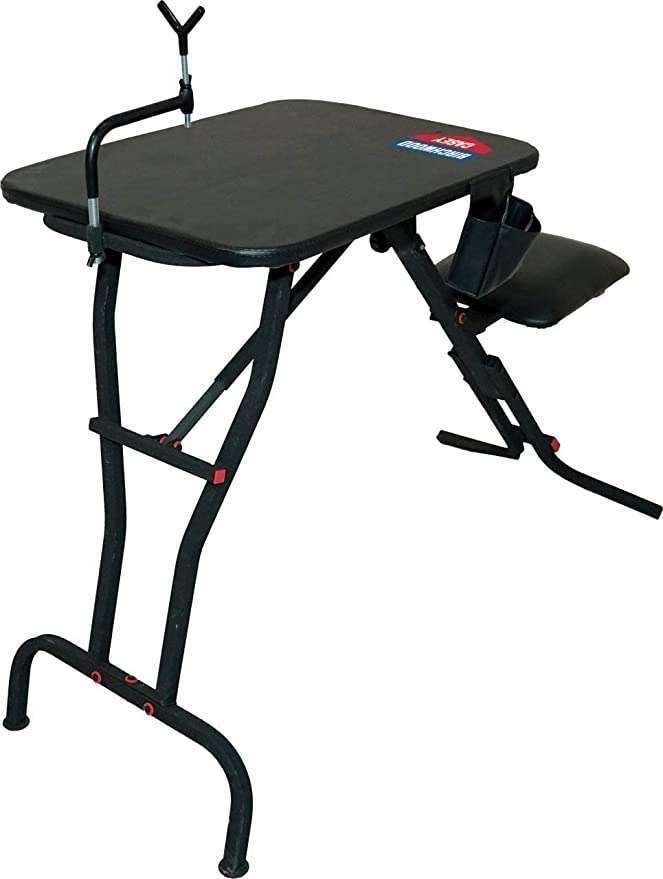 This stable and sturdy bench is great for shooting and hunting. The stable gun holder allows you to adjust its direction and aim properly at your target.
The 21-inch-wide, 28-inch-long stand can hold ammunition and weapons. A padded and comfortable chair will provide the user with comfort and convenience.
The 12-inch wide seat folds up quickly and easily for easy storage and transportation. There are also extra covers on the stand. You can put all the necessary equipment and gear in them.
This model can be adjusted to any comfortable position. The surface of the stand will not scratch or ruin the weapon because it is made of soft materials.
The whole construction, including the stand, can be easily folded and unfolded, which makes it easy to transport it from one place to another.
6. Costway Foldable Shooting Table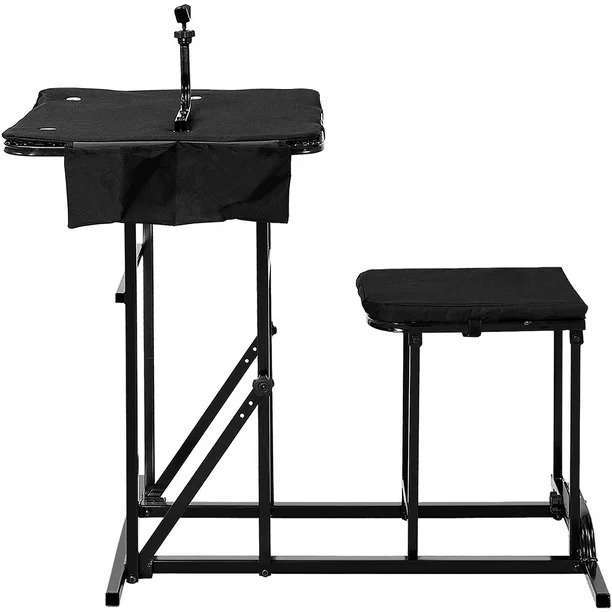 To make the shooting and hunting process much more comfortable, you can use this stand with a chair. The construction is made of the highest quality materials, which makes it durable and resistant to wear and tear.
The basic materials are a steel frame and 600 denier fabric. The stand is suitable for people of any build and height. The chair can support quite a lot of weight.
Also, the stand is suitable for any type of weapon. It can be easily and quickly folded and unfolded, which makes the design as easy to transport as possible.
A padded seat provides the shooter with comfort and convenience. Soft coating of the stand guarantees the integrity and safety of the weapon. The design can be attached to trees for added stability and safety.
A large stand with pockets allows you to put other necessary things on it. You can use the construction in any weather conditions, as it is made of high-strength steel coated with a protective powder. It protects against rust and corrosion. The table is practical and convenient for shooting and hunting. It can be mounted and fixed even on rough surfaces.
You may also like: 9 Best Portable Fishing Boats (Comparison & Reviews)
7. Caldwell 252-552 Stable Table Shooting Bench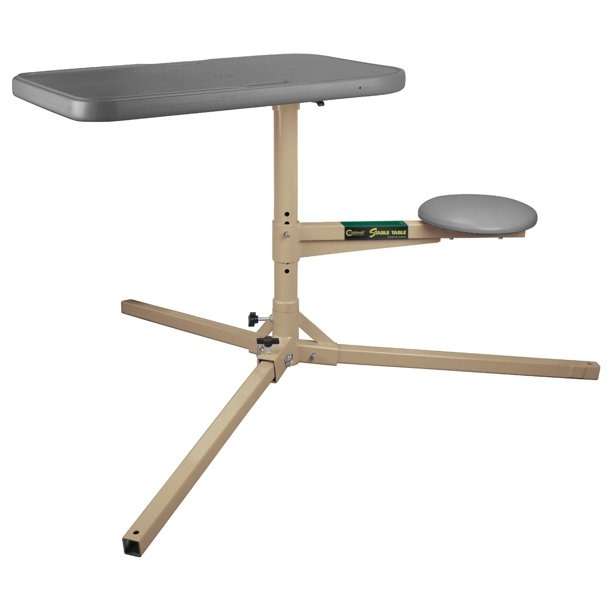 This stand with a special chair will become ideal equipment for shooters and hunters. On the soft and comfortable stand, you can mark any weapon, as it can withstand even a lot of weight.
Thanks to the rotation function, the design can be adjusted for left-handed or right-handed shooters. It can also be fixed in one position, keeping the table top facing horizontally.
The top of the structure has holes that serve as handles for easy transportation. The guardrails on the stand allow you to place various ammunition on it and prevent it from falling.
The soft and pleasant to-the-touch material of the chair will provide the shooting process with comfort and convenience. This design can be taken with you on any long hikes, in the woods, and at the shooting range. It easily folds up and unfolds quickly enough.
Steel support makes the design stable and safe. It can withstand a lot of weight and is versatile for all adults. Heavy weapons can be placed on the stand, eliminating the need to hold them in your hands.
FAQs About Portable Shooting Benches
What is a portable shooting bench? A portable shooting bench is a foldable or collapsible bench designed for holding firearms securely while shooting. It can be used both outdoors and indoors, offering improved stability and accuracy for target practice.
What are the advantages of using a portable shooting bench? The main advantages are that it provides a secure and stable platform, which helps improve accuracy and control when using firearms. Additionally, because these benches are designed to be portable, they are easy to transport and can be quickly set up as needed.
How do I use a portable shooting bench safely? When setting up the shooting bench, make sure that it is level on an even surface and securely anchored if necessary. Always follow safety protocols when handling firearms, including remembering the four rules of gun safety (treat all guns as if they were always loaded; never point a gun at anything you don't intend to shoot; know your target and what lies beyond; always keep your finger off the trigger until you are ready to shoot). Finally, never leave your gun unattended on the bench—even when folded up.