Camping is an awesome experience, from the change of environment to being a step closer to nature for a while, it is fun and looked forward to by many. During camping, the tent becomes your temporary abode, and it becomes important not just to have a heater that would keep your temperature up at a healthy level, but also a safe one at that. For this reason, you should not just consider any heater, but only a safe tent heater for camping.
Before going on into the market to that choice of yours, we recommend strongly that you go through this article, as it contains the best portable tent heaters for camping under $150 to make the best choice.
The best option:
Our Top Pick

Mr. Heater F215100

This model offers the latest evolution in portable heating. Use it in garages, tents, workshops, cabins, porches, patios, or hunting blinds to heat up to 95 sq. ft.

See Best Price
The list of the other great portable tent heaters for camping under $150 with a comparison of the main characteristics:
| Item | Dimensions | Weight | Power Source | Heating Method | |
| --- | --- | --- | --- | --- | --- |
| Mr. Heater F215100 | 11 x 11 x 11 inches | 5 pounds | Gas Powered | Radiant | See Best Price |
| Campy Gear 2 in 1 Heater | 13.98 x 10.91 x 10.91 inches | 7.92 pounds | Gas Powered | Radiant | See Best Price |
| Mr. Heater F232025 | 8.97 x 14.17 x 14.37 inches | 9.5 pounds | Gas Powered | Radiant | See Best Price |
| Portable Electric Space Heater | 6.2 x 7 x 9.2 inches | 3.59 pounds | Corded electric | Ceramic | See Best Price |
| OPOLAR Ceramic Space Heater | 7.1 x 5.9 x 11.1 inches | 3.5 pounds | Corded Electric | Ceramic, Fan&forced air | See Best Price |
| Mr. Heater MH18B | 16.7 x 11.2 x 12 inches | 16.3 pounds | Gas Powered | Radiant | See Best Price |
| Mr. Heater F232017 | 8 x 7 x 11 inches | 9.23 pounds | Gas Powered | Radiant | See Best Price |
| Taotronics TT-HE001 | 6.3 x 6.14 x 16.18 inches | 4.1 pounds | AC | Forced Air | See Best Price |
| Mr. Heater F242300 | 10.75 x 11.25 x 10.13 inches | 1 pound | Gas Powered | Forced Air | See Best Price |
| PORLAE Outdoor Butane Heater | 10.43 x 9.25 x 10.63 inches | 5.69 pounds | Gas Powered | Ceramic, Radiant&infrared | See Best Price |
| 2 in1 Portable Space Heater | 9.25 x 5.31 x 9.84 inches | 2.78 pounds | Corded Electric | Forced Air | See Best Price |
| LIFEPLUS Electric Space Heater | 8 x 7 x 11 inches | 3.43 pounds | Corded Electric | Ceramic | See Best Price |
| Kismile Small Space Heater | 20 x 19.8 x 14.9 inches | 22.5 pounds | Corded Electric | Ceramic | See Best Price |
You may also like: Best Portable Camping Sinks For Any Budget
Mr. Heater F215100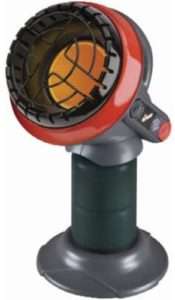 In the first place, the heater from the American brand Mr. Heater. The model belongs to the category Little Buddy and is convenient for walking to the site. Weighs 2.6 kg. The body consists of two parts, where the lower one is put on the cylinder and acts as a base, and the upper one has a burner.
The flame is lit by a button with a piezo element. The heating power of the tent is 1.2 kW. The device works on propane, and the flame warms the ceramic plate, which creates infrared rays. There is a D-shaped handle on the back, so you can rearrange the heater at any time, despite the hot case.
If the heater is accidentally knocked down, the flame will automatically extinguish. There is also a level control available at СО₂. The main advantage of this heater is its stable operation in frost -40 degrees. This is confirmed by users in reviews.
It is to operate in extreme conditions and withstands the harsh northern climate. Its reliability ensures that in frosty conditions you will not stay in your tent without heating.
Campy Gear 2 in 1 Portable Propane Heater
It is an infrared heater, which comes with a folding leg that allows you to adjust the tilt of the front panel. The hot ceramic board is protected by a stainless steel grating, which increases the safety of operation.
The heater operates from compact cylinders inserted at the side of the special opening. On the side, there is a flow regulator and heater start system realized in a single swivel wheel. Owners in feedback praise the product for the safety valve.
Experts considered this model to be the best one for tent heating in winter, as a cylinder heating plate is provided inside the case. In frost of -10…-20 degrees, propane liquefies strongly and the burners of other heaters can work unstably.
Here the fuel also gets preliminary heat, which speeds up the transition from liquid to the gaseous state and increases the reliability of combustion.
Mr. Heater F232025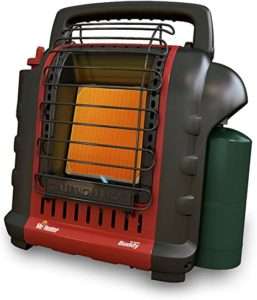 This is a novelty among the heaters for tents, but thanks to the ease of use and low consumption have already managed to be loved by many users.
It is lightweight, compact, works without electricity, and does its job perfectly, quickly heating a small room. It is an indispensable assistant when going out of town or on winter fishing.
The heater has built-in ceramic plates that are quickly heated by burning natural gas from cylinders. Thanks to the microporous structure of the plates, the gas burns completely, leaving no unpleasant odors.
The infrared gas heater has a built-in piezopodig for ease of use. Thanks to power regulation, it is possible to set the heating level of the room and use fuel in cylinders more economically.
Easy to use, small size and minimal consumption is the best positive qualities of the device. It is because of them that users take this model on a journey or long trips.
Portable Electric Space Heater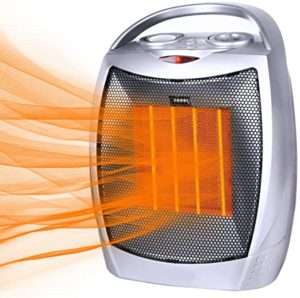 Infrared gas heaters have been gaining popularity recently, all thanks to their weighty advantages – high heat output and ease of use. Such a device instantly heats a large room and keeps the heat inside it for a long time.
This is the best representative of infrared heaters for large tents and houses. It has high power, so it heats the room in a few minutes.
It allows you to warm up in a short period of time during a cool period. It is a great option for camping for a long time or long trips. The heater is lightweight and small in size, so it can be easily transported.
It does not dry out the air, consists of quality materials with high resistance to wear. It also has a rich set of screws and nozzles for different types of cylinders.
Favorable price, excellent performance, durable materials are the key to the success of this model.
OPOLAR 1500W Ceramic Space Heater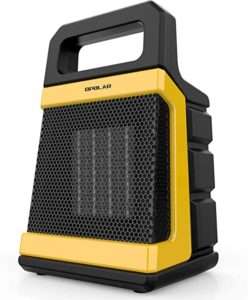 Certainly, one of the best heaters is this model.
This is another device, which many tourists liked. The heater is incredibly popular and has been in the top sales for several years.
It has quite a budget price and is perfect for heating tents and tents.
This model has such advantages as economy, functionality, and reliability.
The device is able to work uninterruptedly for a long time, without requiring excessive fuel reserves.
This device is specially designed so that you can not only heat the room but also use it as a stove for cooking or heating food.
It also includes an adapter for larger cylinders, expanding the functionality of the model.
Mr. Heater MH18B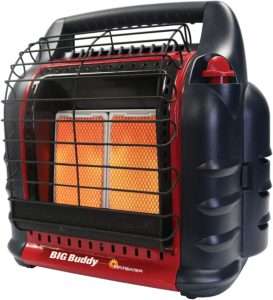 It is a lightweight, economical, compact gas heater. Perhaps it is one of the best for a comfortable winter rest.
Despite its small size, the device perfectly copes with the heating of a large tent, as well as small hunting lodges and country houses. It is perfect for fans of winter fishing and avid tourists.
The main fuel source of the device is gas from cylinders, and the heater is also equipped with a piezo fire system. According to users, this device is incredibly economical, so even the smallest cylinder is enough to heat the winter tent for a long time.
The main advantages of this model are its low consumption and compactness. This model perfectly performs the function of heating even in the coldest season, so it is so loved by hunters and fishermen.
You may also like: Best Portable Camping Tables
Mr. Heater F232017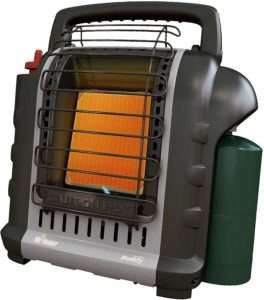 This is an excellent gas-fired infrared heater, which is ideal for traveling in the cold season. Most often it is bought for winter camping or for tourist purposes.
It has a built-in special system with a remote hose. The set also includes a heat-reflecting panel, which has several positions – horizontal and inclined.
The first one allows you to turn the heater into a miniature stove on which you can heat or cook. After that, the panel can be tilted and the device will perform the original function of the heater.
This device has a special system. It allows the device to operate at full power, regardless of external conditions and air temperature. Due to the heating material – tungsten, the device has a high service life and is easy to maintain.
The heater operates at full capacity for two or three hours. The folding legs allow cooking even in the most difficult conditions, with an unstable surface.
Cylinders, which are threaded type, are connected to the device. Moreover, they are easy to buy in any travel store. The package includes a special adapter to use the collet cylinder.
Due to its simplicity, safety, and high technology, this model is the best choice for camping.
Taotronics TT-HE001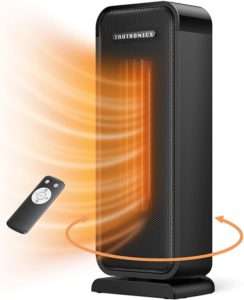 This device is a flat ceramic panel that emits infrared rays. On the side, there is a piezo ignition system with two electrodes.
The power change is on the opposite side of the housing. The front panel has a stainless steel protective grille.
The cylinder is mounted separately and can be connected via a hose. In case of wind blowing into the tent, which causes the flame to extinguish, the safety system will interrupt the gas supply.
Buyers share in their feedback that the burner functions silently, so you can sleep in the tent.
The main advantage of this heater, for which experts recognized it as the best, is the ratio of size to heat output. This is enough to heat a medium-size tent.
Mr. Heater F242300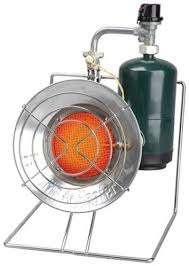 This heater has a lot of positive feedback from buyers. The ceramic burner is located in a rectangular housing and is covered with a steel grate. It is installed on a tubular frame with a folding leg.
At the rear, there is a gas change screw and a hose connection point with an already built-in reducer. Gas control is available from security systems.
Feedback praises the product for its stable position on the stand. The frame has a protruding arc which can be taken to move the heater to another part of the tent. If necessary, you can buy a long hose and connect the heater directly to the tank in the car.
This is another best model for heating large tents. Its capacity allows using the burner not only for tourist tents but also in the case of an indoor field kitchen, a temporary rescue headquarters.
PORLAE Outdoor Butane Heater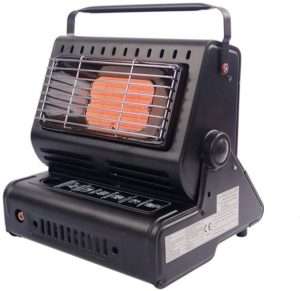 The manufacturer has provided in this model a bracket attached to the protective shell of the propane cylinder connection.
Thus, the device does not need legs and moves with the gas tank. A reducer and a hose are included. The flame can be ignited by pressing a button.
Ceramic panels are protected by steel rings. From the safety functions, there is a gas control. The feature of the product is the presence of two gas burners, which can be turned from each other.
This is very practical for two-room tents with a spacious "living room". In other models, it will be possible to heat only one room because IR rays have a directional effect.
Here, the nozzles can also be turned and directed to each room, so that the heat is the same everywhere.
2 in1 Portable Space Heater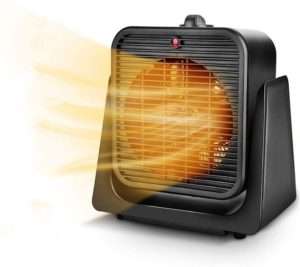 Here is another model for heating tents, where you can cook food. The body of the device consists of two parts, where the upper section is rotatable.
It is easy to place it in an upright position to direct the IR rays at the user. Or you can put it in a horizontal position to set the top of the cookware.
There is a fuel container in the lower base. With a handle, you can move it from place to place in the tent easily. The feature of the heater is a safety ring to prevent unauthorized start.
To turn on the burner, you need to pull on the ring and only then turn the switch to the position of spark from the piezo element.
After a fire, the fuse is released and the fire will no longer extinguish. Without pulling back the ring, the device will not start. This increases the safety of transportation and protects children from interference if they are taken to rest in tents.
LIFEPLUS Electric Space Heater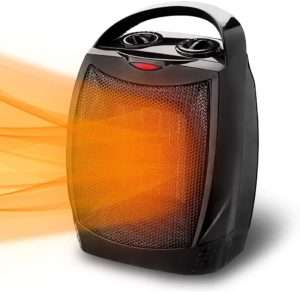 This is a compact model. The rectangular frame contains a ceramic block inside, which comes with honeycombs.
Through them, the flame is divided into small fragments, turning into infrared heat. Behind the case, there is a hinged stand.
Owners like the feedback that the heater can be used in both horizontal and vertical positions.
It is possible to operate the device with any type of cylinders because only a branch pipe with a "horny" for connecting hoses comes out of the case. We recognized this model for tent heating as the best one due to its simplicity of execution.
It has only a ceramic panel and a gas hose connection. There is literally nothing to break in the construction, so the heater is reliable and unpretentious.
You may also like: Best Portable Solar Panels for Camping
Kismile Small Space Heater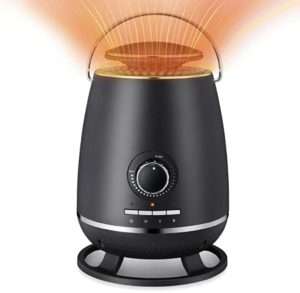 This compact burner for heating tents completes the overview. The model is designed to be put directly on the cylinder, which serves as a stable base.
The IR unit itself has a cylindrical shape, and the round concave reflector contributes to the spread of heat not only forward, but also on the sides. Despite its small size, this unit has a flame force regulator.
The owners liked that the metal grille with the ceramic element cools down quickly. Thus, you can turn off the heater, wait 10 minutes, put it in your bag, and go on the road.
Experts considered the product the best because of its lightweight and economical fuel consumption.
At the same time, the burner is enough to heat a medium-size tent. This is the best option for travelers single to warm the air in the temporary housing. It is also a great way to heat a tent at a winter camping site.
FAQ for portable tent heaters for camping under $150 buyers:
Can you use a portable heater in a tent?
A tipped electric heater could light your tent on fire. Pros of Gas Heaters: Portable: You can use a gas heater anywhere, electricity or no, as long as you can carry the heater and the gas. Hot: Gas has a lot of energy and will burn very hot and can warm up a small space quickly.
What is the best way to heat a tent?
A candle heater or warmer is designed to provide the perfect heat needed inside your tent without compromising safety and health. It is one of the safest ways to stay warm while staying outdoors in a cold winter season.
Are tent heaters dangerous?
Any heating device that you might use to heat your tent poses some sort of risk. For the most part, a poorly made or improperly operated tent heater can be dangerous because it can cause a fire hazard or a suffocation hazard. Any heating source, if it comes in contact with flammable objects, could cause a fire.
Should you put a tarp under your tent?
Putting some sort of ground cover or tarp under your tent is essential for the durability of your tent and to keep it warm and dry. If the tarp extends too far, even dew will run down the tent walls and collect under your tent. When camping at the beach, don't put a tarp under the tent, but rather inside the tent.
Can you live in a tent in winter?
A heated tent, properly sited and organized, provides a comfortable space in which to cook, eat, and relax. It's not a sin to be comfortable while winter camping. When it is this cold outside, a canvas tent and stove will quickly and efficiently create a warm, dry environment for you to live inside.
How much warmth does a tent add?
Most of the time, assuming you aren't camping in direct sunlight and under high temperatures, your tent can be about 5 to 10 degrees warmer than the outdoors. That said, this number can easily jump up if the weather conditions allow the tent to absorb more heat.