Utilizing GPS in the foremost activities of our day to day lives has become a consistent habit. Whether we are planning for dinner on Saturday night or going on a hiking trip in the woods, GPS always comes in handy.
We have become so habitual of its usage that sometimes we forget that it's here. Its uses go far beyond traveling and navigation. The GPS trackers with advanced technologies can track people, pets, vehicles, keys, and almost every single thing that we can think of.
So, here we are listing the best portable GPS trackers for people that they can choose from as per requirement. To ensure increased security, you can also use special portable cameras.
This item has the best feedback:
Our Top Pick

LandAirSea 54 GPS Tracker

This model features real-time tracking and geofencing with boundary alerts to keep you informed and give you peace of mind.

See Best Price
A comparison of the main characteristics of the other excellent portable GPS trackers:
Item
Dimensions
Weight
Batteries
Connectivity Technology

LandAirSea 54 GPS Tracker

2.25 x 2.25 x 0.8 inches

4.8 ounces

1 Lithium ion

4G LTE

See Best Price

SINOTRACK ST-901W 

0.47 x 0.31 x 0.08 inches

3.87 ounces

1 Lithium Polymer

3G

See Best Price

Mini Real time GPS Tracker

1.74 x 1.5 x 0.6 inches

1.26 ounces

1 Lithium ion

wireless

See Best Price

PRIMETRACKING Personal GPS Tracker

1.57 x 1.05 x 3.07 inches

2.24 ounces

1 Lithium Polymer

4G LTE

See Best Price

TrackMateGPS Mini PRO

3.4 x 2.2 x 0.5 inches

1.76 ounces

1 Lithium Polymer

4G LTE

See Best Price

Vehicle Car GPS Tracker TK103A

6.3 x 3.94 x 1.57 inches

8.1 ounces

1 AAA

wired

See Best Price

TKSTAR GPS Tracker

3.54 x 2.83 x 0.87 inches

11.2 ounces

1 Lithium Polymer

2G

See Best Price

Brickhouse Security Spark Nano 7

5.5 x 5 x 4.1 inches

15.2 ounces

1 Lithium Polymer

4G LTE

 

See Best Price

Samsung SmartThings

0.5 x 1.7 x 1.7 inches

0.8 ounces

1 Lithium Polymer

LTE

See Best Price

SinoTrack Personal GPS Tracker

3.03 x 1.5 x 0.98 inches

2.4 ounces

1 Lithium Polymer

2G

See Best Price

AMERICALOC GL300 GPS Tracker

2.7 x 1.51 x 0.92 inches

2.24 ounces

1 Lithium ion

wireless

See Best Price

ShieldGPS VO1

4.92 x 4.02 x 1.69 inches

2.24 ounces

1 Lithium ion

4G

See Best Price

MOTOsafety OBD GPS Tracker

1 x 1.75 x 2.1 inches

2.08 ounces

1 Lithium Polymer

4G

See Best Price
You may also like: Best Portable Hand-Crank Generators
LandAirSea 54 GPS Tracker
If you need a reliable GPS tracker that can track movements in real-time, check out the LandAirSea 54 GPS Tracker. This micro GPS tracker device discrete unit is about the size of a small roll of scotch tape.
You can even disable any LED lights to hide the tracker completely. It is water-proof with a built-in magnet, meaning it is easy to install on your vehicle, with no additional accessories needed.
The fast 4G LTE cellular connection keeps you connected in the United States, with the included battery lasting up to two weeks on a single charge.
The 54 GPS Tracker has software compatible with Mac, PC, iOS, and Android devices, where you can keep an eye on your tracker and setup features such as geofencing for alerts when the device leaves a specified area.
SINOTRACK ST-901W 3G Vehicle Car GPS Tracker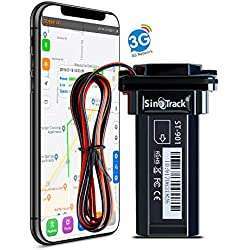 It is one of the smallest and cheapest models in our entire review, which is why it is so popular among consumers. The body of the product is reliably protected from moisture.
Thus, all electronics will work long enough without the occurrence of short circuits and other troubles. The product is lighter than water. So even if it falls into a river or some other body of water, it will stay afloat and continue to send coordinates to the owner.
The kit comes with a rechargeable battery with a capacity of about 150 mAh. This parameter is enough for about three to four hours of continuous operation. Going with the tracker wires provide a connection to the onboard network of the car.
There is a LED indicating whether the connection with the satellite was established or the device is still in search of her.
The functionality is quite wide. There is a possibility of activation of notification by a shock sensor or strong shaking. There is also a limit on the number of kilometers traveled in a certain period of time.
You can set a geofence, set the largest speed threshold. The interval of determining the coordinates is also adjustable – at least it is 10 seconds. The sensitivity of the tracker is high, so it determines the location within about 30-40 seconds.
Tracki 2020 Model Mini Real time GPS Tracker
The Tracki 2020 GPS Tracker is an excellent option for those who need international tracking abilities. Tracki built its tracker to support worldwide coverage around the globe, including the USA, Canada, and 185 other countries.
It is a fully customizable tracking app able to track logging and track time almost anywhere.
Additionally, this tracker's location can be accessed on any computer or iPhone/Android app using GPS, GSM, or WiFi, as well as Bluetooth tracking within 100 feet.
The battery life can reach up to 30 days on a single charge if real-time GPS tracker functionality is not needed. Otherwise, real-time will allow the Tracki unit to last two to three days.
An optional battery extender is available for the Tracki, while it will add additional bulk, it will extend real-time tracking up to 2 weeks — updating only four times a day will last you up to 6 months.
The setup process is also quite easy and allows you to get started in only five minutes. While the size is excellent for discretion, the small battery life may be a limiting factor for those who seek real-time tracking.
PRIMETRACKING Personal GPS Tracker
If you're looking for a device to fit into small spaces but still maintain decent battery life, we recommend the PRIMETRACKING Personal GPS Tracker. This discreet gadget is only 2.7×1.5×0.9-inches and weighs a bit over 2-ounces.
Personal GPS uses multiple cellular networks to enable tracking anywhere in North America, including the United States, Canada, and Mexico. Worried about getting lost during your travels? Then this is the best GPS tracker for hiking.
The real-time tracking feature allows you to track your unit with updates every 10-seconds; the software utilizes Google Maps to showcase specific activity, track location changes, and route history.
We will note that similar to most trackers, a subscription fee is required; however, we found that PRIMETRACKING's service to be a bit on the pricier side.
TrackMateGPS Mini PRO LTE 4G GPS Tracker
If you're tracking a vehicle, such as a car or truck, there is no better option than this GPS tracker device from TrackMateGPS.
Plug this car GPS tracker directly into your vehicle's OBD port, typically located under the driver-side dashboard, eliminating the need for a rechargeable battery.
In addition to standard tracking, the TrackMateGPS can pull information from your vehicle, fuel economy, fuel level, true idling, and engine RPM. It's also got free roadside assistance within the USA, Canada, and Puerto Rico.
Alerts can also be set up with the TrackMateGPS for speed, braking, and rapid acceleration. When the vehicle is turned off, the device continues to share location reporting every hour.
While the TrackMateGPS Tracker shines high for its abilities, we will note that some individuals have had trouble with customer support, leaving an area for improvement. However, thanks to its use of the OBD port, it is the best-hidden GPS tracker for car.
Vehicle Car GPS Tracker TK103A
This is an inexpensive model of a GPS tracker. Already by its appearance, it is immediately clear that this model is designed only for installation in the car. This is confirmed by the impressive package.
The package includes the device itself, installation cables, remote control, GSM and GPS antennas, relay 40A/12 VDC, microphone for listening to the salon, and instructions.
The model is made in a case made of aluminum alloy. On the end surface, there are two connectors. One is for external power and the other is for the shock sensor. Next to these are the on/off switch for the internal battery and a two-color LED.
On the other end, you can see the high-frequency connectors for GSM and GPS antennas. There are also two slots – one for a SIM card and one for a microSD card, next to which is a jack for microphone miniUSB.
The basis of the hardware is a controller STM32F101LQFP48. For GSM is responsible chip Quectel M35. To work with GPS is used NewStar NS-1315, which supports 32 channels.
This unit performs quite well the basic functions of on-line monitoring. Small errors are present – sometimes the track is not as smooth as you would like it. But this does not affect the observation of the moving object. This model will be most useful for transport monitoring.
You may also like: Best Portable Vacuums for Car
TKSTAR GPS Tracker
Nothing is more terrifying than turning around in a crowded mall or outdoor space, finding that your child is no longer visible. Thanks to the TKSTAR GPS Tracker, you can keep an eye on your kids, even if you aren't nearby.
This is done using beaconing technology using cellular, WiFi, GPS, or Bluetooth, with accuracy and reliability.
The included clip is durable and allows you to clip the unit onto your child's clothing or shoes with ease. Best of all, the tracking function works both indoors and outdoors, making it the best GPS tracker for kids.
TKSTAR is a company with technical support based in the states; if you need assistance with your product, you can be connected to the support team.
While we love the TKSTAR, the battery life tends to last only a few days in most situations, so make sure you charge it before clipping it to your child.
Brickhouse Security Spark Nano 7
If you need to keep an eye on your pets, we recommend you check out the Brickhouse Security Spark Nano 7 tracker.
This portable tracker easily connects to iOS and Android devices for configuration and tracking. A hard case, belt clip, and lanyard are included in the box.
The belt clip provides an excellent option for connecting the device to your pet's collar, and the company advertises up to 5 days of battery life.
If you opt to use the tracker for your children, there is a built-in SOS button that can be pressed for emergency alerts.
Service costs can be a bit confusing, depending on what features you desire, but it does allow for a more customized solution.
Samsung SmartThings Tracker
Samsung is no stranger to electronic devices, and the company's SmartThings Tracker Live helps you to keep tabs on what matters most to you.
Operating on an LTE cellular network, the Tracker Live can provide you with its wear for up to 10 days at a time.
Weather is also not a concern thanks to the included IP68 water-resistance, which allows the device to be submerged to 1.5-meters for up to 30-minutes.
The best part of the Tracker Live is that it can be integrated with Samsung's SmartThings app for home automation control, such as unlocking your front door when your child approaches it; this makes it the best GPS tracker app.
We also love that Samsung includes 1-year of service for no charge. On the downside, when it comes to charging, the device won't charge while in use, so keep that factor in mind if you need continuous tracking.
SinoTrack Personal GPS Tracker
There is a solid sense of security in knowing where your loved ones are. This tracker is tiny and its sleek design makes it easy to wear around the neck, or on a keychain.
It got real-time locations with frequent reports up to every 60 seconds.
The reliability of this tracker made us feel secure that it would work in the event of an emergency.
When set to less frequent location reports, the battery can last up to a week between charges.
It has an app that's nicely done and feels intuitive. For a kid's backpack or a family member's keychain, the Yepzon freedom is a good pick.
If you're tracking a kid, you may want to read our reviews of GPS Tracking watches.
AMERICALOC GL300 GPS Tracker
Although it's a 2G tracker, it is a tried and true tracker and has been around a long time.
It's accurate and reliable.
Being a 2G tracker we found that it didn't always work in rural areas, but it worked great in the cities that we tested it in. It uses the T-Mobile 2G network.
Coverage issues aside, we found it to be a pretty solid tracker and got a little over a week out of the battery.
It is slightly cheaper than the other models.
So if you aren't worried about coverage, we think it would be a great choice for a general-purpose tracker.
ShieldGPS VO1
OBD trackers are great for tracking cars because they get their power from the car and they're really easy to use. You just plug them in and start tracking. We found the Vyncs Tracker to be a great choice.
The accuracy is usually spot on and it is a 3G tracker. It did a nice job leaving a reliable track of everywhere we traveled in real-time.
In addition to the real-time tracking, one of the things that we really loved about this product were all the unique features it offers such as driver monitoring, vehicle performance reporting, fuel reporting, emergency roadside assistance, maintenance reminders, and much more.
Overall, a great device for basic vehicle tracking.
You may also like: Best Portable Tire Inflators
MOTOsafety OBD GPS Car Tracker
This tracking device costs only $30 with a monthly fee of $19.99. You won't have to sign a contract or pay a cancellation fee, but you will have to call the company if you want to cancel.
We like the included driver training program, with access to educational content and practice quizzes to help your teen prep for their driving test.
We also like the daily driving report card on the mobile app, but metrics can be confusing. Speed limits aren't always accurate on Google Maps, so MOTOsafety might say you're speeding even when you're not.
Likewise, normal rapid acceleration—like when you're merging onto a busy highway—can also count against you.
We recommend taking it out for a test drive and checking the sensitivity before taking away your teen's car keys for a bad grade on their MOTOsafety driving report.
FAQ for portable GPS trackers buyers:
Do GPS car trackers work?
GPS works by providing information on the exact location. It can also track the movement of a vehicle or person. This network incorporates a range of satellites that use microwave signals that are transmitted to GPS devices to give information on location, vehicle speed, time, and direction.
Do all GPS trackers have a monthly fee?
Since most GPS trackers are capable of broadcasting "real-time location" using the same technology your phone does to make a call or connect to the internet, they require a monthly subscription fee.
Can a GPS tracker be detected?
The easiest way to detect a GPS device on your vehicle is to use a GPS bug detector. The bug detectors will detect an electronic device by intercepting radio signals being sent by the device using a radio frequency signal.
Does GPS in-car need Internet?
There is no internet connection required to use GPS services. Global positioning system (GPS) is available FREE of cost everywhere on earth. That's the reason your car's GPS can work even if there is no internet connectivity in the car's navigation system.
How far does a GPS tracker work?
Ultimately, most GPS tracking devices are accurate to within three meters, allowing users to have fairly accurate location information.
Is there an app to detect a GPS tracker?
The FollowMee GPS tracking mobile app converts your Android, iOS, or Windows device into a GPS tracking device. Installing this app to devices that you want to track, you can monitor their whereabouts on this web site.