Masters know how important it is to always have the right tool at hand. Workbench on wheels is an excellent solution for equipping car service stations, production shops, workshops because unlike stationary models, the necessary tools will always be at hand because this model has wheels and can be easily moved to any place. Besides, they are strong enough to hold heavy tools such as portable drill presses.
All models of mobile workbenches have a convenient handle for transportation. The presence of wheels for moving is the only difference between mobile workbenches and stationary ones.
Best Portable Workbenches on Wheels Under $200
You may also like: Best Portable Folding Picnic Tables
1. TodoCope 200 lbs Capacity Adjustable Work Table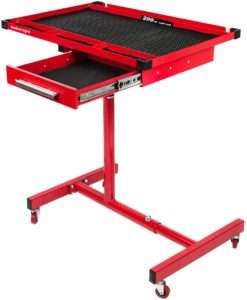 Authority
A mobile workbench on wheels is a chief assistant for locksmith-assembler. More than one repair room can not do without such a product. It not only helps the locksmith to do his job but also allows him to keep the workplace clean and quickly find the right tools.
And the tool screen will help you place small parts and small tools (if there are a lot of them) or if several boxes are used for storing documents and drawings. Ideal for a shop or garage.
Capacity
The work surface can withstand loads up to 200 lbs. You can adjust the height from thirty and a half to more than forty and a half inches. If necessary, wheels of any load capacity can be installed on the workbench. The holes necessary for this purpose are initially laid down in the product design.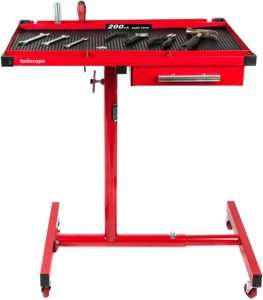 Supporting facilities
One of the advantages of this workbench is a drawer and a removable tray in which you can put all the necessary tools. By default, this model has a screwdriver and a mount holder. In addition, the manufacturer has taken care of the safety of transporting and moving the table, so the tool tray has rubberized corners.
Reliability
The rollers of this model are heavy enough to avoid unplanned movement and at the same time very mobile, they allow you to rotate the workbench 360 degrees. The wedge-shaped design of the connector, made of strong steel, is responsible for the durability and stability of the desktop.
Guarantee
This brand offers a One-Year Warranty.
2. GEARWRENCH Adjustable Height Mobile Work Table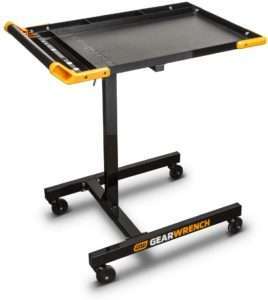 Do you have a difficult task? This workbench is designed for just such tasks and is able to withstand more than 125 pounds of cargo. It is lightweight although it has the highest price among the items on our list.
Capacity
The workbench for manual processing of metal, wood, and other materials is suitable for use in small workshops. Due to its size and low weight, the steel workbench is easy to transport to the worksite. It is possible to regulate height from 35 to 48 inches.
Supporting facilities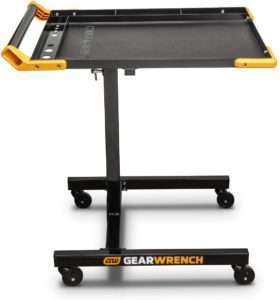 A metal frame is coated with powder for long-lasting durability. Moreover, the special cover (EVA mat) gives the countertop additional strength, resistance to mechanical loads increases durability. It is solid solvent resistant and allows you to secure the vise and other equipment anywhere on the countertop.
The tray table also includes compartments to keep small items safe while being transported. The Casters allow you to move the Mobile work Table around the entire shop with ease.
Reliability
As there are small parts it is not allowed to leave kids under 3 years unsupervised near this table. As usual, there is a one-year guarantee for this product.
You may also like: Best Portable Rocking Chairs
3. DuraSteel Stainless Steel Work Table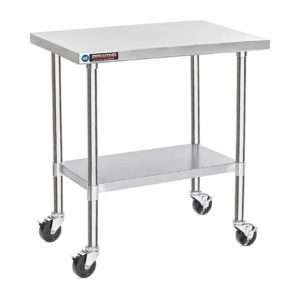 Design
If you consider yourself a true connoisseur of quality and beauty, then this elegant rolling tray is just right for you! It combines high-quality materials and functionality, anti-corrosion coating, and is designed for comfortable work and can decorate any interior, from the garage to the office.
The item is suitable for home and commercial use and is extremely easy to clean. The design of the product is made in such a way that based on the needs of the client; any additional elements can be installed inside it (shelves, drawers, partitions, perforated screens, sliding sections, hinged elements, and so on).
Capacity
Strong legs support up to 300 lbs, but to keep casters rolling smoothly it is recommended not to place more than 150 lbs on the surface. There are many sizes so it is a breeze to find the best option for your working place.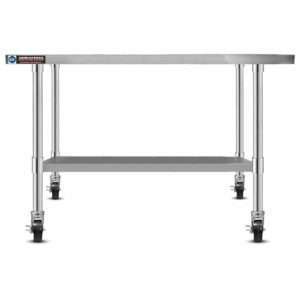 Supporting facilities
Ideal for storing tools in trucks and pickups, as well as on construction sites and workshops of enterprises. Designed for use by emergency services of housing and utilities, water utilities, and other enterprises, as well as construction teams on the construction site.
Reliability
Premium commercial 18 Gauge stainless steel and galvanized under shelf have extraordinary anti-corrosion abilities, which makes it stand more than 20 years. Caster wheels feature with brake for stability.
Guarantee
This model is for NSF Certified worktable, although rollers are not covered in the certification.
Best Portable Workbenches on Wheels Under $130
4. ATD Tools (7012 Heavy-Duty Mobile Work Table with Drawer
Authority
Although it is made in China, it has rugged casters, which make this model stable enough not to slip occasionally.
Capacity
With 220 pounds capacity in the center, the master will be able to carry the entire workplace with him, so as not to carry heavy structures with which to work. That is, the purchase of such a model will have a positive impact on the comfort of the specialist and, as a result, on the productivity of his work.
Separately, it is worth noting the fact that all cases have the ability to fix the wheel. The stopper will securely hold the structure even on an inclined plane, preventing it from making even small movements.
Supporting facilities
The workbench has a drawer for storing tools and other important items and a top tray liner. It is possible to regulate height from 34 to 48 inches.
Reliability
ToolDesk workbenches meet the highest requirements of consumers in any field of activity. Modern appearance, strict lines, and sizes, convenience and comfort in use, lack of a sense of "bulkiness" with high strength of products create comfort in the room, increase labor productivity.
5. OEMTOOLS 24616 29 Inch Portable Tear-Down Tray, Perfect Mobile Tray Table for Mechanics
Authority
This model has a lot in common with ATD Tools. Still, there are more Amazon users' positive ratings.
Capacity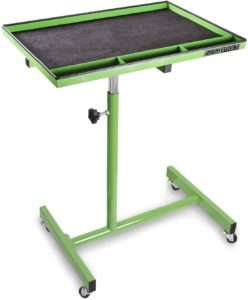 Obviously, this option is optimal for large-sized workshops, the area of which can have an indicator of a hundred square meters. In fact, such workbenches are appropriate even on small sites.
The design can be used not only in locksmithing but also in auto repair shops, where the mobility of the workplace will be an obvious advantage. The portable tool tray is adjustable from 33 inches to 49 inches.
Reliability
Eva foam is considered a high-quality material for the work surface, which is divided into several working compartments for more convenient storage of small parts.
In order to avoid damage to surrounding objects while moving the workbench, its corners have a rubber coating, and the structure itself is covered with a powder coating, which allows it to serve for a long time.
The tool tray trolley has an all-steel construction that will help it withstand difficult working conditions in the shop. This model combines everything you could want from a mobile workbench.
You may also like: Best Portable Art Tables
6. Keter Rolling Tool Chest with Storage Drawers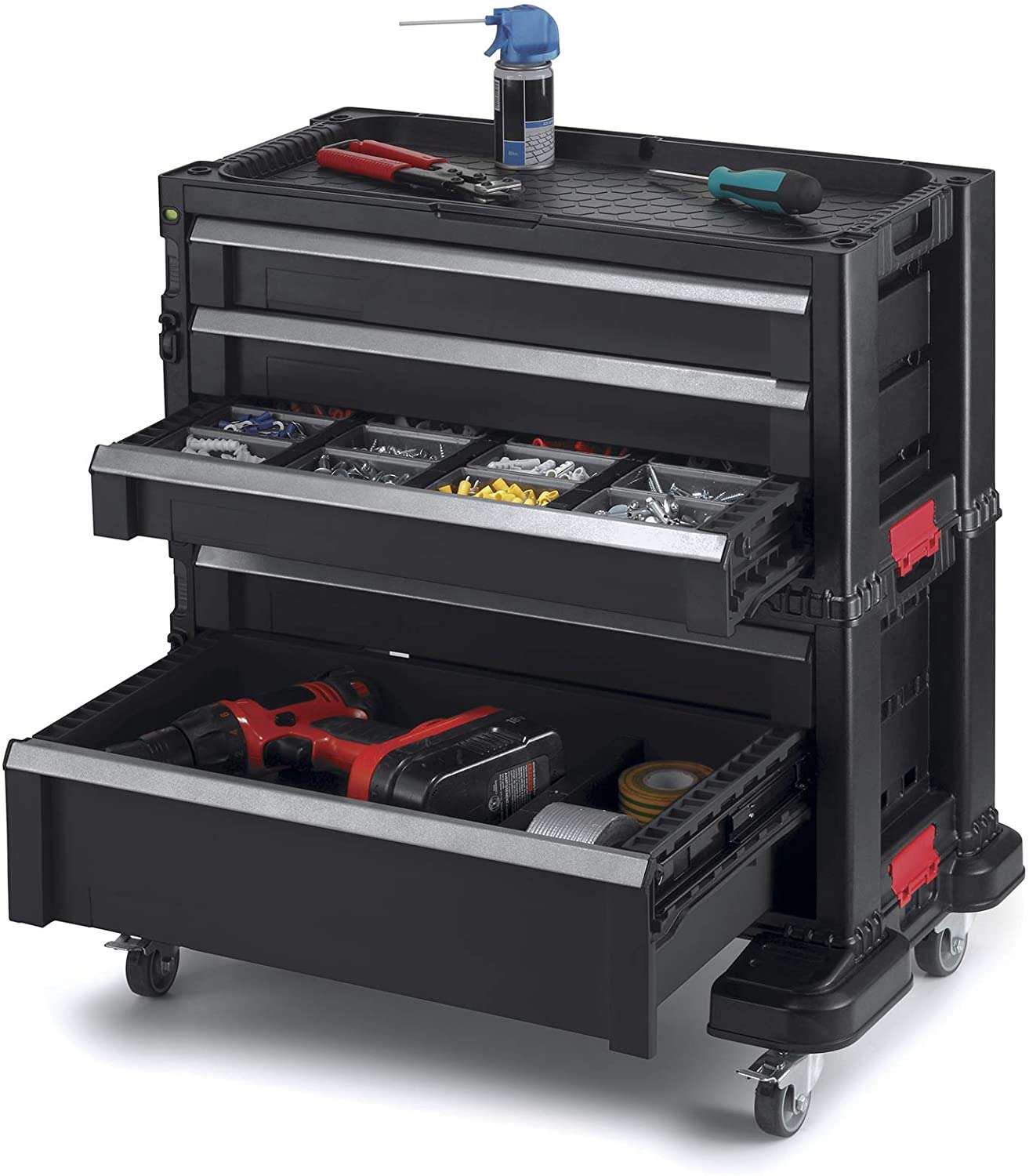 Mobility
The body of this model is equipped with swivel wheels, two of which have a built-in brake. This prevents the boxes from rolling down and makes it easy to move them around the work area. It has incorporated carry handles, which make each module to be easily portable.
High strength
Due to its unique design and the thickness of the composite parts, it has a maximum distributed load much higher than the same models of other brands. The tray is made of polypropylene resin. It means it has an unlimited service life.
Supporting facilities
This model has a very small work surface and is designed more for storage than for working with tools. Thanks to 5 drawers, your tools will be protected from harsh weather conditions and can be used wherever you want. There are 16 removable bins and dividers for organizing small parts.
Best Portable Workbenches on Wheels Under $100
Despite the small size of the workbench table on wheels has the same functional features as stationery products except that you can use this product on the street.
A small price allows you to purchase this model not only for production but also for personal purposes. If there are a lot of tools the workbench of the mobile model can be equipped with a screen. We've listed Amazon's best offers.
7. Performance Tool W54032 Compact Mechanic's Shop Cart With Store Tray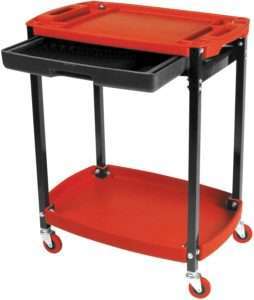 Capacity
In the lower part, there is a shelf made of durable plastic, which is designed for storing large items. Thanks to it, they will not rust and get very dusty. The stopper allows you to fix the table in the right place, and the wheels, unique in their quality, are specially selected for heavy loads.
Each wheel can withstand a load of up to 25 lbs., which is significantly more than other models of workbenches on wheels on the market with a permissible load of up to one hundred pounds.
Supporting facilities
Support rollers are installed at the bottom for movement in shop conditions that can withstand heavy weight loads. The design of the workbench provides various equipment shelves, depending on the purpose.
The powerful surface of the workbench is used as a work table on which various equipment can be installed (locksmith's vise, table drill, sharpener, etc.). It is ideal for use in locksmith work (auto repair shop, factory shop, locksmith workshop, etc.), as well as for storing tools and consumables for them.
The design of the box prevents unauthorized opening, as well as water ingress in adverse weather conditions (rain, snow, hail).
Reliability
High-quality metal is used in production. Modern methods of powder coating make the surface resistant not only to scratches and chips, but also to the aggressive effects of chemicals, gasoline, and oil. In addition, such a coating is easily cleaned from various contaminants.
The use of the latest technologies and high-quality materials guarantees a long-term service life: more than 30 years.
Quick self-Assembly
The product is provided with detailed Assembly instructions that allow you to assemble the workbench without the help of specialists and special tools in a short time.
You may also like: Best Portable Canopies
8. BestEquip 220lbs Capacity Rolling Tool Table 30x20inch Tear Down Tray Mobile Work Table with 4 Swivel Wheels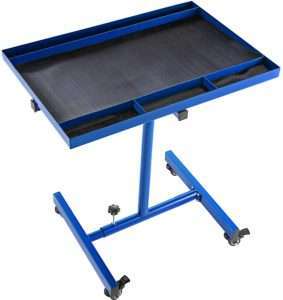 Authority
BestEquip is a manufacturer of high – quality professional metal furniture (boxes, cabinets, workbenches, containers) for storing and transporting equipment and tools.
A wide range of products allows you to choose furniture for use on construction sites, in workshops, as well as for transportation of construction tools and equipment.
BestEquip manufacturing company is a world leader in the development of professional warehouse equipment in the United States, produces a huge list of various multifunctional warehouse containers, high – strength bumpers steel, for use in construction and industry.
They offer this rolling to cart with adjustable height (33-46inch) and width so that you can use it to keep your working accessories and tool kit nearby and easy to access at all times.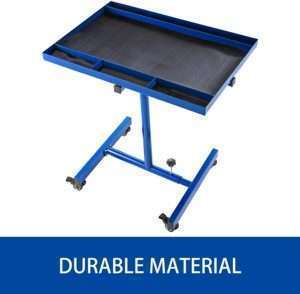 Capacity
The construction of the workbench is designed for intensive operation taking into account the permissible load up to 220lbs. To increase the load-bearing capacity and stability you may remove the casters. The tabletop is covered with sheet metal, withstands hammer blows, and allows you to use heavy tools without the risk of damage to the surface.
Supporting facilities
The freedom of movement is possible due to four swivel wheels with two brakes. It has a piece of magnet on the bottom of the tool tray, tightly stick to this adjustable worktable, which helps to hold small metal accessories.
The work surface is divided into several compartments for more convenient use. It is suitable for outdoor and indoor use. You can use it to hold tools in a garage, workshop, repair shop, and so on.
FAQ for portable workbenches on wheels buyers
1. What is the workbench for?
Workbench – a work table designed for processing workpieces and parts, Assembly, and repair work, equipped with appropriate equipment (stops, clamps, retainers, vises).
The basis of the structure (tabletop) is made of different materials, depending on the type of construction of the workbench itself (stationary or folding) and the purpose of the workbench (locksmith, carpenter, carpenter).
2. What technical characteristics should be considered when choosing a workbench?
The maximum weight of parts and tools that can be placed on the workbench is limited by the possible load (usually up to 200 kg). The length of the table limits the length of the part to be processed.
Additional sockets for fixing parts or tools extend the functionality of the workbench. The distance from the floor to the workbench tabletop should correspond to the height of the operator: leaning with the palms of outstretched hands on the tabletop, the person should stand straight, not leaning.