There is an opinion that the era of listening to film cassettes is long gone. Cassette players have been replaced by portable music players with a wide range of possibilities. But despite this, cassette players have not lost their popularity. Moreover, many manufacturers again produce a range of audio players for cassette players.
When choosing this device, you should consider many factors. We have observed them in this review, collecting the best portable cassette players for you.
This item has the best feedback:
Our Top Pick

ION Tape Express Plus

This is a portable, handheld cassette player that works with all kinds of tapes. It has an easy-to-use USB connection for sending the music on your tapes.

See Best Price
The other high-quality portable cassette players and their comparison of the main characteristics:
| Item | Dimensions | Weight | Power | Convertation | |
| --- | --- | --- | --- | --- | --- |
| ION Tape Express Plus | 4.5 x 3.5 x 1.25 inches | 8 ounces | mini-USB or 2 AA batteries | tapes to digital files | See Best Price |
| Cassette Player-Cassette Tape to MP3 CD Converter | 4.45 x 3.15 x 1.18 inches | 6.1 ounces | 2 AA batteries or USB | tapes to MP3 | See Best Price |
| Jensen Retro Portable AM/FM Radio Cassette Player | 5.35 x 4.02 x 1.89 inches | 8.4 ounces | AC charging or 2 AA batteries | - | See Best Price |
| Retekess TR606 Cassette Player | 4.72 x 3.58 x 1.65 inches | 8.8 ounces | AC charging or 2 AA batteries | - | See Best Price |
| SEMIER Portable Cassette Player | 6.7 x 4.7 x 2 inches | 10.4 ounces | AC charging or 2AA batteries | - | See Best Price |
| Dansrueus Updated USB Cassette Player | 3.23 x 1.18 x 4.45 inches | 6 ounces | 2AA batteries or USB | tapes to MP3 | See Best Price |
| Portable Walkman Cassette Player | 4.41 x 3.15 x 1.22 inches | 9.6 ounces | 2AA batteries or USB | tapes to MP3 | See Best Price |
You may also like: Best Portable DVD Players
By the way, if you are a cassette fan, you may check these tips about collecting them:
ION Tape Express Plus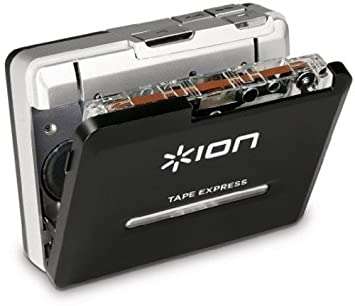 This is one of the most popular models for today. This cassette player can work with all types of tapes (Type I, CrO2, Metal).
It also has built-in ADC and USB output. This is necessary to capture the .mp3 digitized stream on your computer. There is also EZ Vinyl/Tape Converter software.
It weighs 226g and runs on two AA batteries or any external battery. You can do it via a mini-USB port. The ION Audio Tape Express Plus iTR06H has a higher noise level.
What's more, you can use it to digitize a cassette collection or surprise your friends on the go.
Like a stationary tape player, this device has one side for playback and the other for recording.
Also, this player has the ability to select the re-recording speed, there is a switch to select the type of tape. There are headphone and external microphone connectors.
This model has the ability to re-record from one tape to another. Technically, the player was two mechanisms combined in one case. The lead deck supports playback and recording on all types of tape. It includes chrome and metal. The second one works only with ferrite. There is also a built-in recording microphone.
Cassette Player-Cassette Tape to MP3 CD Converter
This is a real cassette player. This model weighs 118 g.
It is able to play and digitize all kinds of cassettes, outputting the stream via USB.
The Audacity software is in the kit of this model. Despite the price, this model has a high number of satisfied customers.
The battery compartment is inside the cassette unit.
There are only two controls on the cassette unit itself. The cassette is controlled by a swing button hidden in the sliding curtains.
Next to the cassette, you can see the hints. The slider cover with sliding curtains is a Hold function.
The second control is a three-position volume switch. The fullest sound is in the middle position. Volume control is stepwise. That's why the player obliges you to use the remote control, where the volume is controlled smoothly.
You may also like: Best Portable MP3 Players
Jensen Retro Portable AM/FM Radio Cassette Player
This device has the smallest thickness of the body and such functions as MegaSurround 3D and MegaBass.
This unit has an AutoReverse function. So, during playback, this portable cassette player changes the side of the cassette.
The back cover of the cassette player is also metal. The mechanism of the cassette player, all the guides, and cassette holders are also metal.
All the rest of the player is plastic, but the quality of plastic is quite high.
On the lower edge of the device, there are switches of auto-reverse mode and volume limiter.
One of the sides faces is for the battery compartment and battery pack mounting.
All other switches are on the second side of the device. The volume, Dolby B noise reduction system, Mega Bass system switch with two positions. There is also a headphone jack, next to it is a jack for wired remote control.
To open the cassette receiver cover, on the upper edge of the player is a sliding lever. By sliding it you can open the cassette receiver.
Retekess TR606 Cassette Player
This model is portable, so it is compact and ergonomic. In contrast to similar models in this series, its size was slightly increased.
The device works with the help of batteries. Its weight with them is 640 grams. The player is easy to transport, it can easily fit into a jacket pocket or a small bag.
It comes with a small case that closes tightly and holds the device firmly.
If the design of this model is very like the previous ones, the sound is really different in a good sense.
The user is able to manually select one of the three types of tapes. The gadget comes with noise reduction.
Many features of the device remind popular today CD-players. It is compact and has excellent sound quality. The main difference is that there is no need to install extra software. Also, this player consumes much less power when working. This is its undoubted advantage.
You may also like: Best Portable FLAC Players
SEMIER Portable Cassette Player
This portable cassette player is suitable both for use with headphones and for integration into your home stereo system.
It is a unique model in its compactness, even by today's standards.
Thanks to the extraordinary purity and transparency of the treble, it sounds great. The circuitry used to achieve compactness provides the clarity of sound. It also avoids unnecessary energy consumption.
This slim design is made possible by using one special flat battery.
The first battery has a capacity of 600mAh and the second battery has a capacity of 1350 mAh.
It is one of the best cassette players to date. It is not only compact and easy to transport but also amazes with its excellent sound quality.
Dansrueus Updated USB Cassette Player
You can control your cassette player's data with the buttons on the bottom of the player.
They are very conveniently assembled, so it is quite easy to use the gadget. It is possible to switch to rewind and record modes.
The ribbon counter is a simple mechanical. As for the usual angle of view, it is at an angle of 90 degrees.
The level indicator is five digits and indicates the highest battery levels. You can also use it to track the current battery level.
It is also possible to turn off the indicator. By doing this you can improve the sound quality a bit.
The model comes with connectors for microphone and headphones. A special potentiometer is to adjust the playback speed. It is on the back of the device. The connectors are made according to the standard of similar models and are 3.5mm in size.
You may also like: Best Portable Drawing Tablets
Portable Walkman Cassette Player
This one has its distinctive features. Here appeared a Bluetooth transmitter. This model has become heavier. The main difference is the availability of a card reader.
Besides, it provides the ability to record the stream not only to a computer but also to the TF-card. It is also possible to play music on it.
The set includes an ordinary charger, two "Gumstick" batteries, and original headphones. The condition of the new player, both cosmetically and technically.
The AA batteries provide up to two hours of music listening. Furthermore, there is an external power adapter for extra-long listening sessions.
On the front surface, there are control buttons, in the middle of which is a HOLD switch. It locks the buttons to prevent them from being accidentally pressed in your pocket.
On the left side are the rewind buttons. You can scroll through the song to the end and the player will start playing the next one.
To the right are the playback buttons and the button to stop playback. There is an activity LED above the play button.
FAQ for portable cassette players buyers:
What causes a cassette player to eat tapes?
Cassette players are inherently problematic because they require that the cassette tape be pulled between a set of rollers by a capstan shaft before being wound on the take-up reel. The capstan shaft and rollers can become dirty from the tape flaking off on them during use.
How do you connect your phone to a cassette player?
If your car is old enough and contains a cassette tape deck, you can use a Cassette Tape Adapter to play audio through your stereo. Just slide the adapter into the cassette deck and connect it to the audio jack on your phone.
How many times can you record over a cassette tape?
You can record a cassette an unlimited amount of times. The limiting factor is the physical wear of the tape, which on good decks will last a very long time provided you keep things clean. The physical wear part is one issue -the other is imperfect erasure.
Do cassette tapes sound better than vinyl?
They are both goods in terms of sound quality. When cassettes matured, were manufactured well, and they were eventually, they were about as good as vinyl.