Steam Deck has gained popularity all over the world because of the ability to play your favorite games anywhere. This portable gaming computer has high power in its small size, which allows you to run the highest quality and popular games. In some cases, you may need a keyboard.
Steam Deck offers a virtual version that you can run by pressing STEAM + X. Yet, practice shows that this is not always convenient. These best portable keyboards for Steam Deck will help you type faster, so we recommend that you prefer these options.
All avid gamers will definitely adore these best portable gaming monitors for PS, Xbox, and more.
Our Top Picks:
Rii 2.4GHz Mini Wireless Keyboard


Game Handle Design

Wireless Remote Control

Smart Touchpad

See Best Price

RedThunder One Handed Gaming Keyboard




Ergonomic Design

RGB Backlit

Macro Recording Keys

See Best Price

iPazzPort Mini Bluetooth Keyboard




Bluetooth Connectivity

Rechargeable

Widely Compatibility

See Best Price
1. Rii 2.4GHz Mini Wireless Keyboard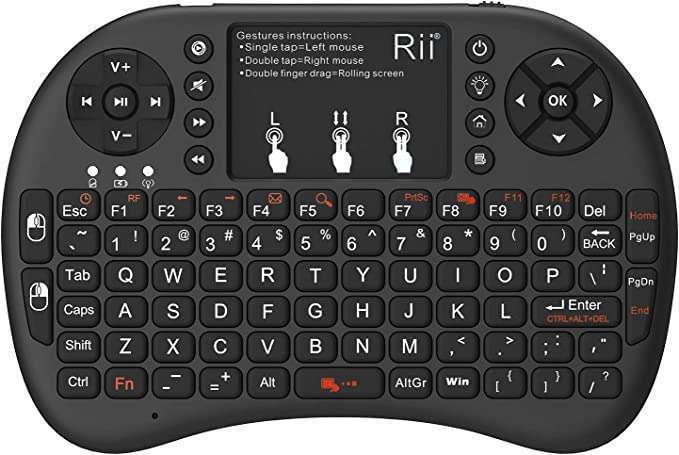 Today's TVs, tablets, set-top boxes, and other gadgets have remote controls. But they are often quite inconvenient and difficult to use.
This mini keyboard for controlling gadgets, searching for information, and adjusting the desired settings will be quite simple and easy to use.
It includes all the functions of a normal keyboard, as well as backlighting, mouse controls, and even a touch sensor. All this makes the keyboard as convenient as possible to control any modern gadget.
It connects using a special small flash drive, which is included. Also, the keyboard works wirelessly with the Internet. It synchronizes with the device and allows you to remotely control it. This keyboard can be used for smart TV, gaming, searching for information, typing, and so on.
The keyboard is compact enough so you can easily take it with you when you travel or visit. It connects to any device. The device runs on batteries and for quite a long time. Thanks to its special shape, the keyboard is most comfortable to hold in your hands.
Buttons are easy to press and allow you to quickly type the desired text. With such a keyboard it will be much more convenient to use modern gadgets.
You may also like: 9 Best Portable XM Radios (Comparison & Reviews)
2. RedThunder One Handed Gaming Keyboard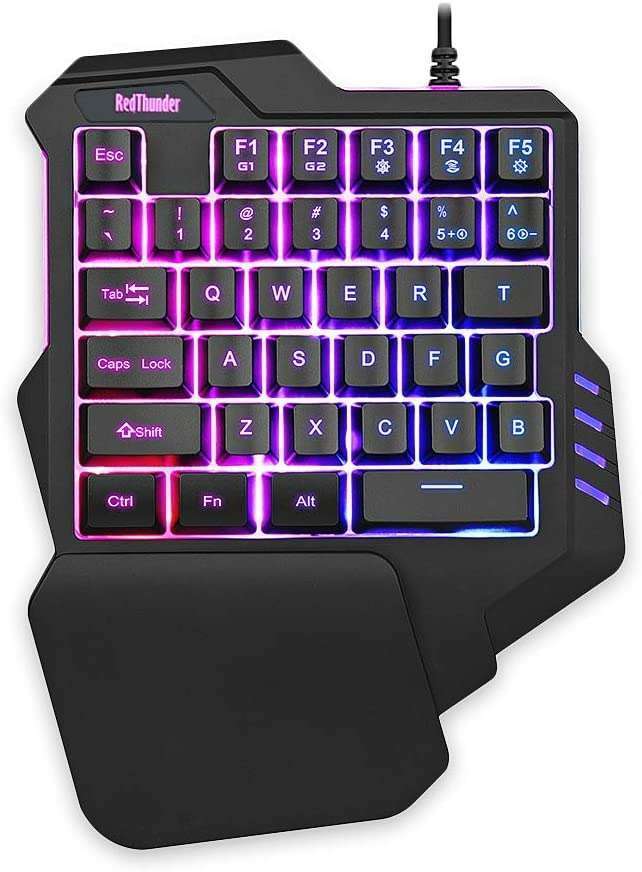 For playing computer games with pleasure and comfort, this mini keyboard is the best choice. It is designed for one-hand operation.
It can be placed near the monitor or connected to a laptop so it is convenient to play both right- and left-handed people.
The keyboard takes up little space, so it is suitable for small tables. It is quite simple and easy to operate thanks to its compact layout. It has absolutely all the features you need in the game and when working with a computer.
The device is connected to the device with a cord. The keys are backlit. It allows you to use the keyboard even at night and enjoy the gaming process.
The soft touch on the keys ensures the comfort of the owners of this mini keyboard. It also guarantees accurate writing of all words and the use of all combinations of hotkeys thanks to its high sensitivity.
The keyboard contains all the keys that will be useful in the game. It is convenient and easy to use all possible combinations for the desired operation. Stylish design and comfortable shape ensure maximum enjoyment from using the device.
3. iPazzPort Mini Bluetooth Keyboard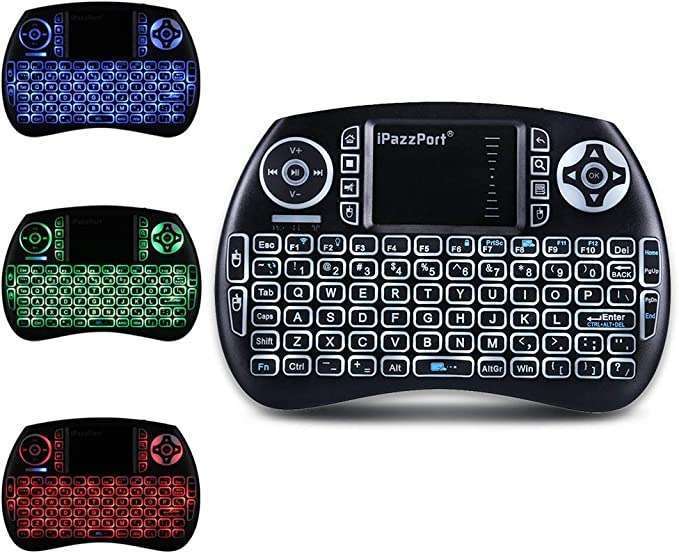 If you want to simplify your life and use modern gadgets, then you can buy this handheld keyboard. It will serve both as a full-fledged remote control and as a keyboard.
It has all the functions that allow you to perform any operation with modern gadgets. This keyboard works on batteries, so it guarantees a long life. You can connect the keyboard to your devices via Bluetooth function.
It combines the functions of a gamepad, keyboard, remote control, and even a computer mouse. Thus, you can quadruple the use of all these items by replacing them with a single multifunctional one.
This way it will be much more convenient to look for any information on your computer, laptop, TV, game console, or smartphone. You can also use it to turn on and off devices, adjust the sound, enter various applications, install programs, and much more.
Also, the keyboard has a touch control panel, which is quite sensitive and recognizes any touch. The keys of the keyboard have a backlight, which allows you to use it even at night. The compact size of the keyboard makes it possible to take it with you wherever you go, so you can always use your gadgets comfortably and conveniently.
4. FELICON One Handed Gaming Keyboard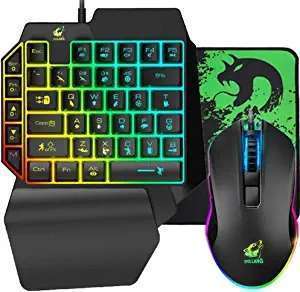 Every gamer dreams of a good and high-quality keyboard. After all, their successes in modern games depend on it. To win in virtual competitions you need to know a lot of key combinations on the keyboard.
Thus, a large layout is uncomfortable for this. That is why the developers have created a one-sided mini keyboard that allows you to use it literally one hand. It contains all the necessary keys that will be useful during the game.
You can connect the keyboard to any modern gadget by wire. It also comes with a handy gaming mouse. Such a set will make the game much more convenient and efficient.
The keyboard can be placed on either side, so it is equally ideal for left- or right-handers. The correct shape of the keyboard allows you to enjoy the game and get the most out of the process. Each button on the keyboard has a backlight.
That makes it even more stylish and attractive. But the main function of the backlight plays a role in night gaming. It lets you see all the keys and make the most of your gaming combinations. Connect the keyboard to your smartphone, computer, laptop, or even gaming console to enjoy it to the fullest.
You may also like: 10 Best Portable Alarm Systems (Comparison & Reviews)
5. iClever BK06 Mate Foldable Bluetooth Keyboard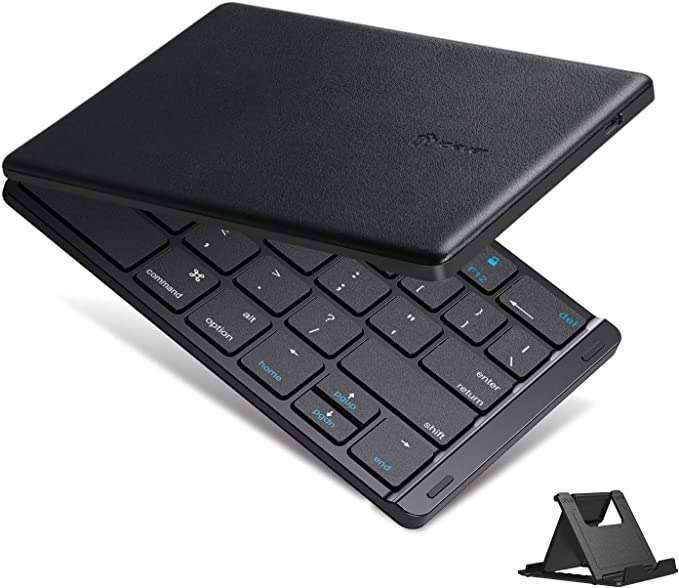 An incredibly handy invention is this folding mini keyboard. It simplifies life and works for many people.
The keyboard has absolutely all the functions that are necessary for its full use. But this keyboard, unlike a conventional one, you can take with you everywhere.
It is compact and convenient, so it fits even in your jeans pocket. It also connects to any modern device with Bluetooth. So, you can connect it to your smartphone, laptop, tablet, computer, and so on.
This keyboard will save space on the road and still work fully due to the full functionality of this device. Also, the keyboard has a strong and durable cover that ensures the integrity and safety of the buttons.
Another advantage is silent typing, which guarantees comfort and convenience while using the keyboard. For charging, you can use a standard cord and unit. A full battery will allow you to use the keyboard for about 2 hours. It perfectly replaces a conventional keyboard and is even more comfortable to use.
Soft key presses and high sensitivity will ensure fast and easy typing. The keyboard can be turned on and off at any time by pressing the button on the panel.
6. Steampunk Gaming Mechanical Keyboard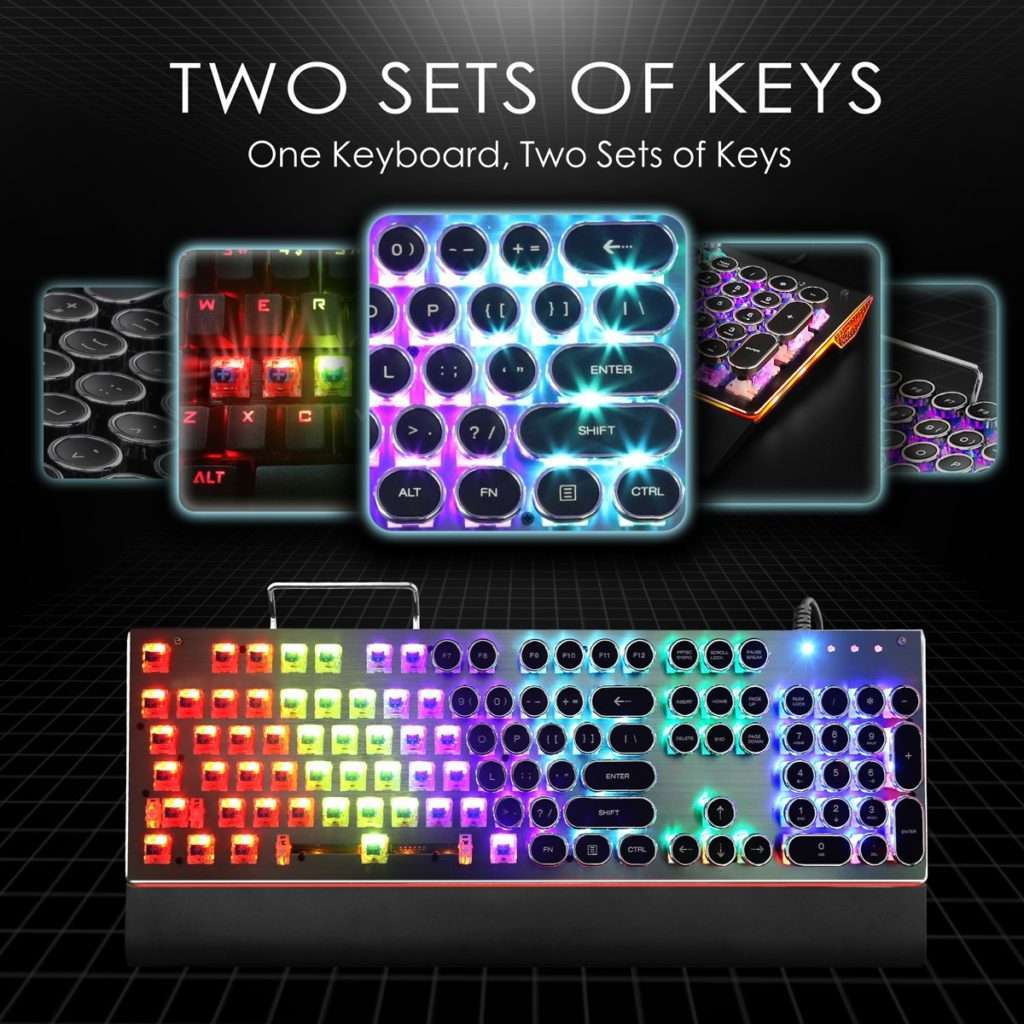 A big keyboard is not always comfortable. Especially when the work is associated with constant typing. To simplify the process of typing and make it much more pleasant, use this portable mini keyboard.
It will be an excellent alternative to the usual big keyboard because it can be taken everywhere and work even with your smartphone. This portable keyboard connects to all modern Bluetooth gadgets.
It works without cords, so you have to charge it from time to time. Full battery charge guarantees long and smooth operation. The keyboard is made of the highest quality, so the buttons have a fairly high sensitivity.
Besides, the keyboard provides a soft touch on the buttons and the total absence of sounds during typing. The keyboard will not take up much space, so you can take it with you on trips. But it will be just as useful at home and at work.
With this keyboard, you can get maximum enjoyment from typing. The device is connected quickly enough, so you can start working with it right away. The keyboard has all the necessary buttons and keys, so it can be used for different purposes.
You may also like: 13 Best Portable GPS Trackers (Comparison & Reviews)
7. Coain Bluetooth Keyboard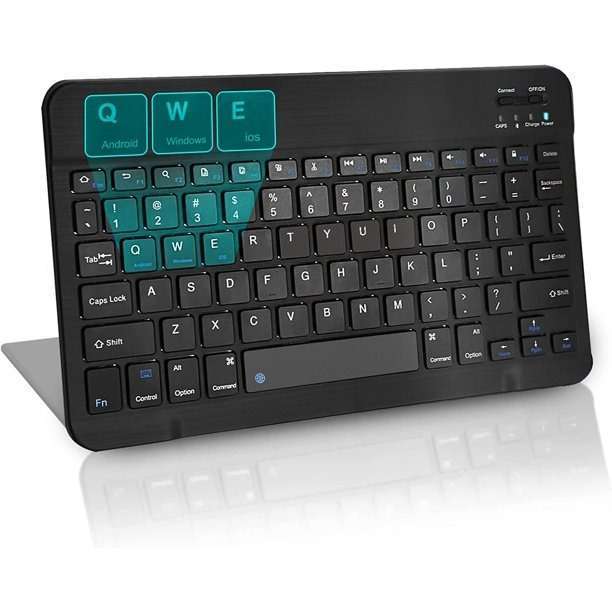 The keyboard that is built into modern gadgets can be quite inconvenient to use. That's why many people prefer to buy a wireless keyboard even for a smartphone. And this option is just perfect for such purposes.
This modern keyboard even has a special stand where you can put your gadget. With this, you can work even with your phone with all the convenience and comfort.
Also, the keyboard has a stylish and unique design. Each button is additionally illuminated, which allows you to use the keyboard even at night.
Backlight colors change depending on the keys pressed. So working or playing becomes even more interesting and fun. The keyboard is quick and easy to connect to the device with the cable.
Various backlighting allows you to change the effects according to your wishes and preference. Also, the keyboard is easy to use thanks to the availability of hotkeys and various functions of their activation.
Such a keyboard is made in a special form so that after prolonged use, you can remove the attachment and let your wrists to rest. This version of the keyboard will be ideal for true gamers and workaholics, who have to constantly work with text.
How to connect a keyboard to Steam Deck?
If you're looking to connect a keyboard to your Steam Deck, there are several options available.
On the list above we've reviewed both USB-connected and Bluetooth-connected keyboards.
Via USB, you can connect a USB-C dock or hub and plug your keyboard into it. Alternatively, if you have Bluetooth enabled on your Steam Deck, you can put your mouse and keyboard into pairing mode and select them from the list.
You can also use your phone as a wireless keyboard and mouse for your Steam Deck. This is done through an app that turns your smartphone into a wireless keyboard.
No matter which option you choose, connecting a keyboard to your Steam Deck is easy!
What are the keyboard controls for Steam Deck?
For mini-keyboards reviewed above it's different but for a built-in virtual keyboard the controls are:
| Key combination | Command |
| --- | --- |
| STEAM + X | Open/close virtual keyboard |
| Customize controls (button mapper) | From Controller Settings menu, select the current layout, then select the Templates menu. Scroll down and select "Keyboard (WASD) and Mouse" to customize your controls. |
| Steam + L1 | Toggle magnifier tool on/off |
| Steam + R1 | Capture screenshots |