From time to time owners of cars or houses need welding. In order not to call professionals on each occasion, you can buy your own welding machine. The market for devices for electric welding is full of offers. Even among welders, there is a constant debate about which units are the most high-quality and reliable.
This review includes the best portable welding machines. They are functional, powerful, and able to adjust work parameters themselves so that even beginners get quality welds. If you always drive a car, you may also need a portable air compressor to make the tires inflated in emergency cases.
Portable Welding Machines Under $100
Models in this price category are characterized by low cost and high performance. They have basic characteristics that are quite sufficient to perform simple actions. They are easy to use even for beginners.
You may also like: Best Portable Drill Presses
HZXVOGEN 220V 120A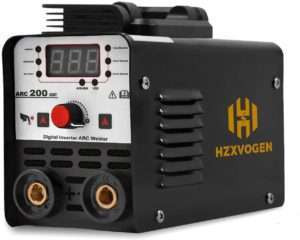 The leading position in our rating was occupied by a semi-automatic inverter. It has an excellent performance in terms of continuity of operation.
The device has a carefully thought-out protection system, and its efficiency factor is 80%. This unit is universal. You can use it for welding with coated electrodes or special wires.
The key feature of this unit is that the wire is fed automatically. This unit also regulates the voltage itself.
There is an integrated power unit in the design, which is in fact a special filter. The device can also work in a gas environment – argon or carbon dioxide.
The burner connector fully complies with European standards. The design perfectly withstands voltage drops in the mains. It is controlled by a special microprocessor. But, you can also adjust all settings in manual mode.
HEROCUT MMA210i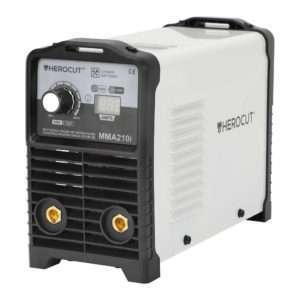 This model is effective in domestic use. It provides reliable protection against overvoltage. There is also a well-functioning cooling system that prevents the overheating of internal elements.
If the mains voltage is low, the device will still work quite reliably. In particular, it will work even if the voltage is reduced to 160 V.
It is quite acceptable to use electrodes up to 5 mm in diameter. If you work for a long time, the device will not overheat. The electricity consumption is insignificant – approximately like in a microwave.
The arc turns out to be stable and powerful. Even when working with a thin metal, there is no strong splash. It is perfect not only for professional welders but also for beginners.
The set comes with reliable welding cables, so it will be quite rare to move the machine from one place to another. The holder is very comfortable, the electrode clamps tightly, there is no swirling during the work.
You can use the device for construction, plumbing, and even decorative work. As users note, it is also suitable for welding the car body. The arc ignites easily, burns steadily and softly.
HZXVOGEN 110/220V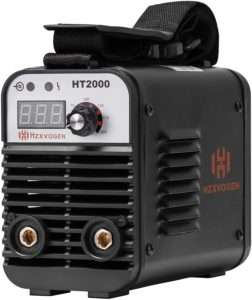 This is one of the newest models developed by this manufacturer. The body has belt mounts, so it is possible to cook without lowering the machine on the floor. The current consumption can reach 35 A.
It should be borne in mind that such a parameter can not withstand domestic networks. This allows you to use the products in industrial production.
At the largest current can be continuously boiled for 4 minutes, after which the device should rest for 6 minutes. It is allowed to use electrodes with a diameter of 5 mm. The no-load voltage level makes the operation of the structure safer.
The case of the device is protected from water droplets, dust, and other foreign objects. The product is optimally suited for heavy-duty applications.
The arc ignites instantly. Metal, even at high current, does not begin to flow and splash. The case is metal, reliable, well resistive to physical influences, including impacts and falls. There is protection against electrode sticking. If this happens, the arc goes out immediately. This allows getting rid of excessive load on the device.
You may also like: Best Portable Generators for Camping
Rod Stick 110/220V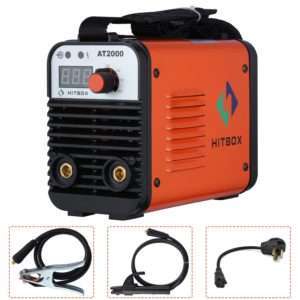 This device was developed especially for the production of electronic welding with coated electrodes in domestic conditions.
The device is suitable for beginners and already experienced welders. For the first time, a system was installed here that prevents the electrode from sticking to the metal, as well as light arc ignition.
These options will prove to be quite useful if there is not enough experience in welding. They are also suitable for welding in hard-to-reach places.
The welding machine will increase the current strength itself if the length of the arc becomes smaller. Thanks to this technology, the metal will get the required fluidity.
The device is unpretentious in terms of operation as well as insensitive to voltage drops. It is easy to set up. It has a high-efficiency factor.
The body of the construction is metal. It has a forced ventilation system, also has protection against overheating during operation. Store this structure should be stored only in a dry room, where humidity is no more than 70%.
Portable Welding Machines Under $200
Models in this category have extended functionality. Customers leave mostly positive feedback about them. Included with them are additional accessories that can extend the scope of the devices.
DEKOPRO 110/220V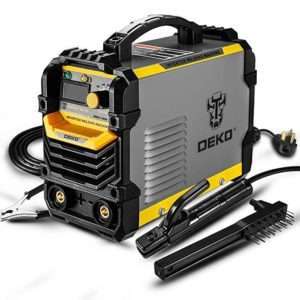 It is one of the lightest devices in our entire review, which makes it very convenient to use.
The case is quite strong – it is of metal, there are plastic inserts. It is able to work from the network. Ventilation holes are on the bottom of the case.
It is allowed to use this device at temperatures from -10 to +40 degrees. Another ventilation hole is on the backside of the product. It must be kept open at all times.
Do not use this device if it is unstable standing or is at a slope of 15 degrees or more. The length of cables is decent, and they are of enough quality, with tight insulation.
Thus, you can use them in the frost. The length of the feeder allows you to use the device without using an extension cord. The power regulator is smooth, there is a display of operation and overheating. The connectors are quick-release. You can change the polarity if necessary, which is very convenient when working with stainless steel.
Electric MIG 130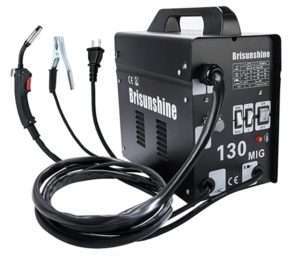 The largest current generated by this inverter is more than enough when working with wires up to 1mm diameter. At the same time, the semi-automatic machine is very economical.
Unlike most semi-automatic welding inverter models, there is a manual change of voltage-ampere stiffness. This makes the work more convenient both for thin metal and for solid parts.
The semi-automatic welder has an unregulated post-gas time. After stopping welding, carbon dioxide is fed into the sleeve for another 1 second to protect and cool the seam.
To ease wire charging, the manufacturer has provided an accelerated broach. It is activated by a button near the wire feed mechanism.
The only reason to lower the mark was to control the speed of the wire feed. Instead, a simple "fast-slow" toggle switch was installed. Within these limits, the feeder roller speed is adjusted by the control electronics. This is more convenient for beginners, but a professional welder would prefer to control the wire feed itself.
YESWELDER ARC Welder 125Amp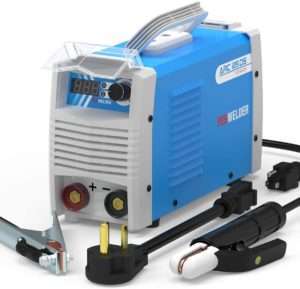 This is a semi-professional device that you can use both for standard manual arc welding and for gas welding. For example, oxygen, argon, carbon dioxide.
The model withstands voltage spikes and slumps calmly. The manufacturer decided to place the machine in a compact housing. This is another ultra-light device.
The design can be carried on a strap or by a special plastic handle. The cost of production is low. The case has a sign of operation, and there is also protection against overheating.
The ventilation system here is forced. Ventilation holes in the case are small, so no dust will penetrate under it.
Besides, the device has protection against metal splashes, there is a hot start. Some users claim that they have adapted to cooking with a semi-automatic machine. To do this, you will have to buy a special device that feeds the electrode wire.
The current strength is continuously adjustable, the most suitable value can be set for each case. With this device, it is possible to weld both fairly thick metal products and very thin ones. For example, stainless steel sheets.
Forney Easy Weld 298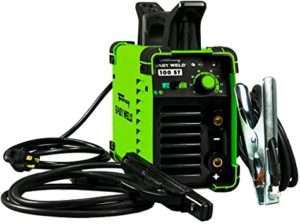 This is a semi-automatic inverter that you can also use for manual welding. The design is original, it is possible to install even a medium-size wire spool.
You can use it not only in domestic conditions but also in industrial production. The product is also designed for cladding metal in a gas environment.
There is a possibility to set the device for automatic regulation of current strength, which will greatly ease the work process. Wire feed speed is adjustable.
It enters the welding bath evenly, which allows not interrupting the process and not wasting extra consumables. At the largest current value, the efficiency of the wire is approximately 88%. This allows the device to be used professionally for a long time.
In spite of such wide functionality, the device is characterized by its low weight and compact overall dimensions. It has the latest IGBT technology in mind, providing reliable thermal protection for this equipment.
Besides, there are several operation indicators. There are special pads on the edges of the case. They protect the unit from negative external influences. There is a carrying handle on the case.
You may also like: Top Quiet Portable Generators
Tig Welder 200 Amp HF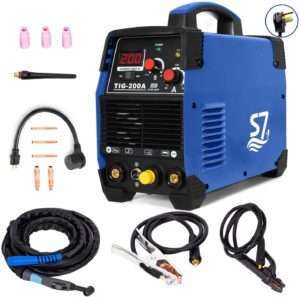 Equipped with very convenient quick-release connectors, which allow you to change polarity almost instantly. Welding cables are reliable in themselves and are tightly connected to the device.
This eliminates even the slightest current loss and heating in areas that come into contact with each other. The cooling system here is natural.
There are small slots in the case, which contribute to the removal of warm air. It works almost as efficiently as a forced cooling system, ensuring a long period of continuous operation.
This model comes with a digital liquid crystal display. Welding current values are on it in real-time. Thus, it is possible to quickly set the required mode and keep it under control during operation.
The device is not too heavy and has an adjustable strap, so it is very convenient to carry it. It comes with a handy case with cable and device compartments. This simplifies the storage of the device, in particular, does not allow dust to penetrate under the case. You can work with such equipment both indoors and outdoors.
Portable Welding Machines Under $300
This price category contains devices that have all the necessary functions and characteristics. All necessary accessories and even special masks for protection are included.
MIG Welder 125A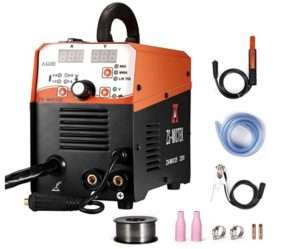 It is a very reliable DC power source and you can use it in networks with significant voltage drops. If you compare it to a traditional transformer, this equipment is superior in many ways.
In particular, due to its compact size, it can be conveniently placed on the site where the work is performed. Its lightweight also makes it easier to transport.
The complete set has everything you need to start cooking immediately – a wire with a holder, a wire with a grounding terminal. In domestic conditions, it is simply ideal.
Cables are in a frost-resistant braid, so you can work in conditions with fairly low temperatures. There are many useful features. This is a hot start, a system that prevents electrode sticking, a function of boosting the electric arc.
You will be able to work with such a device continuously for about 7 minutes if the unit has the largest load. The design is well suited for ordinary users who are just beginning to learn the wisdom of welding.
The unit has a rather powerful cooling system. This prevents the unit from overheating even in case of active and continuous use. The current value is measured smoothly. It is thus quite easy to adjust it to certain conditions.
HITBOX 50 Amp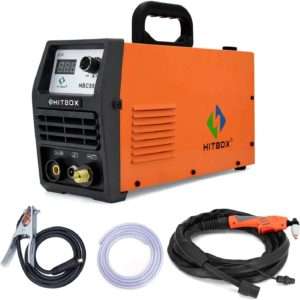 The marking of this welding machine will attract professionals. So, before us is a very functional device. The work with piece electrodes and welding in shielding gas environment is supported.
In the Pulse mode, the welder can adjust the frequency, balance, and the lower ripple current level. In TIG mode, alternating and direct current welding is available.
The starting current can also be adjusted separately from the working current and the balance can be adjusted in the TIG AC mode.
You can switch between the two-stroke and four-stroke modes, with the latter also available to adjust the crater welding.
In short, it is a versatile welding machine capable of operating in a variety of conditions. From jewelry welding of thin-walled parts with argon to electrode metal cutting.
The built-in option reduces the risk of electrode sticking. There are hot-start and arc boost functions. Wires with electrode holder, grounding terminal are in the kit. The case is metal, shockproof, equipped with a handy handle.
SUNGOLDPOWER 50A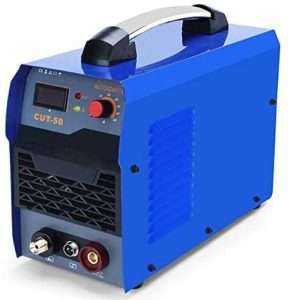 This "universal" design for MMA and TIG welding is simple enough. The main mode of operation is with a piece of electrodes.
The inverter is compact and quite light, which is a plus for the garage – there is usually no extra space. It can handle voltage drops pretty well, although at low power it is not surprising.
The absence of any regulators other than the current regulator clearly indicates that the inverter runs regardless of the DC welding mode.
This is not always good for TIG: the same aluminum alloys already need alternating current. So of the materials found in garage practice, the inverter is likely to be used with stainless steel.
This model is classified as a household appliance with good insulation, overload protection, and anti-stick function. Reinforced housing comes with rigid inner ribs, strong outer arcs made of impact-resistant plastic.
The electronic elements are coated with a special lacquer that protects against moisture and dust. The device comes with a convenient rubberized regulator. The set includes an electrode holder that pinches the terminal.
You may also like: Best Portable Dual Fuel Generators
Lincoln Electric K2278-1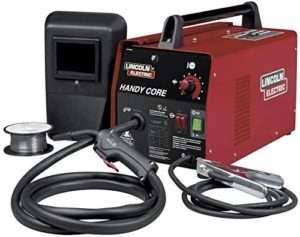 When working with the device it is necessary to take into account that its power consumption in MMA mode reaches up to 9 kW, and there may be large supply voltage drops. But, due to the built-in digital welding current indicator, they can be compensated to some extent.
To ease welding, the manufacturer provides not only "anti-sticking" and "hot start" modes. But also an adjustable level of arc afterburning during ignition.
Welding safety provides the possibility to activate VRD mode to avoid electric shock during welding in high humidity conditions.
You can use this model for high-quality welding of carbon and stainless alloys, bronze, and brass. The TIG Lift mode will make it much easier to master the work with the refractory electrode.
Among the advantages of the device is the ability to work with strong voltage drops. The "soft" arc is easy to ignite and burn without strong metal splashes.
Used in the inverter automatic fan control by a signal from the temperature sensor significantly reduces the amount of dust sucked into the housing. Correspondingly, it makes cleaning of the output stage radiators rarer.
FAQ for portable welding machines buyers:
Do inverter welders use less power?
Inverter welders use less electricity. While the actual amount tends to be exaggerated, most experts agree that you'll save about 10% on your power bill. Because of its increased arc stability, inverter welders also use fewer consumables and welding gas.
What is the hardest metal to weld?
Aluminum is a nightmare for welders. It is considered the most difficult metal to weld, because, in its ore or alloy form, it has various physical and chemical properties that need to be understood in detail before working on it.
What will be the cause of not delivering proper welding current after the welder starts in an electric arc welding machine?
This issue is typically the result of currents that are too high, incorrect polarity, or insufficient gas shielding. There are a few different things that welders can do to help avoid spatter. Reducing the welding current and arc length can help avoid spatter, along with increasing the torch-to-plate angle.
Can you weld standing in water?
Avoid standing in water, on wet surfaces, or working with wet hands, or wearing sweaty garments. Do not dip energized (hot) electrode holders in water. Avoid direct contact with the live parts of welding equipment and the workpiece. Ground the work or metal to be welded to a good electrical ground.
What metals cannot be welded together?
Some examples of material combinations that cannot be fusion welded successfully are aluminum and steel (carbon or stainless steel), aluminum and copper, and titanium and steel. Nothing can be done to alter their metallurgical properties. That leaves changing your process.