Using water filters will dramatically improve your hiking and camping experience. First of all, once you start using a filter you won't have to carry a lot of water with you at any given time. You can simply use the filter to refill your water recipient as you go. Second, you will actually lower your travel expenses. Instead of buying water at the start of the trail at exorbitant prices, you can simply use a portable water pump and the filter to make the water you encounter on your trip drinkable. In this review, we have collected for you the best portable water filters that will help you not be left without drinking water anywhere.
This item has the best feedback:
Our Top Pick

Katadyn Vario Water Filter

This model combines efficiency with the simplest handling. The technology consists of three filter levels. 

See Best Price
A comparison of the main characteristics of the other greatest portable water filters:
| Item | Dimensions | Weight | Filter Capacity | Filter Pore Size | |
| --- | --- | --- | --- | --- | --- |
| Katadyn Vario Water Filter | 16 x 12 x 4 inches | 15 ounces | 1875 liters | 0.2 micron | See Best Price |
| LifeStraw Personal Water Filter | 1.38 x 1.38 x 7.09 inches | 3.53 ounces | 4000 liters | 0.2 micron | See Best Price |
| Sawyer Products MINI  | 2.83 x 9.65 x 3.07 inches | 7 ounces | 4000 liters | 0.1 micron | See Best Price |
| Survivor Filter PRO | 3.15 x 1.97 x 6.5 inches | 8.16 ounces | 100000 liters | 0.01 micron | See Best Price |
| LifeStraw Water Filter  | 9 x 1 x 1 inches | 2 ounces | 4000 liters | 0.2 microns | See Best Price |
| Survivor Filter Portable Filter | 1.38 x 1.38 x 7.09 inches | 3.53 ounces | 100000 liters | 0.05 micron | See Best Price |
| LifeStraw Go Water Filter Bottles | 3.1 x 3.1 x 8 inches | 23 ounces | 4000 liters | 0.2 micron | See Best Price |
| Brita Fill&Go Bottle Filtr | 2.83 x 9.65 x 3.07 inches | 7 ounces | 150 liters | 0.2 micron | See Best Price |
| Sawyer Water Filtration System | 10.28 x 4.65 x 4.02 inches | 2 ounces | 300000 liters | 0.1 micron | See Best Price |
| MSR TrailShot Water Filter | 6 x 1.4 x 2.4 inches | 5.44 ounces | 2000 liters | 0.1 micron | See Best Price |
| Katadyn Hiker Pro  | 3 x 3 x 6 inches | 11.2 ounces | 1000 liters | 0.2 micron | See Best Price |
| Aquamira Frontier Max | 7.5 x 1.75 x 9.5 inches | 5.76 ounces | 450 liters | 0.2 micron | See Best Price |
| Platypus GravityWorks | 19.5 x 10 x 10 inches | 6.6 ounces | - | - | See Best Price |
You may also like: Best Portable Dehumidifiers
Katadyn Vario Water Filter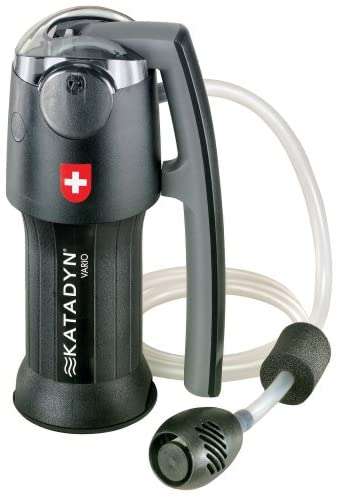 It is a portable pump with a 0.5-liter flask and a charcoal filter. The system is like stationary home cleaners. You manually pump the water which, after passing through the filter, accumulates in the flask.
The difference from the similar analog of Lifestraw is a combination of ceramic, charcoal, and glass filters. Each of these filters performs its function and detains different kinds of particles, viruses, and bacteria.
This becomes crucial in places with a dry climate. There are no large ponds and the water is heavily contaminated. According to users, it cleans even the dirtiest water from the swamp.
The total capacity is 2000 liters. It will be enough for several expeditions to the unexplored wilderness areas.
The price of this model is rather high due to its cleaning speed and materials in the filter. But it is not overpriced, because it is a filter from the pioneer company in the market – Katadyngroup. Unlike LifeStraw, the brand Katadyn has no army roots. But is a pioneer in the production of portable water filters.
The most remarkable detail. Per-minute the device is able to purify up to 2 liters of water, which passes through 3 stages of treatment. This is a record for compact models.
LifeStraw Personal Water Filter
Going on a long hiking trip for a couple of weeks? Are there a few more people with you? The mission will solve all the problems with the invigorating moisture in your camp.
Also, it allows you to cook any dish without dragging the water tank. The model is a 5- or 12-liter rubber bag with a hand pump. It cleans the water from organic waste and bacteria.
The filter operates using the technology already familiar to us from LifeStraw. It filters about 2 liters per minute. It hangs a device with a special handle. The design is quite strong.
So you can even attach it to the most enduring of the hike, providing yourself with a mobile cistern with clean water. It is a large capacity and easy to deploy construction. It makes Mission an ideal option for hiking camp in nature.
Sawyer Products MINI Water Filtration System
It is the most capacitive of the personal filter category. Its capacity is up to 378,541 liters. That's enough for all the travel you need in your life.
Well, if the craving for the conquest of wildlife cools down, you will not regret the amount spent.
In the set, in addition to the mechanical nozzle, there is a special bag for drinking (as an analog of competitors' flasks) and a special tube. It allows you to drink from anywhere.
The nozzle itself is very compact – it fits in the palm of your hand. Besides, the set has an extra tube in case you need to fill the container.
The Sawyer filter will be a valuable companion during the hike thanks to the huge resource of the filter. Here it is the largest filter for the category of personal.
Survivor Filter PRO
Are you going to furrow the dearest corners of Africa or India and want to forget about problems with clean water?
The best filter station in our top will cope with this task – it will clean even the dirtiest water. Considering the pleasant, it is the most profitable investment for such extreme journeys.
Filters are not afraid of dirt. You can say about this model with a unique three-stage water purification system. It is like the one used in stationary household filters.
It works in the following way: the first external pre-filter stops the largest particles, preventing them from reaching the next stages. By doing so, it ensures the durability of the structure and serves as a natural load.
Thus, it allows you to immerse the tube deep in water. The second stage allows the liquid to pass through the classic carbon filter. In the third stage, water passes through a special "eternal" membrane filter.
It sifts out the remaining particles. Even if their size is 0.01 micron, which is one of the best on the market. In total, we get the ideal system for cleaning any, even the most neglected source with whole bacterial civilizations.
The throughput capacity is 200 ml per minute. Don't forget that the filter isn't foldable and certainly not a pocket filter.
Thus, you will have to provide a separate place in your camping backpack for it. Unlike the same LifeStraw, this model may seem too oversized. But the advantages are obvious: more than one filter from the top has not achieved a better result.
You may also like: Best Portable Beer Pong Tables
LifeStraw Personal Water Filter for Hiking
This is one of the most popular models of filters among similar ones. Where did you get such popularity from? The first thing that attracts you is its compact size and ergonomic design.
The filter is in the form of a small tube. The device works on the principle of a cocktail straw with a built-in cleaning system, turning any muddy pond into a life-giving source. You can use it only as a personal tourist filter.
The purification process looks like this: you collect water from a natural source into a flask or any other container.
Then put the Personal Water Filter into it and slowly pull the liquid to be cleaned through the tube. This is quite simple.
It protects the device from all kinds of bacteria from LifeStraw. So with it, you can forget about E. coli and other unpleasant microorganisms waiting for you in hot and humid climates. But it will not clean the water from chemicals, salts, viruses, heavy metals and will not cut the unpleasant taste either.
Extreme enthusiasts have even treated sewage in one of the metropolises with the help of a device. So this gadget will surely cope with rainwater or spring water. It grabs the filter's purification capacity for 1000 liters.
The best model in the category is also due to its simple design. It cleans the filter elementary at any time, unlike some other models. They are not at all disassembled.
Survivor Filter – 0.05 Micron Portable Water Filter
This is a filter from the personal category, which you can use in two different ways. The first option: the classic drinking tube – "traveler's straw", as in the case of the above-mentioned analogs.
By the way, a very important detail, which is forgotten by many manufacturers – a special lid that protects the neck from contamination. Second: the use of the filter as a filter nozzle dispenser, which will easily fill any container.
The filtration capacity is really enormous: 100,000 liters while cleaning 2 liters per minute.
This model is the most compact and handy pocket filter of all presented. It is said to be an "army" design. The model is ideal for those who like to knead dirt on hunting or fishing – thanks to the strong construction and complete tightness of all the lids.
LifeStraw Go Water Filter Bottles
It is not convenient to drink through a tube? Here is a bottle, which is suitable for fans of active pastime. Unlike the Personal Water Filter, there is no need to look for a container for water.
The filter is already built into the bottle.  The cleaning capacity of the mechanical filter with a density of 0.2 microns is similar to that of its predecessor from LifeStraw- 1000 liters.
With LifeStraw Go, you don't have to stop and look for a stream on a regular basis. All you have to do is fill the flask with liquid in advance.
This also puts the model in priority for conquerors of snowy peaks, because it will not be difficult to melt snow in such a device.
Perhaps, the shockproof flask is the main advantage of Go over other personal filters. In case you do not want to carry a separate container of water.
Brita Fill&Go Bottle Filtr
BRITA fill&go Vital bottle is an environmentally friendly and profitable replacement of water in bottles.
This bottle is suitable for people who realize the importance of having enough water in their bodies. With the bottle, you can enjoy the quality and safe water always.
Thanks to the bottle, both water expenses are reduced and the number of plastic bottles is reduced. It is beneficial not only for you but also for nature.
Reducing the percentage of harmful substances that have a bad effect on your taste.
The filter disc will last up to a month and will clean up to 150 liters. No harm to the environment and easy cleaning. The manufacturer used durable materials and MicroDisc technology.
You may also like: Best Portable Baby Chairs
Sawyer Products Squeeze Water Filtration System
If you travel alone and want to get drinking water on the go, the Sawyer Micro Squeeze filter should be sure to be in your backpack.
Micro Squeeze filters the water quickly, and it is ideal for one person.
You can use the included straw and drink directly from the source. Or you can fill a drinking tank of almost 1 liter and drink from it.
Besides, you can insert the filter into the neck of the water bottle. Sawyer Micro Squeeze is very clogged if you filter the water with a lot of sediment.
To clean the filter, you need to use a syringe from the kit. This way, you can perfectly clean it after each use. This filter is perfect for hiking for many days.
MSR TrailShot Pocket-Sized Water Filter
Although you will probably carry the filter in your backpack most of the time, MSR Trailshot is small and light enough to fit in your pocket.
It is also extremely easy to use.
With the straw in the kit, you can drink water directly from the source.
Or you can use a pump to draw water into a special hydration tank or a regular bottle.
Trailshot does not need any change, and it does not have any extra accessories that you can lose or forget.
Katadyn Hiker Pro Transparent Water Filter
Katadyn Hiker Pro is a standard pump filter that requires some effort from you, but it does a good job.
Especially in areas with shallow sources. Thanks to its long intake pipe, you can easily reach shallow recesses and small cracks filled with water.
You can clearly see through the transparent container when the filter needs cleaning or replacement. Katadyn Hiker Pro comes with a service kit.
Hiker Pro comes with a carrying bag to which all parts of the kit are put together. By the way, the kit includes a bottle adapter.
Aquamira Frontier Max
You can use the Aquamira Frontier Max in several ways. This system includes many adapters for handling hydration tanks and gravity filters.
Frontier Max also kills viruses, so it's a great solution if you plan to travel around the world. But the Aquamira Frontier Max filters water quite slowly.
It may thus take some time to get clean water. This slowdown is particularly noticeable when filtering water from muddy, sediment-laden springs.
You may also like: Best Portable Folding Picnic Tables
Platypus GravityWorks Replacement Reservoir Kit
This tourist filter is ideal when you need to purify a large amount of fluid per group of people in 2-3 minutes without much effort.
Water filtration occurs under the influence of gravity.
The design is available with a capacity of 4 liters.
It comes with special hinges, which makes it easy to hang it both on a branch of a tree and in any other convenient place.
Purified liquid gets into a separate container.
There is extra protection against clogging of the system.
Reverse flushing starts before the filtration process begins.
It helps to extend the life of the structure. In 2,5-3 minutes the system treats 4 liters of water.
FAQ for portable water filters buyers:
What will a 1-micron water filter remove?
A 1-micron filter will remove particles which you can't see with the naked eye but is far less likely to reduce lead and heavy metals, or parasitic cysts giardia cryptosporidium. In fact, there are even smaller filters available for those.
Do any water filters remove viruses?
Generally speaking, a water filter is designed to remove waterborne protozoa and bacteria, but not viruses. A water purifier is designed to remove protozoa, bacteria, and viruses, offering a higher level of defense.
Can you drink any water with LifeStraw?
With the LifeStraw, you can drink directly from a water source (such as a stream, mud puddle, or lake), but keep in mind the ground might be soggy. Although the LifeStraw has been tested up to 422 gallons (1600 liters), you're supposed to stop using it after 1000 liters.
Which Sawyer vs LifeStraw is better?
Whereas LifeStraw's technology has been rated to 0.2-micron pore size, the Sawyer Mini rates at 0.1. Though both products meet EPA drinking water standards, the Sawyer Mini is the slightly superior water filtration technology. LifeStraw filters out "99.9999%" of bacteria and "99.9%" of protozoa.
Can you filter seawater into drinking water?
Desalination is the process of purifying saline water into potable freshwater. Basically–turning ocean water into drinkable fresh water. Reverse osmosis and distillation are the most common ways to desalinate water. Reverse osmosis water treatment pushes water through small filters leaving the salt behind.