The portable picnic table is a functional solution for those who enjoy camping, picnics, outdoor barbecues, or simply for those who need an expandable cooking space. The table should be strong and reliable, withstand the load, but at the same time be compact and easy to carry. Choose the best option for yourself from this article!
Best Portable Camping Tables Under $100
You may also like: Best Portable Rocking Chairs
1. PORTAL Outdoor Folding Portable Picnic Camping Table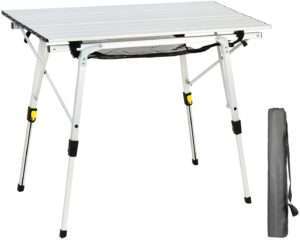 Portability and compactness are ensured in your travels and barbecues with this table! And strength and stability will exceed your expectations. It will be perfect for picnics, parties or camping. The assembly can be finished in one minute. The product has a roll aluminum top. This table has an adjustable height.
It is designed with telescoping aluminum legs for different heights starting at 17.7 inches to 27.5 inches to fit the uneven surface because feet are non-skid. Mesh bottom layer provides more space and holds more stuff for you. It can be removed quickly from the 4 legs when you do not need it.
The table's overall dimensions are 35.4-inch x 20.9-inch x 27.5 inches. Due to the large room and rectangle shape, it is convenient for four people. The table can carry up to 66 pounds. The compact design makes it easy to assemble and fold, it is also easy to carry without taking up a lot of space or storage.
It comes with a special carry bag. Its folded dimensions are 7.1-inch x 5.1-inch x 35.4 inches and the weight is only 9 pounds, so just hang it on your shoulder! Be sure, it was created for a multiple-use. The top quality is guaranteed!
the manufacture gives a 1-year warranty for this product.
2. Cuisinart CFGS-222 Take Along Grill Stand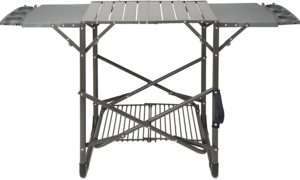 The perfect solution for grilling is this table! You do not need anymore a stationary table. You have to pick a flat, stable location where you want to grill. No tools are required for setup! Unfolds in seconds! In the center, it has the grill stand. This versatile grill stand is super-easy to set up.
This portable table keeps your grill at the perfect height for cooking. The center and side tables lock into place, which feels secure. The side tables together have 6 cup holders and 8 tool hooks. There you can cut cooking ingredients with ease and convenience. Make sure each joint is locked in place and the stand is then ready to use.
It has a lower storage shelf, where you can keep your cooler nearby. It holds up to 35 pounds. The construction is solid. Solid construction, easy and quick setup. The complete unit sits solidly on level ground and does not rock or tip easily. It comes with a carrying strap, making it easy to bring along to your next cookout adventure!
It is perfect for car camping, folds up easily, and stows nicely taking little room. Its weight is 17.26 pounds. The product dimensions are 54 x 20 x 30.5 inches. It is compact enough to store in a cabinet, closet, or garage when not in use. Spend your time outdoors with pleasure!
You may also like: Best Portable Camping Wood Stoves
3. Coleman Pack-Away Portable Kitchen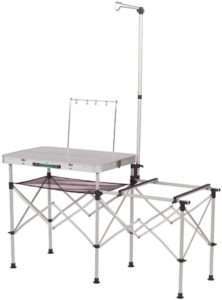 If you want a stable cooking surface and ample storage space, this portable camp table offers it! You will be able to set it up without any problems. You need to expand the aluminum frame, snap on the surfaces, and make sure the kitchen's footing is steady. It goes up really quickly and easily as well.
It has a 31.5-inch x 21.3-inch food prep area ideal for slicing meats and chopping vegetables. The side table has a size of 27.8-inch x 20.5 inch and can accommodate stoves and coolers while hanging hooks and a mesh storage shelf offer additional storage space for plates, utensils, and ingredients.
You can fit everything inside the main table when it is folded with room to spare. You could easily store some of your kitchen items in there like utensils and spices.
The main table portion is pretty much all aluminum, while the stove portion is steel. In general, the table supports up to 300 pounds. Also, it is provided with a lantern hook to hang a light, so you can cook at late-night.
The product is ideal for camping, backyard BBQs, tailgating, and other outdoor events. It is light all together though (it weighs 14.5 pounds), and it folds up nice and compact which will make stowing it nice when car camping or overlanding. It comes with a compact carrying case.
It is very sturdy, with its medium-density fiberboard top and aluminum frame, this folding camp table is built to withstand years of rugged use! Highly recommended!
Best Portable Camping Tables Under $150
4. Camco Deluxe Folding Grill Table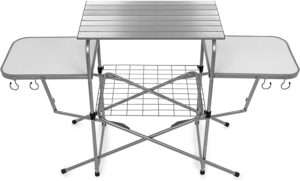 The set up of this portable table is really simple. You need to remove the grilling table frame from the bag. Unfold the frame from the middle, allowing the legs to extend. Then set the frame down and place the metal rack in the middle section of the frame. After it, place the aluminum tabletop on top of the frame and it is ready to go.
The product is designed with a high strength steel frame. It has a large tabletop with the size 58-3/4 inch x 19-inch x 32 inches. Detachable aluminum top is ideal for preparation and cooking.
It is provided with 2 side shelves and a lower shelf, which offer enough space for all of your cooking gear. Additional hooks and paper towel holders on the side are included to hold all of your grilling utensils.
All pieces fit in the included carrying bag. It is lightweight – weighing in at only 27-1/2 pounds. So easy to take it away with you! By folding down to only 6 inches tall, 37-inch x 20-inch x 6 inches when stored, you will save valuable storage space.
It is great for picnics, camping, sporting events, and backyards. The manufacture guarantees competitive pricing, superior service, quality product, as this table is!
5. GCI Outdoor Master Cook Portable Folding Camp Kitchen
This portable camp table is a completely portable folding outdoor cook station with counter and storage space for a camping stove or grill, cooking utensils, and cookware. It takes up a really small amount of room compared to the amount of space it gives you on-site.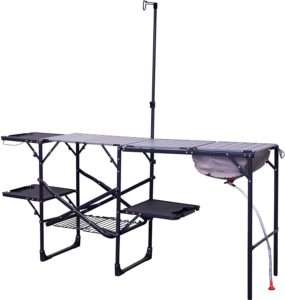 It is so easy to install this table due to slim-fold technology, it will take less than 2 minutes. It has a very durable construction. It is a one-piece powder-coated steel frame. The heat-resistant aluminum countertop holds up to 48 pounds, it is extended, and is the ideal space for a camp stove or grill.
A lower wire rack holds up to 35 pounds for dry good storage. The three foldout side tables hold 30 pounds each and have beverage holders, stemware holders, a paper towel holder, and hooks to hold grilling tools and garbage bags. It is also equipped with a soft-shell sink with a drain.
You can use, for example, a 5-gallon jug with a pump as a crane on the surface while it is loaded with supplies. The sink is not detachable, but the threaded clean-out is huge and very easy to keep clean. The stability is great, it does not even rock when pumping.
For cooking at the nighttime, it is provided with the telescoping pole for hanging a lantern. It folds flat for storage and has convenient carry handles for portability. Outdoor collapsible table measures 22.2 x 70.1 x 68.3 inches open, 21.7 x 5.9 x 34.8 inches folded, and weighs 22.4 pounds.
It is ideal for camping, picnics, tailgating, grilling, and outdoor parties. Outdoor meal preparation and cooking will be easy and convenient for a long time with this product due to the manufacture warranty! You will super impressed with this thing!
You may also like: Best Portable Generators for Camping
6. Camp Chef Sherpa Camp Table & Organizer
This portable table makes you feel like you have brought the entire kitchen with you to camp! The frame is durable and made of metal, the rectangle shape provides high stability. The material of the frame is well-qualified 600 denier fabric. The table has a full-fledged large tabletop, all you need is to pull it out because it is aluminum roll-top.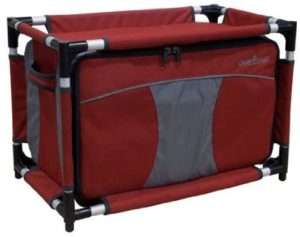 The tabletop dimensions are 27 inches x 17 inches. You can use the four removable storage bags to keep all your utensils and ingredients handy. They are zippered – the safety of your belongings is ensured. Blue storage bag has a special waterproof lining inside, so it can be used as a cooler or a sink.
You can use an expandable lower divider to accommodate a camp stove if you remove the bottom boxes and unzip the middle barrier. The table has telescoping aluminum legs, so you can regulate the height. When the legs are collapsed the parameters are 15 ¾ inches x 27 inches x 18 ¼ inches and table height with legs extended is 28 inches.
Outdoor cooking will be more comfortable and convenient than ever with this portable table! When you are ready to head home, you can compress the legs, fit the bags inside their storage compartments, and use the carry handles. Padded carry handles are created for easy handling.
Individual carry bag dimensions are 12 inches x 11 inches x 6 ½ inches. The weight of the product is 13.45 pounds. Many customers have tested this product during their hikes and trips and given positive feedback. Try it too!
Best Portable Camping Tables Under $200
7. Forimo Portable Camping Kitchen Table
This сamp table contains locker, work station and can be extended, so has all you needed as a kitchen table. You can easily assemble it and set up. The design of this product is spacious. It has plenty of room for food preparation and storage. Its unfolding dimensions are 69 inch x 19.5 inch x 43.5 inch.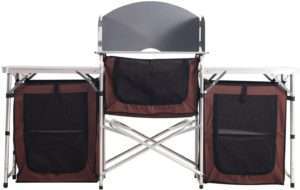 It is provided with four aluminum tabletops and three cupboards. You can fit a portable grill cooker on the tabletop. The storage bags are enough roomy to put kitchen items and you can zip them to protect items.
The lower organizer is ideal for storing dry foods and condiments. It has a removable steel windscreen. It helps to block the wind to keep heat retention. Durable aluminum frame construction makes this table suitable for any environment such as the beach, park, garden, and other indoor and outdoor activities.
The steel frame is sturdy, has a powder-coated finish that protects against weather, rust, and corrosion. The material of the tabletop is a 19 mm aluminum pipe. Storage bags are fabric, which is made of Poly 600D with PVC Coating, which provides a long service life.
The storage shelves are the same as the storage bags so will be water and rain resistant. The surface of this camping cooking table is stain resistant and easy to clean.
This folding cooking table is portable with a carrying bag and carries strap. Its folding dimensions are 35-inch x 6-inch x 20 inches. You will enjoy your outdoor camping time with delicious food cooked by yourself with this table!
8. Old Cedar Outfitters Folding BBQ Table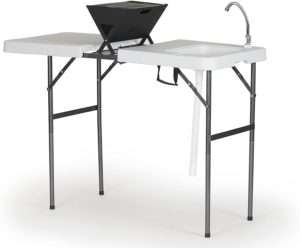 The manufacturer of this product has paid attention to details and practical use. This table comes with all the necessary parts and no additional tools are required. The kit has a sink and drain, including drain hose and assembly, faucet, and all hardware. For providing the stability of the table, you need to fix the hinges in place.
The table has an adjustable and removable faucet, which hooks directly to any garden hose to provide water for the cleaning table and sink. The table consists of two parts, you can make these two sides of the table are fully separated. The unique design splits in the middle to provide space for the grill, which is included.
The grill has the perfect size for grilling up what you just caught and cleaned. The heavy-gauge steel is slanted at the perfect angle to keep the table safe from the heat of the grill. The legs are adjustable too. This allows the table to be set up for use while standing or closer to the ground-based on your height and tasks.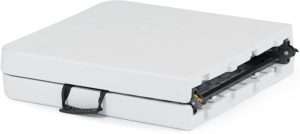 This product is perfect for fish filet or game hunting. It can be a table in your backyard, or a chef's catering cooking station, camping kitchen, or table at events, camping, parties, and barbeques.
The construction of this table is made of heavy-duty polyethylene, the legs are durable due to powder-coated steel, it is easy to clean and take it with you or take it away when you do not need it.
It is provided with a carrying handle and folds in half, all packing up into a convenient transportable package for easy storage and transportation. Table dimensions are 45.28 x 23.23 x 37.2 inches.
The company is the leading global manufacturer of innovative, high quality, and affordable equipment storage solutions for the outdoor enthusiast. It guarantees the product's excellent quality and sturdy. You will enjoy using it!
You may also like: Best Portable Fire Pits for Your Garden
9. SylvanSport Outdoor Camp Kitchen System for Easy Cooking
You will get a full camp kitchen with this product! The integrated case design and massive work surface set up in seconds, so you are ready to start cooking as soon as you get to the campsite! It has a durable aluminum frame, it locks into place, and is height adjustable.
It has two solid bamboo countertops for outdoor cooking provides 8.8 square feet of prep surface (38-inch x 18 inches and 32-1/4 inch x 18 inches). On the top, you also can install a portable grill. The table is equipped with a soft-touch, powder-coated steel windscreen, which gives you a protected cook area in blustery weather.
The table provided with collapsible camping sink for washing your hands and products. It has an integrated backsplash organizer to keep camping chaos to a minimum.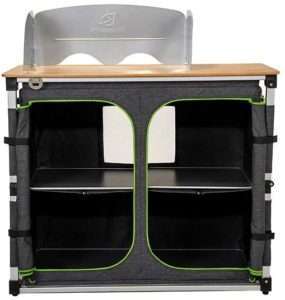 It consists of four water-resistant storage cubbies: the volume is 9 cu ft zipper pantry, with four rigid shelves and zippered doors, so all your supplies are protected. It has hooks for a bag with your belongings or a garbage bag.
The product is made of the best materials.
The entire camp table packs up into a sophisticated and durable carry case. Its construction weighs 23 pounds. The carrying case is durable and weather resistant. You will enjoy the quality and functionality of this product. It will allow you to cook like a chef, even in the forest!
FAQ for portable camping tables buyers
1. What materials for portable camping tables are the most durable and will provide a long life service?
As a rule, the frame of camping furniture is made of aluminum and carbon fiber-this is the optimal combination of high strength and relatively lightweight.
Other materials (plastic, wood, and steel) are either not strong enough or too heavy. However, lightness, in this case, is relative – you must be sure that a gust of wind will not make you chase your table across the entire field/forest/mountains.
2. Does the camp table need to be stored indoors or can it be left outside?
You can leave it outdoors for a short time. For a long time, it is recommended to be covered up. Since the tables are folding, parts may rust, it is best to store the table in a dry, enclosed place.