FLAC file is an audio file, which was compressed without loss of quality in sound. The file format with the extension .flac is considered to be lower than MP3 in terms of compression ratio, but the FLAC format clearly shows the best results in sound quality. That's why it became widespread and popular among audiophiles.
In this review, we have collected the best portable FLAC players for you to enjoy the sound quality of your favorite music.
This item has the best price and quality:
Our Top Pick

FiiO M3K

The small shape, low weight, and great battery life all make M3K an excellent portable player.

See Best Price
You may also like: Best Portable Music Players
FiiO M3K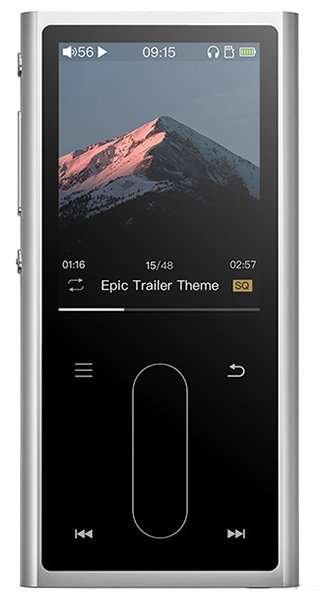 The FiiO M3K is a budget model in a seamless aluminum body with tempered glass. You can find it only in devices of a more expensive price category.
On the front panel, there are touch buttons, which are much more convenient than physical keys. Separate from the screen backlighting of the buttons allows you to use the device in a dark room. This saves a lot of battery power.
Specifications of the player are also at a level high enough for gadgets of this price segment. The bright two-inch display 240 by 320 pixels is informative and easily operated with one hand.
Digital-to-analog converter AK4376A provides sound quality that is not available for smartphones. It comes with support for up to 24 bits at 192 kHz.
The amplifier is capable of pulling out headphones with a range of resistance from 16 to 100 ohms. It is to listen to audio tracks in professional quality.
You may also like: Best Portable DAC Amp
ONKYO rubato DP-S1
Player DP-S1 from Onkyo is a compact "little brother" of the DP-X1 player. It is encased in a housing made of a solid piece of aluminum. Besides, it comes with a dual DAC based on a pair of ESS Sabre ES9018C2M chips.
The player is for a large phono library – built-in memory of 16 GB. But, two microSD card slots allow for expansion to 416 GB. In addition to these slots, the player comes with a balanced 2.5-mm jack and the usual 3.5-mm unbalanced.
Like the DP-X1, the junior model recognizes the MQA format. As well as more popular formats like 5.6 MHz/2.8 MHz DSD, FLAC, ALAC, WAV, AIFF (up to 32 bits/192 kHz), AAC and MP3.
The circuit uses a dual clock to reduce jitter. There is also space for Wi-Fi and Bluetooth modules. This allows the player to use Tidal and TuneIn streaming services.
Moreover, it can become a wireless element of the home, car, or another audio system. Due to wireless interfaces, you can control the player from a smartphone. Just download the free application Onkyo DapController.
Astell&Kern

A&norma SR25 MKII
A&norma SR25 MKII will give you many hours of your favorite music in exclusive quality. The player is suitable for absolutely everyone: professionals and amateurs alike.
With SR25 MKII the sound gets a new format. Now you can easily distinguish every instrument, voice, and even sound.
The parameters of the MP3 player are unique and designed for the largest user comfort. The product's premium quality comes from its extensive functionality, state-of-the-art software, and superior design.
In addition to the basic 2.5mm and 3.5mm options, the player supports an extra 4.4mm output and a two-way Bluetooth connection. Listen to music without worrying about adapters. With an ergonomic battery, the SR25 MKII can last 20 hours without recharging.
The volume control feature lets you stay focused on your listening. You can use the device anywhere and keep the sound quality.
With the A&norma SR25 MKII, you get a stylish MP3 player with modern features and premium quality. The clear sound dashed ranges and bass will elevate your music listening to the level of art. The player plays audio up to 384 kHz, providing original sound without distortion.
FiiO M6
This device comes with a powerful Exynos 7270 processor. It also includes a pre-installed TIDAL application for online streaming.
The powerful battery (1200 mA/h) provides autonomous operation in playback mode for up to 13 hours.
You can connect the device to a computer as an external DAC to listen to Hi-Rescue soundtracks.
With AirPlay support, you get a superior sound that's comparable to studio speakers.
There is a silicone case in the kit. It not only provides easy transportation. It also improves the shockproof properties of the gadget.
Astell&Kern

A&norma SR25
The A&norma SR25 is an example of the clear and professional work of the world-famous Astel&Kern company.
The main emphasis is placed on the quality of audio reproduction. Perfect sound, sophisticated design, and time-tested technical equipment are perfectly combined in the company's new product.
The high-quality, high-resolution sound contributes to even more enjoyment when listening to audio. In the A&norma SR25, premium quality is available to the masses for the first time.
You won't have to be distracted by software failures, volume control, and other mundane problems. Enjoy your favorite hits in the busiest, noisiest places.
The state-of-the-art processor, together with DAC technology, copes beautifully with demanding performance and high voltages.
The optimized software prevents even the smallest glitches from occurring. The length of the sound path remains constant throughout the play, which has a positive effect on sound quality.
The main advantage of the MP3 player is the high quality of audio format files playback. The company developer uses the latest developments for perfect sound without interruption. The Bluetooth LDAC system instantly and firmly connects you to your electronic device.
Astell&Kern A&Norma SR15
In this player, the developers installed two Dual-DAC chips. They are used in stationary sound systems.
In combination with the CS 43198 Dual-DAC converter, this equipment brings this device closer to home speakers.
The integrated circuits and software produce professional sound. The sound is not "colored" by digital or lamp sound. But "bright" sounds are perfectly transmitted. This is a true standard for reproduction equipment.
As with the "above average" price category device, Astel&Kern A&norma offers the greatest comfort from listening to the tracks.
Nothing distracts you from the enjoyment of music. There is no noise, no distortion, and the user interface is intuitive and extremely simple.
You may also like: Best Portable Digital Pianos
Astell&Kern

KANN MAX
Astell&Kern KANN MAX portable player is the most compact device in the series today, but its capabilities are the same as those of larger models.
The player comes with a case made of aircraft aluminum with a distinctive design. It has a convenient volume knob and a bright touch screen with a diagonal of 4.1 inches.
The unit is completely balanced, giving you a wide dynamic range of sound. For the most accurate sound in the model installed the proprietary DSP Teratron Alpha. With patented signal processing technology, it makes music natural and balanced.
The device comes with the wireless transfer function of music files from a computer. It also has an automatic volume equalization when listening to music from different sources.
The player has balanced and unbalanced outputs for connecting headphones. The contact surfaces of the connectors are gold-plated by spraying, which ensures their durability and reliable connection.
FiiO X5 Mark III
This device is adapted for the popular 5.1 version of the Android operating system.
In comparison with the previous generation, the portable player X5 received optimized software. This improved the sound quality and allowed for more economical use of battery power.
This gadget can work in two modes: Pure Music or Android. The first is only for playback of soundtracks.
So, third-party applications are blocked, so that the quality of audio was the largest. In Android mode, you can run any application for this operating system.
You can establish a wireless connection in several ways:
4 GHz wi-fi to connect to online services.
Bluetooth using aptX for high-quality traffic
DLNA for integration into the local multimedia network
The frequency of sound discrediting is up to 768 kHz. Such a high rate is possible due to the use of dual AK4490EN DAC with a chip on each channel. There are converter capacity is 32 bits, all PCM, and DSD formats.
The Built-in 32GB memory is expandable up to 512GB by installing two microSD cards. Sound power reaches 300 W, for which the chip OPA426. All this beauty is on the headphones through a standard 3.5 mm port and an extra balanced output.
The battery provides 10 hours of sound playback. It takes 90 minutes to recharge in accelerated mode. The work is provided in the car through a special cable. It is possible to connect the player to a computer as a DAC.
Astell&Kern

A&futura SE180
The Astell&Kern A&futura SE180 256Gb player from the A&futura series follows the innovative idea of multi-DAC. 
Teraton Alpha Sound Solution technology optimizes the power of the analog output section. Next-generation Advanced AMP technology provides a comprehensive approach to improving sound. Internal storage capacity is 256GB, which can be expanded with a microSD card.
Astell&Kern A&futura SE180 256Gb player is assembled in an aluminum case with an original design. The back panel is made of ceramic.
On the right side is a volume control with an indicator that shows the volume, bit rate, and type of file being played. Next to it is the multifunction control button.
The front panel is occupied by a 5″ Full HD touchscreen display, at the bottom of which is a convenient navigation panel.
Astell&Kern A&Ultima SP1000M
The parameters of this player are a benchmark for competitors and a dream for fans of quality sound.
The case is of stainless steel or copper. The front panel has a high-resolution HD5 screen, the picture is clear and bright. The multifunctional wheel allows you to control the device easily and accurately.
This device has an eight-core processor capable of processing every bit of audio streaming. Two independent AK4497EQ chips for the left and right channels expand the sound scene.
They deliver rich, bright, and accurate sound. Native DSD playback at resolutions up to 11.2 MHz is the best that the audio industry has to offer today.
Unlike devices in the budget price category, which are often designed to work with intra-channel headphones. High-end technology is capable of pulling full-size head stereo telephones with any impedance. If you do not accept compromises and expect the best sound from your player, Astel&KernA&ultimaSP 1000M is your choice.
You may also like: Best Portable Audio Mixers
FiiO M11 Pro
The audio player M11 from reputable manufacturer FiiO comes with two chips AK4493. Compared to the previous generation chips (AK4490), the novelties have a twice as good signal-to-noise ratio.
The installation of the OPA926 operational amplifier contributed to the improvement in sound. It has a lower noise level, less distortion, and more power than its predecessor (AD8397).
The player comes with 6 nuclear processor Exynos 7872. It is not inferior to such "hits" as Snapdragon 625 and Kirin 659. The volume of RAM is 3 GB, and ROM – 32 GB.
Streaming will not cause difficulties for this device. And you can download music on two micro SD memory cards.
Moreover, there are Wi-Fi modules with AirPlay, Bluetooth, DLNA. Supported all modern codecs: SBC, aptX, aptXHD, LDAC, LHDC. Mini-jack 3.5 mm and USB connectors allow you to output to external devices audio streaming in high quality.
FAQ for portable FLAC players buyers:
Is a FLAC file better than mp3?
While FLAC files are up to six times larger than an MP3, they are half the size of a CD and can have the same boost in audio quality. Furthermore, FLAC is not just restricted to 16-bit (CD quality), and you can buy files up to 24-bit/192kHz for another potential boost in performance.
Is FLAC the highest quality?
FLAC: Studio master sound quality (24-bit) and CD-quality (16-bit). The 24-bit/192kHz versions are the highest quality files commonly available and are identical to the studio master. Unlike MP3, which throws some content away to reduce file sizes, FLAC is lossless and works as a computer zip file.
Can I convert mp3 to FLAC?
Convertio is an audio format that allows you to convert MP3 to output formats like FLAC, OGG, AAC, WMA, WAV, CAF, AC3, GSM, AIFF, M4A, and AMR. Click on Select Files to Converter and upload your desired MP3 file. Next, choose FLAC as your output format. Click on Convert to proceed.
What is the highest audio quality?
A lossless audio file format is the best format for sound quality. These include FLAC, WAV, or AIFF. These types of files are considered "hi-res" because they are better or equal to CD-quality.