FLAC file is an audio file, which was compressed without loss of quality in sound. The file format with the extension .flac is considered to be lower than MP3 in terms of compression ratio, but the FLAC format clearly shows the best results in sound quality. That's why it became widespread and popular among audiophiles.
In this review, we have collected the best portable FLAC players for you to enjoy the sound quality of your favorite music.
This item has the best price and quality:
Our Top Pick

FiiO M3K

The small shape, low weight, and great battery life all make M3K an excellent portable player.

See Best Price
The list of the other great portable FLAC players with a comparison of the main characteristics:
| Item | Dimensions | Weight | Supported Standards | Internal Storage | |
| --- | --- | --- | --- | --- | --- |
| FiiO M3K | 3.54 x 1.65 x 0.47 inches | 0.12 pounds | MP3 | - | See Best Price |
| HiBy R3 Pro | 6.26 x 4.45 x 1.61 inches | 11.5 ounces | MP3, AAC, FLAC | - | See Best Price |
| FiiO X1 | 3.82 x 2.28 x 0.55 inches | 3.88 ounces | MP3, AAC, ALAC, APE, FLAC, WMA, WAV, OGG | - | See Best Price |
| ONKYO rubato DP-S1 | 2.48 x 0.59 x 3.7 inches | 4.6 ounces | MP3, ALAC, AAC, AIFF, DSF, FLAC, WAV | 16GB | See Best Price |
| FiiO M6 | 2.1 x 0.45 x 3.64 inches | 0.12 pounds | MP3 | 2GB | See Best Price |
| Astell&Kern A&Norma SR15 | 2 x 3.8 x 5.1 inches | 11.4 ounces | MP3 | 64GB | See Best Price |
| FiiO X5 Mark III | 2.6 x 0.55 x 4.49 inches | 6.6 ounces | MP3 | 32GB | See Best Price |
| Astell&Kern A&Ultima SP1000M | 4.61 x 2.67 x 0.67 inches | 1.96 pounds | WAV, FLAC, WMA, MP3, OGG, APE, AAC, ALAC, AIFF, DFF, DSF, MQA | 64GB | See Best Price |
| FiiO M11 Pro | 5.12 x 2.76 x 5.12 inches | 8.2 ounces | MP3, DSF, WMA, WAV, FLAC | 3GB | See Best Price |
You may also like: Best Portable Music Players
FiiO M3K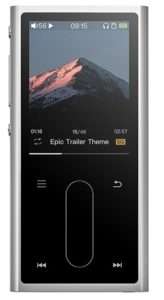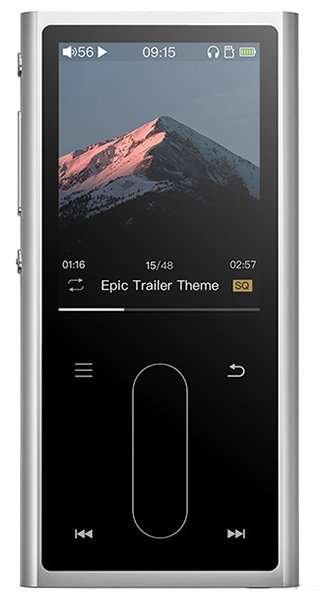 The FiiO M3K is a budget model in a seamless aluminum body with tempered glass. You can find it only in devices of a more expensive price category.
On the front panel, there are touch buttons, which are much more convenient than physical keys. Separate from the screen backlighting of the buttons allows you to use the device in a dark room. This saves a lot of battery power.
Specifications of the player are also at a level high enough for gadgets of this price segment. The bright two-inch display 240 by 320 pixels is informative and easily operated with one hand.
Digital-to-analog converter AK4376A provides sound quality that is not available for smartphones. It comes with support for up to 24 bits at 192 kHz.
The amplifier is capable of pulling out headphones with a range of resistance from 16 to 100 ohms. It is to listen to audio tracks in professional quality.
HiBy R3 Pro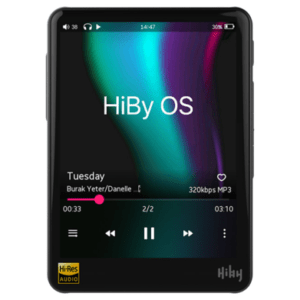 R3 Pro runs on HiBy OS. Its operating time is up to 20 hours at the normal output, the balance is about 15 hours. Power through the normal output is 60 mW, through the balanced output is 210 mW.
Glass covers both sides of the player. The frame is of thick aluminum, which pleasantly cools your hand. There are MicroSD and USB Type C slot on the bottom edge.
You can use the second slot not only for charging but also for sound transmission. It is capable of both sending digital signals to external DAC and receiving from the computer already acting as DAC.
Analog audio outputs are on the upper edge of the slot. This is an ordinary 3.5 mm combined with a linear one, and a balanced 2.5 mm. It is traditionally stripped with a gold ring.
The side edges are round and contain all the physical controls. On the right edge, there is a volume button. On the left edge, there is a lock/push button and a playback control unit. There are a pause and change of tracks as well as a muted LED.
This player has almost no main menu, you are immediately in the library. If you go from bottom to top, above the list of artists there is a line with the choice of sorting method. It can be a library, playlists, or streaming services Tidal and Qobuz.
The choice between them is available by a long tap. Swipe to the right opens a menu with all other functions. It is a media library update, music import, equalizer, MSEB, e-book menu, and various settings.
The bottom is what the future R3 buyer should value the most. And not only in quality but also in quantity. The bass is accentuated here, but it does not affect other frequency bands. The bass is perfectly controlled, which gives birth to the very "warmth" of sound.
FiiO X1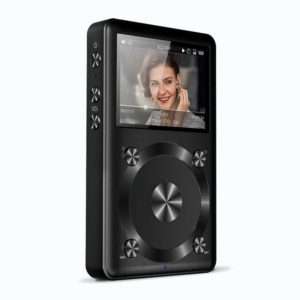 If you are looking for a quality and inexpensive Bluetooth player, pay attention to another FiiO brainchild – X1 second generation.
The qualitatively made case of strong aluminum in three different finishes lies comfortably in your hand. Ergonomics has an attractive design.
The screen is brightly backlit, with a resolution of 240 by 320 pixels and high contrast. Even on a sunny day, the image is clearly visible.
It is controlled by a proprietary touch ring with high sensitivity and precision. There are four control buttons on the front panel. On the side panel, there are two more buttons, which include a device and adjust the volume.
The Built-in Bluetooth module can work simultaneously on receiving and transmitting. This allows you to use the player as a streaming audio translator to headphones or a stationary speaker system. The battery capacity is enough for 12 hours of autonomous work.
There are special chips in the buffer circuit. Thus, it is possible to achieve compatibility with any headphones with standard impedance.
The developers also made it possible to connect an external stereo system to the player. You can make it through a line output. The device has a port for microSD cards and supports memory up to 256 GB. It is possible to download about 300 albums in Hi-Res quality.
You may also like: Best Portable DAC Amp
ONKYO rubato DP-S1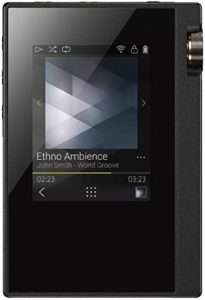 Player DP-S1 from Onkyo is a compact "little brother" of the DP-X1 player. It is encased in a housing made of a solid piece of aluminum. Besides, it comes with a dual DAC based on a pair of ESS Sabre ES9018C2M chips.
The player is for a large phono library – built-in memory of 16 GB. But, two microSD card slots allow for expansion to 416 GB. In addition to these slots, the player comes with a balanced 2.5-mm jack and the usual 3.5-mm unbalanced.
Like the DP-X1, the junior model recognizes the MQA format. As well as more popular formats like 5.6 MHz/2.8 MHz DSD, FLAC, ALAC, WAV, AIFF (up to 32 bits/192 kHz), AAC and MP3.
The circuit uses a dual clock to reduce jitter. There is also space for Wi-Fi and Bluetooth modules. This allows the player to use Tidal and TuneIn streaming services.
Moreover, it can become a wireless element of the home, car, or another audio system. Due to wireless interfaces, you can control the player from a smartphone. Just download the free application Onkyo DapController.
FiiO M6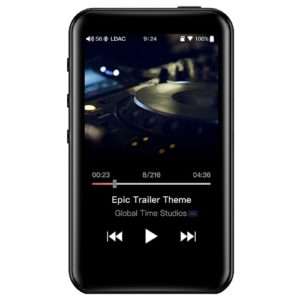 This device comes with a powerful Exynos 7270 processor. It also includes a pre-installed TIDAL application for online streaming.
The powerful battery (1200 mA/h) provides autonomous operation in playback mode for up to 13 hours.
You can connect the device to a computer as an external DAC to listen to Hi-Rescue soundtracks.
With AirPlay support, you get a superior sound that's comparable to studio speakers.
There is a silicone case in the kit. It not only provides easy transportation. It also improves the shockproof properties of the gadget.
You may also like: Best Portable Digital Pianos
Astell&Kern A&Norma SR15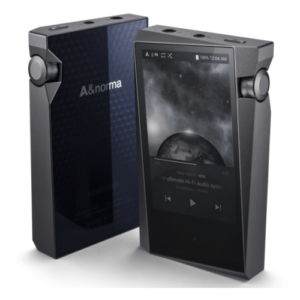 In this player, the developers installed two Dual-DAC chips. They are used in stationary sound systems.
In combination with the CS 43198 Dual-DAC converter, this equipment brings this device closer to home speakers.
The integrated circuits and software produce professional sound. The sound is not "colored" by digital or lamp sound. But "bright" sounds are perfectly transmitted. This is a true standard for reproduction equipment.
As with the "above average" price category device, Astel&Kern A&norma offers the greatest comfort from listening to the tracks.
Nothing distracts you from the enjoyment of music. There is no noise, no distortion, and the user interface is intuitive and extremely simple.
FiiO X5 Mark III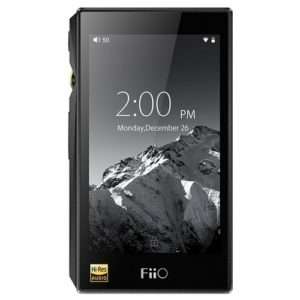 This device is adapted for the popular 5.1 version of the Android operating system.
In comparison with the previous generation, the portable player X5 received optimized software. This improved the sound quality and allowed for more economical use of battery power.
This gadget can work in two modes: Pure Music or Android. The first is only for playback of soundtracks.
So, third-party applications are blocked, so that the quality of audio was the largest. In Android mode, you can run any application for this operating system.
You can establish a wireless connection in several ways:
4 GHz wi-fi to connect to online services.
Bluetooth using aptX for high-quality traffic
DLNA for integration into the local multimedia network
The frequency of sound discrediting is up to 768 kHz. Such a high rate is possible due to the use of dual AK4490EN DAC with a chip on each channel. There are converter capacity is 32 bits, all PCM, and DSD formats.
The Built-in 32GB memory is expandable up to 512GB by installing two microSD cards. Sound power reaches 300 W, for which the chip OPA426. All this beauty is on the headphones through a standard 3.5 mm port and an extra balanced output.
The battery provides 10 hours of sound playback. It takes 90 minutes to recharge in accelerated mode. The work is provided in the car through a special cable. It is possible to connect the player to a computer as a DAC.
Astell&Kern A&Ultima SP1000M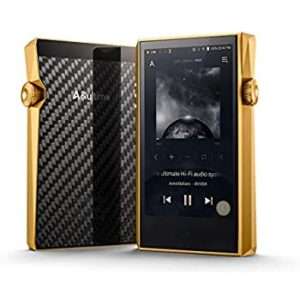 The parameters of this player are a benchmark for competitors and a dream for fans of quality sound.
The case is of stainless steel or copper. The front panel has a high-resolution HD5 screen, the picture is clear and bright. The multifunctional wheel allows you to control the device easily and accurately.
This device has an eight-core processor capable of processing every bit of audio streaming. Two independent AK4497EQ chips for the left and right channels expand the sound scene.
They deliver rich, bright, and accurate sound. Native DSD playback at resolutions up to 11.2 MHz is the best that the audio industry has to offer today.
Unlike devices in the budget price category, which are often designed to work with intra-channel headphones. High-end technology is capable of pulling full-size head stereo telephones with any impedance. If you do not accept compromises and expect the best sound from your player, Astel&KernA&ultimaSP 1000M is your choice.
You may also like: Best Portable Audio Mixers
FiiO M11 Pro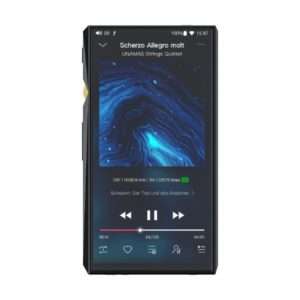 The audio player M11 from reputable manufacturer FiiO comes with two chips AK4493. Compared to the previous generation chips (AK4490), the novelties have a twice as good signal-to-noise ratio.
The installation of the OPA926 operational amplifier contributed to the improvement in sound. It has a lower noise level, less distortion, and more power than its predecessor (AD8397).
The player comes with 6 nuclear processor Exynos 7872. It is not inferior to such "hits" as Snapdragon 625 and Kirin 659. The volume of RAM is 3 GB, and ROM – 32 GB.
Streaming will not cause difficulties for this device. And you can download music on two micro SD memory cards.
Moreover, there are Wi-Fi modules with AirPlay, Bluetooth, DLNA. Supported all modern codecs: SBC, aptX, aptXHD, LDAC, LHDC. Mini-jack 3.5 mm and USB connectors allow you to output to external devices audio streaming in high quality.
FAQ for portable FLAC players buyers:
Is a FLAC file better than mp3?
While FLAC files are up to six times larger than an MP3, they are half the size of a CD and can have the same boost in audio quality. Furthermore, FLAC is not just restricted to 16-bit (CD quality), and you can buy files up to 24-bit/192kHz for another potential boost in performance.
Is FLAC the highest quality?
FLAC: Studio master sound quality (24-bit) and CD-quality (16-bit). The 24-bit/192kHz versions are the highest quality files commonly available and are identical to the studio master. Unlike MP3, which throws some content away to reduce file sizes, FLAC is lossless and works as a computer zip file.
Can I convert mp3 to FLAC?
Convertio is an audio format that allows you to convert MP3 to output formats like FLAC, OGG, AAC, WMA, WAV, CAF, AC3, GSM, AIFF, M4A, and AMR. Click on Select Files to Converter and upload your desired MP3 file. Next, choose FLAC as your output format. Click on Convert to proceed.
What is the highest audio quality?
A lossless audio file format is the best format for sound quality. These include FLAC, WAV, or AIFF. These types of files are considered "hi-res" because they are better or equal to CD-quality.