Washing clothes in the washing machine has made life easier for many housewives. Yet, clean things do not mean ready to use, and it takes quite a lot of time to dry things naturally. The solution to this issue for many is not obvious, but it exists.
You will find it in this review of the best portable dryers for an apartment in 2023. Here we have compiled the greatest options, among which you are sure to find your favorite.
If you prefer using more progressive appliances then try one of these best portable washer dryer combos.
Our Top Picks:
Panda 110V 850W


Stainless Steel

Smart Laundry Choice

Front Load

See Best Price

Portable Dryer 1500W-67




Intelligent Temperature Control

Intelligent Wireless Remote Control

Perfect After-Sales Service

See Best Price

Portable Dryer 110V 1000W




Two-Layer Stainless Steel Structure

Smart Timer

Energy-Saving

See Best Price
1. Panda 110V 850W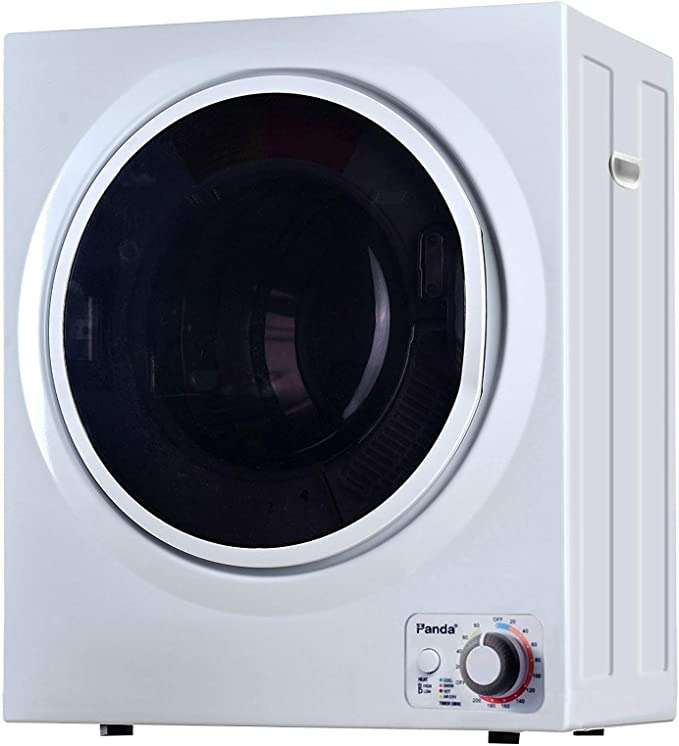 This dryer is comfortable for use in small spaces. Suitable for families with children, the elderly, and sports fans.
The machine is compact and doesn't take up much space in the room. It's lightweight and easy to carry from place to place. It comes with removable mounting brackets and a special lint drum.
In the package, you will find a removable lint filter, regular cleaning which will significantly extend the service life of the dryer. The economy mode reduces energy consumption, which is a huge advantage over other models.
You will have several installation options available: side-by-side, wall mount, and stacking.
Streamlined dryer performance saves you money. Its intuitive operation is simple. Just set the desired temperature and turn the toggle switch. After a short time, your clothes will be clean, warm, and dry.
The manufacturer recommends not overloading the device – you should not put more than 5.5 pounds of clothes.
You may also like: 9 Best Portable Washing Machines (Comparison & Reviews)
2. Portable Dryer 1500W-67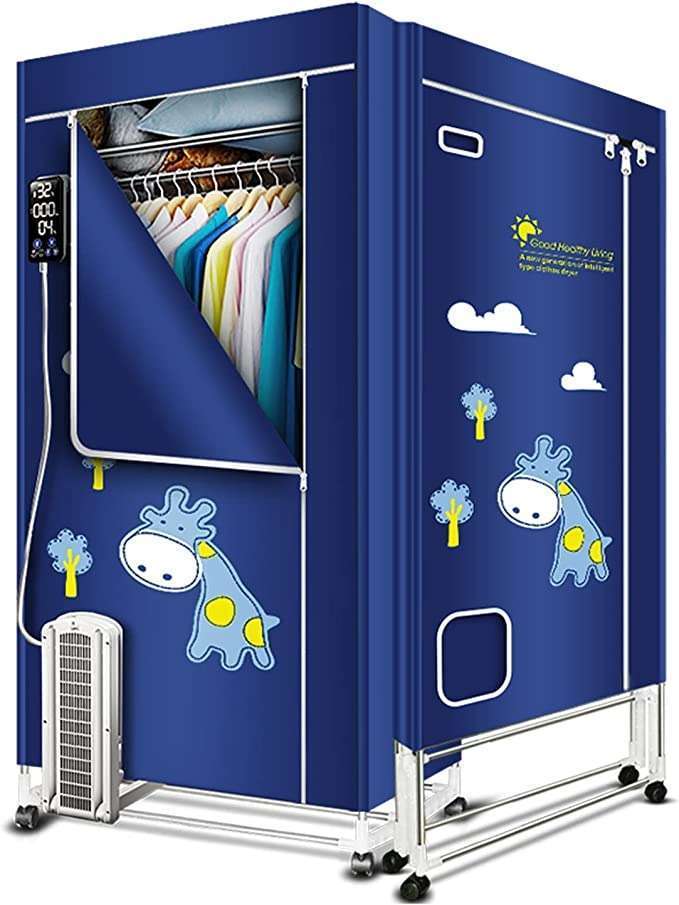 The three-tier dryer works great indoors and folds up conveniently for portability. When not needed, the design folds up without having to disassemble to spare parts. During drying, the impact on clothing is even and not wrinkled.
There are twelve crossbars, where it is convenient to hang up, for example, towels or underwear. The dryer runs quietly, without background noise.
This dryer comes with an intelligent temperature control system. It has a temperature control ranging from 122℉ to 158℉. If the temperature exceeds this value, the system automatically turns off the dryer. This helps to avoid overheating.
Also an extra advantage is the housing, which is made of heat-resistant materials. Fireproof material will prevent burning.
The remote control is represented by a touch screen. It is convenient for pregnant women and the elderly. They will help prevent dangerous situations.
The manufacturer offers a warranty on its goods for one year after purchase. So, you can independently contact the support service for after-sales service. If the device fails, you can apply for a free replacement product.
3. Portable Dryer 110V 1000W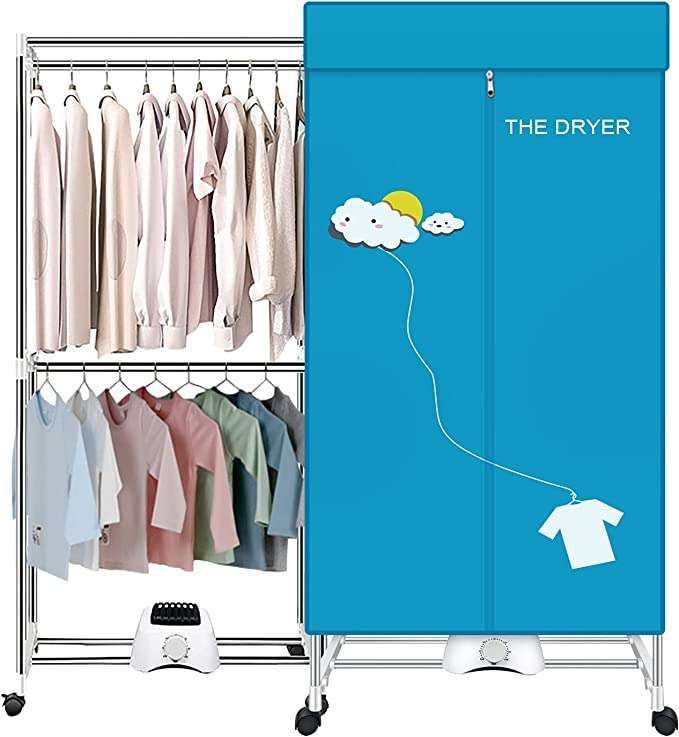 The compact clothes dryer will quickly become popular in your home. It is made of stainless steel. It will ensure a long service life. It consists of two sturdy layers of material.
Can dry up to 15 kilograms of clothes at a time. When not needed, it can be easily folded and placed in a closet so that it does not take up much space for storage. It is ideal for small rooms.
It uses high-efficiency drying technology that does not leave stains and creases on your favorite clothes. The dryer automatically selects the temperature depending on the number of items. A typical session lasts three hours.
The machine saves electrical energy and ensures safe operation. When the temperature reaches critical values, the dryer switches off automatically.
Protection against overheating and fires are at the highest level. There is an option to return items within a month if they don't fit.
4. BLACK+DECKER BCED37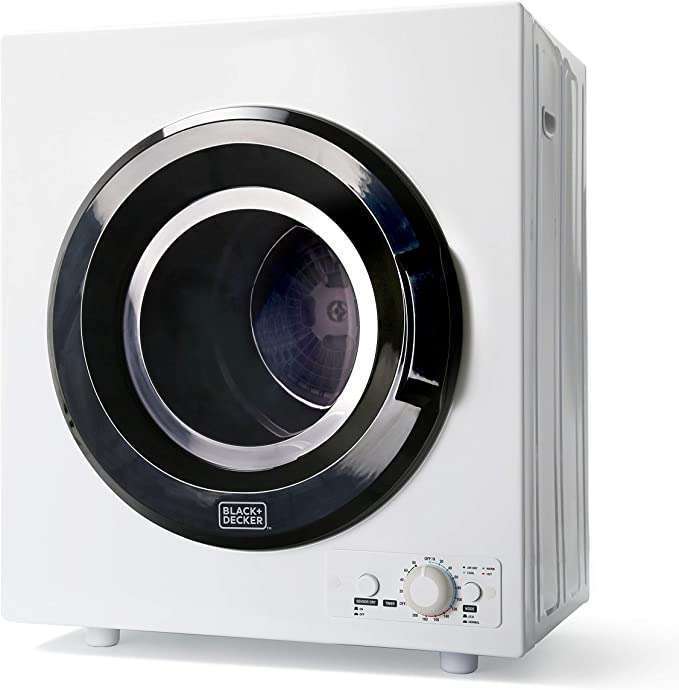 Portable clothes dryer designed for small apartments, rooms, and dorms. It has a decent loading capacity of 13 feet for not much weight. Each type of fabric has specific care features.
The dryer is ready to take them into account and offers several modes: hot, wet, air, and universal. The machine is easy to carry from place to place. Its power is 1500 watts.
It comes with protection against accidental ignition and turns off automatically when the critical temperature is reached. The design includes a lint strainer, air pipe, ventilation system, and filters.
The drum is made of durable stainless steel. The lid is transparent, allowing you to check the operation from the outside. The drying time varies from thirty to two hundred minutes. It will not give you any trouble. Towels and linens will beckon with cleanliness and light warmth.
You may also like: 5 Best Portable Bidets (Under $10, $40)
5. Sentern Portable Clothes Dryer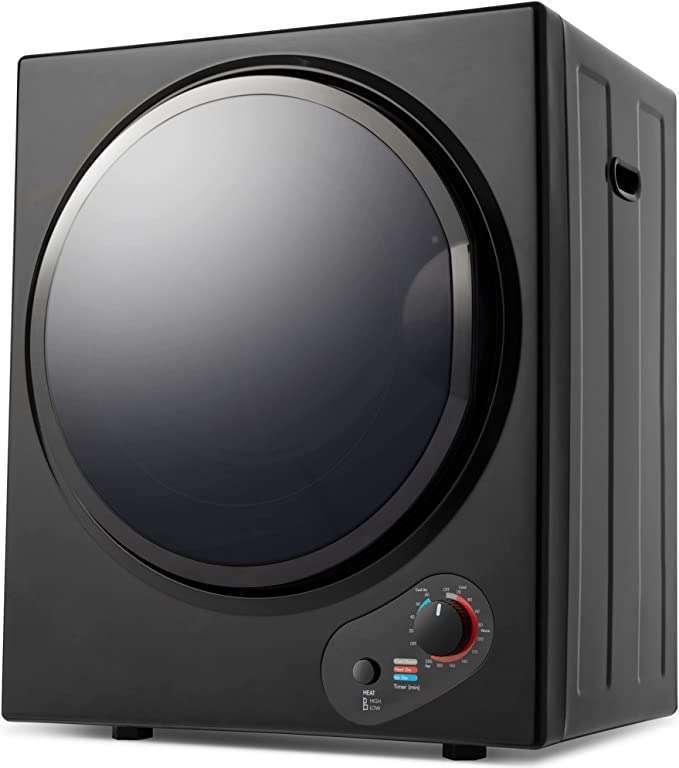 The portable dryer is designed for small apartments to make the most of living space. A small footprint no longer prevents you from installing a dryer. It is multifunctional and adapts to any type of fabric.
You can choose the following modes: universal, hot for a large volume of clothes, cooling, against creases. The dryer is controlled by an intuitive touch panel.
The machine works silently, without extraneous annoying sounds. This allows you to use it even at night. The design can be mounted on a surface, hung on the wall, or mounted on a special tripod.
The drum is made of stainless steel to ensure a long life. The filter retains lint and hair.
Anatomically shaped handles allow you to easily carry the dryer from place to place. A wide window is convenient for loading things.
6. Costway 1500W Compact Laundry Dryer with Touch Panel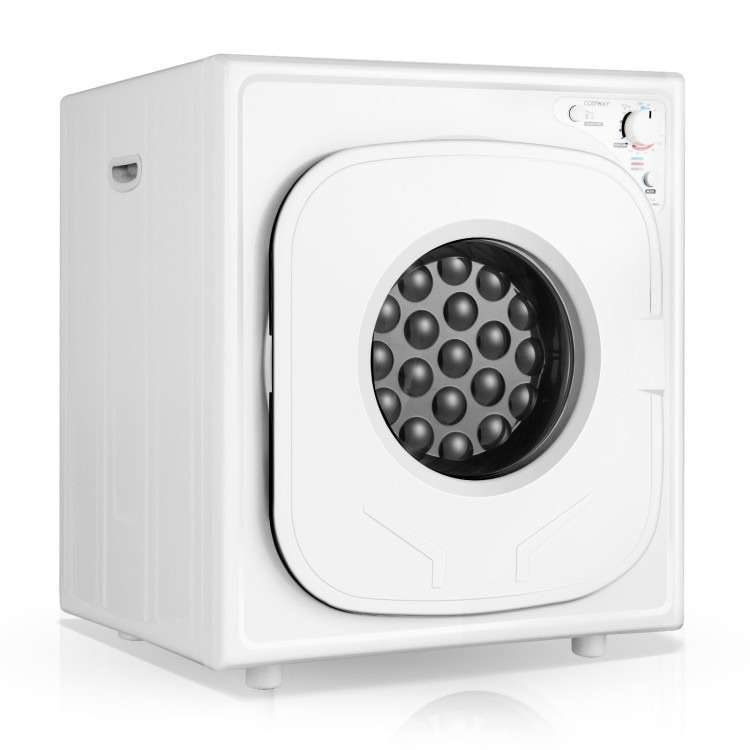 A roomy and compact clothes dryer will be an indispensable item in the household. The load is located on the front side. Power of 1500 W, it quickly and evenly dries wet clothes without leaving any wrinkles.
There are two modes. The first one delivers 150 minutes of cool airflow consecutively, and then 120 minutes of warm airflow.
The machine will remotely tell you the moment when the clothes are dry. Based on the properties of fabrics, four drying modes are used: cold, hot, anti-fold, and air drying.
The basis of the design is a drum made of stainless steel. It rotates the clothes so that every inch is dried. The filter effectively traps hair, lint, and pet hair.
The small size allows the machine to be installed in small rooms and dorms. It is installed both vertically on the surface and wall-mounted.
The dryer is equipped with overheating protection and turns off automatically if it reaches a critical temperature. It also has a lockout mode, which is necessary when there are children in the house.
You may also like: 7 Best Portable Carpet Cleaners (Comparison & Reviews)
7. Costway Wall Mounted Stainless Steel Compact Electric Clothes Dryer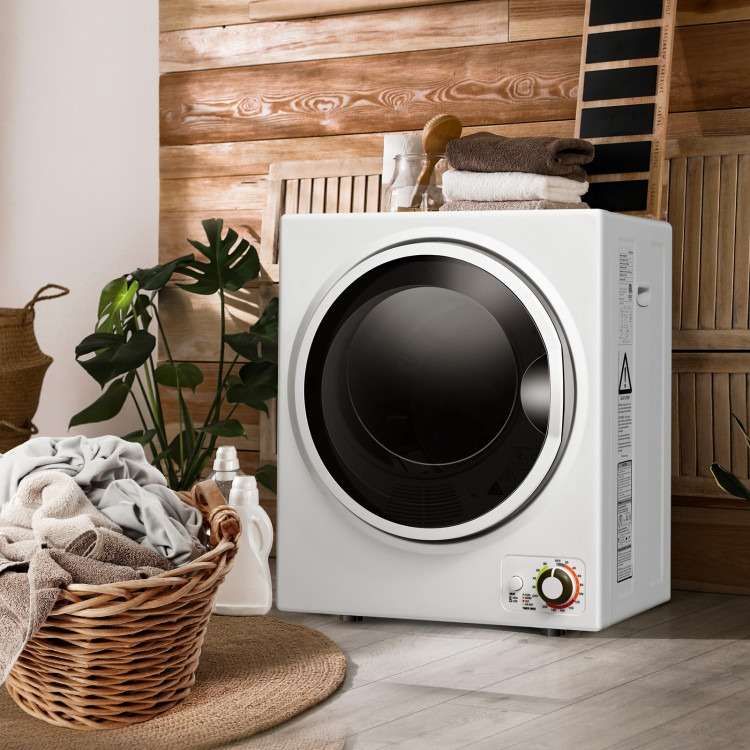 This compact tumble dryer is a lightweight and convenient addition to your apartment or dormitory. It stands vertically on the floor, hangs on the wall, or is shelf-mounted.
A power output of 850 watts will ensure fast drying. You do not have to worry that your favorite dress will remain on the rack to finish drying.
Depending on the total weight of the clothes and the characteristics of the fabric, there are different modes of operation.
Cool air flow operates for twenty minutes. Warm air, set from half an hour to two hours, will prevent the formation of creases.
Hot steam for 100 and 20 to 200 minutes will cope even with a mountain of clothes. The air mode will freshen things in an hour and a half.
The machine works silently, so you can use it even at night. The base is made of stainless steel. The kit includes instructions, screws, and other necessary parts for the assembly.
What type of dryers you can use in apartment?
When it comes to finding the right dryer for your apartment, there are a few different types to consider.
The most common and affordable type is an electric dryer which is actually our #1 suggested option above.
Electric dryers plug into a standard wall outlet and draw power from your home's electrical system. Electric dryers typically require specific wiring and circuits to function properly, so be sure to check with your landlord or building manager before installing one in your apartment.
If you're looking for a more energy-efficient option, you can opt for a gas dryer instead. Gas dryers run on natural gas that is supplied through your home's utility lines; however, they can often cost more than electric models and may not be allowed in some rental properties or buildings due to safety concerns.
Finally, if space is an issue, you can consider ventless or "all-in-one" washer/dryer combos that operate without needing external ventilation systems. These units are great for smaller spaces but tend to take longer to complete cycles than traditional models.
No matter which type of dryer you choose, make sure that it's safe and up-to-code as per the regulations of your particular building/apartment complex.
How to Install a Dryer in an Apartment
Installing a dryer in an apartment can be tricky, especially if you're renting. To ensure safety and compliance with any local codes, it's best to consult with your landlord or building manager before proceeding.
Typically, the installation process involves connecting both the fresh air intake and exhaust ducts. The fresh air intake is necessary for circulating cold air into the dryer while the exhaust duct carries warm air outside of your apartment.
Here are some steps that you should follow when installing a dryer in your apartment:
Measure the area where the dryer will be placed so that you know if it fits or not.
Make sure that there is proper ventilation in place; this may involve installing an additional vent or replacing existing ducts if they are too small.
Connect the power cords to their respective outlets (make sure they're properly secured).
Test the unit to make sure everything works as expected before using it on your clothes.
Follow all local codes and regulations for safe installation and use of dryers in apartments—this includes having a professional inspect the installation upon completion.
Where do you put a portable dryer in an apartment?
The best place to install a dryer in an apartment is typically in the bathroom, laundry room, or closet – all of which should have adequate ventilation to safely expel warm air. You can actually try to install it anywhere possible, since you looking for a limited space solutions, especially if it's not an electric portable dryer. Some of the rules has to be followed in any case though.
When installing a dryer, it's important to make sure that there is enough space for both the machine and its ventilation system. If your apartment has limited space, you may want to consider investing in a ventless or "all-in-one" washer/dryer combo instead.
In addition, be sure to check with your landlord or building manager about any safety regulations, codes, or permits that may be required before installation.