Probably, each of us had a chair like this in childhood. It is even fair to say that having a high chair is a huge part of baby growth. Thankfully, nowadays the assortment of these chairs on the market is huge, so you can totally spoil your child with the very best items. Also, if you want to make your baby a little bit happier, you can use a portable activity center.
Pay attention to the materials, from which the chair is made – pads and legs. The most sturdy legs are made from aluminum, but they can feel really harsh for your baby. On the contrary, the plastic legs are softer but less durable.
The best portable high baby chair
Our Top Pick

Baby Delight Go with Me Chair

The chair is easily foldable and has a unique design, allowing your child to sit in the best and comfortable position. The whole item is made from top-quality durable materials

See Best Price
Other great portable high baby chairs
| Item | Dimensions | Weight | Age | Material | |
| --- | --- | --- | --- | --- | --- |
| Tiny Dreny Baby High Chair | 24.2 x 15.3 x 13.6 inches | 15 pounds | 6 Months - 5 Years | Wood | See Best Price |
| Unilove 3 in 1 Booster Seat | 16.7 x 14 x 14 inches | 7 pounds | 6 months+ | Not Specified | See Best Price |
| Summer Pop 'n Sit Highchair | 8.26 x 8.26 x 32.60 inches | 1.00 lbs | 6 months+ | machine-washable fabric and include a removable and dishwasher-safe tray with cup holder | See Best Price |
| Cosco Simple Fold High Chair | 25.30 x 18.30 x 6.10 inches | 13.90 lbs | Not Specified | Fabric | See Best Price |
| Baby Delight Deluxe Portable High Chair | 21.5 x 22 x 33 inches | 7.5 pounds | 6m-3yr | durable indoor/outdoor fabric | See Best Price |
You may also like: Best Portable Play Yards
Also, look for the tray to be comfortable and easy to wash. In other words, in the list down below you will find the items that you definitely should pay attention to.
1. Tiny Dreny Baby High Chair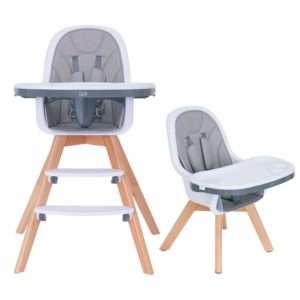 Tiny Dreny high chair is ASTM and CPSC tested therefore offering guaranteed quality. Every detail of the seat is thought through starting from the non-slip feet shape to a multi-functional tray. This item has the extra-wide wooden legs and five-point harness make sure the chair is firmly fixed on place when your child climbs up the steps towards the seat or sitting in the chair. All of the parts can be easily connected just by screw rotation.
An especially heightened seat back and soft, 3D forming leather pad allows more comfort for your babysitting in, while the leather keeps the baby warm in winter and cool in summer. There is the double tray made for easier cleaning also features a larger space, deeper border, and cup holder design.
The chair feet are made of two connectable sections that allow the height to be switched from 29 to 38 inch and back and the adjustable tray has three depth modes to fit the child. As you go from baby high chair to a toddler booster, just gradually adjust the tray outward. Other than comfort and more security, the Tiny Dreny High chair has a great design that will fit in any home interior.
What is more, the elegant design style featuring natural wood color legs and off-white seats will suit any kind of décor and will take minimum space due to its versatility to be both a feeding high chair and a functional playing low chair. Due to its multifunctionality, the product has a high carrying capacity of 60 pounds.
2. Unilove 3 in 1 Booster Seat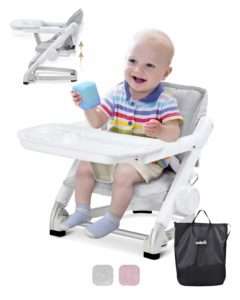 With these three modes in one seat, there is no need to buy separate seats that is a waste of room space and money. Multifunctional construction allows it to be easily transformed from a floor seat into a booster seat and a feeding seat with four height adjustments. The height of the seat can be easily set to the one that fits the baby's size.
The feeding chair can be set on level 1 which is 5.70 inches from the ground, as you go on levels two and three (6.49 and 7.28 inches, respectively), the seat can be used as a booster. While level 4 (8.07 inches) is perfect for floor seat mode.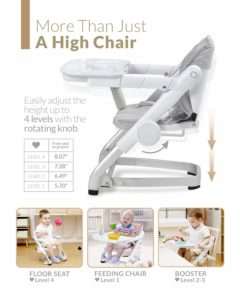 Unilove sturdy booster will grow with your child, while its ergonomic back support will provide safety and comfort for babies from six months up to 30 pounds. The durable three-point harness attached to the front of the baby and under the seat and backrest of the chair makes sure the baby stays in place.
The stability is also enhanced with iron legs and an anti-slip rubber base, while a cotton seat pad and safety block offers comfort and support even after several hours of use. It Is built for comfort and convenience allowing the seat to be compactly folded in three and easily taken anywhere in its carry bag.
The heat resistant, FDA approved tray with extra snap-on lid can be quickly wiped clean after dining or put into the dishwasher at busy times.
The swivel tray has a swing-out option for hassle-free accessibility to get the child in or out of the seat. Other than being great for travel due to its folding feature and 7-pound weight it is also a space saver taking only 16.7 x 14 x 14 inches in of home space.
You may also like: Best Portable Baby Loungers
3. Baby Delight Go with Me Chair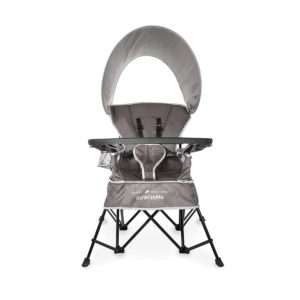 The patented feature that allows the seat to reveal two leg holes for letting the baby stand with support which makes the chair great for babies from three months, while the design allows it to be used for toddlers up to 75 pounds (standard maximum weight allowance for most baby chairs is about 40 pounds).
The advantage of this product is that here every stage of your child's growth is thought through in the design. The sit and relax mode of the chair for three to six months babies have a five-point harness and wide, sturdy metal legs for stability and security, and comfort.
The sit and play stage for older children allows the harness to be removed while the snack tray and canopy can still be used. A five-point removable harness provides security and comfort for the upright position in the cushioned seat and angled platform feet with eight points of contact provide stability.
The stand and play chair for toddlers up to year allows the seat to be detached for the baby to stand while having the same support with the 5 point harness. The protective netting encloses the baby's legs to protect from bugs or rough surfaces.
Additional features include a protective leg enclosure with netting for storage area under the chair and removable sun canopy for shade on sunny days outdoors. Baby Delight Go with Me chair is great for travel: simply fold the chair by pulling up on the locking lever in the back and put into the included carry bag with shoulder strap.
4. Summer Pop 'n Sit Highchair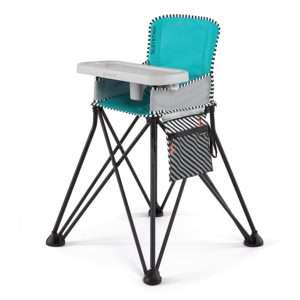 Summer Sweet Life highchair is great for indoor or outdoor dining, snacking, or just eating. An innovative pop and fold design and a fast, easy, compact fold makes this highchair a space saver or even use as a travel high chair. An assembled product is 8.26 x 8.26 x 32.6 inches.
The small footprint makes it easy to bring baby close to the adult table. Besides, high chairs for babies and toddlers are usually messy after dining but clean-up of Pop 'n Sit highchair is easy due to the removable and machine washable fabric and a removable, dishwasher safe tray with a cup holder.
Wet / dry bag and rear storage pocket easily detach from the highchair to allow taking it with you on the go. The product includes a storage pocket, three-point safety harness, and a carry bag. The recommended age and weight for use is from 6 months to 45 pounds.
You may also like: Best Portable Baby Cribs
5. Cosco Simple Fold High Chair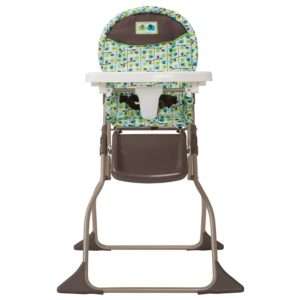 Cosco Simple Fold High chair is easy to stow or take on the go due to its special simple enough design. It is lightweight and stable, the chair quickly folds flat and stands on its own making it great for storage. The three-point harness and sturdy, reinforced legs keep the child secure up to 50 pounds of weight.
Here you will find the built-in leg rest keeps feet comfortable and acts as additional support for the baby. Clean-up is quick and easy with Cosco highchair that features a wipeable seat pad as it is prepared for any mess. The fabric is also durable and soft at the same time.
It includes the three-position adjustable tray with a built-in cup holder allows it to be adjusted to the position that fits your child as it grows. This highchair is ASTM and JPMA certified and meets all of the safety standards. It weighs 13.9 pounds and takes 25.3 x 18.3 x 6.1 inches of space.
6. Baby Delight Deluxe Portable High Chair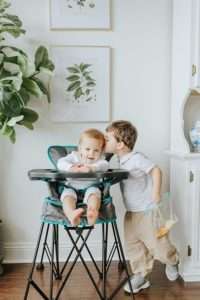 This JPMA certified portable highchair provides a quick and convenient seat for your baby to eat or play. It fits in multiple ways, being a compact kitchen high chair, a quick seat to bring to guests or restaurants, or a comfortable spot at the picnic table.
Baby Delight highchair is standard table height to allow baby seats together with adults therefore developing communication and listening skills. Durable fabric makes this highchair suitable both for indoor and outdoor activities and can be easily wiped clean after eating.
A cup holder for sipping cups or bottles on the fully removable tray is wide enough for plates and is also dishwasher safe. The tray can be detached just by a click. The five-point harness together with a stable flared leg system makes the seat safer for the baby.
For travel or on the go use, just lift up on each latch, fold and fit into the included carrying bag. The Go with Me Uplift chair is lightweight and easy to carry around. The recommended age for use is from three months to 3 years.
You may also like: Best Portable Baby Gates
FAQ for portable baby chairs buyers
1. Are the legs of all the high baby chair adjustable?
Well, not every single high baby chair has foldable and adjustable legs, but most of them do. It is made for better convenience – so you could always adjust the height of the chair – as your baby grows.
2. Can one chair be suitable for different ages? 
Absolutely. To make sure, you should always read the annotation – sometimes the producers mark the definite age, sometimes they put a weight limit. But normally you can set your child down to a chair starting from 5 months and up to 4 years.
3. Are the pads on these high baby chair washable? 
In most cases, yes. Nowadays the producers of baby chairs take into consideration the easiness of making the seat dirty and that's why they always highlight it in the description that the materials of pads and cushions are washable (or even can be cleaned with a napkin).