Some people mistake baby bouncers for baby strollers, and that is totally wrong, at least because the first one doesn't have wheels. It serves a little bit different purpose – to rock down your baby to sleep or just to entertain him/her. Some models include toys in their design, others don't.
You will be surprised, but baby bounces can differ significantly in shape and price – some look quite casual and others remind of a spaceship. However, while choosing one, don't forget to pay attention not only to the design but also to the materials, that the bouncer is made of – it is crucial for the child's health. In addition to portable baby bouncers, you may need a portable play yard to make your baby always happy.
The best portable baby bouncer by far
Our Top Pick

Summer Infant 2-in-1 Baby Bouncer and Rocker

Along with the great design, this item is multi-functional, offering the wide range of entertainment possibilities for a baby

See Best Price
Other great portable baby bouncers
| Item | Dimensions | Weight | Age | Material | |
| --- | --- | --- | --- | --- | --- |
| ComfyBumpy Ergonomic Baby Bouncer Seat | 21.6 x 15.7 x 26.4 inches | 5.49 pounds | Infant to toddler | polyester mesh | See Best Price |
| Fisher-Price Baby's Bouncer Geo Meadow | 18.90 x 24.02 x 20.08 inches | 4.84 pounds | 0+ months | machine-washable fabric | See Best Price |
| Fisher-Price Infant-to-Toddler Rocker | 24.13 x 5.25 x 13.00 inches | 6.80 lbs | From birth until child weighs 40 lb | Machine-washable fabric | See Best Price |
| RONBEI Baby Swing Bouncer | 24.2 x 18.5 x 6.6 inches | 11.18 pounds | 0- 6 months toddlers | Fabric | See Best Price |
| KidCo TR5001 BouncePod Portable Baby Seat Midnight | 16.00 x 26.50 x 19.50 inches | 3.00 lbs | Not Specified | Machine washable fabric | See Best Price |
| Fisher-Price Snugapuppy Deluxe Bouncer | 23.03 x 25.98 x 25.98 inches | 7.78 pounds | Not Specified | Not Specified | See Best Price |
| Baby Trend EZ Bouncer, Bluebell | 24.33 x 18.11 x 22.05 inches | 5.49 lbs | 0-4 months | Soft cozy fabrics | See Best Price |
| Graco DuetConnect LX Baby Swing and Bouncer | 33.00 x 34.00 x 43.00 inches | 21.8 pounds | 1+ months | Premium fabrics | See Best Price |
| BabyBjörn Bouncer Bliss | 31.00 x 15.50 x 22.00 inches | 5.07 lbs | 0-24 months | Machine washable fabric | See Best Price |
| WANGTAO Multifunction Baby Bouncer | 33.40 x 20.40 x 27.50 inches | 7.72 lbs | 0–18 months | Airy mesh fabric | See Best Price |
| Fisher-Price Fun 'n Fold Bouncer | 21.26 x 25.20 x 22.05 inches | 7.57 pounds | 0-5M | Colorful, machine-washable seat pad | See Best Price |
| Fisher-Price Deluxe Bouncer | 27.17 x 22.50 x 33.07 inches | 5 pounds | 0-5 months | Fabric | See Best Price |
| Graco Pack 'n Play Quick Connect Playard with Portable Bouncer | 30.39 x 15.83 x 13.86 inches | 35 pounds | Babies up to 30 lb | Wipe-clean fabrics | See Best Price |
| JINGANREN Baby Swings for Infants | 35.43 x 14.17 x 21.26 inches | 5.04 pounds | 0-3 years | Synthetic, Polyester, Cotton | See Best Price |
You may also like: Best Portable Baby Loungers
1. ComfyBumpy Ergonomic Baby Bouncer Seat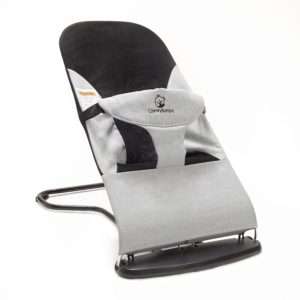 This ergonomic and portable rocker chair with a sleeper bouncy seat is perfect for newborn babies and travel. It has a unique design is great for development by encouraging kicking legs and arms to move to make the rocker bounce up and down. What is more, it will keep your little one comfortable and entertained by giving more free time for you as a parent.
The baby is secured and supported with the strap and essential head and back support, this allows a parent to peacefully do the chores, work, or have self-time. There are three adjustable height positions for babies and toddlers. For better convenience, put this bouncer into the highest position that is great for playing, medium position for rest, and the lowest position for sleep.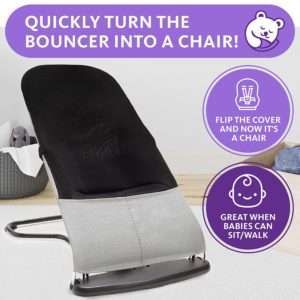 It has a possibility to adjust to a flat position, lightweight structure (around 4 pounds), portable size (15 x 35 x 4 inches), and bonus travel carry case allow easy transport. ComfyBumpy offers comfort with convenience making a breathable and machine washable seat cover made from polyester mesh.
It is gentle on sensitive baby skin and keeps the seat cool to calm the baby. The bouncer can be converted into a chair by reversing the seat as your child grows to sit or stand on their own, therefore allowing the product to be used from newborn to toddler age with a maximum weight of 29 pounds.
The minimalist and sleek design with simple and clean colors will make this baby bouncer fit perfectly into any home interior.
2. Fisher-Price Baby's Bouncer
The double mode baby bouncer allows it to soothe and entertain the baby by bouncing or switch to calming vibrations by a press of a button. In addition to the set mode, the seat will respond to the baby's motions by gentle bouncing.
It includes a removable overhead toy bar with lion and zebra spinners and monkey with rollerball will motivate body movement such as reach and grasp that in turn develop gross motor skills while bright colors, patterns, and fun toys will grab attention and stimulate sight and touch senses.
A soft padded and machine washable fabric will help to keep the seat clean and fresh. The seat can be adjusted to different positions to allow sleeping, resting, or playing and has a three-point harness for safe use, however, the maximum weight recommendation for use is 20 pounds.
The product comes in three styles: geo meadow and pink ellipse for bright colors or arrow dynamic for a more monochromatic look. To experience full functionality and calming vibrations mode, one D battery is required that will last for 90 hours.
The size of the product (18.9 x 24.02 x 20.08 inches) and its lightweight design (4.84 pounds) allows it to be easily lifted and moved around.
3. Fisher-Price Portable Baby Seat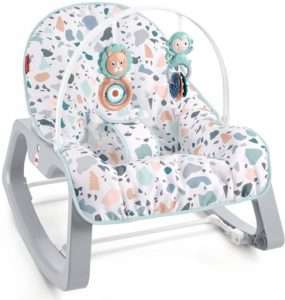 Fisher-Price baby seat and rocking chair offer a maximum lifetime of a product by maximum weight allowance of up to 40 pounds (baby bouncers have a standard of 20 pounds of maximum baby weight). The calming vibrations mode will soothe your baby, while fold-out kickstand can be used for stationary seating.
An adjustable recline allows setting the most comfortable position. With Fisher-Price, development comes into play: the removable overhead toys and rocking response to baby movement strengthen the important gross motor skills. The machine-washable seat pad adds convenience to the product.
A comfortable seat and secure harness will make sure the baby is safe and stable while playing or sleeping. The product dimensions (24.13 x 5.25 x 13 inches) make the baby bouncer take minimum room space, while 4 different styles and colors allow choosing the one that fits into the home design.
4. Summer Infant 2-in-1 Baby Bouncer and Rocker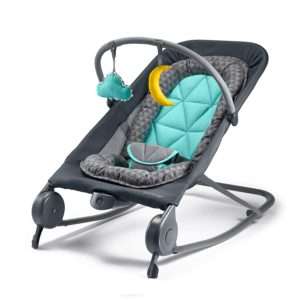 The Summer Bouncer and Rocker duo allow to easily switch between the two modes depending on the baby preferences, while soothing vibrations calm babies aged 0 to 6 months. This solves the need to choose between a rocker or a bouncer.
For the bouncer mode, adjust the incline and the four feet outwards and turn all four feet into a rocking position. Extra comfort and support are reached by removable and machine washable padded inserts. By the way, the vibration unit requires one C battery and offers a 15-minute auto-shot off for power economy.
The summer 2 in 1 Bouncer and Rocker can be used for newborns and until they can sit up or reach 20 pounds depending on whichever comes first. The flat foldable design and 5.55 pounds weight is great for storage and travel while having slightly larger dimensions than other baby bouncers (30.71 x 6.3 x 16.73 inches).
5. RONBEI Baby Swing Bouncer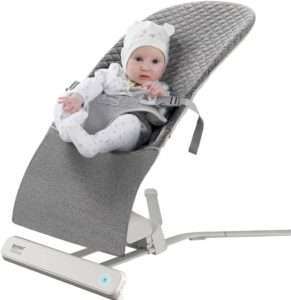 The newest version of the product offers a combination of swinger and bouncer having the functionality of both features, therefore being a great economy.
The best quality is in the core of RONBEI: the baby swing bouncers have been officially certified by ASTM and CPSC and meet US safety standards by having reinforced material and stronger frames making it safe to use for infants.
The item has an ergonomic design with two recline modes deliver multiple functions: correct distribution of baby's weight, provide head and back support, and lead to newborn spinal development and sitting exercise which is very important for the overall development of a child.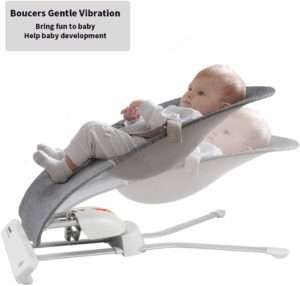 The seat provides all-round support by its ability to mold and fit the baby's body and weight. Natural bouncing from baby's rocking encourages more movement which in turn stimulates balance and gross motor skills.
What is more, the newest Smart-swing technology allows automatic gentle side-to-side swings mimicking mom's natural motion to calm the baby down. The two-speed swinging function allows you to select the right speed for your baby and free up your hands.
Another feature that defines RONBEI baby swing bouncer from other alternatives is the built-in eight melodies and three natural sounds which are volume-controllable. The wireless remote control allows switching music, timer/motion detector.
An 11.18-pound swing bouncer has a portable size of 24.2 x 18.5 x 6.6 inches for travel or outdoor activity, while the removable fabric seat is machine-washable.
You may also like: Best Portable Baby Activity Centers
6. KidCo Portable BouncePod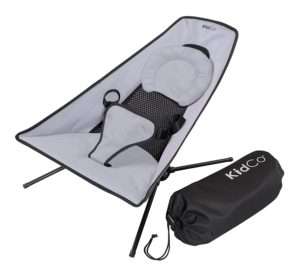 The KidCo Bounce Pod is the first lightweight portable travel bouncer that easily sets up making it a must-have. This compact and lightweight (3 pounds) portable KidCo Travel bounce pod is successful for its ease of use and small size (16 x 26.5 x 19.5 inches).
Soft and adjustable headrest and easy to regulate harness allow to comfort kid's age and body form. A netted seat for great airflow will keep your baby fresh, cool, and calm. A machine-washable fabric adds convenience to the user. Just fold it into an included carry bag and enjoy it outdoors or on the go.
7. Fisher-Price Snugapuppy Deluxe Bouncer
The deep and extra cushy seat, soft headrest, and a plush newborn insert will support your little one in their most vulnerable times. With Fisher-Price Deluxe Bouncer, comfort is guaranteed while they bounce, play, or rest. Adjustable three-point restraint will make sure the bouncer fits perfectly to the baby's size and weight.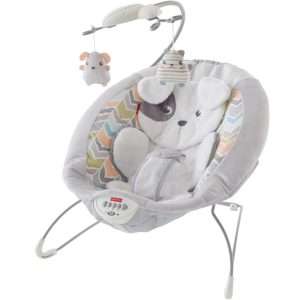 Here you will find a removable mobile with adorable puppy and kitty toys that make the playtime interactive and fun. Other than entertaining your baby, the toys stimulate the sensory by encouraging eye tracking and captivating the eyes upon the mobile. This in turn greatly develops visual skills.
As playtime finishes and the baby becomes more restless, calming vibrations and more than twenty minutes of soft music and sounds soothe the baby in their extra soft seat. It will perfectly fit babies weighing less than 20 pounds as this is the recommended maximum by the manufacturer.
Despite the size (23.03 x 25.98 x 25.98 inches) and weight of the product (7.78 pounds), the laconic design and non-skid feet make it easy to move around the house and suitable for travel. For the full functionality of the bouncer, three C batteries are required.
8. Baby Trend EZ Bounce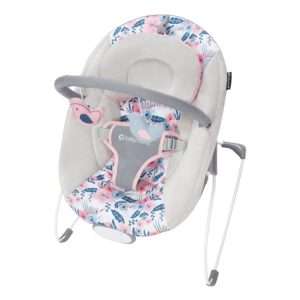 Baby Trend EZ Bouncer with two removable hanging toys to reach, grasp, and bat enhances eye-hand coordination of your baby. While bouncing encourages muscle development and self-orientation in space. A cushy seat made of soft fabric with a three-point safety harness will ensure comfortable and secure playtime and rest.
A reversible head pillow can be adjusted to fit the size and posture or removed as the baby grows. The product is recommended for children up to 20 pounds. Five melodies and three volume-controlled soothing sounds together with calming vibrations will create a peaceful environment that will keep your baby soothed while seated.
The music box and vibration mode require two C batteries that are not included in the package. Portable item weight and dimensions (5.49 pounds, 24.33 x 18.11 x 22.05 inches) make this baby bouncer suitable for travel or outdoor activities.
9. Graco DuetConnect LX Baby Swing and Bouncer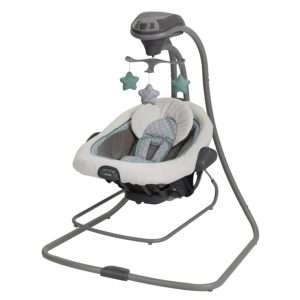 The LX swing and bouncer have a removable swing seat which can be transformed into a bouncer by easily detaching the seat from the outer swing frame. Six available swing speeds help to find the right place to soothe your baby.
Extra features such as ten classical melodies and 5 nature sound together with mobile toys will keep your baby entertained while soothing two-speed soothing vibration will keep the baby relaxed.
This compact portable bouncer allows the baby to be moved from room to room without the need to move the whole construction. A roomy seat, infant head support, and two recline positions will make it possible to suit the DuetConnect under the baby. It also includes the five-point harness and soft fabric covers will keep the baby comfortable and safe.
The recommended maximum weight is 30 pounds, while the item itself weighs 21.8 pounds and takes 33 x 34 x 43 inches of space. There are two power options: batteries for when it is used away from a convenient power source (five D batteries) or the wall outlet through the chord and plug.
You may also like: Best Portable Baby Chairs
10. BabyBjörn Bouncer Bliss
Natural bouncing with no batteries, charges, or plugs is great to develop balance and motor skills for babies from 0 to 2 years and up to 29 pounds of weight. It will quickly teach babies to make the bouncer rock by their own motions.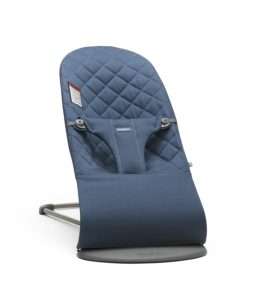 BabyBjörn Bouncer is created with pediatricians and is a JPMA Certified Product that assures this product gives the required support to the baby's neck and back due to its ergonomic and safety guided design which is important as baby's muscles are not fully developed yet.
There are three positions to suit rest and playtime and a complete flat-folding for storage or transport. It is lightweight (5.07 pounds) and portable for use between rooms or travel.
The Bouncer Bliss is available in multiple colors but all of them will be an attractive piece with a luxurious feel due to its soft impression and a monotone fabric seat.
The fabrics used for the seat cover are certified according to Osko-Tex Standart 100, Class I for baby products. The bouncer can later be transformed into a chair and the seat cover can be machine washed therefore being a great economy.
11. WANGTAO Multifunction Baby Bouncer
Here we have the gentle rocking of the cradle is similar to the soothing motion of the stroller which can be rocked by hand or leave it to the baby's own movements. The ergonomic bouncer encourages leg movement and kicking to bounce.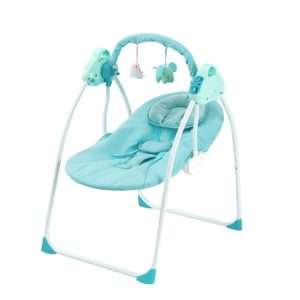 The baby bouncer can be set to a swing mode that has adjustable three-speed frequencies, remote and panel control, and a timing function from 15 to 40 minutes. A removable toy set, preset music, and sounds will keep the baby feeling safe and entertained throughout the day. Safety comes first in all WANGTAO products.
The multifunction baby bouncer has a safe fixed belt that prevents the baby from climbing, sturdy non-slip feet to keep the friction between the bouncer legs and the ground during movement.
The removable cradle cover is made of soft fabric to protect the baby's skin, while the included pillow corrects the diminishing flat head to ensure the correct shape of the head. It is easy to fold up for storage (takes twelve inches in height) or travel due to its compact design and weight (7.7 pounds).
The soft mesh fabric keeps the seat cool, breathable, and comfortable for sleep or playtime therefore soothing the baby, while the machine-washable mattress makes the bouncer easy to clean.
The maximum recommended weight for this bouncer is 40 pounds which is twice as much as most of the alternative bouncers. The product includes a breathable mosquito net to allow a good sleep outdoors.
12. Fisher-Price Fun 'n Fold Bouncer
This 2 in 1 soother and the entertaining seat has a range of colorful lights and joyful sounds. An adjustable three-point harness makes the seat suitable for your baby and a machine-washable seat pad gives an additional convenience in use.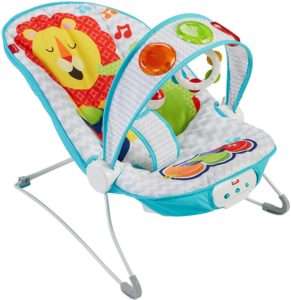 The kick 'n play musical bouncer with 2 musical settings and volume control offer a choice of sounds and songs: the short play with the lights allow your baby to play a note with a gentle kick of a key while the long play plays about 15 minutes of music together with lights that dance along to the beat.
The removable toy bar has two bat-at band toys making bouncing fun, stimulating eye-tracking, and developing visual and auditory skills of a baby together with bright colors, music, and overhead lights.
Bouncing, kicking, and reaching the toys encourage important gross motor skills while playing. Calming vibrations help soothe and relax the baby to rest. The kick and play feature and soothing vibrations mode require C batteries that would last for up to twenty hours.
13. Graco Pack 'n Play Quick Connect Playard with Portable Bouncer
The Graco Pack 'n Play offers a quick connect technology that makes portability easier and allows multiple ways to use as a portable bouncer, cozy infant bassinet, large diaper changer, and full-sized toddler playard. It is possible by removing features from the playard.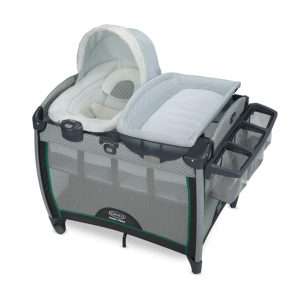 The portable bouncer can be easily removed from the playard and kept by your side to feature soothing vibrations, head support, and plush fabrics for baby's comfort. And the infant bassinet is a comfortable rest place for the baby.
The change of the table is another feature that can be easily transformed into a large changing station with integrated storage that keeps the baby's essentials. As your baby grows, the bassinet can be converted into a spacious and safe play yard.
Additional features include built-in storage to keep baby's essentials neat and organized; wipe-clean fabrics that make clean up fast and easy; foldable playard and compact storage in an included convenient carry bag storage or travel.
Despite its big dimensions (30.39 x 15.83 x 13.86 inches) and 35 pounds of weight, the maximum weight recommendation is 25 pounds for the playard and 30 pounds for the changing stations in comparison to the standard 20 pounds for other baby bouncers.
14. Fisher-Price See & Soothe Deluxe Bouncer
The See & Soothe bouncer is made for convenience and comfort. The foot pedal allows parents to give babies a soothing bounce while having hands free. An elevated position of the seat makes it easier to place the babies into the seat or pick them up in comparison to other infant seats.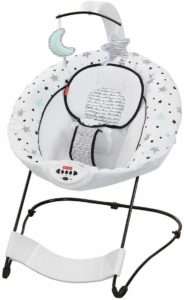 The deep Papasan-style seat and calming vibrations mood will soothe up the baby when it is time to rest. However, when it is playtime, an overhead mobile with two hanging toys (soft moon and star) deluxe bouncer and over twenty minutes of volume-controlled music and sounds will keep them entertained.
While the music and nature sound work on children's auditory skills, the two soft toys with high contract patterns help the baby to develop tactile and visual skills.
The plush seat pad and head support make this bouncer comfortable and secure for babies up to twenty pounds of weight, while machine washable fabrics are an additional point for convenience.
In order for the music box and an overhead mobile to work, three C batteries are required. Although the Deluxe Bouncer has bigger dimensions than other alternatives (27.17 x 22.5 x 33.07 inches), the product weight makes it extra portable and easy to move around the house.
You may also like: Best Portable Baby Cribs
15. JINGANREN Ergonomic Baby Bouncer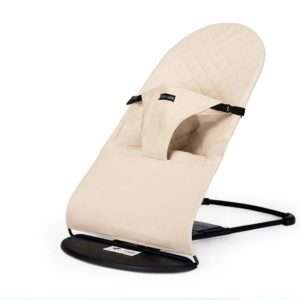 JINGANREN baby bouncer offers a creative feature that allows a multifunctional use of the product. Other than a bouncer, it can be transformed into swings or a sleeper bouncy seat for infants and a portable rocker chair with a height regulator.
Each of the four positions is great both for rest and play while it can be easily folded completely flat for storage or transport. Moreover, the compact design and weight allow it to be moved from room to room to keep baby nearby, weighs less than six pounds.
The natural bouncing effect (no batteries, charging, or plugs) helps to encourage the baby's balance and motor skills. The breathable seat made of cotton is gentle on sensitive skin and can be machine washed as needed.
FAQ for baby bouncer buyers
1. Is the toy bar encouraged on the baby bouncers?
The toy bar is not common on baby bouncers, however, they help to develop visual senses and encourage extra baby movement (grasping, reaching, batting) that in turn encourages gross motor skills.
2. What is the standard maximum weight recommendation for a baby bouncer?
Most of the manufacturers recommend the bouncer to be used by babies weighing up to 20 pounds. However, it depends on the manufacturer and the product.
3. Is it better to have a rocker or swing as an added feature to the bouncer?
Both mimic natural mother motion and soothes baby, however swinging is perceived as a better option due to its double use as an entertainer and soother, while rocker mostly calms the baby down.
4. What is the minimum recommended age of a baby for bouncer use?
Most of the bouncers are allowed to be used for newborn babies and infants. There might be weight recommendations that don't recognize with the age of a baby. However, most bouncers have head support, three to five-point harnesses, and extra soft seat covers that make them suitable for even newborn babies.