Lying in a comfortable recliner in the fresh air surrounded by trees and listening to birds singing is a real pleasure. You can put up a tent and close yourself off from the outside world, but it does not give you the same pleasure. A great solution for you would be a hammock.
This review of the best portable hammocks with a stand to use presents options that you can take with you on a hike and enjoy the comfort even outside your home.
Create your perfect holidays on hammocks with these best portable outdoor screens for any budget.
Our Top Picks:
Tranquillo Double Hammock


Made of Powder Electro Static Coated Steel

High Weight Capacity

2-Layered Polyester Breathable

See Best Price

Lavish Home 80-OUTHAM




Aluminum Frame

Comfy Canvas

Includes Carrying Case

See Best Price

ANOW Portable Hammock




Handcrafted Ropes

Hardwood Spreader Bar

Two Person Hammock

See Best Price
1. Tranquillo Double Hammock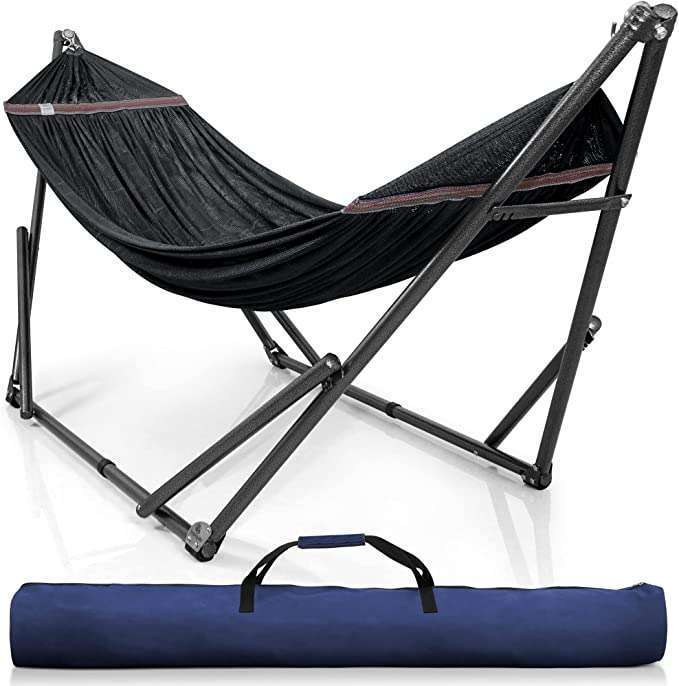 This hammock stand is made of steel. Rubber feet stabilize the structure and provide a carefree family vacation.
The ball bearing allows you to swing on the hammock and relax completely. It can be installed at any width and height on various surfaces – it will be stable in any case.
The two-layer net of the hammock is made of breathable material. Two people can fit on it at once.
The sewn-in support materials seem to take the shape of the body, which gives the net stability.
Steel construction is not heavy and easy to transport. Includes a special carrying case. Everything you need for quick assembly and operation will already be in hand.
You may also like: 6 Best Portable Couches (Comparison & Reviews)
2. Lavish Home 80-OUTHAM-Gry Portable Hammock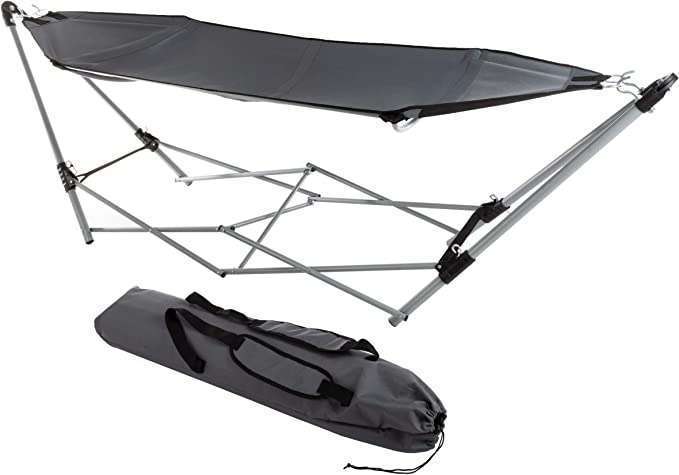 This is a compact portable hammock that easily fits even in a backpack. It does not require support in the form of trees for installation. Relaxing in nature, by the pool, or at the cottage – all together with a hammock.
The highlight is the aluminum frame. It's durable, sturdy, and won't rust. It can be assembled in a few minutes.
The hammock fabric is made of natural cotton, additionally shed in the rubbing areas.
The material is breathable, resilient, and pleasant to the skin. It is fastened with loops. Includes a carrying bag to take the hammock to the woods, camping, and the beach. The gray background is unobtrusive and tolerant of dirt.
3. ANOW Portable Hammock with 12FT Steel Stand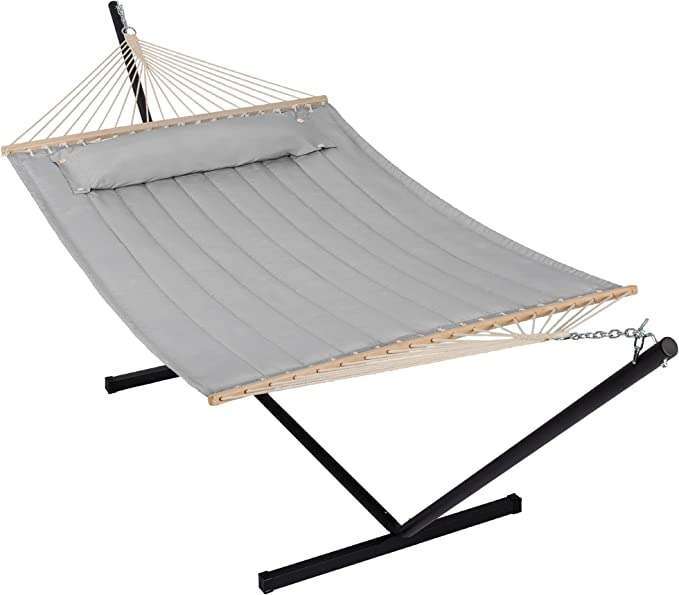 This is a compact portable hammock for outdoor recreation. The two-layer fabric is durable, breathable, and lined. Color will remain rich even after long use.
The polyethylene padding will give a feeling of airiness. Installation and operation of the hammock will not cause new problems.
The ropes on which it is held up are handmade. They are made of cotton thread. The ropes not only look aesthetically pleasing but also provide safety.
The crossbar made of hardwood is responsible for the stability of the entire structure. It has small holes that reduce friction.
The hammock is designed for two people. The owner will have a pleasant rest with family or friends. The stand is made of steel. It is resistant to rust and weather. The construction is assembled in a few minutes. Perfect for a holiday at the cottage, the sea, or near the pool.
4. Hammock with Stand Double Hammock Chair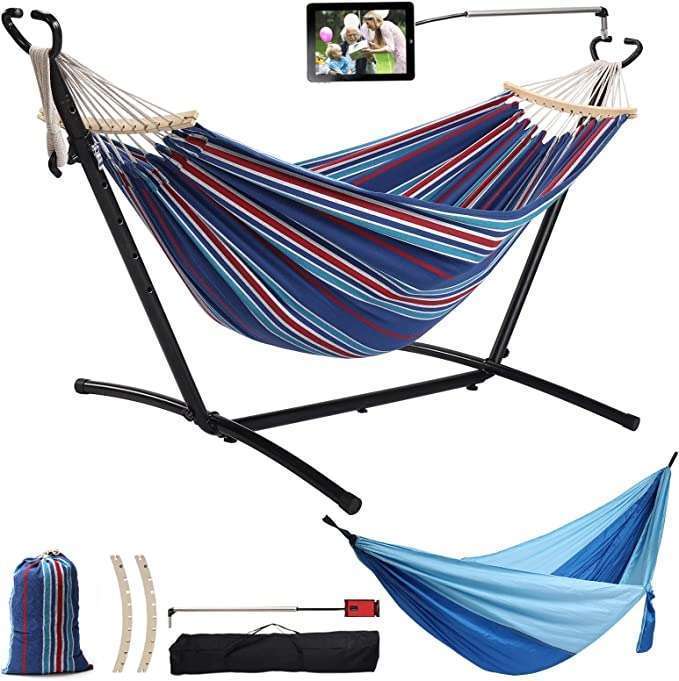 This portable hammock is designed for relaxation and rest. The design is not only exquisite but also safe. The hooks are carefully secured to prevent injuries, including those of children.
The clever design even has a gadget stand to keep your hands free. It rotates in a circle and is suitable for relaxing with a large group while watching a movie.
It's the perfect combination for lounging by the pool, reading in nature, or camping romance.
The base of the structure is made of stainless steel. This material is not afraid of external influences. The top is sprayed with a special crumb, which will not allow rusting.
The hammock will serve for many years. Its installation is as simple as operation. You only need to assemble five metal pipes – even a child under the supervision of an adult can cope.
Holes serve as height regulators. It is possible to attach extra poles against accidental overturn. Includes carrying case. The hammock is lightweight and easy to transport.
You may also like: 13 Best Portable Sun Shades (Under $50, $100, $200)
5. Homgava Two Person Hammock with Stand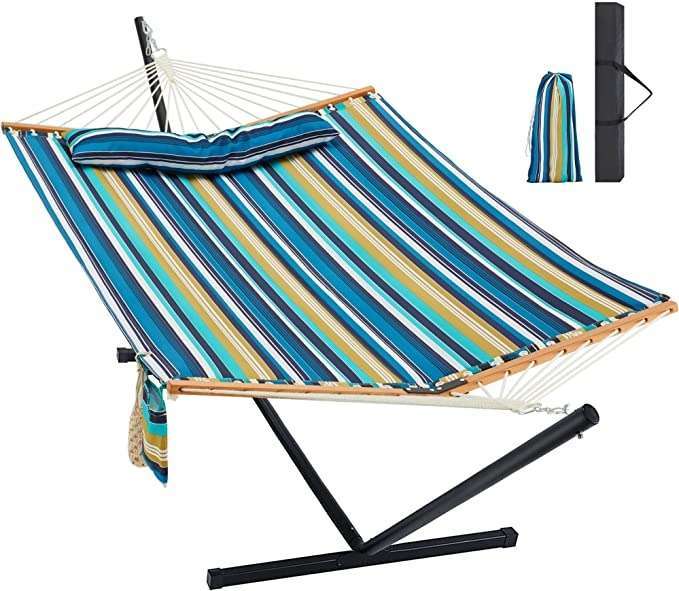 Now we go to the portable hammock of excellent quality. The support is made of stainless steel. The ropes that fasten the fabric are hand woven. The double-layered filled fabric will provide maximum comfort.
The crossbars are angled so that the weight is distributed evenly. This gives extra strength to the support. Special holes prevent friction.
The hammock is not difficult to install. It is only necessary to fix a few tubes between each other. Assembly and disassembly of the construction take five minutes. Transportation is just as easy and convenient.
The hammock accommodates two people. It is designed for relaxing by the pool, reading in nature, meditation, and camping conditions. There is an extra stand for gadgets and books. All conditions are created for quality rest.
6. SUNCREAT Two Person Hammock with Stand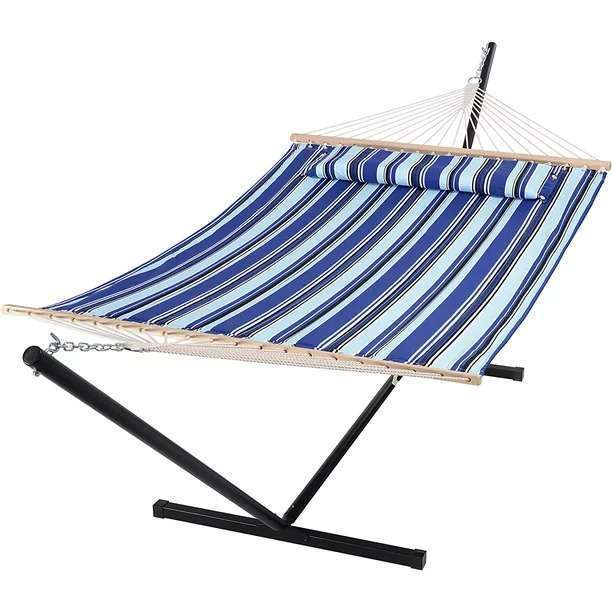 Pay attention to this comfortable and compact hammock for relaxing in nature. The two-layer fabric contains durable pigment and won't fade for years to come. Includes a polyethylene-padded head pillow. It will allow your head to rest.
The height of the headboard is easily adjustable, just move the hook to the hole below or above. The hardwood crossbar is not only sturdy, but it also looks stylish.
The hammock is securely fastened to it, which prevents falls and overturns. Special holes are needed so there is no friction.
Ropes are woven by hand from strong cotton thread according to the technology of experienced needlewomen. One pattern contains twenty ropes. It is secured by a metal ring.
The size of hammock is large enough to fit a family or group of friends. The construction is made of stainless steel. This gives it strength and durability. It is easy to assemble and disassemble and weighs little, which is convenient for traveling.
You may also like: 7 Best Portable PA Systems with Wireless Microphones (Under $200, $400, $500)
7. Sunnydaze Cotton Rope Freestanding Hammock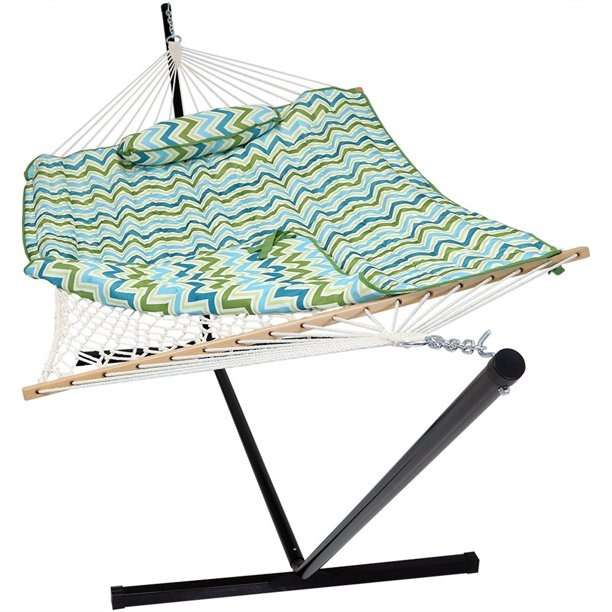 The hammock is an essential element for outdoor recreation. The base is made of rust-resistant steel. This gives it durability.
The kit has all the parts you need to assemble, chains for hanging, and detailed instructions for use. Comfort is ensured by two pillows with filler.
The threads are woven from durable cotton fabric. To assemble the hammock is as easy as taking it apart. It will take a few minutes. To assemble it you will need hanging chains and fixing rings.
You can avoid wasting time, and enjoy relaxing in the hammock as soon as you arrive.
The fabric is made of durable acrylic fabric that is resistant to the vagaries of the weather. It is impregnated with a solution that retains the paint and keeps it from washing out. There is extra stitching on the inside. The warranty is one year.
How do you set up a portable hammock with stand?
Setting up a portable hammock with stand is relatively simple and can be done in a few steps:
Place the hammock stand on level ground, facing in the direction you want to relax in.
Secure the base to the ground using stakes or other items if necessary.
Assemble the spreader bars at each end of the hammock and attach them to the stand.
Attach the hooks of your hammock to each of the spreader bars.
Carefully enter your hammock and make any adjustments needed for comfort.
Can you hang a hammock without straps?
Yes, you can hang a hammock without straps. To do this, you need to find two sturdy points that are the same height and distance apart as the length of your hammock. With these points in place, loop the rope around each one and tie a knot to secure it. Finally, attach the carabiner (or other item) on one side of the rope to the loop at one end of your hammock, then attach the other end in the same way on the other side. In our case you may just use stands that are bundled to hammocks above.
Are hammocks healthier than beds?
The jury is still out on this. Studies have shown that sleeping in a hammocks can reduce pain, improve blood flow, and even help people with insomnia fall asleep faster than when sleeping in a bed. Additionally, the rocking motion of a hammock has been shown to alleviate stress and anxiety more effectively than other types of beds. Ultimately, it's up to the individual to decide which type of sleep setup best suits their needs.