Choosing a swimming pool portable heater is an important consideration for any pool or portable hot tub owner to think about. That's because a pool heater can not only really extend the swimming season but can make the swimming environment even during warmer months. Buying one of these heaters will prevent you from having to close down your pool too early at the end of summer and may even allow the pool owner to open it earlier in the late spring. In this review, we have collected for you the best swimming pool portable heaters, which have excellent features and positive customer feedback.
The best option:
Our Top Pick

EcoSmart SMART POOL 

This model operates by utilizing the latest flow sensor technology instead of the traditional pressure switch activation to reduce the risk of burned elements.

See Best Price
The list of the other excellent swimming pool portable heaters with a comparison of the main characteristics:
| Item | Dimensions | Weight | Material | Power Source | |
| --- | --- | --- | --- | --- | --- |
| EcoSmart SMART POOL | 6 x 14 x 17 inches | 24.2 pounds | steel | electric | See Best Price |
| FibroPool FH 220 Heater | 35.2 x 21.2 x 13.33 inches | 77.8 pounds | steel | electric | See Best Price |
| SmartPool SunHeater | 288 x 1.5 x 24 inches | 10 pounds | polypropylene | solar | See Best Price |
| Fafco Solar Bear System | 55 x 15 x 15 inches | 40 pounds | rubber | solar | See Best Price |
| Kokido Keops Solar Dome | 23.23 x 23.23 x 11.3 inches | 14.39 pounds | stainless steel | solar | See Best Price |
| Blue Wave NE6171B | 24 x 11 x 9 inches | 23 pounds | plastic | electric | See Best Price |
| Hayward FDXLBKP1930 | 41 x 30 x 33 inches | 17 pounds | plastic | electric | See Best Price |
You may also like: Best Portable Water Pumps
EcoSmart SMART POOL 27 Electric Tankless Pool Heater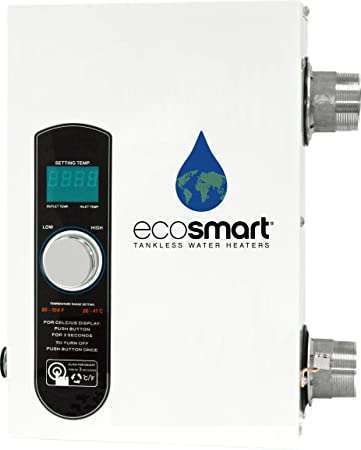 This water heater is an ideal one for indoor use. The compact shape enables you to hang it either on the wall of a bathroom or near a water sink. It meets your needs on small apartment use or for some point of use applications.
Small shape as it is, it still supports two bathrooms use at the same time, but only in warm regions, of course. There is no need to waste much water and money waiting for hot water; it takes only around 10 seconds.
Try to switch the button when you need to adjust the water temperature. Through the LED control panel, you can read actual water temperature and adjust it in a 1-degree increment.
Thanks to self-modulating technology, which is the most advanced skills in the heater's market now, ECO 11 boosts its energy efficiency to be 98%. It adjusts needed energy based on your routine water use, to ensure less energy is wasted.
FibroPool FH 220 Swimming Pool Heater
As far as full-size pool heaters go, FibroPool's FH 200 is both lightweight and powerful.
It has a 20,000 BTU per hour heating capacity and can serve pools up to 7,500 gallons. Yet it weighs under 100 pounds, which helps ease the installation process.
Quiet operation is another highlight that we appreciate. Besides, the fact that the heater automatically shuts off when your pump powers down. We don't necessarily appreciate the marketing toward spas. FibroPool says it's suitable for all hot tubs—as the largest temperature setting is 99 degrees.
But, the heater delivers enough warmth for standard pools to keep operating through many seasons. And, it has a 'best in class' COP rating—a measure of performance and cost savings.
You may also like: Best Portable Electric Heaters
SmartPool SunHeater-Solar Heating System
Capping off our list of bets above ground swimming pool heaters is the SmartPool SunHeater Solar Heating System.
This solar heating unit functions similarly to the Fafsco solar collector.
You can install the solar collectors on the ground, a rack, or a roof and operate by circulating water through the heat collectors.
Past customers love this solar heating system. Most note being pleased about the ability to continue swimming on and into the chillier days of the season.
Fafco Solar Bear Economy Heating System
This economical solar heating system for above ground pools is an inexpensive and easy way to heat an above ground pool.
It comes with a 4-foot by a 20-foot solar collector, two 6-foot long 1.5-inch diameter hoses, a bypass valve, and all of the hardware needed to set it up.
When tilted at a 10 to 30-degree angle to the South, this unit performs operates at full efficiency.
You can install this unit on a roof that's close to the pool, on the ground, or on a rack—depending upon the user's needs. With proper installation and care, this heating unit should provide the user with years of service as well.
You may also like: Portable Indoor Propane Heaters
Kokido Keops Solar Dome Above Ground Swimming Pool Water Heater
This pool heater uses the power of the sun to heat up to 8000 gallons of pool water without having to use unsightly looking solar panels.
It's easy to install and set up and once it is installed, users can expect the temperature of the pool to warm approximately five degrees within an eight-day period of time, depending on how much water is in the pool.
This unit doesn't need any gas or electrical connections and is compact to save space.
It's the greenway to heat your pool without having to have an expensive array of solar panels set up on your property.
Blue Wave NE6171B
The Blue Wave Replacement Pump is of durable polymer, almost the same great quality that you would see in the best heaters by Hayward and Pentair.
It's a self-priming pump that comes with a clear lid for easy access and cleaning.
While some pumps only have either vertical or horizontal discharges, that's pump has both and first most of the filter systems.
You will be amazed at how quiet this pump is. Moreover, it's one of the most affordable pumps available on the market.
Remember, if you live in California, this pump is not legal for sale in your State.
You may also like: Best Portable Dual Fuel Generators
Hayward FDXLBKP1930
This is a genuine Hayward product ideal for saltwater pool and chemical corrosion resistance.
It offers great water velocity to all tubes and can up to 18% by reducing the run time of the pump.
Just like their top of the line heaters, this replacement kit for Hayward Universal H-Series ensures low NOx emissions.
Buyers really liked how easy it is to install it. Although you might have some trouble with the rubber gasket, just a little bit of pushing around will help you get the holes aligned properly.
Remember, that this keypad is only compatible with the 28 inch IDXL2DB1930 display board.
FAQ for portable swimming pool portable heaters buyers:
Can you leave a pool heater on all night?
It is not advisable to heat your pool at night because of the time and energy it will consume. You're advised to heat your pool during the day for more efficiency, and if you can, buy a solar blanket to retain the temperature of your pool.
How long does it take to heat up a swimming pool?
Overall, a heat pump usually requires between 24 and 72 hours to heat a swimming pool by 20°F (11°C) and between 45 and 60 minutes to heat a spa by 20°F (11°C). So now you know some factors that affect your swimming pool's or spa's required heating time.
Is it better to run a pool pump at night or day?
It's always best to run the pool pump during the hottest times of the day. If you run your pump during the night when the sun has all day to attack the chlorine that's standing still in your pool. That can cause algae fast! It's a great idea to have the pump running when people are using the pool.
Are electric pool heaters good?
A properly installed and maintained electric pool heater can last twice as long as a gas heater. And, if you leave in an area that doesn't experience extremely cold temperatures, electric heaters are likely your best option.
How much heat does a swimming pool lose overnight?
A pool that is uncovered can lose up to 5 degrees F overnight; a good cover can cut that loss by half.
What is a comfortable temperature for a swimming pool?
According to The United States Water Fitness Association, water temperatures for younger children and the elderly will generally need warmer temperatures ranging from 84 to 94 degrees Fahrenheit, while a comfortable pool temperature for adults is 85 to 89 degrees.