Imagine having a portable karaoke and get a singing party started anytime. In the house, campsite, vacation home, or in a party venue. As long as you have cellular data and access to the internet, it's easy to set up your own portable karaoke party. No need for any bulky speaker or a TV.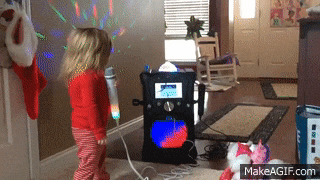 Check also: 9 Best Portable Digital Pianos (Comparison & Reviews)
Items you would need for a Portable Karaoke Setup
There are 3 main items that we need to have any karaoke setup:
a mic set
TV or monitor
speakers
For some these can be complicated to setup.
For your portable setup, you would need only 2 items:
Mobile Phone or Tablet
These days almost anyone has a smartphone or a tablet. As long as you have access to Youtube, you are good to go!
Wireless Karaoke Microphone
After portable Bluetooth speakers, this is probably the most important invention for all karaoke lovers out there. Most wireless karaoke microphones can function as both wireless microphones and portable speakers. This combines a microphone with a speaker. The sound quality may be a bit compromised but convenience and portability are its main features. This is the device to get to be able to take karaoke anywhere you go. Get the singing party started anytime and anywhere.
Check also: 7 Best Portable Audio Mixers (Comparison & Reviews)
How to set up your Portable Karaoke Mic
Most wireless karaoke microphones have 2 ways of connecting to your mobile devices such as a smartphone or a tablet.
Bluetooth Connection
Just like a typical hands-free or portable speaker, connect your mobile device to the wireless karaoke mic through Bluetooth pairing.
Wired Connection
Additionally, a wired connection can be available depending on the device you get. The Bonaok wireless karaoke microphone, for example, has an option to connect using an AUX cable (check if this is included in your device).
Once you are done with connecting the wireless karaoke mic to your mobile device when you are all set. Just go to Youtube and begin searching for songs and sing your heart away.
Check also: 7 Best Portable Digital USB Oscilloscopes (Comparison & Reviews)
Why would you need this if you have an existing karaoke setup at home?
If you already have a good quality karaoke setup at home, this portable karaoke mic and setup will be a good complement. You can either use it as an additional mic though the sound quality may not be as good compared to your home audio setup.
But more importantly, whether you are going to an off-site event, a vacation home, or simply to a friend or family relative's event, you can have the ability to do karaoke on the go and bring life to any party.