The oxy-acetylene torch is a very practical tool to have in the workshop. It will allow you to quickly and easily work with metal. You can cut, braze, or weld metal in record time with this torch. Whether you are an amateur performing a DIY job, or a professional welder, you can perform a lot of practical metalwork with the oxy-acetylene torch. If you are fresh on the market for this tool, then our best portable oxy-acetylene torch kits review below will help you find the right model for your need. By the way, you can also use a portable gun cleaning kit to keep your portable oxy-acetylene torch clean.
High-quality portable oxy-acetylene torch kits and their comparison of the main characteristics:
Item
Dimensions
Weight
Kit
Fuel

TurboTorch TDLX 2010B

15 x 15 x 30 inches

1 pound

self lighting tip, an Extreme standard tip, an ergonomic handle with quick disconnect, a tank tote

Air Fuel, Acetylene

See Best Price

Hobart Oxy-Acetylene Kit

23.5 x 17.5 x 9.5 inches

16.35 pounds

welder

acetylene fuel gas, propane

See Best Price

TRUE VALUE COMPANY KH990

26 x 14.5 x 11 inches

36 pounds

welding hose, welding goggles, torch handle, cutting attachment, oxygen regulator, acetylene regulator, cutting and welding tips, mixer, flint striker

acetylene

See Best Price

Ameriflame TI100AT

13.4 x 10 x 25.8 inches

34 pounds

safety goggles, 12.5' twin hose set, "a" connection, flint lighter, R Oxygen tank and Mc Acetylene tank, plastic carrying stand

oxygen, acetylene

See Best Price

Turbotorch 0386-0835

20 x 2 x 2 inches

3.39 pounds

gauge guards and cylinder wrench, q

uick-disconnect handles and tips, c

olor-coded "O" rings for quick gas identification

acetylene

See Best Price

Torch - Tough Cut Outfit

23.2 x 8.6 x 16.6 inches

13.25 pounds

cutting attachment, torch handle, heating head, pressure regulators, oxygen regulator, welding nozzles, cutting tips

acetylene

See Best Price
You may also like: Best Portable Air Compressors
TurboTorch 0386-0578 TDLX 2010B
If your welding or cutting job requires you to move a lot from one place to another, TurboTorch 0386-0578 TDLX 2010B Carrier Kit is just the thing you need.
It is the most convenient torch out there that can be effortlessly organized, stored, and transported to wherever you like. The pulling handle is made in a telescoping manner, and you can pull it to move around with you.
You can instantly start working on your project as this torch has an extreme self-lighting tip as well as a standard tip.
The handle is made maintaining an ergonomic design and also has a quick disconnect, giving it portable flexibility.
The problem with most of the torches is that you will have a wide range of attachments unorganized and needed to manage. Thankfully this Turbo Torch conveniently stores extra hose and tips.
Hobart 770502 Medium Duty Oxy-Acetylene Kit
Hobart 770502 is a very economic product and is generally used in lower duty works. A plasma cutter is used to do welding and cutting. Versatility is what makes the product so popular.
One oxygen regulator and one Acetylene regulator of CGA 540 and CGA510 are included with the package. The 14 lbs. product comes with Torch Handle, The durability of the handle is checked by giving Brass Forged Silver Brazing.
This torch handle is scientifically proved to be more appropriate. It can wield ½ inch within 13 minutes. The product takes safety measures by adding valves.
The product runs on acetylene fuel gas. But simple changes to the propane tips allow the operator to use propane as well. The excellent design allows cutting 6 inches deep into the metal. It is the best product in the price range it comes in.
TRUE VALUE COMPANY KH990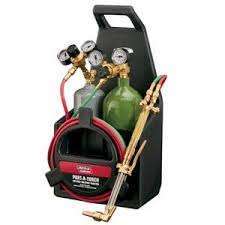 Anyone with an interest in welding will recognize the True Value name. This True Value Company KH990 Port torch kit is a great intro to oxy-acetylene welding pretty much ready to go right out of the box. All you need is to get the tanks filled/exchanged at any welding supply shop.
The portable kit includes a 12 ft welding hose, 20 cu ft. oxygen tank, 10 cu ft. acetylene tank, torch handle, cutting attachment, welding goggles, oxygen and acetylene regulators, welding and cutting tips, mixer, and flint striker.
As-is, it can cut up to 1-inch and weld up to 1/16-inch. Add larger tips and a bigger acetylene cylinder and the numbers go up to 4-inch and 1/2-inch respectively.
Compared to other all-in-one torch kits, the quality and fit/finish are top-notch. Tanks are DOT certified so you won't have any issue getting them exchanged for filled ones. The whole setup is lightweight and the nylon shoulder straps allow for easy portability.
While it may not match the performance of a full-size kit, you're also paying a fraction of the price. Out of all the "portable" oxy-acetylene kits, this is easily the model to beat.
You may also like: Best Portable Garden Hose Reels
Ameriflame TI100AT
An Ameriflame portable oxy-acetylene torch is considered to be the best for light applications. The small tanks it comes with make it especially portable as a complete unit, but they do not hold enough gas for extended use.
The connectors are standard, though, and you can easily hook the torch up to larger tanks when you need them. The hoses are tough enough to stand up to dragging them around the work area, but they are not long enough to give you much freedom of movement.
The goggles that come with the kit interfere with a clear field of vision and are too heavy for wearing more than a few minutes at a time.
The TI350T does not come with as many tips as the Campbell Hausfeld kit above, but you can add your own tips at a reasonable cost. As long as you are not hoping for a heavy-duty torch kit, you will be happy with this model.
The plastic carrying stand makes it easy to keep all of your parts together, even if you have to tote the set up a long distance to use it on location.
The tanks are shipped empty and hold 10 cf of acetylene and 20 cf of oxygen. This isn't enough for any major work but will do nicely for small jobs in confined or hard to reach areas.
Turbotorch 0386-0835
If this is your first time using an oxyacetylene torch, then the ESAB Turbo Torch is an excellent choice. It is incredibly easy to use and very beginner-friendly.
One of the best features of this product is that it is self-lightning and all you have to do to fire the torch is to press a button on the handle. Very easy.
The packaging of this torch kit is quite simple, and you do not get many accessories with this purchase. Only a fitting, a hose, and a handle with a quick disconnect feature. The quick disconnect feature on the handle is very practical.
Moreover, you can adjust the flame of this torch quite easily, and it can be used for both welding as well as cutting. What we also like about this product is that it has an excellent build construction and is quite durable and long-lasting.
Of course, since this is a simple oxyacetylene torch, it does not come with an oxygen or acetylene regulator valve. Additionally, you have to ensure that the handle is properly connected at all times, or else it may leak gas.
Despite all this, this model remains one of the best cutting torch kits that you can get, especially for beginners.
You may also like: Best Portable Grass Trimmers
Torch – Oxy-Acetylene Tough Cut Outfit
If there is one area where the Miller Electric MB55A-510 is unbeatable, then it is in its build construction quality. Indeed, based on build construction alone, this model is the best oxyacetylene torch kit that you can purchase.
It will last a long time and can easily be used as a heavy-duty torch for welding, brazing, and cutting.
Moreover, you get a complete kit with this purchase, which means that you will not have to purchase anything separately. You get a high-quality acetylene and oxygen regulator with a gauge.
But we also about this kit is that you get a superior quality welding goggle. Other manufacturers usually ship their torch gets with a subpar welding goggle just for the sake of it. Not in this case because this one is really good.
Also, you can use this torch kit for any type of activity, from cutting to welding to brazing. At the end of the day, the only problem we have with this torch kit is its high price. Other than that it is an excellent model for both beginners and intermediates.
FAQ for portable oxy-acetylene torch kits buyers:
Can I weld with a cutting torch?
Torch outfits produce heat (energy) by burning acetylene gas. By adding oxygen gas, torch outfits can produce flame temperatures of 5,620 degrees. A torch outfit is extremely versatile: this single piece of equipment creates its own portable heat source and can be used to cut, heat, weld, and braze various metals.
What are the two types of cutting torches?
It has a connection and valve for the fuel gas and a connection and valve for the oxygen, a handle for the welder to grasp, and a mixing chamber (set at an angle) where the fuel gas and oxygen mix, with a tip where the flame forms. Two basic types of torches are positive pressure type and low pressure or injector type.
What should I set my cutting torch on?
Recommended oxy/acetylene cutting tip pressures vary with size. If you have no manufacturer setting- information and are cutting less than 1 ½" thick steel, set the acetylene regulator for 10 psig, and the oxygen regulator for 40 psig.
Why does my torch keep popping?
The reason that an oxyacetylene cutting torch will pop and go out is because of a problem with the gas flow. Usually, this is either an issue with flow settings, a leak, or a blockage.
Is it safe to light a torch with a lighter?
If you don't have a striker, you could light the torch using a match or lighter. Hold it underneath the torch valve nozzle so the tip of the flame comes into contact with the gas.
Can I use propane instead of acetylene?
Propane can like acetylene to be used for cutting. Acetylene releases almost 40% of its heat in the inner flame cone. Therefore, acetylene is better for cutting than propane. While temperature-wise acetylene is hotter than propane the fact is that people are using propane for cutting incorrectly.