No one looks forward to stepping on a scale. It's a nerve-racking, vulnerable experience. But it's important for everyone to remember that weight is a volatile metric and we all fluctuate. Bodyweight scales have evolved throughout the years to offer more than just our weight—they now provide broad intel on our overall health, including more clues about our body fat percentage and muscle mass.
It's time to trade in that trusty old scale for the latest and greatest technology that your bathroom floor can offer. With our top picks for the best portable body weight scales, you can choose from a variety of features that best suit your goals and health needs. Besides, you may use a portable blood pressure monitor to look after your health properly.
This item has the best feedback:
Our Top Pick

Salter Compact Digital Bathroom Scales

This model offers a range of high design, with an innovative edge. Digital Bathroom Scales are an attractive feature to any bathroom. So you can choose the scales that coordinate best with your bathroom.

See Best Price
You may also like: Best Portable Massage Chairs For Any Budget
Salter Compact Digital Bathroom Scales
If you can't be bothered to spend a heap load of money on a bathroom scale that can remember even your mum's birthday better than you, then the Salter Compact Digital Bathroom Scales is the perfect choice for you.
This inexpensive and unobtrusive scale will do what it says on the box: measure your weight and display it on the little digital display.
It is just as easy to use the Salter Compact Digital Bathroom Scales as you'd expect: once calibrated, you can place it on the floor and measure yourself by stepping on it.
No need to press buttons or recalibrate before you use it. With the switch at the back, you can toggle the display between metric and imperial units.
Etekcity Digital Body Weight Bathroom Scale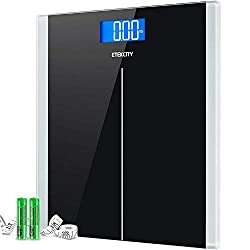 Etekcity's Digital Body Weight Bathroom Scale is a step-on scale that is capable of accurately weighing up to 400 pounds. It also includes a tape measure, making it easier to record and mark your progress as you go.
This scale uses German technology to precisely record your weight, giving you a clear indication of your weight loss progress. This scale auto-calibrates turns itself off, and lets you know when the battery is low or when too much weight is on the scale.
The quarter-inch thick tempered glass and 12 inches by 12-inch platform make this a durable product that is up to the task.
The customer support for this scale is based out of the United States and the product comes with Etekcity's 1-year warranty. Its sleek black design and attractive blue LED light look great in any bathroom.
INEVIFIT Bathroom Scale
INEVIFIT's Digital Bathroom Scale is designed to help you achieve your fitness goals faster than ever before. The tempered glass, 11.8 inch by 11.8-inch scale is robust and designed to withstand constant use.
The auto-calibration means minimal work on your end while ensuring you are always provided with accurate results. The scale also turns itself off automatically, so you get the most out of your batteries.
INEVIFIT's digital bathroom scale was designed in Southern California and is made to handle up to 400 pounds.
The company provides all of its customers with 7 day-a-week customer support, and a 5-year warranty, to make sure you are always happy with your product.
If you are serious about fitness and weight loss goals, you can't go wrong with good quality INEVIFIT scale.
iHealth Nexus Smart Digital Bathroom Scale
Wireless smart scales are a home health care assistant. They make conclusions based on measurements of the following parameters: weight, water, fat, bone, muscle, calorie intake, and body mass index.
Bioelectric pulse sensors are responsible for getting the information. They are so accurate that they have a memory and recognize the person who has stepped on the scale repeatedly.
Made of durable glass and protected by an outer frame, they will serve the health of the wearer for a long time. The corners are rounded and the base will not slide on the floor for safety.
The scales sync with your phone using an app. This allows you to create up to eight accounts to view your self-care progress.
Withings Body+ – Smart Body Composition Wi-Fi Digital Scale
The Withings Body+ scale is a great choice if you're looking to expand your knowledge of your own body. Within a sleek design, it measures weight, BMI, muscle mass, and fat percentage — and that's just, to begin with.
The scale also has a user-friendly app that can collect all information and allow you to track weight history over time (no need to plug in numbers; the scale will automatically update the app when you weigh in). It also supports up to eight users, so everyone in the family can have their own profile.
The Withings Health Mate app connects to more than 100 fitness apps, including Apple Health, Beeminder, Google Fit, Fitbit, and LoseIt. There are also several neat extra features, including a pregnancy tracker for those expecting and a baby mode for weighing the very smallest.
If you're more interested in looking shredded, you'll appreciate the water percentage tracker, which also helps you keep properly hydrated. There are even weather forecasts and daily step trackers for those preparing for a run! Plus, if you use any Alexa devices, the scale is Alexa-compatible with a skill that offers motivation, progress updates, and more.
Finally, the Withings Body+ scale has excellent battery life: Four AA batteries will last up to two years without needing a replacement.
Beurer Personal Bathroom Scale
Taking care of your health just got even easier and more streamlined. Smart scales will become a great assistant and inhabitant of the apartment.
The stylish and laconic design, silver frame, and rounded case will fit into any interior design. You can rely on the measurement results of the scales. They are extremely accurate and absorb minimal changes in weight.
Simplicity and accuracy – no unnecessary details. You step on the scale, get the result in the same second and draw your conclusions.
The device switches itself off. Further settings and auto updates are available. White backlight and wide display protect your eyesight.
EatSmart Precision Plus Digital Bathroom Scale
The Precision Plus requires frequent calibration and is made of tempered glass, which can be slippery and, according to some customer reviews, can shatter.
An EatSmart representative said that the company receives "one or two complaints of this happening" annually. "Tempered safety glass is specifically designed to cause minimal or no injuries to the users," the representative added. If your scale breaks, call EatSmart for a free replacement scale.
And, although this scale's extra-large display (4.3 inches) is backlit and weights remain on display for 10 seconds after people weigh themselves, the dim numbers are more difficult to read than the Etekcity EB9380H's numbers.
However, the Precision Plus scale is much larger than our top pick, and it maxes out at 440 pounds, far more than most scales' limits of 400 pounds. Whether you're near this weight maximum or you want to be able to weigh yourself with your luggage, capacity makes a difference.
Greater Goods Smart Scale with Wifi Connectivity
A smart scale is an indispensable assistant for health care. It can analyze the amount of muscle and bone tissue, water and fat content, and weight.
The wide display with a backlight will provide the comfort of observation. The scales work economically. They turn on when someone gets up and turn off automatically after the measurements are completed.
The platform is reliable and the legs of the scales do not slip. It is possible to synchronize the scales with a mobile app, where you can add up to eight accounts.
The device is not only rugged but also stylish. The laconic and modern design will fit into any interior. Remember that the use of smart scales is contraindicated in the presence of electrical medical implants, children's age, and pregnancy.
You may also like: Best Portable Massage Tables
Escali B180RC
This Escali Classic Glass Scale is a sleek pick for anyone looking to upgrade to a modern, no-frills digital scale.
Known for its accuracy and user-friendly capabilities, the Escali B180RC holds up to 400 pounds and measures body weight in increments of 0.2 pounds.
Offering both form and function, this round scale—measuring 12.875 x 12.875 x 0.875 inches—is made of impact-resistant tempered clear glass.
Tap-on technology provides a fast, accurate reading with a hold feature that displays results after stepping off the scale.
Automatic shut-off preserves the battery life of the lithium batteries.
Bluetooth Smart Bathroom Scales
These smart scales will be useful not only for fitness trainers. They are needed by all adherents of a healthy lifestyle.
The scales are able to calculate weight, bone, muscle, fat, water content, and body mass index. This is possible thanks to the precise operation of sensors and electrodes.
The information obtained will allow you to track the progress of training and nutrition. It is easy to monitor.
There is a mobile app for this, which is synchronized with your smartphone. Up to eight accounts can be saved there.
The scales will automatically recognize the owner of the registered profile. This is a handy tool for recording basic parameters. Readings will be taken instantly, all you have to do is stand barefoot on the scale.
The large backlit display makes it easy to see the values even in the dark. It is made of durable glass. The rugged body itself has a rounded shape and non-slip feet. Now it's quick and easy to get a comprehensive body evaluation.
Ozeri Precision Bath Scale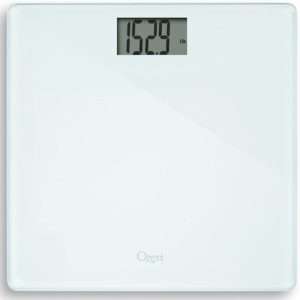 The Ozeri Precision Digital Bath Scale instantly captures precise weight measurements on a widescreen LCD display.
This newly updated, the second-generation model captures weight in increments of 0.1 pounds, with a capacity of 440 pounds. The scale is both sleek and sturdy with an oversized platform and low-step clearance of 12 x 12 x 0.75 inches.
Made from impact-resistant tempered glass, it is built to last and comes in three colors: blue, black, and white.
It includes auto-calibration technology, multiple units of measure, step-on activation, and auto shut-off features. A Tare button allows you to weigh infants, pets, or luggage without stepping off the scale.
Ozeri Rev 400 lbs (180 kg) Bathroom Scale
This scale features a mix of old school and new school with a synchronized 5.5-inch electro-mechanical dial and digital readout display.
Using 50-gram sensor technology, the scale measures weight up to 400 pounds in 0.1-pound increments.
The Ozeri Rev Bathroom Scale boasts a low-step 1-inch clearance and is made from impact-resistant tempered glass.
A built-in alarm reminds users to weigh in at the same time each day, ensuring an accurate reading that isn't affected by temporary post-meal water retention.
The scale measures 13.5 x 14 x 1 inches and weighs 3.7 pounds.
NewlineNY Lightest Step-on Super Mini Travel Bathroom Scale
This tiny, portable scale is perfect for fitness enthusiasts on the go.
With a platform of 5.5 x 8.5 x 0.5 inches and weighing only 1.25 pounds, the scale easily fits into any gym bag or purse, taking up as much space as a Kindle.
A 3.5-inch display features instant readings with a hold feature that presents results for ten seconds after you step off the scale.
The digital readout display then automatically shuts off. Results can be displayed in multiple units of measure, including pounds, kilograms, and British stones.
It can hold up to 325 pounds and measures in increments of 0.2 pounds.
My Weigh XL-550 Talking Bathroom Scale
This digital scale boasts a large, stable platform—14.7 x 12.5 x 1 inch—that holds up to 550 pounds.
Using strain gauge technology, the scale measures in increments of 0.2 pounds.
It comes with a unique talking feature—which can be disabled at any time—that'll guide you through the process and read your measurements for you.
The scale has an extra-large LCD display that makes it easy to read results, even for those with poor eyesight.
This scale is completely silent and comes with a two-year warranty.
You may also like: Best Microdermabrasion Machines 2021
Taylor Electronic Glass Talking Bathroom Scale
This scale is a standout option for anyone who has challenges with vision.
It announces the weight reading in English, Spanish, Greek, German, or Croatian—and volume is easily adjustable.
The Taylor Precision scale features an extra-sturdy, 12.2-inch square platform made of tempered glass with stainless steel accents.
This electronic scale features include instant on, auto off, and a low battery indicator
It has a capacity of 440 pounds and measures in increments of 0.2 pounds. The scale runs on 3 AAA batteries, which are included.
The large platform is made out of a thick tempered glass platform for extra safety.
FAQ for portable body weight scales buyers:
Can you measure body fat with a scale?
Body fat scales are easy to use. You simply step on the scale, and the tool measures both your body weight and your estimated fat percentage. When you step on the scale, a small electrical current runs up through your leg and across your pelvis, measuring the amount of resistance from body fat.
Why do I weigh more at the doctors than at home?
It's not a foregone conclusion that the scale at your doctor's office is more accurate than your home scale. If it seems less forgiving, the likely reason lies in inconsistency from one weigh-in to the next, rather than in the equipment itself.
Can I weigh my luggage on a body weight scale?
If you think you're going to get anywhere near your maximum baggage weight allowance – weigh your luggage before you leave home. This can be done using regular bathroom scales; simply weigh yourself, then weigh yourself again whilst holding your bag(s). The difference between the two is the weight of your luggage.
What is a good body fat percentage?
The healthy range of body fat for men is typically defined as 8-19%, while the healthy range for women is 21-33%.
Should you weigh with clothes on?
After a full day of eating, it's only natural that the number on the scale will go up. A study in the International Journal of Obesity showed that clothes can actually add up to two pounds on the scale that doesn't account for your actual body weight.
Why don't doctors use digital scales?
Physical balance beam scales do not measure weight. They measure mass. Also, most doctors were originally trained to use a mechanical scale before digital scales were common, cheap, or vaguely accurate, therefore that's what they continue to use.