Technology is being embraced and being incorporated in running practically all sectors of organizations. Data and information are two aspects that rule the technology world. With these two a server is a necessity. That is why a home server rack is required for organizing and securing the network, telecom, and storage equipment involved in the handling of data.
There are many portable server racks currently in the market with different prices and designs but consider the products below because they are well researched and will suit your needs. The review of the best portable home server racks will help you make the right choice during your purchase. Another great tool for home appliances is a portable TV stand.
This item has the best feedback:
Our Top Pick

StarTech.com 25U Open Frame

This model lets you store your servers, network and telecommunications equipment in a sturdy, adjustable depth open-frame rack. 


See Best Price
The other high-quality portable home server racks and their comparison of the main characteristics:
Item
Dimensions
Weight
Capacity
Depth

StarTech.com Open Frame

41.26 x 23.76 x 47.76 inches

43 pounds

25U

40"

See Best Price

StarTech.com Heavy Duty

10.48 x 15.62 x 10.87 inches

16.14 pounds

12U

19"

See Best Price

NavePoint Professional 2-Post

52 x 8 x 6 inches

32.8 pounds

25U

19"

See Best Price

Tripp Lite Wall Mount Rack

17.5 x 23.5 x 14.5 inches

32 pounds

6U

16.5"

See Best Price

NavePoint Deluxe

28 x 25 x 9 inches

71.2 pounds

12U

16"

See Best Price

NavePoint Open Frame

61 x 12 x 6 inches

57.5 pounds

22U

16.75"

See Best Price

StarTech.com Hinged Open Frame

25.79 x 25 x 21.57 inches

38.9 pounds

8U

22"

See Best Price

NavePoint Professional

80 x 12 x 6 inches

90 pounds

42U

32.5"


See Best Price

Tripp Lite Vertical Wall Mount

28 x 12.8 x 45.5 inches

55 pounds

5U

36"


See Best Price

Tripp Lite Wall Mount

24 x 22 x 41 inches

110 pounds

18U

20.5"


See Best Price

StarTech.com Server Rack

39.37 x 23.62 x 47.87 inches

1.65 pounds

25U

33"

 

See Best Price

Tripp Lite SR45UB

45 x 26 x 90.3 inches

307 pounds

45U

42"

 

See Best Price

StarTech.com Quiet Wood Network

30.8 x 27.8 x 25.3 inches

131.6 pounds

12U

21.5"

 

See Best Price
StarTech.com 25U Open Frame Server Rack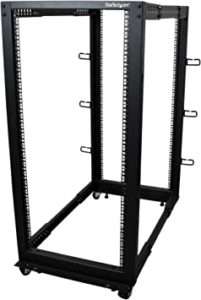 Whether it's traditional servers, network-attached storage devices, or telecommunications equipment, the Startech 25U adjustable-depth open frame server rack cabinet is ready for the challenge.
Capable of supporting up to 1,200 pounds of equipment, the Startech 25U offers a wide range of mounting depth adjustments all the way from 22 to 40 inches deep.
The four-post rack is completely customizable depending on your needs, while optional accessories such as casters, leveling feet, or cable management hooks are all included right in the box.
The open nature of the Startech 25U does mean there's no security at the rack level, so it's best utilized in an already secure area.
Ultimately, the Startech 25U not only offers great storage in a not-too-large package, but it's still within industry rack standards, so it'll fit most equipment.
You may also like: Best Portable TV Stands for Flat Screens
StarTech.com 12U Heavy Duty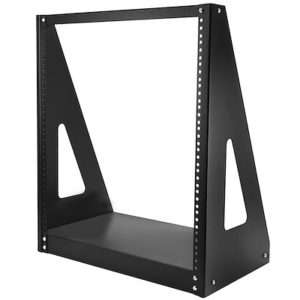 With enough storage space for network/server hardware or telecom devices, the Startech 12U heavy-duty, open-frame server rack is ideal if you're tight on space.
Capable of supporting up to 350 pounds on the rack, buyers can maximize the 12U's compatibility with industry-standard EIA-310-D compliance.
The two-post mounting solution means a small footprint.
But it's still designed and manufactured to ensure stability.
Besides, you can place it almost anywhere.
Shipping costs are reduced courtesy of a flat-packed box.
This doesn't have any impact on putting the rack together thanks to its tool-less design.
NavePoint 25U Professional 2-Post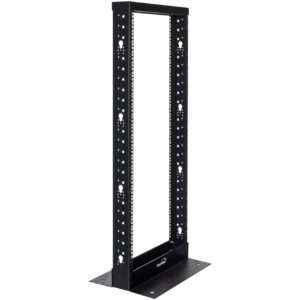 At 4.5 feet tall, the Navepoint 25U professional two-post IT open-frame server rack is an all-star floor standing rack.
Capable of supporting standard-sized 19-inch mount equipment, the 25U weighs a mid-range 20.8 pounds.
Featuring a total capacity of more than 900 pounds, the 25U is more than capable of handling lightweight, rack-mountable electronics, including routers, switches, telecom equipment, and even small servers.
Fortunately, all the cables that result from 4.5 feet of floor-standing server space are managed well with attachable cable mounts that can easily organize and keep your network cables out of the way while servers are in use.
It can be used with castors or bolted to the floor.
Tripp Lite 6U Wall Mount Rack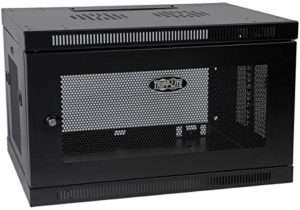 With a maximum load capacity of up to 200 pounds, the Tripp Lite 6U wall-mount server enclosure is a well-featured option.
The heavy-duty steel frame can support 19-inch equipment with perforated door and side panels that allow maximum airflow.
It's lock-friendly to prevent any unauthorized individuals from gaining access to network equipment, and the door can open left or right so it's adaptable for various room spacing.
Additionally, the Tripp Lite 6U offers extra niceties such as top and bottom cable ports for maintaining cable organization, which can quickly get out of control depending on how much equipment you have inside the 16.5-inch deep rack.
Mounting is simple and can be done with optional casters for easy transportation or it's ready for wall-mounting right out of the box.
NavePoint 12U Deluxe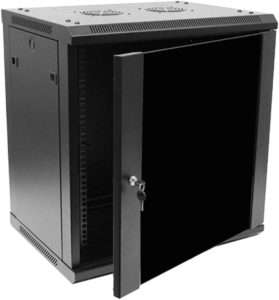 Weighing a hefty 71.2 pounds, the durable and solid Navepoint 12U deluxe IT server network rack is a great choice if you're looking for a wall-mounted option.
Offering standard-sized 19-inch rack-mount equipment, the 12U offers a maximum rail depth of 13 inches with a total usable space measurement of 16 inches, front to back.
The removable side panels allow IT administrators or anyone working on managing network servers to gain easy access before and after installation.
The top and bottom offer open brackets for easy cable and wire access, while the locking glass door protects the equipment from physical intrusion.
Additionally, the removable side panels offer both venting slots and dual built-in fans for maintaining equipment cooling.
You may also like: Best LED Lights for Photography
NavePoint 4ft Open Frame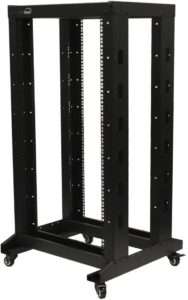 Packaged with casters for easy movement and re-positioning, the Navepoint four-foot 22U open-frame, 19-inch network server rack is ideal for ever-changing IT environments.
With a maximum depth of 23 inches, the 22U is already sized for traditional 19-inch mount equipment.
Besides, it supports a total weight capacity of 661 pounds, with an adjustable depth down from 10 to 16.75 inches, all on a server rack that's 48 inches in height.
Flat-packed for easy shipping, the included instructions help put together the 22U in under 30 minutes.
Unfortunately, NavePoint doesn't include any cable management accessories, but they can be easily purchased separately online.
StarTech.com 8U Hinged Open Frame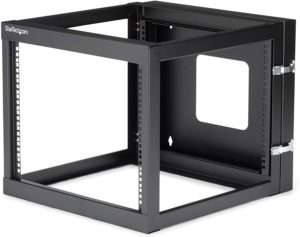 If you're looking for a super open-frame design, Startech's 8U RK819WALLO wall mount is a great option for maximum airflow.
The open-frame design lends itself to helping maintain cooling temperatures, which can lead to a longer equipment lifespan without the need for excess fats.
The hinged design allows for easy access to rear panels where you can begin mounting standard-sized 19-inch servers or network equipment (and continually reach them post-installation).
Capable of supporting equipment up to a total of 140 pounds, the high-quality steel construction and four-post design offers peace of mind and security that your equipment is stable.
NavePoint 42U Professional 4-Post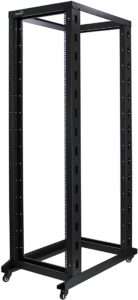 If you're looking for a solid full-sized rack, Navepoint has you covered here too, with this four-post 42U rack that's capable of handling everything from telecom equipment and network switches and other appliances to full blade server assemblies.
It supports all standard 19-inch rack-mount equipment, with an adjustable rack depth from 17 inches to 32.5 inches, which will give you more than enough room for all of the standard Dell, HP, and IBM server sizes.
The sturdy four-post design ensures that everything will stay in place, with an 881-pound weight capacity.
Besides, you can either floor-mount it in your server room or use the included four casters to keep it more mobile.
Although the 82-inch height means that you likely won't be able to move it from room to room.
Tripp Lite 5U Vertical Wall Mount Rack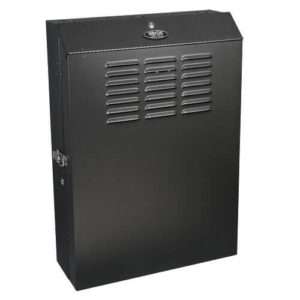 This machine has a sturdy wall mount bracket and a heavy-duty steel frame that provides 5U of rack space and enough weight capacity.
Has ventilated front door and bottom panels that promote enough airflow.
It is fully assembled when shipping for easy and quick installation and comes with a five-year warranty.
This server rack has a front-panel latch that has its padlock to enhance the safety of your cabinet.
It has multiple keyhole mounting slots for wall mounting. Locking steel cabinet that is ventilated to keep the cabinet cool all the time.
Best for use in classrooms, retail environments, and other areas with confined spaces.
You may also like: Best Portable Security Cameras without WiFi
Tripp Lite 18U Wall Mount Rack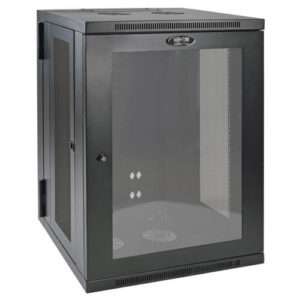 This cabinet is a perfect choice for places with confined floor space like classrooms, retail locations. It has a bigger load capacity for safely storing equipment.
The cabinet swings away from the wall to allow easy access to the equipment, and this will allow easy installation and maintenance.
It has a locking door that prevents your equipment inside the cabinet from being accessed by unauthorized persons.
The cabinet comes in a fully assembled way where you can easily mount it on a wall.
The reversible doors open by rotating to an angle of 180 degrees before installation.
Made from heavy-duty steel that has a coated finish that increases the lifespan of the cabinet.
StarTech.com 25U Network Server Rack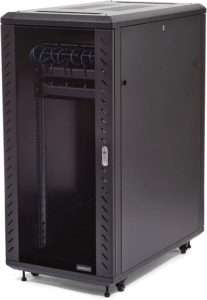 This 25U portable server rack cabinet is easy to transport and well assembled for easier installation.
During packing, it is parked in a flat-packed box to reduce the shipping costs.
It has adjustable mounting rails where you can easily change the rail depth. The rails help to keep the cabinet in a compatible way, and it has a big capacity that stores your equipment safely.
The rack has a brushed cable-entry on the floor and the ceiling that enables you to run the cables in and out of the cabinet.
The floor and ceiling panels can be removed, and this will allow you to customize your setup.
The cabinet features a glass door that increases visibility and security. Keeping the cabinet at an optimum temperature will with good cooling keep your working area silent and friendly.
Tripp Lite SR45UB 45U Rack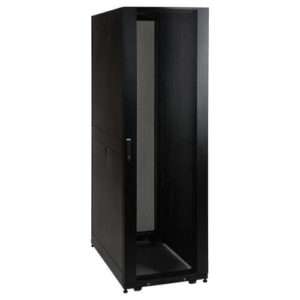 This 45u server cabinet is fully assembled, and this makes it easy to be installed.
The cabinet comes with casters and leveling feet that allow the cabinet to be moved easily where you can still install it in any position by adjusting the leveler's feet.
It has a big capacity where will enable you to mount your rack equipment in the enclosure prior.
It has locking, front and back doors that are removable which ensures there is adequate airflow.
Locking doors and side panels deny you access to the equipment installed in the cabinet probably if you are unauthorized.
The top panel of this cabinet is furnished with vents that help remove warm air from the enclosure bringing in cool air.
You may also like: Best Portable PA Systems with Wireless Microphones
StarTech.com 12U Quiet Wood Network Server Rack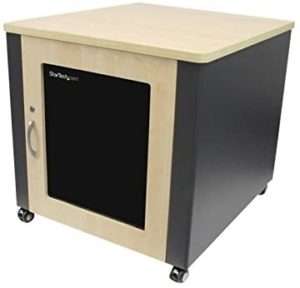 This 42u server rack provides a secure cabinet for storing rack-mount devices like Dell, HP where you can still store your A/V equipment.
The rack is made with a wide design, and this makes it best for networking applications.
It also has additional space where you can run cables vertically alongside the rack, and this will reduce airflow obstruction.
It has a top, bottom, rear-foam insulator that will keep your working area silent.
This server rack also has an adjustable mounting nail where you can where it is easy to change the rail depth to support the full-depth equipment.
The extra depth provides support for cable and power management behind the equipment. The cabinet is fully assembled and has durable casters, and this gives you easy when positioning your server equipment.
The cabinet also provides maximum airflow and a cooler environment because it has an integrated 3-fan.
FAQ for portable home server racks buyers:
What size server rack do I need?
The height of a rack, and the height of equipment in it, is expressed in "rack units" (a rack unit is 1.75 inches, or 44.45mm). The actual height of a 42U rack is therefore 42 x 1.75 = 73.5 inches. A 2U server would occupy two of the available 42 rack units.
Are server racks universal?
Most manufacturers allow you to choose from Universal Mounting Rails (square holes fitted with cage nuts) or EIA Standard rails (with 10/32 tapped holes). Universal rails will support 19″ EIA width rackmount and networking equipment and almost all server equipment.
What should I put on my server rack?
Server racks are easy to use and allow companies to safely house a wide range of different types of equipment. Server racks contain important equipment including servers, patch panels, routers, switches, and support materials such as rack rails.
How do I rack a server without rails?
If you are uncomfortable using a rail to mount your server on a 2 post rack, the best alternative is a shelf. 2 post rack shelves often have higher weight capacities than 2 post rails because they distribute weight more evenly.
Should you leave space between servers in a rack?
You do need to keep the space between and behind the racks clear of clutter. Most servers today channel their airflow front to back, if you don't leave enough open air behind the rack it will get very hot back there and reduce the cooling capacity.
What are server racks used for?
A server rack is a structure that is designed specifically to house technical equipment including routers, switches, hubs, and of course, servers. The rack makes it possible to securely hold multiple pieces of equipment in one area.