A portable freezer is the most necessary thing on long trips. Sometimes there are rarely roadside cafes along the way on a road trip, but the need for food is still present. Thus, it is necessary to prepare in advance all the necessary food and meals.
Putting them in the car, put the food at risk of spoiling. Yet, by choosing one of these best portable freezers for 2023 you will instantly get rid of this problem.
You can charge your new portable freezer with the help of these best portable power stations.
Our Top Picks:
BougeRV 12 Volt Refrigerator


Large Capacity

Warranty & Certification

Fast Cooling Down

See Best Price

AstroAI Portable Refrigerator




Large Capacity

Fast Cooling

Battery Protection

See Best Price

F40C4TMP Portable Refrigerator




Keep Frozen Without Buying Ice

Large Capacity With Removable Partition

2-Year Warranty

See Best Price
1. BougeRV 12 Volt Refrigerator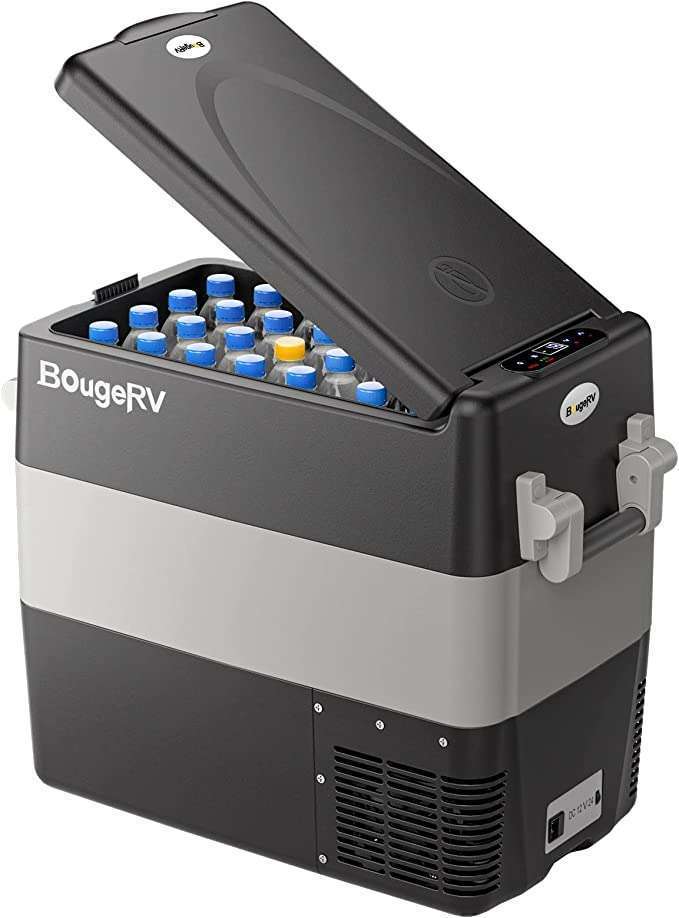 The portable BougeRV 12 Volt Refrigerator offers its users a roomy container that holds food for the whole family on a long trip. It has enough power to keep varying amounts of food cold.
The temperature range varies from 4℉ to 50℉. By selecting the desired temperature you can use this device as a refrigerator or a freezer. For complete freezing of food, it is enough to turn on the appropriate mode and wait for about 15 minutes.
It is also worth noting that, unlike most analogs on the market, this freezer does not need ice to preserve the quality of food. Use the energy-saving ECO mode. This allows you to save energy even in MAX mode.
Also, this feature allows you to install the refrigerator in the car, which is really convenient. In reviews, buyers note that this model produces a low noise level, which pleases on long trips when you need to sleep right in the car.
The manufacturer offers its customers reliable accessories and original spare parts. Also, this model and all its components have a warranty period of two years.
You may also like: 12 Best Portable 12V Refrigerators (Comparison & Reviews)
2. AstroAI Portable Refrigerator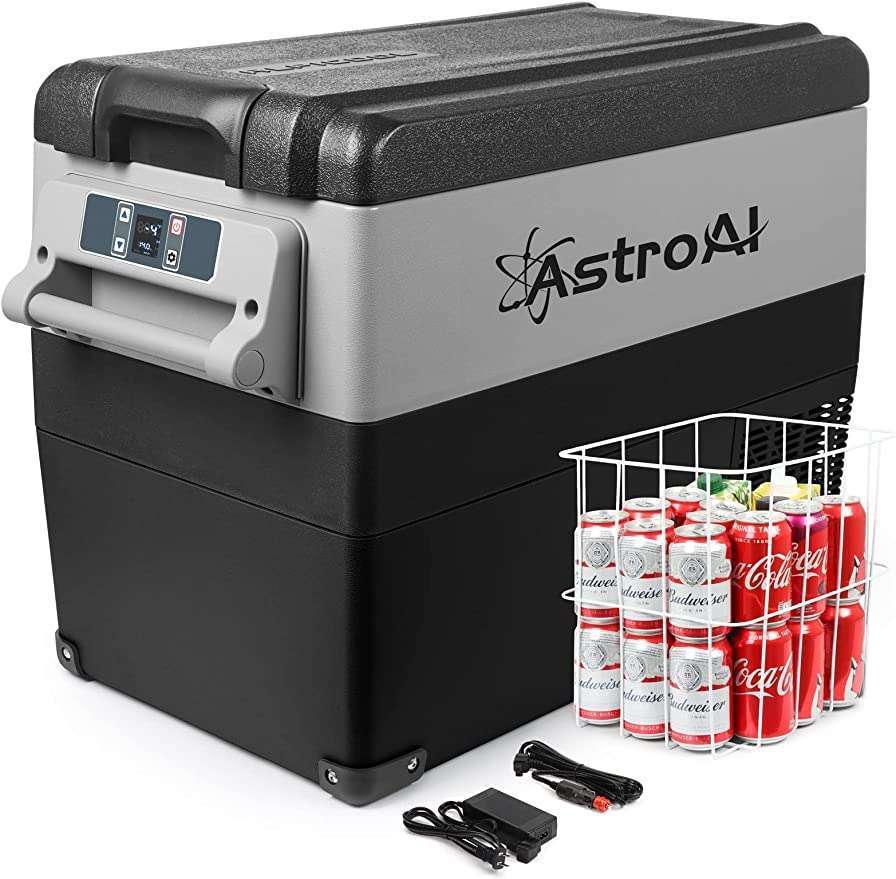 AstroAI Portable Refrigerator has many obvious advantages over its competitors. Thanks to its large capacity, you can store meat, drinks, ice cream, vegetables, fruits, seafood, and even cosmetics in it.
This model is equipped with a powerful compressor that lowers the temperature inside to 32 ℉ on average in 15 minutes.
The freezer will reach the lowest temperature in about 40 minutes after turning it on and selecting this mode.
If you need low energy consumption (for example, this function may come in handy when you use the refrigerator in the car), then switch on ECO mode.
There are also three levels of battery protection for using the device in the car. That way, you're sure to avoid accidentally discharging your car's battery. You can use the special memory function to save your selected settings. The design of this model makes it easy to transport and use anywhere.
The properly designed handle perfectly distributes the weight of the refrigerator, which prevents your hand from getting tired. The bright display is great to help you choose a mode or check the unit's operation even in the darkest places. You'll also find an extension cord for car battery power in the package.
It has a built-in ceramic fuse, so you can be sure there are no short circuits or outages. You can also use this model at home, as it comes with DC and AC adapters. Additionally, the manufacturer offers a portable power bank for outdoor use.
3. F40C4TMP Portable Refrigerator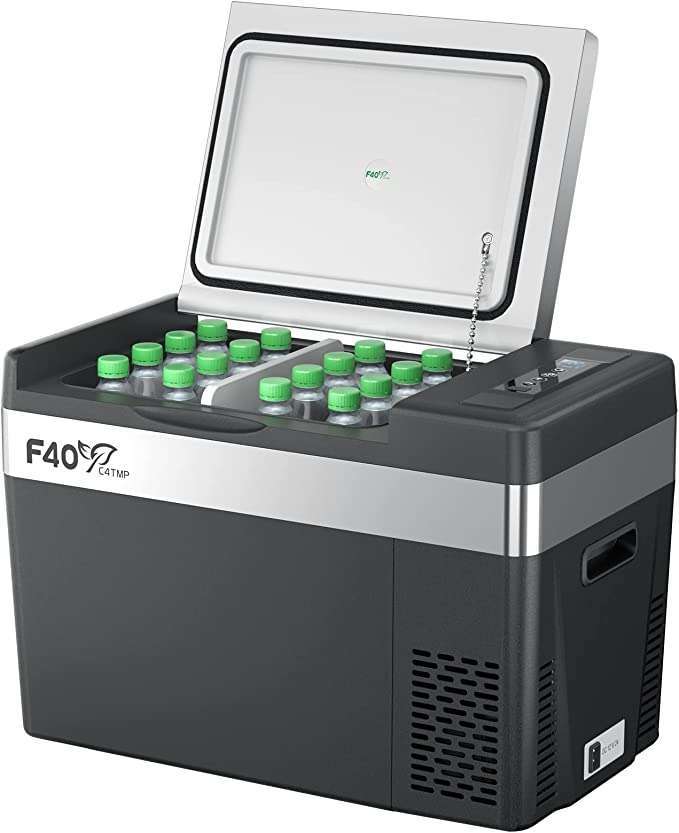 With the F40C4TMP Portable Refrigerator, you will be able to freeze foods quickly without buying ice for the process. You can use this device as a refrigerator and a freezer.
Thanks to the strong compressor, it cools to medium temperatures in 15 minutes. You can put in it any food and be sure of the quality of their freezing.
Thanks to the special design of the lid, this refrigerator does not let the cold out at all during the whole process of operation.
Also, this model comes with protection against discharging the car battery. If the charge is close to zero, you will be the first to know about it.
The low noise level will allow you to use this device even at night. The interior of this refrigerator also deserves special attention from buyers.
You can divide it into two areas, thus putting vegetables and meat separately from each other. You can choose between two operating modes: ECO and MAX. If you need fast freezing, then choose the second mode. If you prefer to save energy, choose the first mode.
The bottom of the refrigerator is equipped with a special system that prevents slipping on bumpy roads. As a power source, you can use any nearby source (car battery, portable power station, and so on) thanks to the AC adapter and DC cord that are included.
4. ZAFRO Car Refrigerator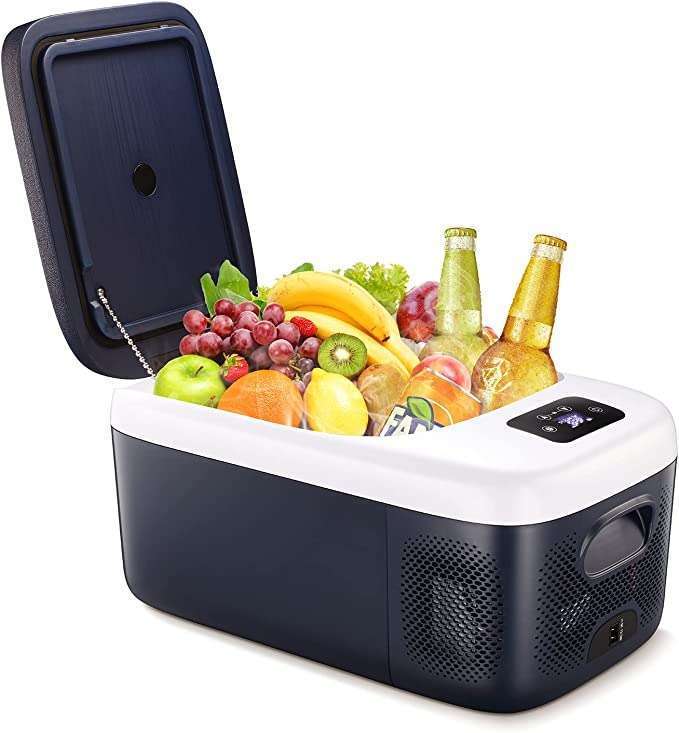 The ZAFRO Car Refrigerator is an awesome device that will preserve the quality of food on any trip. The construction of entire refrigerator is made only of high-quality materials.
The inner liners are made of food-grade plastic that is safe for the food stored inside. The entire refrigerator is protected from leaks and warm air thanks to the tight closure of the top lid.
The convenient handle makes this unit portable and easy to carry with you wherever you need to go. So, you can take this refrigerator with you on a long trip, hike, vacation at the beach, and more.
The main power source of this refrigerator is a car battery. To save it from burning, this model is equipped with three-level protection. This prevents short circuits and battery wear and tear. So, your trip will not be spoiled by any event related to the poor performance of the refrigerator.
To prevent children from interfering with the device unexpectedly, special protection is provided here. You can control this function on the refrigerator's display. The temperature at which the food is stored can also be adjusted on the main screen of the device using the buttons of the same name.
You may also like: 9 Top Quiet Portable Generators (Comparison & Reviews)
5. UKKISO 12 Volt Car Refrigerator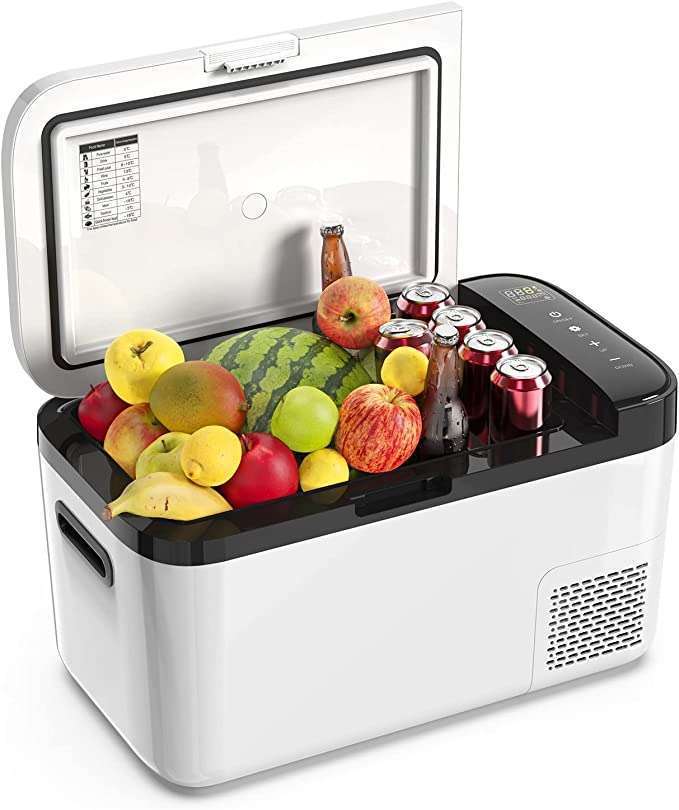 The UKKISO 12 Volt Car Refrigerator will help you preserve the quality of your food, even if you took it with you on a trip. This model holds up to 20 liters and can operate in freezing mode.
You can store meat, fish, fruits, vegetables, dairy products, and cosmetics here. Use this cooler in your car without fear of battery wear and tear. This device has the protection that will not expose the battery to complete discharge.
After the refrigerator is unplugged, it will keep your food at the desired temperature for a while longer.
A unique feature of this model is the possibility of its use with a phone. You can remotely control all the functions and even charge your phone through the built-in USB port.
Temperature control function will preserve the quality of food and will not expose them to unnecessary freezing.
In the package, you will find everything you need for the stable operation of the refrigerator. The manufacturer offers a 2-year warranty and constant access to the technical support team.
6. ICECO VL45 Portable Refrigerator
The ICECO VL45 Portable Refrigerator comes with a SECOP compressor that allows you to adjust the temperature from 0°F to 50°F. Compared to peers, this is one of the lowest temperatures the unit can drop to.
MIN and MAX modes are available for use. The first mode increases energy efficiency, while the second mode will allow for rapid cooling of the inner chamber.
A built-in compressor also allows the refrigerator to operate in a vehicle that is tilted. The DC and AC cords avoid wear and tear on the refrigerator and extend its service life.
The interior area is completely insulated and does not let heat in. This allows you to preserve the high quality of your food. If you are in a dark area, the interior lighting of this model will help you.
When using the refrigerator in the car, you can not worry about battery wear and tear thanks to the three-level protection. The manufacturer offers a 5-year warranty on this device and one year warranty on its components.
You may also like: 13 Best Portable Mugs with Temperature Control (Comparison & Reviews)
7. ICECO VL60 ProS Portable Refrigerator
ICECO VL60 ProS Portable Refrigerator stands out for its compactness and ease of use. The main purpose of this model is to transport food in the car.
For convenience, there are ports on both sides to connect the power from the car battery. Also on the body of the cooler, you will find two USB ports for charging your phone.
A distinctive feature of this model is the ability to pre-cool the refrigerator from the outlet at home. The manufacturer has done a great job on the design of the device.
There is a drain hole, removable handles for easy transportation, and LED lights. These lights will help you navigate more easily in the dark. It comes with an extra basket, interchangeable handles, and other extras.
Two cooling modes are available. MAX mode is for quick cooling of the refrigerator compartment. ECO mode will help you significantly save energy consumption. The manufacturer offers a 5-year warranty on this model and access to the service team.
How does a portable freezer work?
Portable freezers are a great way to keep food cold while on the go. They typically use thermoelectric cooling technology, which relies on using electricity to create heat and cold. This technology is quite efficient as it can effectively transfer heat between two sides of a module with minimal energy loss.
Most portable freezers also feature adjustable temperature control, allowing you to set the freezer to your desired temperature range. Additionally, many models come with built-in insulation or foam shell linings that help keep the inside of the freezer cool for extended periods of time.
How do you power a portable freezer?
We just wrote it above for each freezer, but in general, portable freezers typically use either a standard wall outlet or a car cigarette lighter to power the unit. Some models may also feature an optional battery pack that can be used as a backup if no other power sources are available.
When using a wall outlet, most types of portable freezers will come with a special adapter that can be plugged into the outlet and provides the necessary amount of current for cooling. Similarly, when using a car cigarette lighter, many portable freezers will include an in-line fuse protector which helps prevent the car battery from being drained while in use.
How heavy is a mini freezer?
Portable freezers vary in weight depending on the size and model. Generally, they range from a few pounds to as much as 50-60 pounds for larger models. However, most portable freezers are typically lightweight and easy to transport.
Can I temporarily use my portable freezer as a refrigerator?
Can I temporarily use my portable freezer as a refrigerator?
Can I temporarily use my portable freezer as a refrigerator?
Yes, you may even use your portable freezer on a regular basis. Of course, the level of service it provides can't be the same comparing to regular big fridges.