When traveling, it's inconvenient to take all your bath products with you. Yet, the need for basic grooming is still a necessity. The key to solving this problem is the best portable electric razors for travel. In this review, we have tried to collect the most high-quality and reliable products, among which you are sure to find your favorite.
Take care of your oral hygiene even on a long trip with these best portable water flossers.
Our Top Picks:
MANSCAPED® Electric Groin Hair Trimmer


Waterproof

Wireless Charging

SkinSafe Technology

See Best Price

Braun Electric Razor M90




Wide Floating Foil

Washable

Battery Operated

See Best Price

Electric Mini Travel Shaver




Waterproof

Lightweight

Rotary Floating Heads

See Best Price
1. MANSCAPED® Electric Groin Hair Trimmer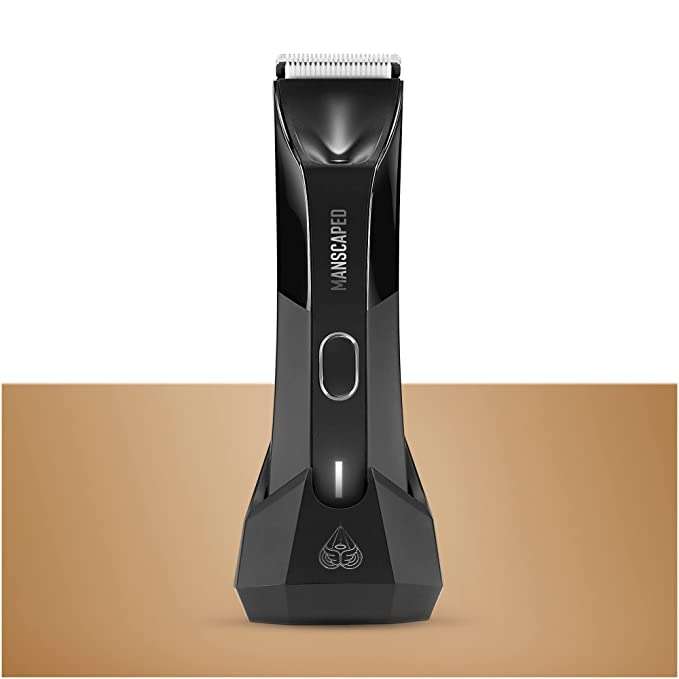 The Manscaped 4.0 electric trimmer is designed specifically for men. Thanks to its ceramic nozzles, it does the job perfectly, even in hard-to-reach areas.
This hygienic shaver removes unwanted hairs in the groin easily and quickly, minimizing irritation. It can be used for dry shaving as well as while showering.
The product is made of waterproof materials and is equipped with a powerful rechargeable battery.
Thanks to the charging indicator, you will always know what the trimmer's charging level is. The modern charging station is wireless, which is really convenient.
The stylish and compact trimmer is easy to transport. QuietStroke technology provides comfort and a low noise level when using the electric shaver. It has a maximum speed of 7000 rpm. You will definitely provide yourself with maximum safety and hygiene when using the trimmer.
The kit includes Manscaped 4.0 trimmer and hair length control attachments 1-4. Either way, you get a smooth and neat haircut. You also get a wireless charging system and a USB cable. Use the special brush for quick and safe cleaning.
With its versatile features, Manscaped 4.0 isn't just good for cutting intimate hair. With wireless charging and compact size, you can take it with you wherever you travel.
You may also like: 5 Best Portable Bidets (Under $10, $40)
2. Braun Electric Razor M90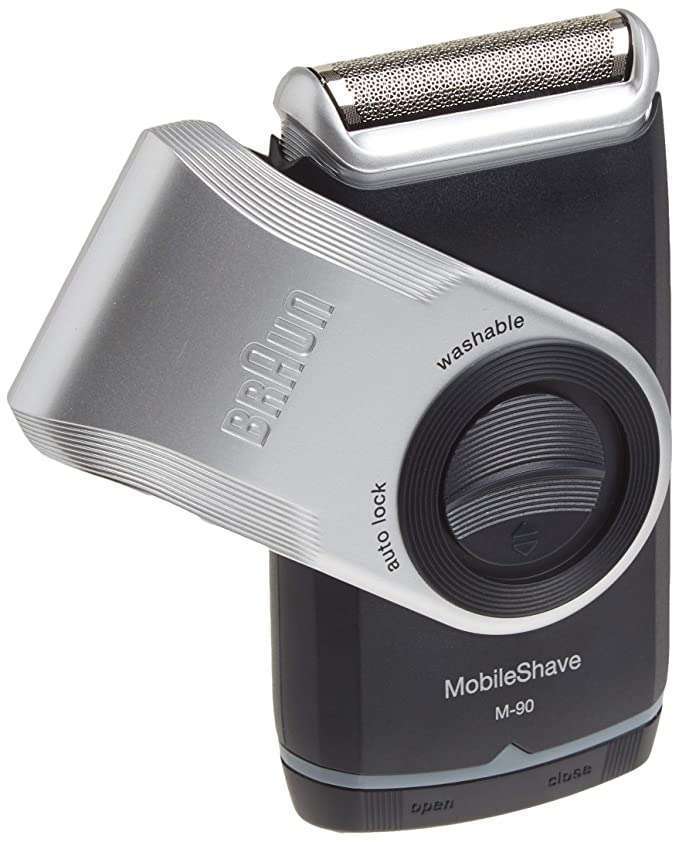 Always want to feel confident? Concerned about your body's aesthetics? Then the Braun Electric Razor for Men M-90 mobile electric shaver is just for you.
Its high quality, ease of use, and versatility make it indispensable at home and away. No matter how old you are or what type of hair you have. This shaver will help you look perfect with minimal effort.
The razor is perfect for correcting and trimming your beard. You can easily get a salon haircut from the comfort of your home.
Compact and safe, the razor will travel with you. It only takes a few minutes to refresh your face and remove unwanted hair.
The floating foil-coated head removes all hair growing in different directions. One touch is all it takes to get perfectly smooth skin.
Braun M-90 shaver is not afraid of getting wet: it can be cleaned under running water. The razor works with AA batteries. They are even included in the basic kit. Weighing only 3.21 ounces, it easily fits in any luggage. Make your life easier and more comfortable with the Braun Electric Razor M-90 for Men.
3. Electric Mini Travel Shaver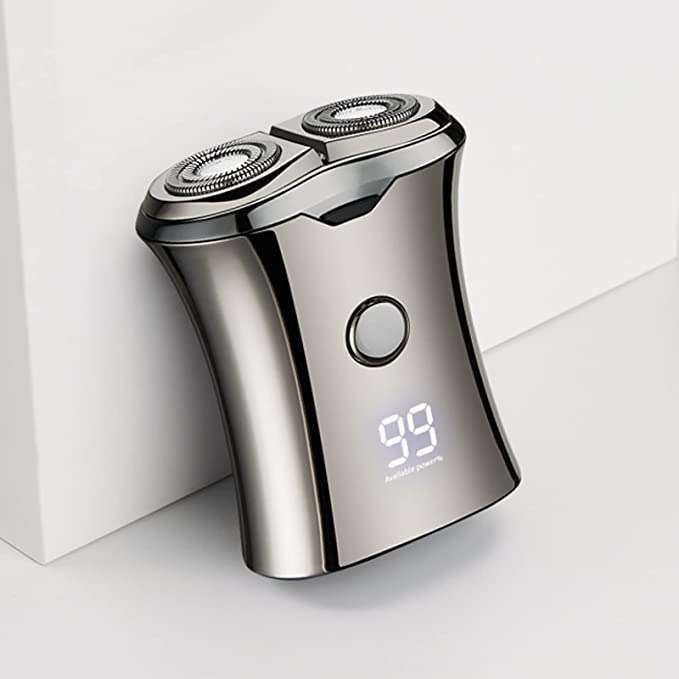 The stylish and powerful electric razor for men Paishenkeji will make you feel comfortable in minutes. Its silver color and LED display add charm and elegance to this model.
Its features make it the perfect shaver for frequent use on the go. It quickly and efficiently removes unwanted facial hair. Safe to use, it easily cleanses under a stream of water and does not require special care.
Its two pivoting heads give you the best and quickest shave possible. It removes even the smallest, most multidirectional hairs.
The advanced shape allows the shaver to fit comfortably in your hand. You can hold it even with wet hands. It weighs just 67 grams.
Take it with you when you're at work, on vacation, or on a long trip. Be prepared for any situation. It has a built-in rechargeable battery with USB charging. Maximum charging time is 2 hours. On a full charge, the electric shaver runs for over 1.5 hours continuously.
The kit consists of an electric razor, charger, safety cap, and cleaning brush. This is the perfect gift for your favorite men of all ages.
4. Electric Razor for Men Pocket Size
Rongchuang portable electric razor will help you forget about long and uncomfortable shaving. Now you can easily give your beard the necessary shape, and your skin – perfect smoothness. It's the easiest shaver you can ever use.
It only has a single button, so you don't need to waste your time reading the manual. Even though this model is designed to cut your facial hair, you can use it for other purposes as well. Take away excess hair in your armpits, arms, and legs.
The razor is made of aluminum alloy and is highly resistant to external damage. It's designed for on-the-go use. Lightweight and compact, it fits even in your pocket. The shaver is designed for dry shaving, don't use it in the shower.
This electric shaver has a comfortable oblong shape and fits comfortably in your hand. All it takes is a few easy shaves to get you in shape. It weighs only 70 grams, so it won't affect your luggage size in any way.
It has a rechargeable battery that can be charged via a special charger, PowerBank, or even your laptop. Charging time is up to 1.5 hours. A full charge allows you to use the shaver for an hour. Be on top of your handsomeness with the Rongchuang electric shaver.
You may also like: 15 Best Portable Eyewash Stations (Under $50, $100, $500)
5. Sejoy Electric Razor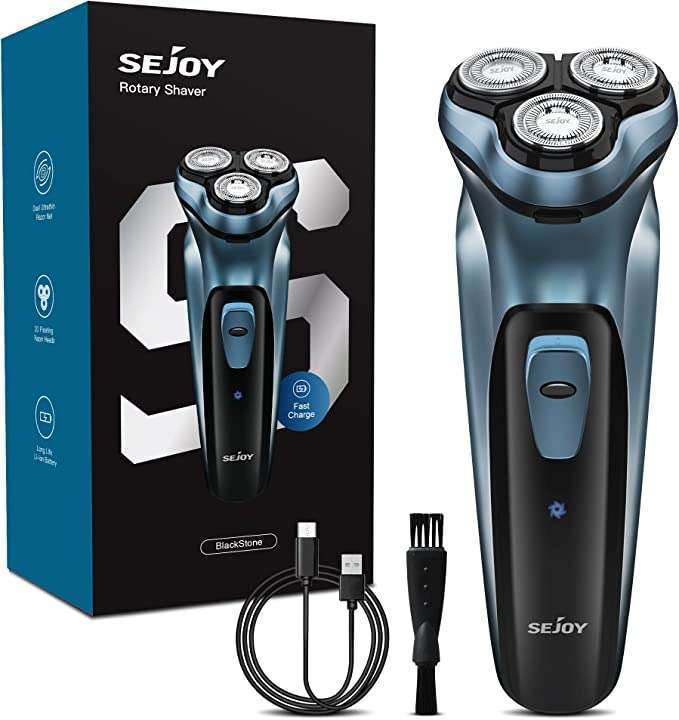 What could be more satisfying than a comfortable, fast shave at any time of day? Discover all the secrets of the Sejoy electric shaver. Minimal action for maximum impact.
The razor combines all the benefits of portable electric shaving tools. For 20 years Sejoy has been supplying the markets with quality products for personal hygiene and grooming.
The three floating heads with ultra-thin mesh cover the entire field, doing a great job of shaving even hard-to-reach areas. The heads rotate 360 degrees to smooth your skin without irritation.
They precisely follow the contours of your face and remove hairs that grow in different directions. The blades sharpen automatically and do not need to be replaced.
A perfectly sharp blade gives you a close shave without any imperfections. It is designed so that you can get and rinse the bottom blade in a matter of seconds. The shaver has a powerful lithium battery. It takes 1 hour to fully charge, after which it can run for up to 1.5 hours.
On the back of the shaver is a professional trimmer that will easily clean up your beard and sideburns. Experience a whole new level of shaving with the Sejoy electric shaver.
6. Philips Norelco Shaver 3500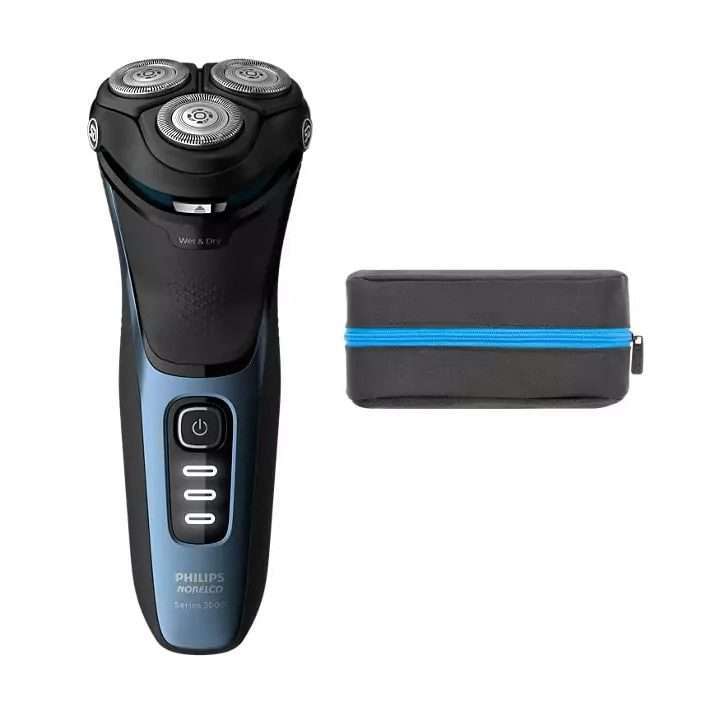 This convenient, compact, and powerful Philips Norelco 3500 electric shaver lets you shave safely and comfortably for longer periods of time. You can even shave in the shower, as the device is water-resistant.
The 3 heads work your skin in 5 different directions for 100% results. No dryness or irritation.
You don't need any side products for a dry shave, which comes in handy when you're on the go. 27 razor-sharp blades get rid of your hair fast and good-looking.
The handy handle lets you take the razor the way you want it. To clean the blades, all you need to do is rinse them under running water.
The shaver is equipped with a modern battery, which provides long use of the device without recharging. Charging for 60 minutes allows you to use the shaver for an hour. The light indicator shows the level of charging of the battery.
With Philips Norelco 3500, you will be confident in any situation. The shaver is great for use at home or on the go. Its compact size and ease of use allow you to take it with you on any occasion.
You may also like: 15 Best Portable Body Weight Scales (Comparison & Reviews)
7. Panasonic ES3831K Electric Wet Dry Travel Shaver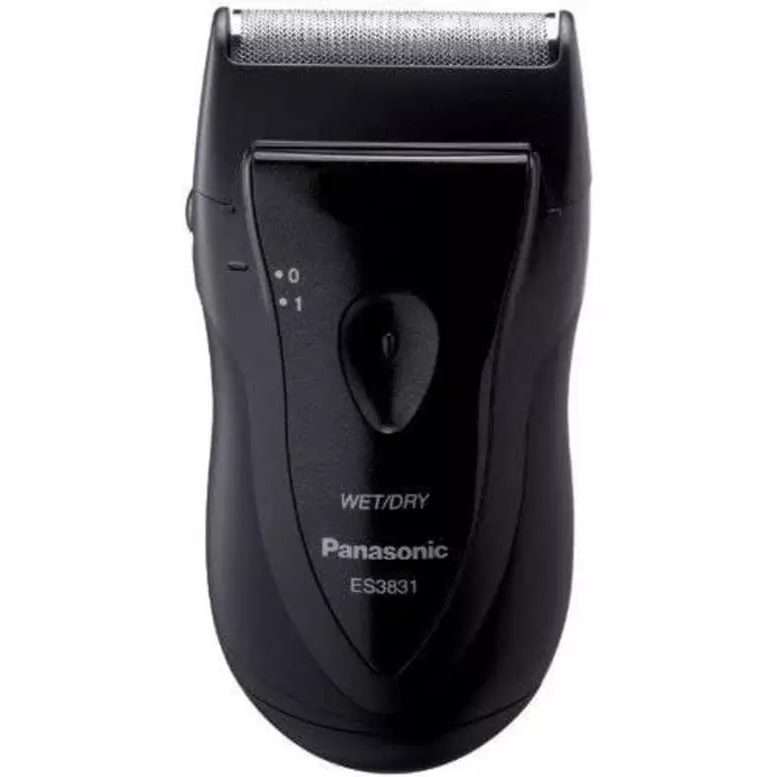 The handy, reliable Panasonic ES3831K electric shaver has all the options you need to make shaving as easy as possible. With its understated and concise appearance, the shaver offers a wide range of options.
Thanks to its small size and battery-powered operation, you can take it with you wherever you go. All it takes is two AA batteries to get the job done.
It will always be at your fingertips at any time. Use it where there is no mains electricity.
The sharp stainless steel blade is set to follow all the curves and contours of your body. It won't leave your hair a chance. The speed of the blade movement is 8500 rpm.
The shaver is really simple and easy to use. You can set up a dry or wet shave depending on your preference. The shaver has no problem contacting water, so all you have to do to clean it is rinse the mesh and blades under running water. Use it in the shower to save time.
It comes with a sturdy carrying case and a brush to clean the parts. The rugged Panasonic ES3831K shaver is designed for long-lasting use and maximum performance.
How do you use a portable razor?
Using a portable razor is easy and straightforward.
Before using it, be sure to read the instructions that come with the razor so you know how it should be used properly.
Remember to always use a clean, sharp blade when shaving – this helps prevent cuts and irritation. Start with your sideburns and work your way down the face towards your chin. Move the razor in an upward motion against grain of your facial hair – don't press too hard to avoid nicks and cuts. After you have finished each area, rinse off the razor and apply a moisturiser or aftershave lotion afterwards to ensure your skin stays healthy and hydrated.
How do I protect my razor when traveling?
Keeping your razor safe while traveling is easy when you take a few simple precautions.
First, make sure the razor is securely stored in its case or pouch when not in use. This helps protect it from moisture and dirt that could clog the blades or make them dull.
It's also important to clean and dry the blades after each use to prevent corrosion and rusting while in storage. If possible, store the razor in an area of your suitcase that avoids direct contact with other items that could potentially damage the blades.
Finally, keep a spare set of blades handy to quickly replace any that become dull or damaged during travel.
Should I razor hair wet or dry?
It is generally recommended that you shave your hair when it is wet. Wet hair is softer, making it easier for the razor to cut. Make sure you have a quality shaving cream or gel to help lubricate your skin and create a smooth surface for the razor to glide across. You should also rinse off the razor frequently during use to ensure no clogged hairs get caught in the blades.
Can you shave pubes with a portable razor?
Yes, you can shave pubes with a portable razor. However, it is important to use caution when doing so as the skin in this area is delicate and can be easily irritated. A good quality razor will help minimize irritation, as well as using a moisturizing shave cream or gel that is designed for sensitive skin. Make sure to rinse the blades often and don't forget to moisturize after shaving!
What parts of body you can shave with portable electric razor?
The list is pretty much the same with a regular razor. You can use a portable razor to shave many parts of the body, such as:
Face
Underarms
Legs
Bikini area
Chest and stomach
Pubic hair