The dishwasher does not have to take up much space in the kitchen. The class of portable dishwashers is not a narrow machine, as for some reason it is considered, but a separate type of device, which is similar in size to a microwave oven.
We have chosen the most successful models of portable dishwashers, among which you can choose the best option for your kitchen. If you want more portable stuff for your kitchen, try portable electric stoves.
This item has the best price and quality:
Our Top Pick

NOVETE TDQR01 

If you're tired of sudsy hands, soggy towels, and soapy sponges, then this compact but mighty portable dishwasher is the perfect way to solve dish dilemmas. 

See Best Price
The list of the other excellent portable dishwashers with a comparison of the main characteristics:
| Item | Dimensions | Weight | Capacity | Option Cycles | |
| --- | --- | --- | --- | --- | --- |
| NOVETE TDQR01  | 16.86 x 16.75 x 18.05 inches | 28.7 pounds | 4 place settings | 5 | See Best Price |
| SPT SD-2224DW  | 21.65 x 19.69 x 17.24 inches | 43 pounds | 6 place settings | 7 | See Best Price |
| Farberware Professional FCD06ABBWHA | 21.7 x 19.7 x 17.2 inches | 63.8 pounds | 6 place settings | 7 | See Best Price |
| SPT SD-2225DW  | 21.65 x 19.69 x 17.24 inches | 43 pounds | 6 place settings | 6 | See Best Price |
| Danby DDW621WDB | 19.69 x 21.65 x 17.24 inches | 46.3 pounds | 6 place settings | 6 | See Best Price |
| BLACK+DECKER BCD6W  | 17.2 x 21.5 x 21.7 inches | 46.2 pounds | 6 place setting | 7 | See Best Price |
| Danby DDW631SDB | 19.69 x 21.65 x 17.24 inches | 44.1 pounds | 6 place settings | 6 | See Best Price |
| Farberware FDW05ASBWHA | 17.3 x 16.5 x 17.3 inches | 37.8 pounds | 3 place setting | 5 | See Best Price |
| SPT SD-9263W | 23.63 x 17.64 x 35.63 inches | 118 pounds | 8 place setting | 6 | See Best Price |
You may also like: Best Portable Washing Machines
NOVETE TDQR01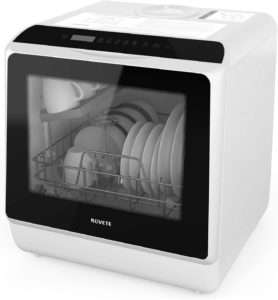 This compact dishwasher allows you to wash up to 4 sets of dishes in one load. It provides high quality and allows owners to rest or do other things.
This model has various programs. They allow owners not to worry about setting the time, temperature, and other parameters.
It also includes modes designed for washing, slightly, medium, and heavily contaminated dishes. What's more, there is an optimal mode for gently removing contaminants from glassware. There is a slider dispenser that allows you to use detergents sparingly.
The energy efficiency of the dishwasher meets the A+ standard. This means that it consumes less energy.
With the "Delayed Start" function, you can get your dishes clean by exactly the right time. Or you can do it when it is convenient. Load the dirty dishes, set a delay timer, and the dishwasher will start working at the specified time.
This model has a white body. Although the model is inexpensive, it has enough functions and good specifications.
SPT SD-2224DW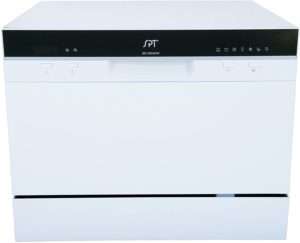 This dishwasher is well suited for use in a small kitchen. It is a compact model, designed for 6 sets of dishes. It provides high-quality washing and fits harmoniously into the interior.
The developers have foreseen 5 programs. So, you will definitely find suitable modes for fast, normal, or intensive washing. There is also a mode for washing dishes that need delicate handling.
A clear LED sign helps the owner to control the process of washing the dishes.
This dishwasher comes with a condensation dryer. This eliminates the need to wipe the dishes and at the same time saves energy.
You can load dirty dishes, choose the right program, and delay the start for up to 24 hours. At the specified time, the dishwasher will start automatically. In terms of energy efficiency and water consumption, this model meets the A standard. This means that even intensive use of the dishwasher will be inexpensive.
Regardless of its large capacity, this dishwasher is compact in size. Thus, you can place it even in a small kitchen. This model has comfortable and spacious baskets. They can accommodate not only plates but also large items. For example, trays, pots, saucepans, and other things.
If necessary, you can adjust or lock the boxes. The device also has a function of postponing the power for up to 23 hours. Inside there is a tray for instruments and a holder for glasses. Users are very pleased with the clever design of the camera. The dishes do not change their position even after intensive washing.
You can load the dishwasher 3 in 1, and there is also a sign of salt and rinse aid. There is also an option to adjust flexibly to different water hardnesses.
Farberware Professional FCD06ABBWHA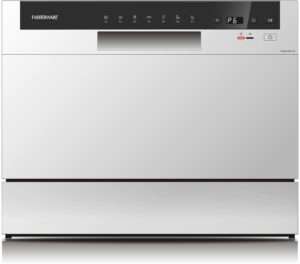 This tabletop dishwasher can hold 6 sets of dishes. It has less water consumption than some competitors – 6.5 liters per cycle. It has a reduced noise level of 49dB.
This model supports a 24-hour start-up delay and uses a condensation type of drying.
The device works in 6 modes. Fast on 30 min, standard on 120 min/60°C and 90 min/65°C, economical and intensive.
It also copes with fragile dishes through delicate washing. The indicators for detergent and rinse aid are on the control panel display.
This device will help you to cope with quite large quantities of dishes, allowing you to enjoy the result.
This model uses a condensation type of drying so that the dishes are gently dried. An important part is the delay timer, which will help to postpone the period of washing the dishes.
You may also like: Best Portable Dehumidifiers
SPT SD-2225DW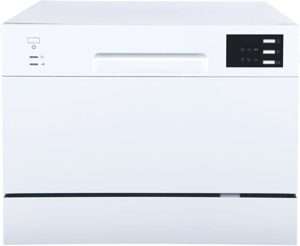 This dishwasher has a high-tech drive system. It can significantly reduce water consumption.
For rinsing glasses and other dishes with a low level of contamination, you can use the quick mode. It has a cycle time of 20 minutes.
It has a special program for cleaning thin glass dishes. It protects glasses, glasses, and other similar items from accidental damage.
Intensive mode allows you to increase the temperature to 70 degrees. This is enough to destroy the most harmful microorganisms. It also helps drop allergen particles.
The control panel contains the smallest number of buttons. It allows you to select the required parameters very quickly. Besides, there is an LCD display on it showing information about the set mode of operation.
This model has received many positive reviews not only for its low power and water consumption. Customers have also noted the existence of various cleaning programs. They provide the largest exposure temperature of 70 degrees.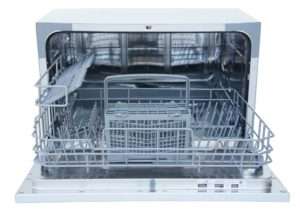 The twenty-minute program is for fast dishes cleaning. For gentle washing of glassware, there is a special option "Glass" at 40 degrees.
Among the advantages is the availability of the time display. It is on the digital screen. This model is one of the most functional desktop dishwashers.
The dishwasher's display shows you the current status of the machine. Next to the screen, there are the start, pause, start delay buttons. Extra features include leak protection. When breakage occurs, access to water is closed.
There is an eco-mode, gentle cycle for fragile dishes, intensive and standard washing. There is also an extra rinse, which will be a plus for those who are afraid that the salt remains on the dishes. The users themselves praise the unit for the quality of washing. The dishes are clean and dry after any of the cycles.
Danby DDW621WDB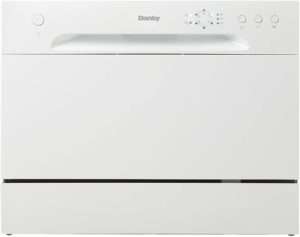 This dishwasher has a quiet and economical inverter motor. It differs from the standard electric motor in its ability to carry high loads.
By pressing the VarioSpeed button, you can significantly shorten the dishwashing cycle time. At the same time, the quality of the results obtained will not be reduced.
The load sensor helps you to find the perfect setting for each occasion. This will make washing up not only efficient but also very economical.
The automatic door closer enables you to close the door smoothly and press it against the body. This way you can avoid water leaks and program errors.
When you activate the intensive mode, the water temperature rises to 70 degrees. This allows you to remove the most persistent dirt. Also, this function will help you destroy harmful microorganisms that cause dangerous diseases.
One more interesting feature is LoadSensor. With its help, the load sensor measures how much weight the loaded dishes in the camera. Moreover, the device will show how much water you need for washing them. Thus, water consumption depends on the volume of the dishes.
Besides, this model has an intensive, standard, and delicate washing mode. The quality of the dishes is achieved through a five-level circulation of water. And the brushless motor ensures low wear and tear.
BLACK+DECKER BCD6W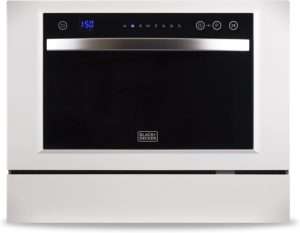 This dishwasher boasts a built-in display. This will make the process of selecting settings as comfortable and as fast as possible.
With the delayed start timer, this device can get started without your involvement. All you need to do is set the necessary time interval.
Another advantage of this model is the presence of express mode. It allows you to quickly clean the dishes. Moreover, it provides minimal water and electricity consumption.
The lock function will not allow young children to start the device. Built-in indicators quickly signal the need to refill the detergent tanks.
This model consumes 7 liters of water in one cycle, which is the average for such machines. But the energy efficiency class of the device corresponds to the A++. It will surely please the fans of ecology. The camera of this dishwasher is of stainless steel. The basket of the device has shelves for cups and cutlery.
On the model control panel, there is an LCD display. It displays the remaining operating time, delay time, and other parameters. Besides, there are indicators of the salt and rinse levels in the compartment. Among the modes of operation, there is even a preliminary soaking. It is relevant for very dirty dishes. Besides, the device is quite quiet in operation. The noise level is 48 dB.
You may also like: Best Portable Vacuum Cleaners
Danby DDW631SDB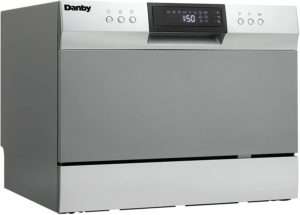 This dishwasher has a stylish and modern silver case, it is not built-in. The model is practical and economical because it only consumes 7 liters of water.
At the same time, it cleans 6 sets of dishes simultaneously. There are 6 knowingly prepared programs. The most important one is the daily cleaning mode of the dishes.
There is an express cleaning function for heavily contaminated appliances. Besides, there is a delicate and economical mode for fragile dishes. You can control it via the display on the front.
This model is partially protected against leaks. The case comes with a special rubber band. Salt does not accumulate inside the device, because there is an automatic rinse mode. The inside of the cooking cabinet is entirely made of stainless steel.
The drying here is condensing. So it will not consume much power and will not make much noise during operation.
On the control panel, there is a display where you can see the status of the machine. There is also a display of programs that you can switch with the buttons. There are also the operation indicators and buttons for delayed start and pause. The basket comes with a separate cutlery tray and two folding shelves.
Farberware FDW05ASBWHA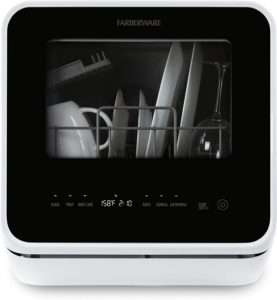 This dishwasher will work even without a water connection. You can fill it with a tank that holds 5 liters of water. You can drain the liquid manually, using special hoses.
The hot air drying function reduces the cycle time compared to condensation models. The machine has holders for plates and high glasses.
In the steam washing mode, the machine eliminates bacteria and washes away allergens. It also has a function to rinse fruits and vegetables without a cleaning agent.
This model has 6 programs and 4 temperature modes. Besides, there are two modes for washing fruits – 7 min and 12 min. There is also an odor removal function, turbo-drying, and steam treatment. It can sterilize baby bottles or other dishes.
The camera has an internal backlight. The display shows information about the current program, remaining time, and water temperature. You can postpone the machine start-up for 1-24 hours.
You may also like: Best Portable Clothes Dryers
SPT SD-9263W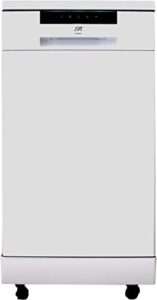 This dishwasher for 8 sets of dishes comes with indispensable indicators. Thanks to them you will know that you need to refill the detergent tanks. This model has a built-in purity sensor.
So, you don't have to choose the program of work of the device. This dishwasher detects the degree of soiling and determines the smallest water consumption.
Thanks to special technology, you will not encounter any residual moisture on kitchenware. Its special feature is that it opens the appliance door, allowing air circulation.
In this way, the dishes and the inner chamber of the model are naturally dried. With the delayed start function, you can clean dirty kitchenware at any time. It will automatically start the dishwasher at a time interval you set.
Besides, this model has a flowing water heater, which significantly reduces energy consumption. The interior space is well organized. There are two handy trays, but you can only use one without compromising on the quality of your washing. Moreover, there is a half load available.
At the beginning of the cycle with pre-wash, the machine sprays the dishes with water. The total number of programs – 6, temperature modes – 4.
FAQ for portable dishwashers buyers:
Do portable dishwashers work as well?
A portable dishwasher works in almost any home, and in the right situation, it can clean more efficiently than a built-in. Portable dishwashers have more in common with built-ins than many realize. Moreover, they offer a few unique benefits, such as multipurpose tops that can be used for storage or preparing food.
Can you use a portable dishwasher with a pullout faucet?
Portable or countertop dishwashers have a hose that attaches temporarily to the faucet of your kitchen sink. This only works if your sink faucet has a threaded faucet spout. If removing the aerator isn't an option, you will need to permanently plumb your dishwasher.
How does a portable dishwasher drain?
Portable dishwashers fill and drain through a special fitting called a uncouple that attaches to the spout of your kitchen faucet. You start the timer after attaching the uncouple fitting to the sink faucet, turning on the hot water, plugging in the machine, and loading the dishes.
Can you run a portable dishwasher overnight?
The dishwasher won't run until the water in its reservoir reaches a certain temperature, and it gets to that temperature a lot faster if the water is hot to start with. After it's done, you don't have to worry about turning off the water or disconnecting the hose.