The audio interface is a necessary purchase when you move from midi-parties to recording vocals and live instruments. When you choose a card, decide how many inputs and outputs you need to work with. For a high-quality demo recording of a band, you need from two XLR-connectors for vocals, four-line connectors, and ADAT-connection.
Think about whether you need a MIDI I/O interface. Decide whether you plan to connect your MIDI controller directly to your computer via USB or 5-pin MIDI ports. In order to learn about all these factors, we've reviewed at the best portable audio interfaces so you can make your purchase decision. To make your process more professional, you may also use a portable audio mixer.
This item has the best customers feedback:
Our Top Pick

ZOOM U-22

The U-22 is the essential mobile recording and performance interface, with an innovative 2-in/2-out ultra-portable design


See Best Price
The list of the other excellent portable audio interfaces with a comparison of the main characteristics:
You may also like: Best Portable Audio Recorders
This short but interesting video will give you 3 main criteria which you have to take into account when buying an audio interface:
ZOOM U-22
This unit has a high-quality sound recording and great change possibilities.
Inputs and outputs
At the bottom end of the device, there is a combined input for microphone or guitar connection, line input, and output to headphones. Use them to control the sound.
On the front, there are two volume controls for the input and output signal. There are also indicators for U-22 activity and condenser microphone operation mode.
There are zero-delay monitoring switches, phantom power mode, and power supply selection on the side.
This portable audio interface is able to operate from both full USB and micro-USB. Besides, you can charge it from your fingertips. So you can use the U-22 in almost any environment.
It also has an analog output, micro-USB power connector, and full USB for use with a PC or Mac. Besides, you can connect to your iPad, but only if you have a branded Apple adapter.
The size of the case allows you to safely take the U-22 with you.
Layout
The case is well assembled, all parts are neatly fitted, and even the rubber feet on the bottom side are there. The device is as simple and clear as possible.
Small size and simplicity do not mean that the manufacturer forgot about the purpose of the U-22. The built-in signal preamplifier provides a noise level of about 120 dB. The audio interface itself is capable of delivering 24-bit/96 kHz quality sound.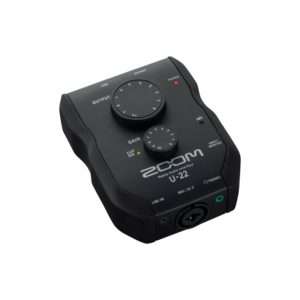 You can use such a device, for example, as a stand-alone microphone preamplifier.
This is great for speaking to the public. There are the inserted batteries and the acoustics with the microphone.
That's just one example of many. With the U-22, you can record voice or guitar or connect condenser microphones. For such a small price, this little ZOOM has almost no competitors.
Despite its modest price, it comes with a key to download the Ableton Live Lite sound application.
As a result, U-22 is the perfect device for beginners. Recording with this audio interface is as easy and straightforward as possible. What's more, its quality will be much better than that recorded on the built-in audio card.
Apogee Jam Plus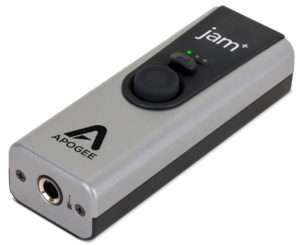 Apogee Jam Plus is a portable audio interface that comes with the famous Apogee quality. It has proven itself in the sound card market for professional recording studios.
This device belongs to Jam's family of portable interfaces. It is the oldest and most advanced version of the entire line.
It can record electric guitars, bass guitars, or synthesizers. The recording is in a 24-bit format with up to 96 kHz sampling rate. Sound has minimal noise and distortion.
The model is also equipped with some special features. They will be especially useful for guitarists who use similar audio interfaces for studio and home rehearsals.
Interface
The device has a very simple interface. There are gain control and a button equipped with a 3-segment display. By pressing the rotary knob you can activate the Overdrive mode. It saturates the signal with harmonics. The mode increases its volume and generally makes it more lively and interesting.
Low Latency Monitoring technology is also present. You can activate it by pressing the display key. This ensures low, unheard of delay when playing in headphones.
You will see the result in more comfortable and quality recordings. Thanks to the new Blend function, this device supports very low latency monitoring. Three LEDs can light up in different colors and different combinations. In this way, they state the status of the device activity, input overload, and Overdrive mode.
Inputs and outputs
The electric guitar input is represented by a standard 1/4" Jack TS connector. The headphone output is made on 1/8" Jack TRS connector.
Apogee Jam Plus is able to work with any device on Windows, macOS, or iOS operating systems. There is a Micro USB-B port for a clear connection.
There are three cables with the following connectors: Micro USB-B – Lighting, Micro USB-B – USB-A, and Micro USB-B – USB-C.
This allows you to connect to notebooks, tablets, computers, and smartphones. You can use any programs running on the Core Audio software interface.
They include Garage Band, Logic Pro, Pro Tools, Ableton Live, and more. You don't need any external power.
The device comes with a durable metal case and has a tiny size and lightweight. As a result, it is lightweight and easy to transport. A license key for Bias FX LE is also included. This package is one of the most popular for pure signal processing of electric guitars. It allows you to emulate the whole chain of guitar processing.
You may also like: Best Portable MP3 Players
ZOOM U-24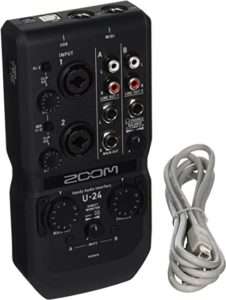 The U-24 looks more complex, but it's easy to understand. In the design of this device, the manufacturer used a black metal plate and soft-touch plastic.
Unlike the younger model, there are two combined inputs for instruments or microphones. Besides phantom power mode, there is a separate Hi-Z button.
Use it for the synchronization of high impedance connections. This is necessary, for example, to connect an electric guitar with a high-resistance output.
Inputs and outputs
This ZOOM allows for simultaneous recording of voice and guitar. Each of the inputs is equipped with a signal preamplifier.
Apart from the two inputs, there are two separate output lines on the front side. Line A is the main output to the speakers, and line B is needed to check the signal.
Their presence is a good way to use this ZOOM for acoustic performance. With the U-24, you can check all the incoming and outgoing signals and adjust each of them. Besides, there are separate mute keys to mute the channels individually.
For musicians, the big advantage of this model is that it has two full MIDI inputs. It is possible to record sound from practically any instrument. Like the younger model, U-24 can be used together with a PC, Mac, or iPad. The device can be operated either from USB or from two batteries.
U-24 is a more advanced audio interface. It has a simultaneous connection of a microphone and guitar, a better built-in preamplifier.
iRig PRO DUO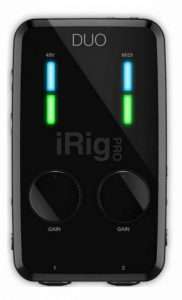 IK Multimedia iRig Pro Duo is a portable two-channel audio interface. Usually, customers use it for studio-quality field or home recording.
It is compatible with any audio software. It works on iOS, Android, macOS, and Windows platforms.
Inputs and outputs
The audio interface has two inputs on Combo Jack/XLR connectors. They can receive both microphone and line signals.
As well as instrumental signals without using a direct box. The microphones have a +48V phantom power on function. This is required by most capacitor models.
The front panel has two large Gain handles. They regulate the level of the built-in preamplifiers.
It is also displayed in color. There are two line outputs with volume control made on 1/4″ Jack TRS connectors. The headphone output is on 1/8″ Jack TRS connectors.
The device also has a regulator and a switch for direct monitoring of the input signal. Micro USB-B port allows connecting the device to a computer. An interesting feature is the MIDI interface. There are input and output on 2.5 mm Jack TS connectors instead of standard 5-pin connectors.
There are two 2.5 mm Jack to MIDI cables for connecting MIDI devices and switching with mobile devices. You will also get Lightning to Mini-DIN, Micro-USB-OTG to Mini-DIN, USB to Mini-DIN cables in the package.
Device kit
Apart from the wires, the kit includes keys for activation and links to download software. It is very useful when creating music.
Power can be supplied in three ways. USB from a computer or smartphone, two AA batteries or a 9V DC adapter.
So, even in the most extreme recording conditions, you will not have a discharged device. The battery life depends on its quality. NiMH batteries provide the best result.
When recording, they provide up to 3 hours and 30 minutes of continuous operation. In playback mode, the device can work for up to 10 hours.
IK Multimedia iRig Pro Duo is a compact and convenient audio interface. It has all the necessary functionality and professional sound. Its small size and weight allow you to keep it with you at all times. You can always use it with your favorite mobile device or laptop. Besides, several power options guarantee stability in all conditions.
You may also like: Best Portable DAC Amp
ZOOM U-44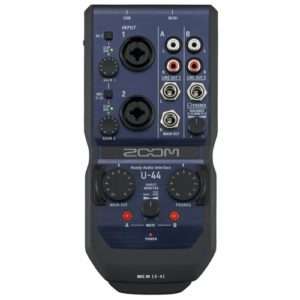 This model is almost exactly the same as the U-24. All regulators, inputs, and outputs remain in place. But there are some useful additions.
The first one is the support of the connection of microphones and splitters produced by ZOOM.
Under the plastic plug, there's a branded ten-pin connector. The device has it for expanding the possibilities of an audio interface.
And on the left side, the manufacturer has placed new switches. There is a choice of operation mode. This is a normal mode or autonomous work with digital connectors.
In other words, it's a coaxial or optical connection option. So instead of two channels, there are already four channels to record the signal. Besides, the U-44 has a complete converter. All the user has to do is choose the sampling rate.
Otherwise, all the characteristics and features are like U-24. Both models, U-22 and U-24, are suitable for people working professionally with sound. They can record quality sound even in the field. You will not need to use big and expensive sound consoles.
U-44 is an uncompromising standalone audio interface. By the way, it can work with Zoom branded microphones. It comes with optical and coaxial input and output. It's easy to use, for example, at acoustic concerts.
Apogee One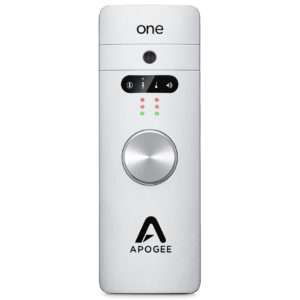 Apogee ONE is a complete device for personal recording. It does not have the usual stereo input and stereo output.
There is only one input, and it is mono. Otherwise, there are guitar and microphone preamplifiers. The splitter has full large TRS and XLR connectors.
There's only a stereo mini-jack output. It's mainly designed for headphones because it has a special headphone amplifier. It can switch and operate in linear mode.
It is also suitable for ordinary users who need to dictate a podcast or impose comments on home videos. The handy, digitally adjustable volume knob is useful for everyday computer use.
Software
As with other Apogee interfaces, it supports the Mac platform and requires OS version 10.5.7 or higher. It also works with Windows.
To do so, you must install the driver downloaded from the Apogee website. APOGEE ONE interface is compatible with any Core Audio app, including Apple iTunes, GarageBand, Logic, Final Cut, and others.
You can buy the device in a set with a USB wire and splitter. The size of the device is small enough, a little larger than a normal smartphone. The manufacturer used plastic to make the device case.
Design
For greater attractiveness the front surface of ONE is glossy. For ease of use, there are rubber legs on the bottom of the case. Ribbed surfaces on the sides are necessary for a firm fixation on a tripod mount.
The device has a large, handy discrete knob that acts as a toggle button for the adjustable parameter. When changing the adjustable mode, there is a stylized icon. It has a variable level indicator in the center of the screen.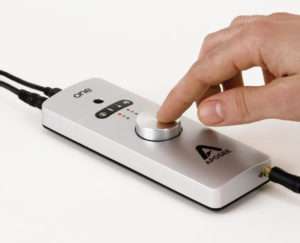 The case also has a three-level adjustable signal indicator: green, yellow, and red. Besides, the device illuminates icons at the top depending on the mode initialization.
There is the mini-jacket connector for headphones at the bottom. The USB connector and the splitter socket are on the opposite side.
In the lower part of the case under the volume control, the manufacturer has a built-in microphone.
Inputs and outputs
A choice of input and output modes is available from the Maestro Control panel. When changing the operating mode, this audio interface saves the set levels in the modes. Available modes of operation of the input:
built-in microphone
external microphone
phantom-powered external microphone
instrumental
The output works in two modes. Linear unregulated or adjustable for headphones. The output also has a mute mode. In the mixer section, there are level indicators with regulators for monitoring. Input 1 is hardware monitoring of the input and the regulator From Software is software.
You may also like: Best Portable Music Players
Tascam DR-05X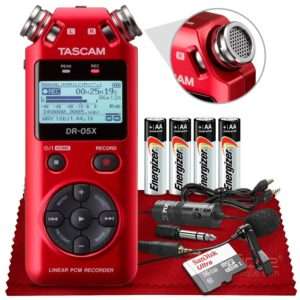 The TASCAM DR-05X is the youngest and cheapest model. It has two professional capsules. They do not have a change of recording position and always work in AB mode.
On the backside, there is a 0.3 W speaker for listening to the recorded. You can also connect an external microphone or line source for recording.
You can also listen to the recording in headphones or in speakers. The recorder's microphones have a large membrane.
They are of high professional quality and the right orientation scheme. It gives you a good stereo effect on your recording if you need it.
Recording loud events also require high overload resistance. They also need to be able to turn off the automatic recording level change. On a separate rather large screen you can see the recording level and the modes enabled.
This recorder is quite light and compact. It easily fits your hand or on any photo tripod with a standard thread.
This device supports microSDHC and microSDHC memory cards up to 128GB. It takes many hours of recording even in the highest quality 24-bit 96kHz LPCM mode. For those cases when sound quality is not very important, you can choose the recorder mode. Thus, record in MP3 format with a bitrate from 32 to 320 kbit/s.
In general, TASCAM engineers were very pleased with the serious attitude of the users. Even in an inexpensive device, we see a huge number of functions. The TASCAM DR-05X is perfectly suited for any application without limitations. It is suitable for on-the-go recording.
Also, you can use it for home personal recording and various apps to get a quality soundtrack. It is popular for video and streaming online.
FAQ for portable audio interfaces buyers:
As its name states, an audio interface is a device to connect your microphones, guitar, keyboard, and other audio sources to your computer. Think of it as a device for analog and digital to match-make. It works both ways, where it turns analog signals into digital and digital signals into analog.
Do audio interfaces affect sound quality?
In addition to expanding your inputs and outputs, audio interfaces can also greatly improve the sound quality of your computer. Every time you record new audio or listen through speakers and headphones, the audio interface will reproduce a more accurate representation of the sounds.
What's the point of an audio interface?
Audio Interfaces allow you to connect things like microphones and guitar cables to a computer and record via USB most commonly. It also has outputs typically and allow Studio Monitor Speakers, computer speakers or headphones to listen to the recorded or real-time incoming audio to play through the computer.
What's the difference between an audio interface and a mixer?
An audio mixer takes multiple audio signals, combines them together, and creates one or more output signals. An Audio Interface, on the other hand, works as a translator between your Inputs (microphone, guitar, etc.) and transforms that analog signal into a digital one so that your PC can "understand it".